From its ability to rise with a growing economy to a precious metals hedge against inflation, silver is a metal with many talents.
But with the advent of Bitcoin and meme stocks, it's mostly been ignored.
In fact, the gold-silver ratio hit a whopping 127-to-1 last year – its highest level on record.
To put that into context, the last time we even came close to such a wide spread was back in the 1940s and the early nineties, when it neared 100-to-1.
Take a look: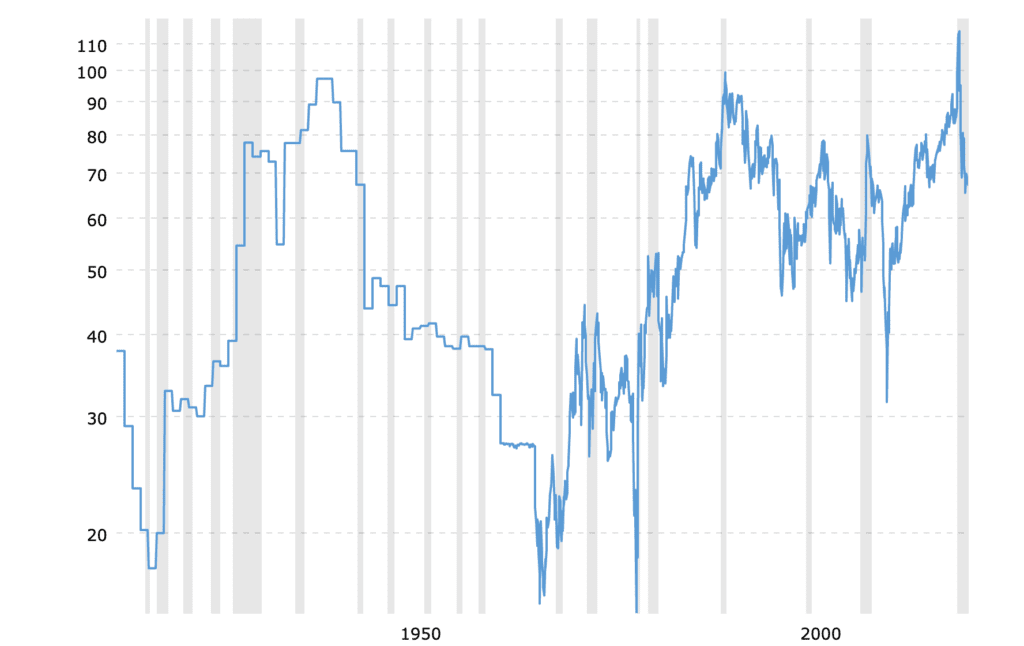 But that was last year.
Right now, we're seeing history in the making for silver.
For the first time in modern era, the recent rise in the price of silver wasn't the result of manipulation or institutions hoarding and trading the metal – it was because of people like you and me.
Thanks to the same foundations that sent Gamestop and AMC to the moon, a powerful movement of retail silver investors is beginning to form. But the biggest difference is real ownership – investors are buying and holding physical silver.
And I couldn't be more excited about this.
That's because our track record of success when it comes to silver investments has been second-to-none. Almost every silver company we've ever featured has shown our readers incredible gains.
But over the last few years, we haven't made many moves on silver stocks – particularly silver juniors – because we felt the price of silver was too easily manipulated by the big institutions, especially since there were very few retail participants.
And with the stock market ripping the way it has, it just wasn't a risk we needed to take – despite having so many silver-winning stocks in the past.
That's all about to change.
Over the last year, a specific series of events have occurred that are now shifting silver's price fundamentals to the upside.
And in just a bit, we're going to share a brand new silver stock with you.
But before we do, it's important to understand how these events are now setting up for the next silver boom.
The Silver Conspiracy
Ten years ago, I revealed how financial institutions were manipulating the price of precious metals.
I also revealed how most of the gold traded in the markets was highly leveraged to the true physical amount that's supposed to be backing it .
For example, via my Letter, The Silver Conspiracy:
"For years, most people have assumed that the London Bullion Market Association (LBMA), the world's largest gold market, had actual gold to back up the massive "gold deposits" at the major LBMA banks. But it doesn't.
This was confirmed during the CFTC hearings when Jeffrey Christian of the CPM Group said that the LBMA banks have approximately 100 times more gold deposits than actual gold bullion. This means that for every ounce of gold traded in these markets, 99 of them appear from thin air. Has gold and silver been converted into a fiat currency in these markets?"
I then suggested that the price of silver would rise because those responsible for manipulating and suppressing it would slow their efforts while being investigated.
This investigation began in late 2008.
Here's a look at the price chart: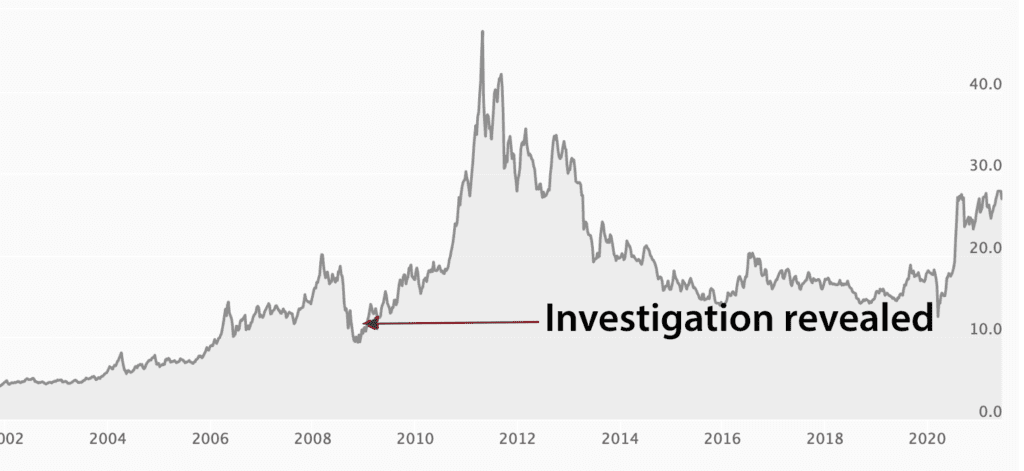 Shortly after the investigation was revealed, the price of silver witnessed a strong and gradual climb, reaching a high of nearly $50/oz in 2011.
Then, in 2013, after silver had "squeezed" to a high of nearly $50/oz, the CFTC finally closed down the investigation, saying it had found no wrongdoing.
Via Reuters:
"U.S. regulators on Wednesday closed a five-year investigation into alleged manipulation of the silver market, saying 7,000 staff hours of investigation produced no evidence of wrongdoing."
So, what happened after?
The chart says it all.

For the next eight years, despite the rise in the price of, well, everything, the price of silver and other precious metals remained stagnant.
That is, until last year.
In February 2020, it was revealed that JP Morgan was under a U.S. criminal probe for the manipulation of precious metals:
Via Bloomberg:
"U.S. authorities that accused six JPMorgan Chase & Co. employees of rigging precious-metals futures are building a criminal case against the bank itself, two people familiar with the situation said."
And just like the time before, look what happened to the price of silver when the investigations were revealed.
This time, however, "they" got caught.
On September 29, 2020, JP Morgan Chase was fined a record $920 million for its connection in defrauding the precious metals market.
"…between approximately March 2008 and August 2016, numerous traders and sales personnel on JPMorgan's precious metals desk located in New York, London, and Singapore engaged in a scheme to defraud in connection with the purchase and sale of gold, silver, platinum, and palladium futures contracts…
…In tens of thousands of instances, traders on the precious metals desk placed orders to buy and sell precious metals futures contracts with the intent to cancel those orders before execution, including in an attempt to profit by deceiving other market participants through injecting false and misleading information concerning the existence of genuine supply and demand for precious metals futures contracts…"
It doesn't take a rocket scientist to see these patterns.
I revealed a similar case for gold in 2019 when I revealed why the price of gold finally moved higher after so many years. If you missed that issue, go here:
The Real Reason Why Gold is Going Higher
Back to Reality?
As I just showed you, every time there was a government body "watching" the manipulation of silver, prices climbed.
Has the manipulation of the silver price stopped completely? Not likely. But I do believe it has been reigned in to a degree whereby the current price level is close to a new base – especially with more scrutiny being placed on manipulative practices.
Via the Justice Department:
"For nearly a decade, a significant number of JP Morgan traders and sales personnel openly disregarded U.S. laws that serve to protect against illegal activity in the marketplace," said Assistant Director in Charge William F. Sweeney Jr. of the FBI's New York Field Office.
"Today's deferred prosecution agreement, in which JP Morgan Chase and Co. agreed to pay nearly one billion dollars in penalties and victim compensation, is a stark reminder to others that allegations of this nature will be aggressively investigated and pursued."
More importantly, from a true supply and demand perspective, silver is really starting to shine.
Industrial demand is projected to post a four-year high this year, as electronics, green tech, 5G tech, and electric vehicles continue to boom – all of which require silver to do so.
Heck, Biden wants to install 500 million solar panels over the next five years alone.
But the biggest boom of all is what's happening with silver in the investment world.
In fact, the booming physical demand for investment silver has even caused the U.S. Mint to "run out" of silver.
Via the U.S. Mint's Facebook Page:
"The Mint is being impacted by silver blank shortages among its suppliers. The demand for many of our bullion and numismatic products is at record heights and increasingly outpacing the supply of silver blanks available through our suppliers."
And while investors can still find silver stock, good luck buying it at spot price.
For example, in Canada, the price of silver is around C$32/oz. But, on average, look to pay nearly $40/oz – a whopping 25% premium over spot.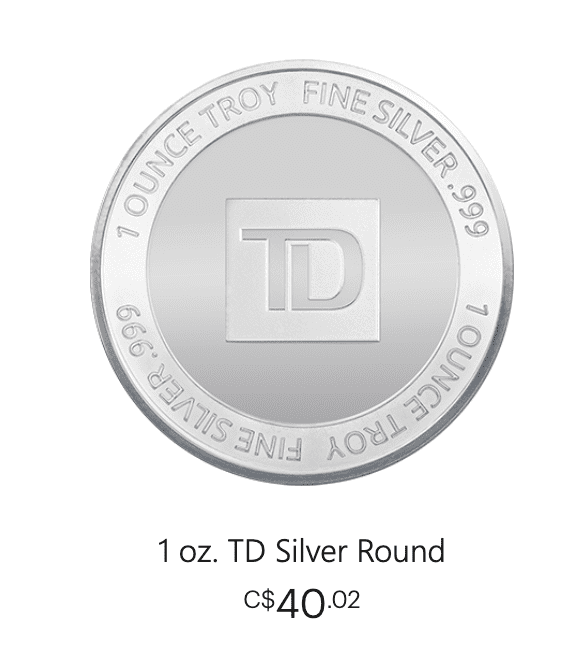 Here's T.D.'s silver round to the right, as of June 19, 2021.
It's no wonder Citigroup analysts have been calling for silver to hit US$40 by this October – and even as high as $100!
Via Forbes:
"The bank said it's forecast of a rise to $40/oz over the next 12-months is based on a combination of sustained strength in investor demand and a recovery in industrial consumption during 2021.
…The bank said its foreign exchange (F.X.) technical team is very bullish on silver with "$50/oz a very realistic target and $100/oz possible."
All of this leads to the obvious: We need more silver.
And not just the silver that we claim is in the ground. We need people to pull it out. That's why our current investment philosophies are geared directly towards the silver miners and those with the potential for big discoveries.
More importantly, we need silver miners that can pull silver out of the ground at the lowest cost possible.
But how many silver producers are there out there? Not many.
Furthermore, silver production remains flat and is expected to grow by no more than a few percentage points over the next few years – during a time when both industrial and investment demand is booming.
Few discoveries have been announced in the last decade, and most silver produced now is coming from the last stages of existing mines.
Not only that, but the quality of silver mined is the lowest it's ever been, and like most metals, silver is rarely mined in veins now. It takes many tons of earth and rock to process even a single ounce.
But that's what makes me excited about the company I am about to introduce.
When you're looking for a silver play, there's no better place to look than Mexico.
Mexico: The Best Place to Be
Mexico is the place to be when it comes to silver. Not only is it the world's leading silver producer, representing over 20% of the entire world's annual production, but many of our silver success stories came from Mexico.
That's because Mexico is home to the Sierra Madre Occidental, a major mountain range system with an abundance of gold and silver that has not only driven massive enterprise over the last two centuries but is primarily responsible for most of Mexico's gold and silver production.

This mountain range runs through the state of Nayarit – a top tourist attraction for Mexico, with gorgeous beaches and Aztec ruins.
Within Nayarit is Tepic, the state's largest city with a population of around 500,000.
The city and surrounding areas have seen a fair amount of gold and silver production, but mostly by mines held privately by locals.  These private facilities are smaller in nature and have been mined for years – passed on from generation to generation.
Today, the remnants of this work are seen in pits, trenches, and small shafts and adits, which show pick marks from the hand excavation of these tunnels indicating that they predate the use of blasting powder. The workings likely date from the sixteenth century.
Mining activity was extensive throughout this part of Mexico from the very early days of colonization, yet few records exist of these activities.
As a result, many of these mines have never been explored using modern mining techniques – they've just been in production because of the high grades and good infrastructure.
Throughout the last decades, many mining companies were born simply by using modern exploration techniques in areas just like this – areas where locals mined high-grade rock using primitive methods.
With so many private mines in this area of Nayarit, consolidating the area and using modern exploration techniques could lead to serious value creation.
And that's precisely what the company I am about to introduce plans to do.
This company began by acquiring a foundational asset in Nayarit, with a goal to build an inventory of 50 to 100 million ounces over the next few years through consolidation, and go into production utilizing a centralized mining facility – a hub and spoke approach.
To begin this goal, it earmarked an $8 million financing to explore its foundational asset and go into acquisition mode to consolidate the area.
Only, that goal of $8 million quickly turned into an order book of up to $30 million, as institutional investors immediately saw the value of the asset and the team.
The Company ended cutting back the financing to $15 million – a number that allowed the institutions (some of which are billion-dollar-plus funds) to come in, but without too much dilution at such an early stage.
This Company is…
Sierra Madre Gold and Silver
(TSX-V: SM) (Frankfurt: 409)
Sierra Madre Gold and Silver's (Sierra Madre) primary asset is its Tepic project, home to a >2,600 ha land package hosting a low-sulfidation epithermal gold and silver mineralization, lying just outside the city of Tepic.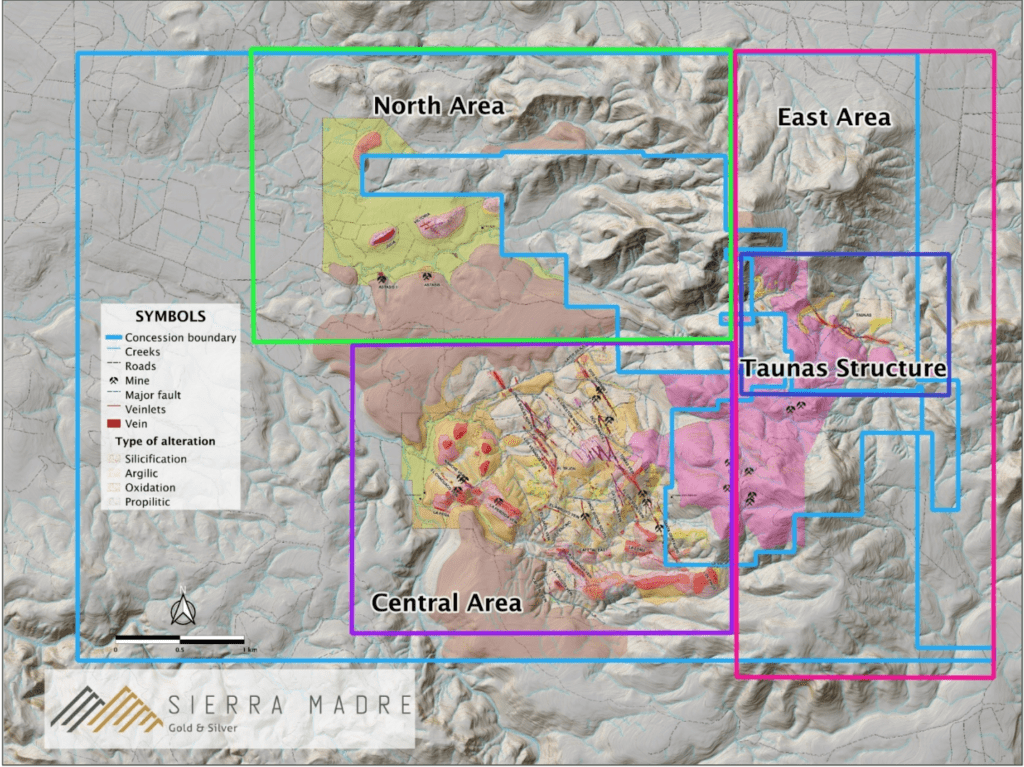 One of the most important aspects of any mining exploration play is infrastructure, which can often translate into very low capital requirements for production.
And that's where Sierra Madre shines.
First of all, the Tepic project is only 22km from the city of Tepic and has paved highway roads up to the last three kilometers of access to the project. Three km away lies a rail load-out on the major Pacific Coast rail line.

What about electricity? No problem, there's a national electric grid in the immediate area.
Workforce? There's that, too.
In fact, the project is only a short 15km from a regional airport and just 120km from the Puerto Vallarta Airport.
As a result, power, water, fuel, and supplies are also easily obtainable, with the property accommodating everything required for production, including tailings dam, waste disposal, and processing plant sites.
Now let's look at the asset itself.
Historical Mineral Resources
A decade ago, the previous explorers of the Tepic project invested $20 million to drill 31,000 metres. That drilling led to multiple historic resources, in the range of 10-18 million ounces of silver equivalent, depending on the cut-off grade used.
The most recent historical resource estimation consists of an indicated resource of 7.1M oz at 201 g/t Ag Eq and an inferred resource of 3.1M oz at 181 g/t Ag Eq*
In fact, back in 2011, when silver prices skyrocketed to nearly $50/oz, the previous operators ballooned to a market cap of over $150 million – a rise of nearly 600% in less than six months!
Imagine the value creation with Sierra Madre if silver even comes close to those numbers again, as Citigroup believes it will.
Geology and Mineralization/ Exploration Potential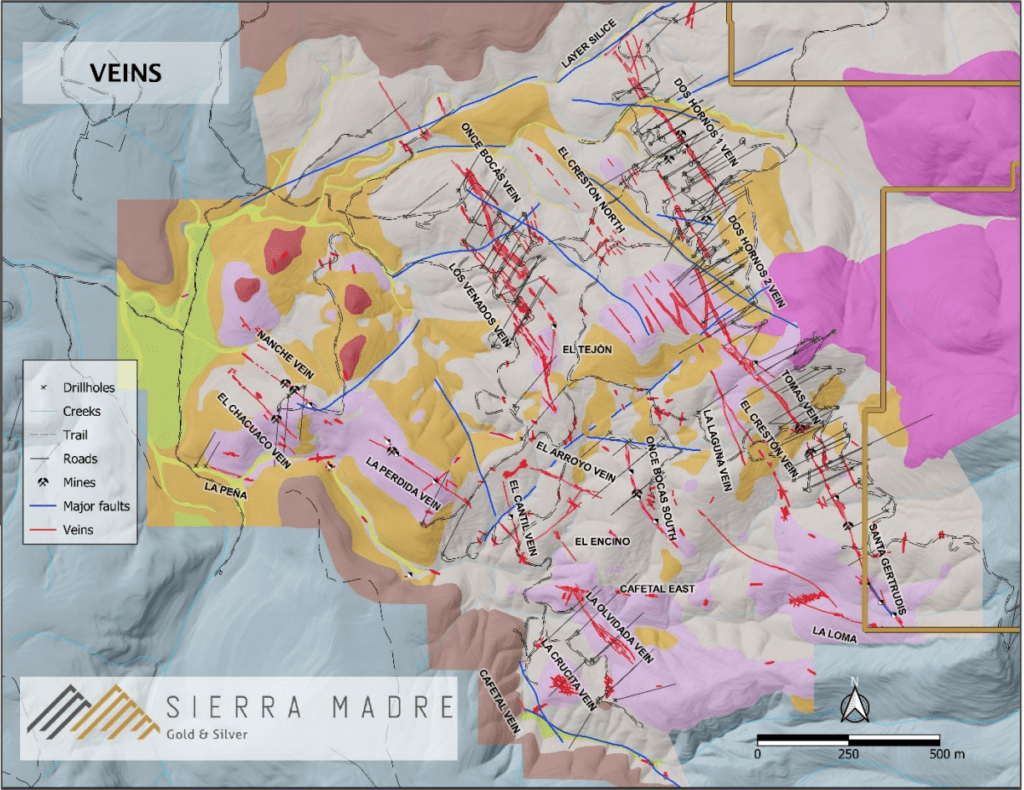 Several identified zones of mineralization at Tepic extend over a kilometer with widths up to 200m.
These zones define segments of what is thought to be a single, continuous structure that crosses the property from northwest to southeast.
One of the first things the team at Sierra Madre noticed in its initial site visit was that there was a whole lot more alteration than the data showed. That's because the previous operators never executed a project-wide mapping study.
So, over the last six months, Sierra Madre has focused on geologic mapping and reconnaissance sampling.
Led Gregory Liller, Sierra Madre quickly realized that the previous operators had an overly complex structural interpretation with inferred faults. This guided the previous drilling and led to the assumption that the Dos Hornos breccia veins of the Tepic project were cut off.
However, Liller (more about his significance in a bit) believes the previous operators completely missed the boat on this.
Based on the previous operator's final 2011 drill program results, Liller was able to create a new structural interpretation showing both Dos Hornos structures are open along strike.
Take a look: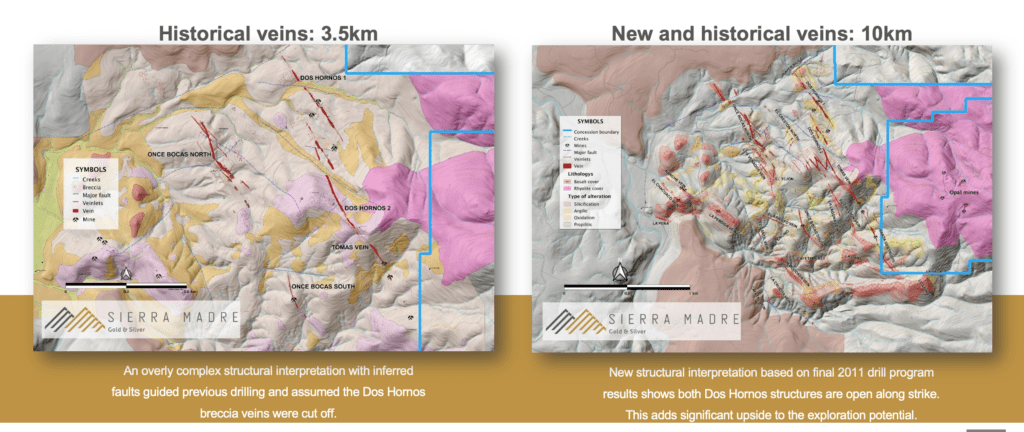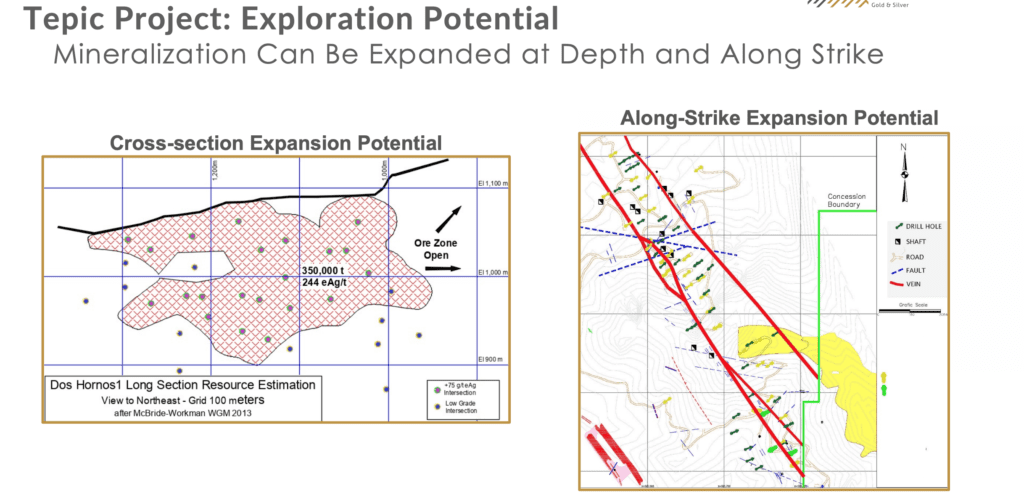 The result?
What was once a 3.5 km of hydrothermally altered and mineralized structures soon became more than 11km – nearly tripling the original length.
In fact, the reconnaissance sampling returned silver values ranging from <0.5, all the way up to 648 grams per ton (g/t), and gold values as high as 7.43 g/t.
In short, this one finding alone adds significant upside to the exploration potential of Tepic, with defined silver and gold mineralization that can be expanded at depth and along strike.
A drill program is already underway here to validate the historical drill results, but more importantly, it could significantly increase the value of the Tepic project.
Why?
Underestimation?
The geologic model that the previous company created was overly complicated, resulting in a lot of missed exploration potential.
But perhaps even more importantly, the previous operators may have completely missed the boat on the gold and silver grades within their resource calculations. And as we all know, grade is king – the higher, the better, always.
Let me explain.
The previous drillings were done via diamond drilling – which is generally a more precise sampling method than R.C. (Reverse Circulation) drilling. However, core loss is a relatively common occurrence when diamond drilling – especially in softer and more porous rock, such as the rocks drilled at Tepic.
And that's precisely what Sierra Madre believes.
In many of the core samples, the gold grade was quite a bit lower than some of the head grades of the producing mines nearby, as well as some of the bulk tonnage work they had done.
Sierra Madre believes that the diamond drilling by the previous operators actually lost a lot of gold recovery – as much as 0.7 g/t, all the way up to 5 g/t.
For more information on this subject, CLICK HERE.
To confirm its theory, the first 21 holes will be confirmation drilling done via R.C. drilling instead of diamond.
According to the company, these samples will be collected at 5-foot intervals for the entire hole, and its method of R.C. drilling should help achieve near 100% sample recovery with very little risk of contamination.
These holes will be used to confirm the historical resources and the theory that the previous operators undershot the recoveries by a significant margin.
If the theory proves true, then the historic resource could be much higher than previously expected – much higher than the resource that took the previous operators to a $150 million market cap.
Drilling of these 21 holes began in early May, which means we could have results within the next month or so.
That alone could be a strong catalyst for share price appreciation.
Bigger and Better
Right now, Sierra is permitted for 67 drill holes and is in the process of expanding that permit out to several hundred holes. The first 20 holes are confirmation drilling and testing the grade increase potential.
From there, Sierra will immediately move toward resource expansion and testing the new veins to confirm its other theory: that the strike length is much bigger than the previous operators believed.
The previous operators had interpreted some faults with their old mappings. But as I mentioned earlier, they never concluded a broader mapping study. So while there is faulting there, the veins definitely continue.
In fact, you can see them at surface, and the team at Sierra has sampled them. So, in essence, that potentially doubles the strike length around the historic resource. Further drilling will be done to confirm this.
Despite the faults of the old resource, there are a few great findings from it.
One of those things is the widths, which are amenable to both open pit and bulk tonnage underground techniques, thus lowering the cost of operating a mine at Tepic.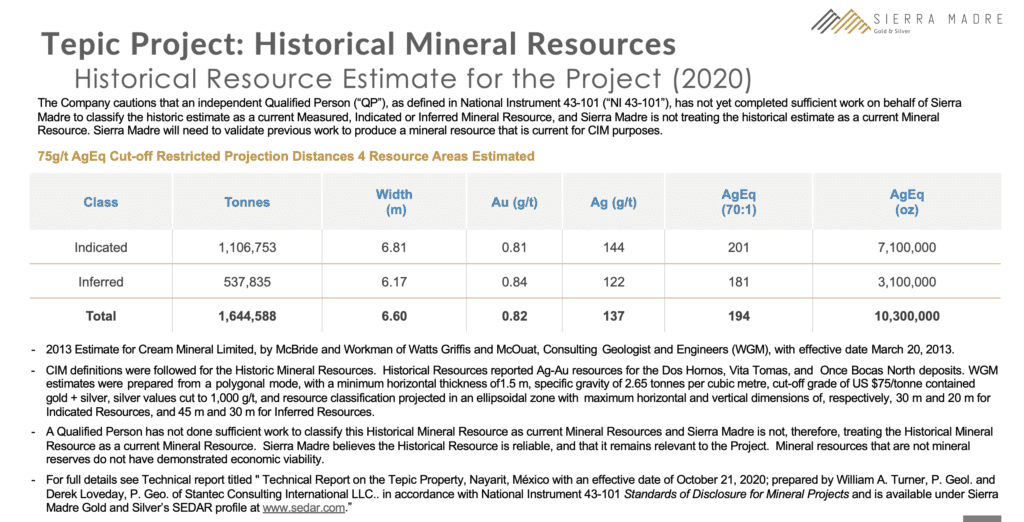 Of course, if you can't get the metal out of the rock, you might as well give up.
We call this metallurgy.
Preliminary test results on the Cyanide Bottle Toll Test are typical of the silver-gold deposits in the Sierra Madres. This test is the industry standard first step in assessing the gold recovery possible by cyanide leaching.
Take a look:

As you can see, using the basic Cyanide Bottle Roll Test for 72 hours, the recoveries were decent. But if you run the test for 96 hours, which is more reflective of an operating scenario, the silver recoveries could potentially go up into the 80s.
More importantly, the previous operators had done a combination flotation followed by cyanide leaching with preliminary results showing a boost of up to 90% silver recovery. Sierra has confirmed they're going to be pursuing this option – so look for more testing in this area in the future.
In short, the Tepic project has excellent exploration potential, good mining widths, and excellent recoveries.
And I haven't even begun to talk about the exploration potential in the other areas, such as the North and East area, as well as the Taunas structure. But that's better suited for a follow-up report—one hole at a time.
Not Afraid of Production
Sierra's goal with this asset is to put it into small-scale production, generate cash, and acquire additional assets along the way – effectively using a hub and spoke approach, while minimizing dilution.
To achieve this, they need a team capable of turning discoveries into mines.
Management
The most crucial component of any junior company is the people behind it – and I've learned this lesson the hard way in previous speculations.
Exploration potential is one thing, but having a team that can interpret the data and advance an asset is crucial.
There are a handful of geologists whose discoveries have become mines. Greg Liller, Sierra's Chairman and COO, has done it seven times – playing a key role in discovering and developing more than 11 million ounces of gold and 600 million ounces of silver. One common thing in all of those transactions is that the companies were all purchased by bigger players after production began.
Then there's CEO Alex Langer, who comes from the capital markets side of the business. He has helped raise money for over 100 private and public companies, many of which have made me a lot of money. He's also been a founder and a part of many recent successes, including Millennial Lithium, a company that has done very well for readers of this letter. He introduced me to Mogo, a Canadian fintech we featured around C$2 – it hit over $15 this year.
He was also an early part of Prime Mining, which began trading at around a $15 million market cap, but is now pushing towards $350 million. Prime Mining is also in Mexico and has been one of the strongest performers on the TSX Venture over the last year. It was founded by Andrew Bowering, also a friend of mine and a first-class capital markets veteran who is a shareholder of Sierra Madre.
The fact that Langer has chosen to lead Sierra Madre publicly speaks volumes for his confidence level in creating shareholder value.
Sierra Madre has both the technical expertise and the capital markets experience to advance the Company. More on management below.
Just the Beginning
Sierra Madre has 66 million shares fully diluted, of which the founders, partners, and management team own more than 40%*. The Company raised $15 million, of which $5 million is already dedicated to acquisitions – yet another catalyst we can look forward to.

At its current share price, and with nearly $15 million in cash, the value of the Tepic asset is just over $40 million – not bad considering it took its previous operator's market cap close to $150 million when silver hit nearly $50/oz a decade ago.
It's Getting Crowded
Silver is an asset whose consumption will exceed new production for many years.
Furthermore, the silver market is a very small place and gets crowded easily. The amount of silver stocks with strong assets is limited, and very few discoveries are being made worldwide.
And I haven't even begun to talk about the supply issues at the LMBA and how leveraged physical silver truly is – especially if the demand for physical silver continues.
Timing is Crucial
Sierra Madre's management is strong, and its share structure is rock solid. And there's no doubt that it has a promising silver project in Tepic.
But within the next few weeks and months, results from the first 20 holes will be announced – and it could completely transform the Tepic project.
Remember, the last time silver hit near $50/oz, the previous owners of the Tepic project climbed 600% in less than six months – and that was with misinterpreted data.
All of this is happening now during a time where the Big Banks, like Citigroup, are calling for silver to hit $50/oz.
I believe the silver boom is just beginning, which is why I am actively looking at adding silver stocks to my portfolio.
That is why I am an investor in Sierra Madre Gold and Silver, and why I am looking to buy more.
Sierra Madre Gold and Silver
Canadian Trading Symbol: SM
German Trading Symbol, Frankfurt: 409
Seek the truth,
Ivan Lo
The Equedia Letter
www.equedia.com
Equedia.com and Equedia Network Corporation are not registered as investment advisers, broker-dealers or other securities professionals with any financial or securities regulatory authority. Remember, past performance is not indicative of future performance. This article also contains forward-looking statements that are subject to risks and uncertainties that could cause actual results to differ materially from the forward-looking statements made in this article. Just because many of the companies in our previous Equedia Reports have done well, doesn't mean they all will. We are biased towards Sierra Madre Gold and Silver (SM) because the Company is an advertiser on www.equedia.com. We currently own shares of SM. You can do the math. Our reputation is built upon the companies we feature. That is why we invest in every company we feature in our Equedia Special Report Editions. It's your money to invest and we don't share in your profits or your losses, so please take responsibility for doing your own due diligence and consult your own professional advisers before investing in SM or trading in SM securities. SM and its management have no control over our editorial content and any opinions expressed in this article are our own. We're not obligated to write a report on any of our advertisers and we're not obligated to talk about them just because they advertise with us. For a complete disclosure of the compensation received by us from SM, please review our Terms of Service and full disclaimer at www.equedia.com/terms-of-use/.