The Company's sixth product available in its mobile app is the first of its kind in Canada with no funding or withdrawal fees.
Mogo Finance Technology Inc. (TSX:MOGO) (OTCQX: MOGOF) ("Mogo" or the "Company"), one of Canada's leading financial technology companies, today announced that it has enhanced its multi-product MogoAccount with the launch of its sixth product – MogoCrypto – which enables members to buy and sell bitcoin at real-time prices instantly, anytime and anywhere from their mobile device, bringing a new level of convenience and accessibility to bitcoin ownership for all Canadians.
Mogo is the first company in Canada to offer a mobile solution for buying and selling bitcoin that includes free funding transfers and withdrawals.
Bitcoin daily trading volume was more than US$6 billion in March 20181, and many Canadians are looking for a trusted, secure and convenient way to invest in this asset class. Trading in bitcoin can be intimidating and costly and it can be particularly challenging to sell holdings and withdraw Canadian dollars. MogoCrypto provides Canadians with a simple, transparent, and fast solution to buy and sell bitcoin, and with no funding and withdrawal fees.
Through the MogoAccount, members can add money from their bank account with Interac e-Transfer and it can be available in as little as 30 minutes. Selling is simple, as users can sell at any time and withdraw the funds into a Canadian bank account. MogoMembers also get access to the Company's other digital financial products designed to help consumers manage their financial health such as free monthly credit score monitoring.
The Company has begun issuing invitations to MogoMembers to activate MogoCrypto in their accounts and intends to roll out the product to all interested members.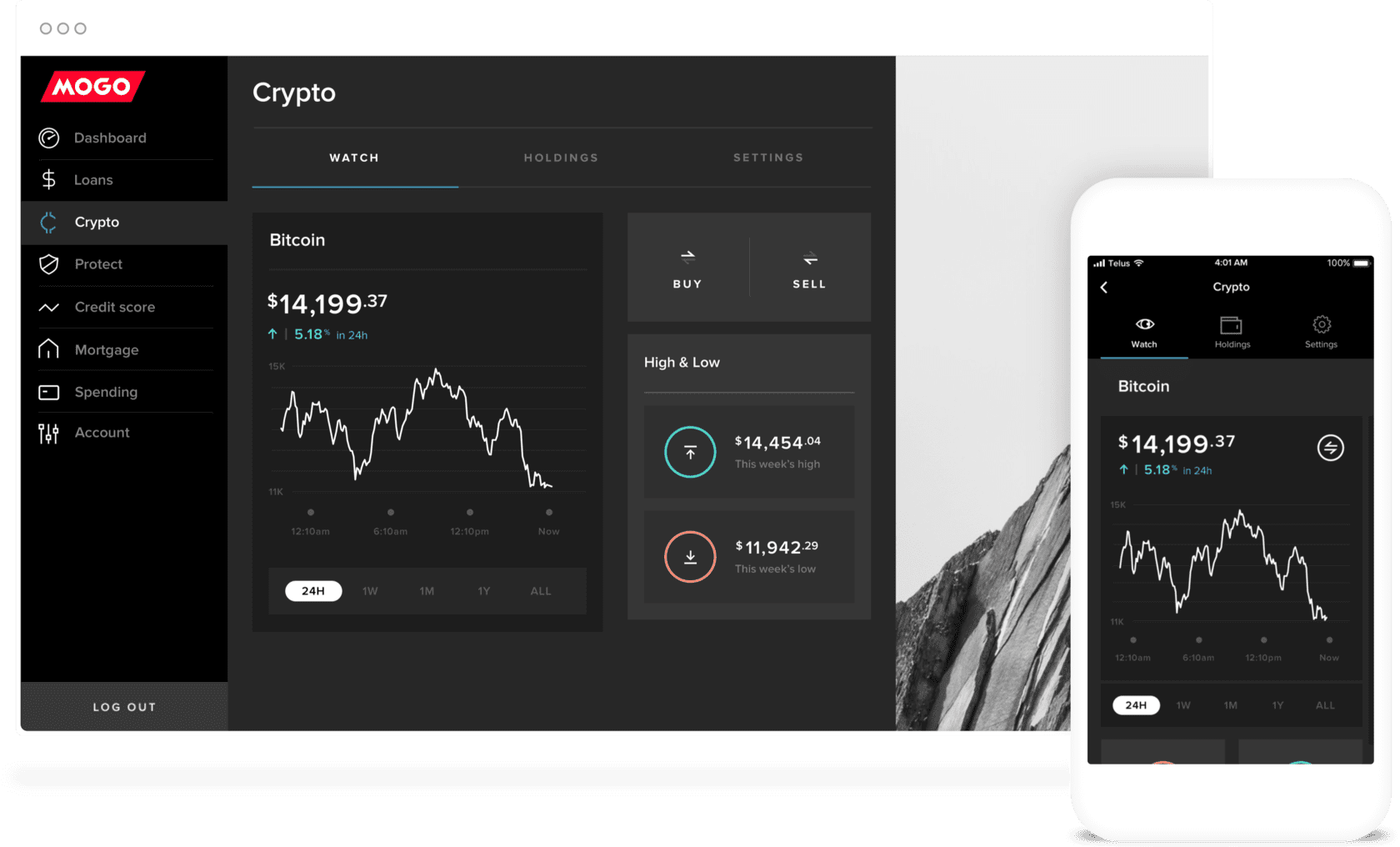 "Canadians are looking for a trusted and simple solution to buy and sell bitcoin, and that's the need we're addressing with MogoCrypto," said David Feller, Founder and CEO of Mogo. "Canadians can sign up for free and in three minutes open a MogoAccount, have the account funded for free, and begin buying and selling bitcoin. This is the sixth product available in Mogo's app which was built to provide consumers with an easy way to manage their financial health and further strengthens the value proposition for MogoMembers."
"As a public company with an increasingly recognized national brand and multiple innovative financial products that are trusted by over 500,000 members today, we believe Mogo is uniquely positioned to bring bitcoin to the masses in Canada," said Greg Feller, President & CFO.
To become a MogoMember and sign up for an invite to MogoCrypto, please visit https://www.mogo.ca/mogo-crypto
See the MogoCrypto Terms & Conditions available at https://www.mogo.ca/terms-and-conditions for more details.
Forward-Looking Statements
This news release contains "forward-looking statements" within the meaning of applicable Canadian securities legislation. Forward-looking statements include, but are not limited to, statements regarding the timing of the rollout of the MogoCrypto product. Forward-looking statements are necessarily based upon a number of estimates and assumptions that, while considered reasonable by management, are inherently subject to significant business, economic and competitive uncertainties and contingencies. Forward-looking statements involve known and unknown risks, uncertainties and other factors that may cause actual financial results, performance or achievements to be materially different from the estimated future results, performance or achievements expressed or implied by those forward-looking statements and the forward-looking statements are not guarantees of future performance. Mogo's growth, its ability to expand into new products and markets and its expectations for its financial performance for 2018 are subject to a number of conditions, many of which are outside of Mogo's control. For a description of the risks associated with Mogo's business please refer to the "Risk Factors" section of Mogo's annual information form dated March 6, 2018 which is available at www.sedar.com. Except as required by law, Mogo disclaims any obligation to update or revise any forward-looking statements, whether as a result of new information, events or otherwise.
About Mogo
Mogo — a Vancouver-based financial technology company — is focused on building the leading digital financial platform in Canada and empowering consumers with simple solutions to help them improve their financial health. Built mobile first, users can sign up for a free MogoAccount in only three minutes and get access to 6 products including free credit score monitoring, identity fraud protection, the Mogo Platinum Prepaid Visa® Card, mortgages, personal loans and the MogoCrypto account which enables buying and selling of bitcoin. The platform is engineered to deliver multiple financial products at scale through one account and enable the rapid launch of new features and products. With more than 500,000 members and growing, Mogo continues to execute on its vision of becoming the leading financial brand and platform for the next generation of Canadians. To learn more, please visit mogo.ca or download the mobile app (iOS or Android).
1 CoinMarketCap
SOURCE Mogo Finance Technology Inc
For further information: Craig Armitage, Investor Relations, craiga@mogo.ca, (416) 347-8954