Weekly Gold Chart Analysis: Testing Key Resistance Level of $1900
Equedia readers know that we highlighted the MONTHLY chart for gold in early January. Our focus was on the TRIX indicator, which is based upon the rate of change of a triple-smoothed exponential moving average.
We have chosen a long-term setting of "89" as our signal line and "34" as our trigger line (over 30 years of charting experience has given us the discipline to accept Fibonacci numbers for use in our various indicators.)
To date, with these variables, TRIX had only one cross-over buy signal. It marked the start of a decade-long rally in the gold price.
Now, we shorten our charting telescope and shift our focus to the WEEKLY chart for gold.
Trend Momentum remains positive despite a lengthy decline from a peak at the end of June 2020.  
Positive trend momentum has helped the gold price remain well supported, even in decline, such that it did not penetrate the Ichimoku Cloud. In the past, when gold (and gold stocks) declined below the Ichimoku Cloud, it took many years for price to recover.  
A negative outcome for gold and gold stocks still remains a bit of a concern, based on the price of gold relative to its Ichimoku Cloud base. Gold investors, at least those that assign some trading weight to technical analysis, will be much relieved to see gold start to close over the $1900 level consecutively for several weeks.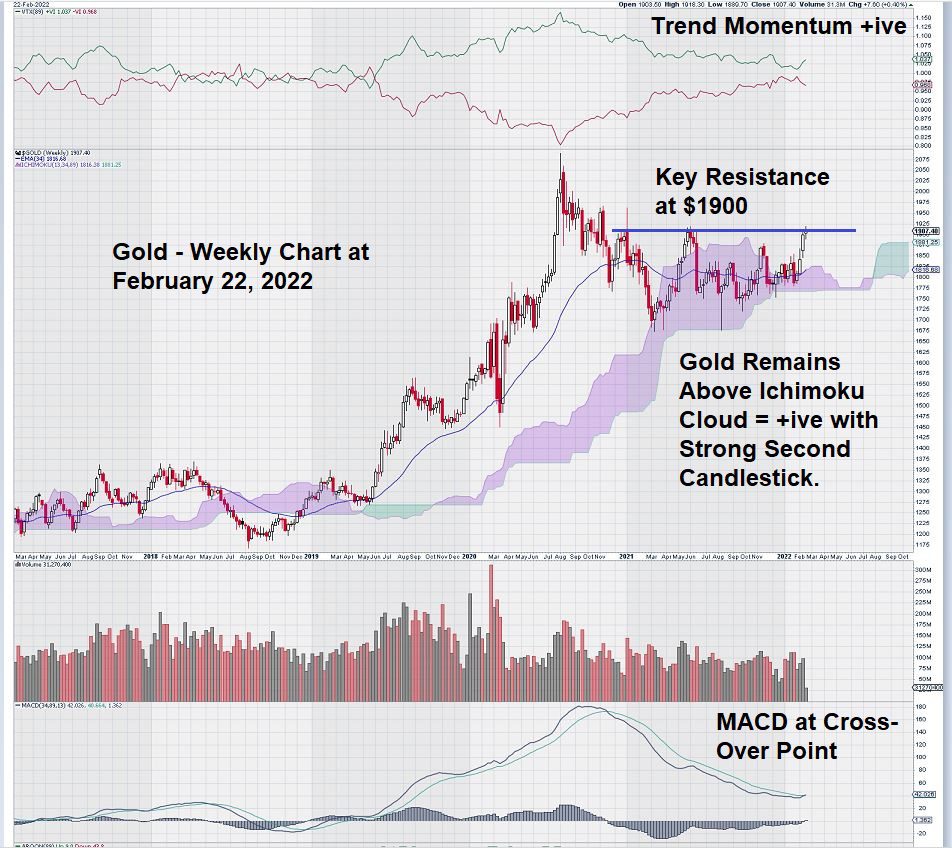 Turning our attention to MACD, we see that it is right at the cross-over point. This is because the value of the signal line and the trigger line is essentially the same. 
As noted above, several consecutive weekly closes above the $1900 level would help turn the signal line up and over the trigger line for MACD.
As we have used longer-term trend settings for MACD, this would give us confidence that the year-long consolidation of the gold price between $1900 and $1700 will be completed.
Visually, one can see levels of horizontal support/resistance at $1775, $1750, and $1700. These levels "stand ready" to support gold during a decline below its Ichimoku Cloud base. 
A decline below the Cloud is, of itself, a cause for concern and should not be ignored. A "temporary" dip below the base of the Cloud is not significant, but consecutive weekly closes below it could be negative for the future price.
Summary and Wrap-Up
Recent geopolitical events are seen as "gold positive ."The stock market does not like uncertainty and has been pricing it in since late last year.  
Sometimes it is the smallest of things that catch our attention: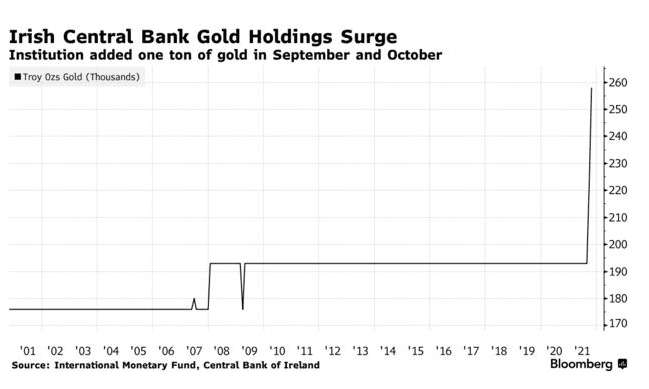 The recent purchase of gold by the Irish Central Bank is insignificant from the point of view of world gold trade. Rather, the purchase shows the genuine inflation concerns of a small country and its response to them.
The gold price is once again pushing up against $1900. We await the Friday close for gold in the weeks ahead. Our sense of the gold market is that a generation of investors is about to get their first real taste of inflation. There will be much discussion of nominal versus real – for both rates and wages.
Gold will cast its light on what it means to be paid more (higher nominal wage), only to be able to purchase less due to decaying purchasing power that results from a rotting fiat currency.
– John Top, the technical trader
 Disclosure: We own gold and gold stocks.