Records are meant to be broken – but not this badly.
After a record-breaking 2022, THIS industry is on pace to smash that record by a whopping 35% this year.
And it's not even close to slowing down.
Yes, I am talking about electric vehicles – but even THAT is just the beginning.
According to the International Energy Agency (IEA), more than 10 million electric cars were sold worldwide last year.
This year, sales are expected to surpass 14 million cars.
The electric cars' share of the overall car market has risen from just 4% in 2020 to 14% in 2022 and is set to increase further to 18% this year, based on the latest IEA projections.
By 2030, the IEA estimates that electric vehicles will represent 60% of vehicles sold globally.
But such a rapid rise can't happen without the proper infrastructure to support this massive amount of new electric energy requirements.
If you think the market for electric vehicles is growing fast…
Energy Storage Market
The energy storage market hit another record last year, up a whopping 68% from 2021.
But that's just the tip of the iceberg.
By 2030, the global energy storage market is expected to grow more than 15 times!
Take a look: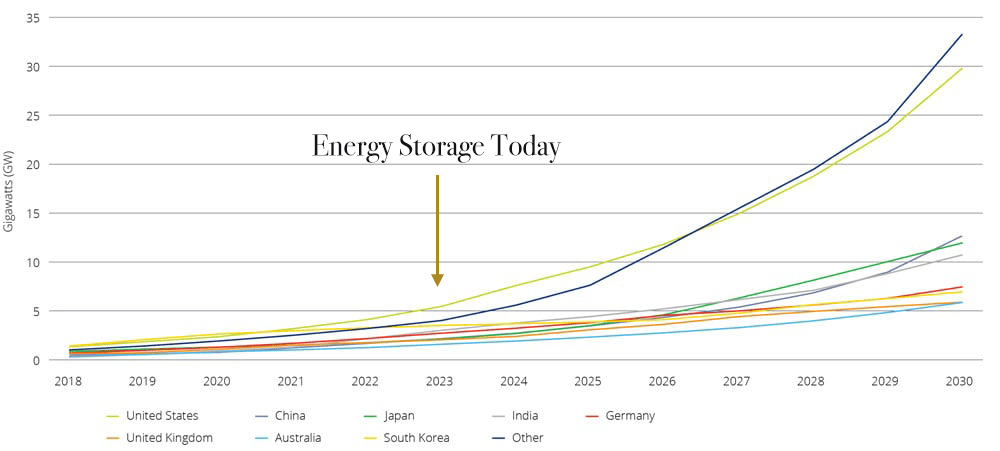 With governments worldwide shelling out trillions into this new electric economy, these insane numbers could become reality.
This represents a massive investment opportunity.
But while you could invest in electric vehicles or other electric technologies, there is one thing that is an absolute requirement for all of this to work.
Lithium
This should come as no surprise.
In fact, many of you likely have profited from one of our past lithium ideas which was bought out not long ago for US$400 million.
But things are moving faster than ever before.
The race to secure lithium supply is officially in overdrive.
And the numbers don't lie.
In the last year alone, the buying frenzy for high-grade lithium projects have exploded.
First, Zijin Mining acquired Neo Lithium Corp and it's Argentina lithium project for a whopping US$705 million (CAD$960 million).
Then came Rio Tinto who bought the Rincon lithium project in Argentina for US$825 million (over CAD$1.12 billion).
Not to be outdone, China's Ganfeng Lithium acquired the Lithea lithium project, also based in Argentina, for US$962 million (CAD$1.3 billion.)
And it's not only the big players participating in the buying spree.
Lithium Americas spent US$227 million (CAD$308 million) to buy Arena Minerals' 65% ownership of the Sal de la Puna project. If you recall, they just spent US$400 million (CAD$491 million) buying one of our past featured companies, Millennial Lithium. And yes, all of these projects are in Argentina.
Meanwhile, Spain's Tecpetrol Investments just made an all-cash offer of C$241 million ($178m) for Alpha Lithium's projects in the Tolillar and Hombre Muerto salt flats – yes, also in Argentina.
As you can see, not only is the race for lithium supply coming to a head, but the race is even tighter for high-quality, high-grade lithium assets – especially those in Argentina.
The problem for investors is that most of the remaining lithium projects in Argentina already belong to big players. And the few that remain, such as Alpha Lithium, already command high valuations.
This is why many are turning to riskier lithium assets outside of Argentina.
But what if I told you there is a little-known lithium company in Argentina with high grade brines that has flown under the radar?
What if I told you that this company has one of the highest grade lithium projects in the world?
What if I told you that this company sits smack in the middle of a massive lithium project currently being built by a major?
I am sure you'd be interested.
Well, of course, there is.
And, most importantly, this company is trading at a market cap of less than US$37 million (CAD$50 million).
That's 5X less than its remaining and closest peers.
But if what the company has been anticipating happens, I don't think it will be trading at these levels for long.
Anytime now, this Company is about to announce something BIG.
This "something" will most certainly reshape the company's valuation – which is already low by market standards.
It has the right address. It has the right grade. It has a number of NDAs with big industry players who are sniffing around in the data room.
Most importantly for investors, it has a very noteworthy lithium project – one that I believe could become the next takeover target.
Introducing…
Lithium South Development Corporation
TSX-V: LIS | OTCQB: LISMF | Frankfurt: OGPQ
Before we touch on Lithium South Development Corporation (Lithium South), it's important to understand why Argentina has been the go-to spot for lithium.
While lithium is everywhere and resources have significantly increased over the years, remember: just because something is abundant, doesn't mean it's economic.
It's like drinking water. The world is covered in water, yet water scarcity remains a global problem that's getting worse.
The costs of extraction and production of lithium is precisely why many lithium juniors, especially those outside of Argentina, have failed.
If you want to be a lithium player, you better have economically viable lithium assets.
Tried, Tested, and True
Under current conditions, outside the rare occurrence of extremely high-grade hard rock operations, truly economic lithium comes mainly from one source: lithium found in brine.

Why is brine the most cost effective way to produce lithium?
Because nature does most of the work; you drill a well, pump the brine, and let evaporation take its course.
Evaporation has a long-established history as a reliable and quantifiable method of lithium extraction. Its capital costs are well-documented, and once the brine resource is assessed and the operational plan is in place, the operating expenses are generally predictable and stable.
On the other hand, Direct Lithium Extraction (DLE) methods present a completely different approach to lithium extraction. Instead of relying on brine evaporation, DLE employs adsorbents or resins to directly bind to the lithium molecules within the brine. This brine is then transported to a processing facility where these adsorbents or resins are applied. Afterward, the lithium that's been adsorbed is cleansed with elution solution and further concentrated via osmosis and mechanical evaporation, eventually reaching the lithium solution stage. From here, similar to the evaporation method, the lithium solution is transported to a processing facility to produce battery-grade lithium carbonate.
As of right now, DLE methods involve significantly higher capital investment compared to evaporation. They demand substantial financial resources for the construction and operation of on-site facilities. Unlike evaporation, which predominantly harnesses solar energy, DLE relies  on electricity to facilitate the conversion process – once again, adding to the cost of production.
Just ask Lake Resources whose DLE Kachi lithium project in Argentina is now being delayed by three years, with the project now costing more than double previous estimates.
In other words, if you want the best guarantee of lithium, your best bet is still evaporating brine.
But there's a problem – and a major reason why many are turning to DLE.
Not only does the brine have to have high enough concentrations of lithium, it also has to have the right chemistry. And even then, it's still not enough.
You also need the right climate for nature's evaporation process to take place, as well as a regulatory environment that allows it.
And there is only one place on earth with lots of lithium brine, the right climate, and the right regulatory environment…
The Lithium Triangle
The most famous accumulation of lithium brine is in the "Lithium Triangle" of Bolivia, Argentina, and Chile.
More than 54 per cent of the world's lithium reserves are found within this triangle.
And being the driest non-polar dessert in the world, it's also the right climate for evaporation.
There is so much lithium here that people are calling Chile, Bolivia and Argentina, the new Saudi Arabia.
But don't think anyone can just jump in and invest.
Bolivia, for example, has been quite hostile towards foreign investment over the past years and just recently opened up its lithium assets to outsiders. But unless you're a state-owned enterprise from China and Russia, good luck trying to invest in Bolivian lithium.
Meanwhile, Chile just nationalized it's lithium industry. In other words, Chile is completely off-limits to the average investor.
Which is why if you want to get into the Lithium Triangle, you really only have one logical choice…
Argentina
Argentina is well-known for its world soccer elites, like Diego Maradona and Lionel Messi, beautiful landscape, and of course, beautiful women.
It's also the world's number three lithium producer.
Argentina accounts for over 20% of the worlds reserves, with the largest lithium project pipeline in the world.
And with a lithium-mine friendly government, it is where EVERYONE who wants to secure lithium supplies wants to be.
And it's exactly where Lithium South is.
In fact, Lithium South is smack in the middle of it all.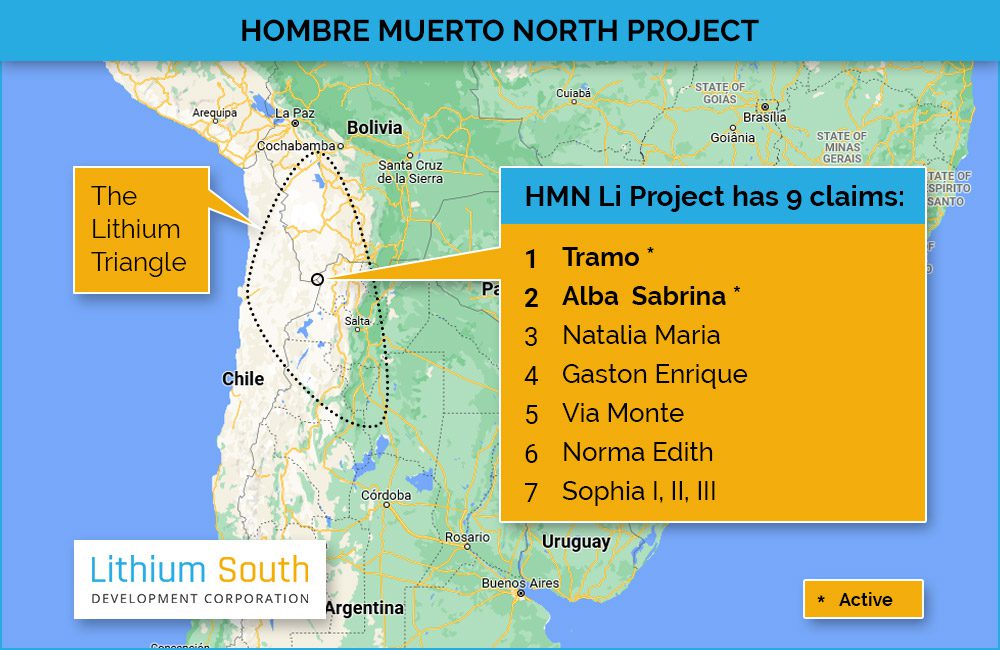 The Package
Lithium South (TSX-V: LIS)(OTCQB: LISMF) (Frankfurt: OGPQ) is developing its 100%-owned flagship lithium brine project, the Hombre Muerto North Lithium Project (HMN Li Project) in the Salta province of Argentina.
The land package covers roughly 5,687 hectares over 9 claims and is strategically located with developed infrastructure.
It's also right in the middle of two massive lithium producers:
Korean giant POSCO, who committed US$4 billion to build a lithium factory that, when completed next year, is expected to have an initial production capacity of 25,000 tonnes of lithium hydroxide per year, and up to 100,000 tonnes by 2028.
Livent, who is merging with Allkem to become the world's third-largest lithium producer, with a valuation of US$10.6 billion.
There's obviously a reason why two of the biggest lithium producers are in this area: the world-renowned Hombre Muerto Salar.
One of the Best
The Hombre Muerto Salar is a major lithium-producing salar (salt flat) that has been in production for over 30 years.
It is known as one of the best salars on the planet.
And with good reasons.
The projects within this salar generally have high concentrations of lithium, great chemistry with low impurities, and high pumpability – all of which are essential pieces of the puzzle when it comes to extracting lithium.
So let's talk about each of these attributes.
Grade is King
Lithium has to be found in high enough concentrations in order to make economic sense – especially when it comes to brine.
Today, that magic number for lithium brine is between 300-600 mg/L.
Lithium South's resource is over 680 mg/L, but with their upcoming resource expansion, this number could be even higher. More on this in a bit.
But that's not all.
Once you get the brine, you put it in a pond and the water evaporates. This process requires a lot of help from mother nature.
Luckily, at Lithium South's project, the climate favours evaporation.
But grade isn't the only thing that makes a great lithium asset.
As I mentioned earlier, you also need the right chemistry with low impurities.
An Important Metric: Mg to Li
Grade is important but more important than grade is the quality of the brine.
For example, you'll see some huge resources of lithium like the Salar de Uyuni in Bolivia.
But the problem with that project is that it has something in the order of a 25-to-1 magnesium to lithium (Mg to Li) ratio.
This is an important metric because magnesium tends to want to hang around with the lithium, but you have to get it out.
In order to remove the magnesium from the brine, you have to add quicklime, aka calcium hydroxide – one of the main drivers of operation costs in lithium projects; otherwise, you lose the lithium in the ponds.
When you do this, it reacts with the magnesium and turns it into magnesium hydroxide – a gel that's not only difficult to handle but it also entraps the lithium. Since this is a crucial point where significant lithium loss occurs, some manufacturers accept this loss, while others make efforts to filter the slurry and maximize lithium recovery. Nevertheless, the quantity of slurry is directly linked to the amount of magnesium that needs to be extracted.
To combat this, producers add lime to the brine.
Unfortunately, lime isn't cheap and is one of the main drivers of operation costs in lithium projects.
In short, the more magnesium there is to lithium, the more reagents and energy it takes to separate the two, which all leads to higher costs.
It also leads to less lithium.
Now, a common industry axiom says that the ratio of Mg to Li in brine needs to be below the range of 9:1 or 10:1 to be economic.
For example, the Mg to Li ratio at the Salar de Atacama, which is considered some of the lowest Mg to Li ratios in the world, sits between 6-8 to 1.
Anything around the 5-8 to 1 range, especially at today's prices, would be considered world class.
At Lithium South, this ratio is an awesome 2-2.5 to 1.
With such a low ratio, they won't need as much quicklime to extract the lithium out of the brine. This is not only a big cost savings benefit, but also means less lithium is lost.
But that's not all.
There is one more important factor when it comes to lithium brine projects that many people overlook.
In fact, it's so critical that it can make a big resource small.
But it can also make a small resource big.
Porosity and Permeability
When you're pumping the brine out from the ground, porosity and permeability plays a very important factor.
If the pores inside the ground are tiny, the brine moves very slow.
This is a very important variable because it doesn't matter how big your deposit is if it takes a long time for the brine to get through.
That means you can have a large deposit but still have low production if the pumpability is low due to the tiny pores in the ground. In order to make these projects work, you'd have to add a lot of extra pumping wells, which significantly increases your capex.
Furthermore, the salar environment is dynamic. It's not static. As you suck brine out, the chemistry can change over time. The slower you suck up the brine, the bigger the risks of that brine changing.
If you can pump the brine out at a faster pace, not only can you produce more lithium per unit of time (time is money), but you mitigate the risk of changes in the brine.
And the pores at Lithium South are big. That means they can pump more brine per unit of time, thus extracting more lithium per unit of time.
Lithium South's original pumping tests indicated an average pumping rate of 20-25 liters per second of brine – limited only by the capacity of the pump on hand at the time.
Management believes they can easily get to around 35 liters of brine per second.
When you combine high grades, great chemistry, and high pumpability, a small lithium resource within the Lithium Triangle can all of a sudden become a very profitable operation.
Lithium South Resource
Between 2017-2018, Lithium South drilled a resource of 571,000 tonnes of lithium carbonate based only on the Tramo tenements of 383 hectares.

Shortly after, in 2019, they completed a Preliminary Economic Assessment (PEA) using this resource that resulted in an after-tax NPV8% of US$217m and 28% IRR, based on 5,000tpa lithium carbonate production over a 30 year mine life.
Initial CapEx was estimated at US$93.3m and OpEx at US$3,112/t lithium carbonate, with a  payback period (from commencement of production) of just 2 years and 5 months.
More importantly, the PEA was based on a project price assumption of US$12,420/t.
Last November, battery grade lithium carbonate hit a whopping $86,170/t in China.
Today, lithium prices still range anywhere from $27,000-$40,000/t.
In other words, if Lithium South were to redo their PEA based on today's numbers, it would likely be significantly better.
Combine that with a bigger resource through further drilling, and the numbers could be awesome.
And that's exactly what Lithium South has been doing.
Drilling
Over the last couple of years, Lithium South has been busy drilling to expand their current resource, primarily focused on the Alba Sabrina claim block.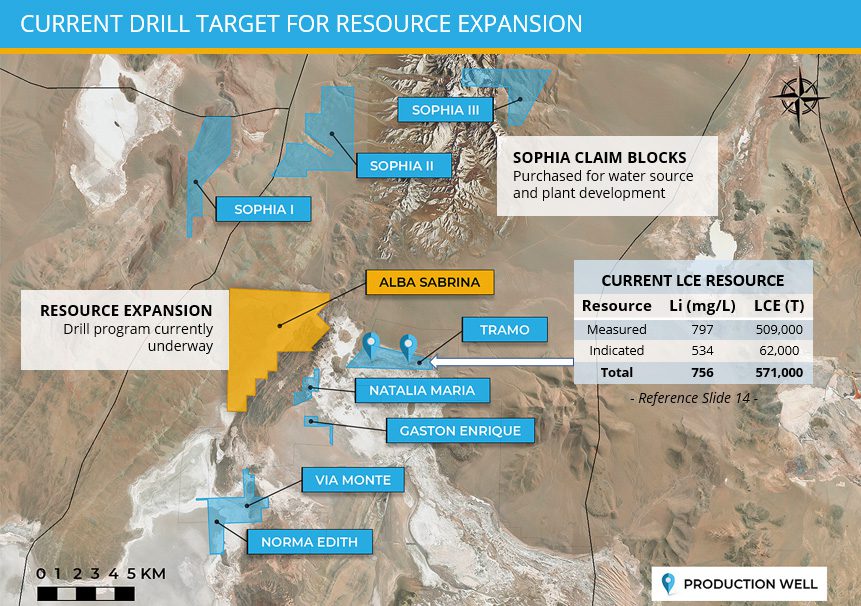 And drilling has gone very well.
Just take a look:
The Alba Sabrina drill program returned an average lithium concentration of 692 mg/L lithium, while the Natalia Maria core hole returned an average of 1176 mg/L lithium.
Any time now, Lithium South is expected to release a new updated resource from the drill results, which management expects to significantly add to their production potential.
If they can double – or even triple – their current resource, they have the potential to double, or even triple, their annual production, given the throughput and pumpability of their brine.
That would be a massive game-changer for the company.
If Lithium South could show a path to 15,000 tonnes per year of production, it would not only put Lithium South in a position to become a mid-tier producer, but it would immediately make them a take over target.
But we're not done with the blue sky just yet.
Via Monte and Norma Edith
Via Monte and Norma Edith are two very important claim blocks for Lithium South because they are situated on a different area of the salar.
The makeup of this area, primarily owned by Livent, is comprised of large crystalline halite that is extremely porous.
So while the claim blocks of Via Monte and Norma Edith don't look very large, as we mentioned earlier, it's all about the pumpability.
Just southwest of the two claims, Livent has been pumping for years without changing the chemistry of the salar.
And given what management already knows of the chemistry and porosity of the salar, and what has been accomplished by Livent, Lithium South could add three production wells and potentially add another 5-10k tonnes of production per year from these claim blocks alone.
If this happens, it could potentially turn Lithium South into a 25,000/tpa producer – enough to power the batteries of 600,000 electric vehicles.
The craziest part about all of this?
Lithium South is trading at less than a US$37 million valuation (CAD$50 million).
So let's take a look at how Lithium South compares to its peers in terms of value.
Comparables
Take a look at this chart from Alpha Lithium, who is currently fighting off a C$241 million takeover bid: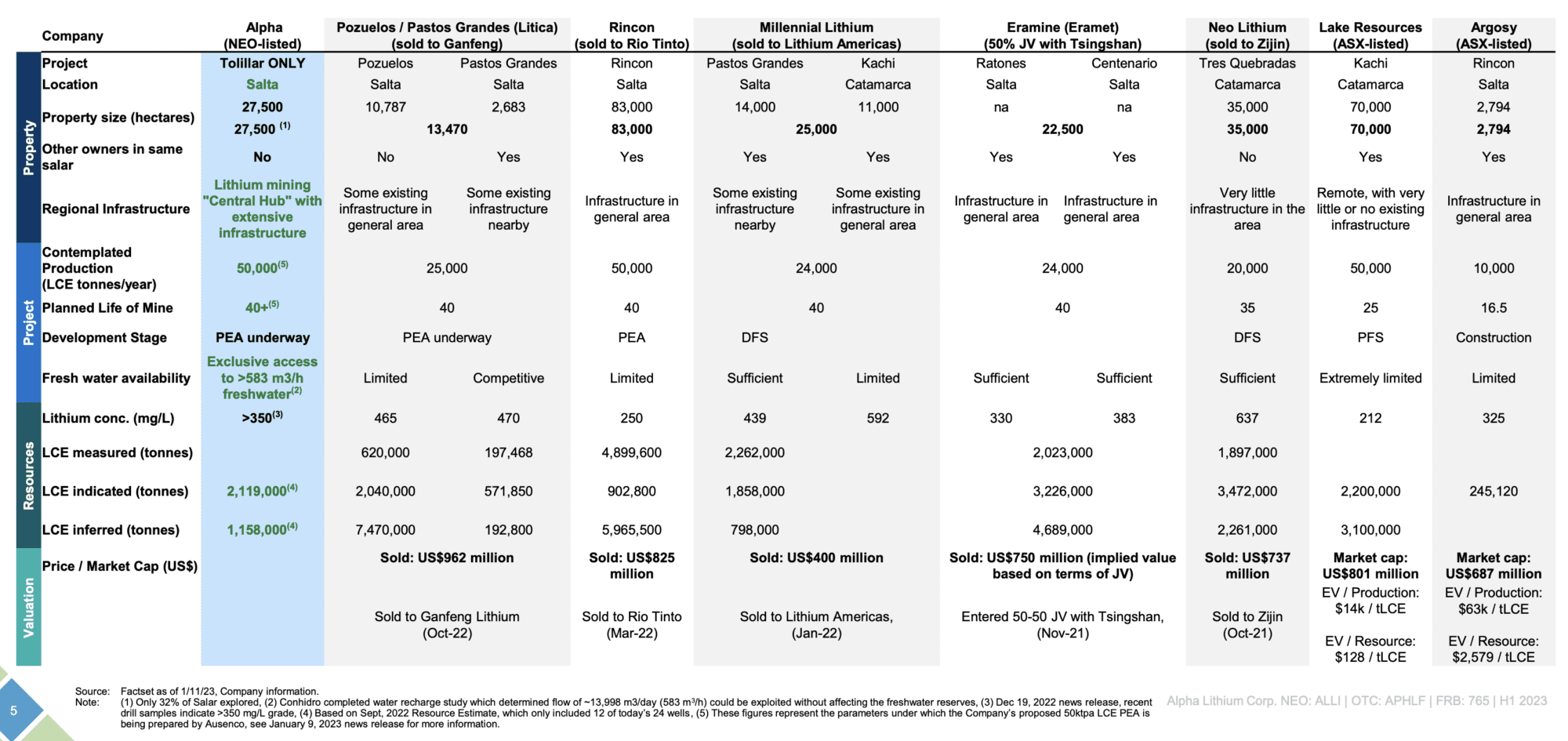 Take a look at the average grades of these projects.
The highest grade of 637 mg/L belonged to Neo Lithium, which was bought out by Zijin for US$737 million.
The lowest grade is Lake Resources at 212 mg/L, which had a market cap of over US$800 million last year, before they announced their delays and cost overruns.
Lithium South has a resource with a grade of 756 mg/L – the highest of ANY of these comparables. And management has stated that they expect their upcoming resource to have similar grades, if not better, than their current resource.
Let's move on to mine life and production.
Most of these companies have an anticipated mine life of 16.5 – 40 years, with anticipated annual production between 10,000-50,000 LCE tonnes, and a sweet spot of around 20,000-25,000 LCE tonnes.
In Lithium South's previous PEA, which used a resource of only 571,000, the Company was able to show potential production of 5,000 LCE tonnes per year with a 30 year mine life. While the production profile is on the low side of these comparables, keep in mind that Lithium South is expected to release an updated resource ANY day now – a doubling of the resource could arguably double their production, while a tripling of their resource could potentially triple their production.
This is one of the reasons why I believe Lithium South remains undervalued.
Comparing lithium projects can be like comparing apples to oranges, as each project is different in their chemistry, size, location, grade, etc.
What is easier to compare is value. And when you take a look at every comparable above, you can see that ALL of them are worth hundreds of millions of dollars, with a sweet spot annual production of between 20,000-25,000 LCE tonnes.
Lithium South has a path to potentially hit that production profile.
The biggest difference?
Lithium South is currently worth less than US$40 million.
Try finding another company at this value in the Lithium Triangle with similar grades and chemistry. I haven't been able to.
Conclusion
The race to secure lithium is heading into the 9th inning.
With Chile nationalizing its lithium industry, the big players are on the hunt – especially for earlier stage lithium developers whose valuations haven't exploded.
Via Reuters:
"Driven by receding prices of lithium and by major producer Chile nationalising the industry earlier this year, companies such as Albemarle Corp (ALB.N), the world's biggest lithium producer, have been sniffing around for buys…
…However, they are reluctant to pay up for listed producers whose market valuations have sky-rocketed on the back of booming prices…
…That is forcing acquirers to shift their hunt to earlier stage lithium developers, including some who are drilling to quantify reserves, according to bankers, lawyers and mining analysts."
And it's not just lithium players getting in the game.
The biggest players of all, big oil, is looking to join as well.
Via WSJ:
"Exxon Mobil is bracing for a future far less dependent on gasoline by drilling for something other than oil: lithium.
… Exxon bought 120,000 gross acres in the Smackover formation of southern Arkansas from an exploration company called Galvanic Energy, according to some of the people."
Base metal miners are interested, too.
Via Yahoo Finance:
"Rio Tinto CEO Jakob Stausholm said on Tuesday the global miner is focused on small, bolt-on acquisitions to shape its portfolio and is looking at a number of potential lithium acquisitions but added the sector remains quite hot.
…"I don't think we need a big acquisition right now…What we are trying to do is a bit of smaller portfolio acquisitions…that shapes the portfolio."
In other words, Rio Tinto is looking to buy smaller projects that are easy to operate – and nothing is more tried, tested, and true than high grade lithium brine assets with great chemistry in Argentina.
And that means more consolidation in the lithium space is coming.
Just ask Tianqi Lithium, one of the world's biggest lithium producers.
The lithium market is getting bigger but the opportunities for great assets is shrinking.
China already controls most of the global lithium supply, with some estimating that it controls as much as 80% of it. It also controls three-quarters of the lithium-ion battery megafactories in the world and more than half of the world's lithium processing and refining.
Car, battery and chemical companies are heavily reliant on supply chain. And given the current geopolitical climate, that supply chain coming from China is a big question mark for EVERY non-Chinese company.
If you're a battery or EV company and you have no supply, you're out of business.
That's why many of these companies want their own supply of lithium.
And Lithium South is one of the last important deposits in the Lithium Triangle that's in the hands of Western management.
Furthermore, there are only two companies left in the world-renowned Hombre Muertos salar that doesn't already belong to a major: Lithium South and Galan Lithium.
Galan currently trades at a value of nearly US$200 million.
Lithium South currently trades at a value of less than US$40 million.
In my opinion, this makes Lithium South one of the most undervalued lithium assets today – and this is BEFORE their anticipated resource update that is expected ANYTIME now.
Once that's out, management expects to follow it up with a new PEA.
Both of these upcoming announcements could put an immediate target on Lithium South and have buyers scrambling to buy the asset while the company still trades at its current ridiculously low valuation when compared to its peers.
I believe that as Lithium South advances their project, the big guys will want to buy them in order to maintain control of their own lithium supply.
The lithium boom has only just begun and there aren't many players left.
And that's why Lithium South is my next lithium play.
Lithium South Development Corp
Canadian Stock Symbol: LIS
US Stock Symbol: LISMF
Germany Stock Symbol: OGPQ
The information contained herein is provided solely for the reader's general knowledge. The information is not intended to be a comprehensive review of all matters and developments concerning Lithium South Development Corporation (LIS). All information is offered on a "best intentions" basis. No securities commission or other regulatory authority in Canada or any other country or jurisdiction has in any way passed upon this information and no representation or warranty is made by LIS and Equedia to that effect.
This presentation may include "forward looking statements." All statements, other than statements of historical fact, included herein, including without limitation, statements regarding exploration results, future plans, or objectives of LIS.
Some of the statements herein are forward looking statements that involve risks and uncertainties. There can be no assurance that such statements will prove to be accurate and actual results and future events could differ materially from those anticipated in such statements. LIS and Equedia do not make any representations, warranties or guarantees, express or implied, regarding the accuracy, completeness, timeliness, noninfringement, or merchantability or fitness for a particular purpose or use of any information contained in presentation.
Furthermore, the information in no way should be construed or interpreted as, or as a part of, an offering or solicitation of securities. Investors are advised to discuss all of their stock purchases with a registered securities broker or personal finance professional prior to investing. No obligation, responsibility or liability shall be incurred by LIS and Equedia or any of its officers, directors, employees or agents for any loss or damage whatsoever, whether incidental, special, indirect, consequential, punitive, exemplary, or for lost profits in connection with, caused by or arising from any delays, inaccuracies, errors or omissions in or infringement by, or from any use of, or reliance on such information contained in this presentation.
THE FINANCIAL PROJECTIONS PERTAINING TO THE HOMBRE MUERTO LITHIUM PROJECT ARE BASED UPON ASSUMPTIONS, EXPERIENCE AND PROPRIETARY KNOWLEDGE OF KEY LITHIUM MANAGEMENT. FURTHER EXPLORATION OF THE HOMBRE MUERTO NORTH LITHIUM PROJECT IS REQUIRED TO CONFIRM THE ASSUMPTIONS CONTAINED WITHIN THIS LETTER AND TO VERIFY AND CONFIRM THE POTENTIAL OF THE FINANCIAL MODEL.
THIS PRESENTATION IS FOR DISCUSSION PURPOSES ONLY.
Mr. William Feyerabend, a Consulting Geologist and Qualified Person under N.I. 43-101 participated in the writing of this advertisement and approves of the technical and scientific content.
Equedia.com and Equedia Network Corporation are not registered as investment advisers, broker-dealers or other securities professionals with any financial or securities regulatory authority. Remember, past performance is not indicative of future performance. This article also contains forward-looking statements that are subject to risks and uncertainties that could cause actual results to differ materially from the forward-looking statements made in this article. Just because many of the companies in our previous Equedia Reports have done well, doesn't mean they all will. We are biased towards Lithium South Development Corp (LIS) because the Company is an advertiser on www.equedia.com. We currently own shares of LIS. You can do the math. Our reputation is built upon the companies we feature. That is why we invest in every company we feature in our Equedia Special Report Editions. It's your money to invest and we don't share in your profits or your losses, so please take responsibility for doing your own due diligence and consult your own professional advisers before investing in LIS or trading in LIS securities. LIS and its management have no control over our editorial content and any opinions expressed in this article are our own. We're not obligated to write a report on any of our advertisers and we're not obligated to talk about them just because they advertise with us. For a complete disclosure of the compensation received by us from LIS, please review our Terms of Service and full disclaimer www.equedia.com/terms-of-use/.