Dear Readers,
The stock market is rigged.
I have been hearing that a lot lately.
Heck, even an interview between Jim Cramer and Alex Rodriguez popped up on my Youtube about how Cramer feels the stock market is rigged in favour of the big guys.
His rationale was simple: certain stocks are too expensive for the little guys to buy.
He gave the example of Amazon trading at over US$1700, and how most people can't afford that.
His solution?
Split the stocks so that they're more affordable for the average investor.
Great suggestion Jim – but you're wrong.
The market isn't rigged in favour of the big guys because stocks are too expensive.
It's rigged because of unregulated short-selling.
It's rigged because of how hedge funds can use convertible debt financings to short stocks with little risk – all at the expense of retail investors who bet long.
It's rigged because big funds use dark pools to hide prices from the average investor.
These are all things I have discussed in the past.
If you haven't read one of those letter, here's one of many:
https://www.equedia.com/canada-stock-market-manipulation-transparency-issues/
In fact, I was quite surprised Jim didn't mention any of these things because he used to be a hedge fund manager – it almost seemed he was intentionally hiding the secret sauce of his hedge fund comrades.
Perhaps I am wrong – but Cramer is a smart man who has made a lot of money. I am sure he knows what I am talking about.
Unfortunately, this "rigging" of the stock market is even more apparent in Canada; so much so that US hedge fund managers are literally laughing at our market – and taking advantage of it.
For example. many hedge funds have used Canada's removal of the "up-tick" rule to their advantage and have made billions from the losses of Canadian retail investors.
In fact, I have heard from a number of close associates that many US-based hedge funds have laughed at the Canadian system on how easy it was for them to arbitrage and manipulate our stock market.
And since these funds have massive accounts with our Canadian firms, the Canadian firms turn a blind-eye – these include some of Canada's biggest banks.
I won't get into the details of how the Canadian stock market has been destroyed in this Letter, but feel free to go back to a previous letter I wrote: https://www.equedia.com/canada-stock-market-manipulation-transparency-issues/
Instead, today I want to share with you where the TSX Venture stands, written by John Toporowski from a more technical approach.
Why?
Because the TSX Venture, with its speculative bias and lack of consistent liquidity, is one of the easier targets for market manipulators.
Knowing where it stands allows us to make better judgement calls on both how to trade and invest in stocks within it.
TSX Venture Index – Year-End Review
The TSX Venture Index tracks many small exploration stocks and is a good gauge of speculative interest. More recently, it also included cannabis companies that speculators came to prefer over sagging resource stocks that have been under steady pressure since peaking in 2011, except for a brief rally during the first half of 2016.
Looking at a longer-term weekly chart going back to 2000, a clearly defined horizontal support/resistance level is shown at the 900 level. Furthermore, in the medium term, another key overhead resistance level is seen at the 700 level. The index is currently trading at around 540.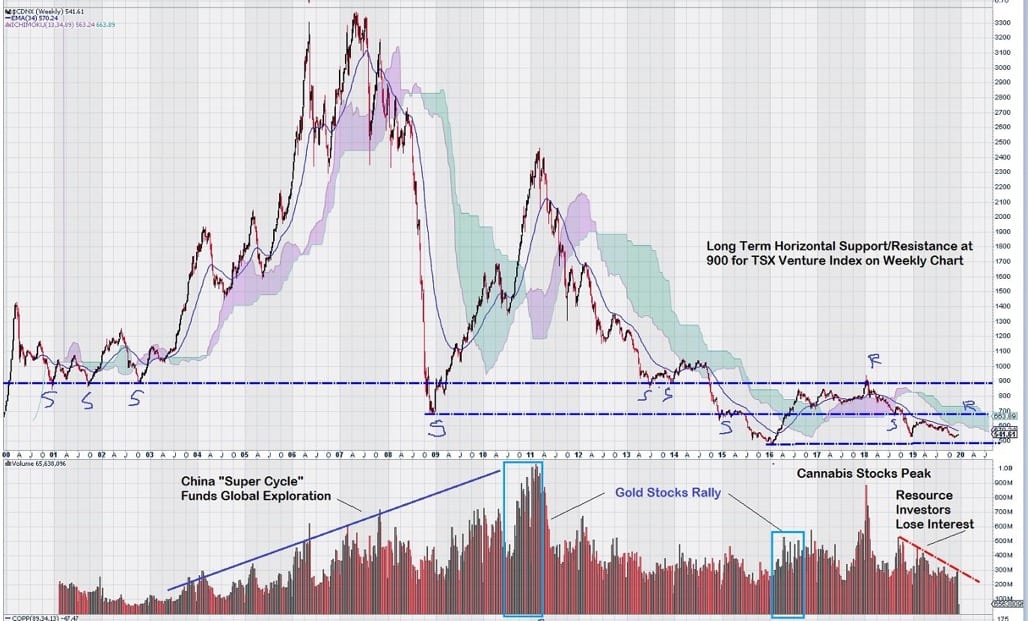 Volume is a key indicator for the chart.
Around 2003, the "China Super Cycle" kicked in and drove valuations steadily higher for the next five years. Then came 2008 and the financial crisis that quickly followed a "lock-up of credit" when banks refused to re-finance overnight money markets.
Gold stocks then rallied with very strong investor interest, as shown on the chart.
They reached a peak in 2011.
A very brief rally in cannabis stocks nearly doubled the index from a low of 500 in 2016 to a high of 900 in 2018.
Since the 2018 interim peak high, both resource and cannabis stocks have declined under failing volumes.
The biggest unanswered question that investors in small speculative exploration plays now face is: how will positive changes come about?
Many Canadian resource newsletter writers who give regular presentations have characterized the last few years as an "extinction event."
On a more practical basis, this concern for the future has resulted in a strong concentration of investor interest, but a mere handful of companies that are delivering strong exploration success. Mediocre results have no place in today's strongly biased market.
Year-End Rallies Smell of Short Covering by Large Players
We took the long term chart for the TSX Venture Index and focused on the past few year-end periods from the end of 2016 forward. In each case, we see what could be interpreted as "seasonal pattern."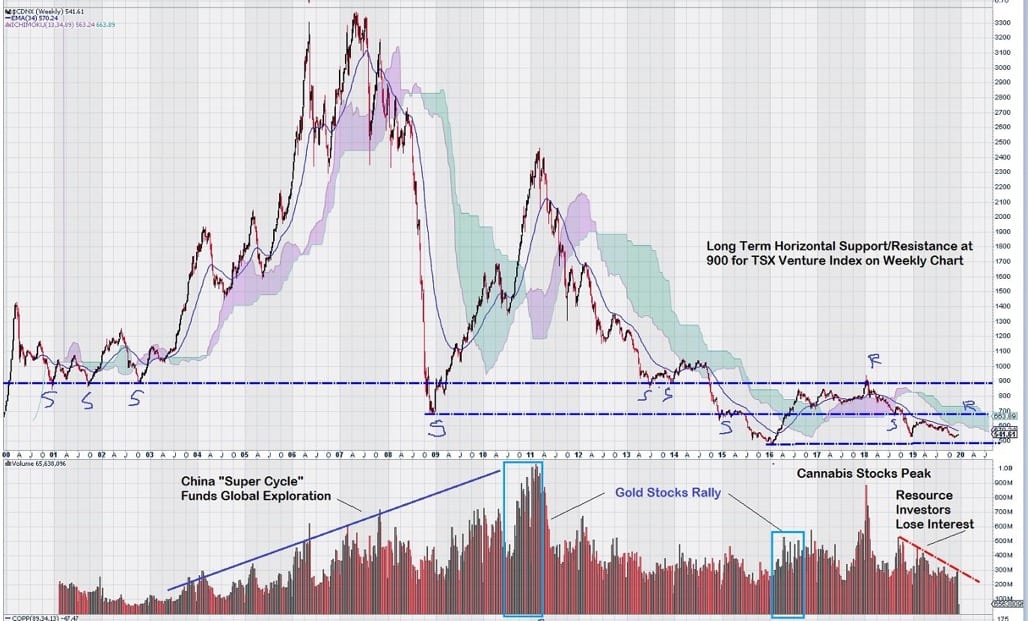 Stocks hit lows in November/December (tax-loss selling/lack of exploration results/Christmas season). Sharp, short, and unsustainable rallies ensue.
Does a new year bring new hope?
Currently, for the past few weeks, resource stocks have been inching upwards with some decent positive volume.
To me, this pattern is a bit suspect and could be pointing to the "heavy hands" of a few like-minded large and sophisticated investors with the financial clout to influence market direction*.
(*Ivan suspects that this is also in concert with smarter money, including his own, who play the seasonal trade that has been extremely accurate over the last decade: buy the dips in December, sell before February.)
The CEOs of small firms have given up on pleading their case to stock exchanges and regulators. The "every day" 500 share downtick in the last minute of trading is not noticeable until its effects are felt over time (see Ivan's letter on the Uptick Rule.)
To be clear, I am not suggesting a "short cartel" but rather a collection of unrelated common interests – to pressure resource stocks lower at the end of the year, rally them sharply, and then fade the trade during the year. A sort of wash, rinse, repeat scenario.
The declining volumes now show that retail investors who make up the audience for these small stocks have lost their interest in participating in what many openly view as a "rigged game."
A Key Charting Clue for 2020

The chart above features an exponential moving average: EMA (34).
Since March 2018, the TSX Venture Index has not had two consecutive weekly closes above this important level. (See chart above – blue line above the price chart.)
A charting tip would be to put this EMA into your weekly charts and then sit back, relax, and enjoy the holidays. In the new year, wait for a cross over above this line for confirmation that a new positive trend is underway.
One of the charts we will be closely watching next year will be the S&P TSX Global Gold Index. Why?
We want to see if our premise that a rising gold price past $1550 will move the index forward past its multi-year defined overhead resistance level of 280.
Happy Holiday Wishes to all.
Health and Happiness will always trump Prosperity!!
So have some fun this year before you become too busy next year trying to have some funds….
-John Top
Conclusion
John puts a very technical perspective when it comes to viewing stock market patterns. He notes that if gold stocks, through the Global Gold Index, can pass through the 280 resistance level, then we can get excited about gold stocks – at least in the near-term – but not until then.
I believe he is correct – but also for other reasons.
A lot of money that was once put into cannabis is now slowly shifting toward mining stocks – a sector that Canada has much more experience with. For example, the smaller brokerage houses are now in the process of re-hiring personnel that have experience in the mining space.
As I mentioned in the last Letter, a rising gold price will first lift the large caps, then the mid-caps, and overtime, a few select small caps – a rising tide lifts all boats, so to speak.
It's no wonder our latest investment idea is doing so well.
I suspect the seasonal trade will once again prove promising in Canada; thus, I continue to add many beaten-down stocks to my portfolio, which include primarily mining stocks, but also a small selection of cannabis stocks.
I know everyone is gearing up for the holidays, but take a few moments to participate if you can.
Lastly, while the stock market is most certainly rigged for the bigger players, through the loopholes in regulations, there are many things you can do to be ahead of the game.
For example, in Canada, try to stay away from companies – especially in the cannabis space – financed primarily through large convertible debt. If you still want to invest in one of these, at least time the trades of the shorts by trading them, rather than a long-term investment view.
Also, look for companies that have cash flow – ones that don't need near-term financing – and ones that might end up in a large ETF.
Remember, if we know how the market is rigged, we can use it to our advantage.
So, in 2020, I'll go more in-depth on how the stock market is rigged and how to use it to your advantage – so stay tuned!
2020 will undoubtedly be one of volatility and wonders, led by the Trump impeachment and then the US elections. So, make your trades count and enjoy 2019 while it's still here.
Wishing you all a very Merry Christmas, happy holidays, and a Happy New Year.
Stay safe.
Seek the truth,
Ivan Lo