Dear Reader,
The world's most powerful financial institutions are buying it at record-pace.
If this continues, it will be the biggest purchase not seen in over 60 years.
In fact, even countries like Serbia have joined.
Just last month, Serbia purchased nearly half a billion dollars of this.
Meanwhile, ETF holdings for it just hit an all-time high in Q3.
In case you didn't already guess, I am talking about gold.
A Special Moment
It's been over four years since I introduced you to an investment idea in the gold sector.
The last time I did, that company was bought out for nearly C$600 million – a potential return of over 400% in just over a year.
The gold idea before that?
That company was bought out for over C$1 billion – also just a year later from when I made the initial introduction.
That's why I couldn't be more excited today.
Today, after four long and extremely patient years, I am finally ready to introduce you to my next "golden" idea.
The Biggest in the Country
I am about to introduce you to a company whose management team has made investors hundreds of millions and discovered billions of dollars worth of gold.
But it's just some exploration gold company looking to strike it big.
And it's not a gold company attempting to develop a mine – because we know how long and how much money that takes.
I am talking about a company that is on track to produce over US$50 million worth of gold* in this quarter alone!
*at current gold price.
After four long years, this company had to be something special.
And it is.
Let me tell you why.
How in the World?
A few months ago, a report came across my desk that immediately got my attention.
It detailed an unusually special situation on how one junior exploration company may not only have the firepower to outperform its peers in this market, but also take advantage of a unique opportunity that many of its peers can't touch.
It was the one of the most promising deals I have seen in a long time – nearly four years to be precise.
It was so good that I knew there had to be a catch.
And there was: It wasn't a done deal.
For the deal to go through, the company needed to raise a whopping C$100 million – not exactly an easy thing to do in this capital-constrained environment.
How many junior mining companies do you know of that have raised that kind of capital recently?
Not many, I presume…
But that wasn't the hard part.
The hard part was convincing the owner of a basket of cash-flow producing assets with nearly four billion dollars* worth of gold in the ground and over $560 million spent, to merge their assets into a junior explorer that didn't even have the C$100 million yet!
(*based on the total combination of reserves, inferred, measured and indicated resources at today's gold price, priced in USD.)
Now, this may seem like a tall order: Why would anyone want to merge nearly four billion dollars worth of gold in the ground and tens of millions in revenue every year, into a junior explorer that didn't even have the $100 million?
Well, let me tell you.
This deal wasn't sent to me from just any junior exploration team.
It came from a group that has done it many times over; one that has made investors hundreds of millions along the way.
And that's where the story begins.
Back-to-Back Champions?
Much of what you just read may sound strangely similar to a story I wrote about five years ago.
Five years ago, I introduced readers of this Letter to a group of individuals that negotiated an incredible deal to merge $7 billion worth of gold assets into a shell company that had nothing more than the anticipation of a C$25 million bankroll.
At the time, the junior gold market was taking a turn for the worse, and exploration companies were failing. There simply weren't the exits there used to be for development companies within the mining sector.
And no exits meant no capital.
To even have a chance of a success in the gold sector, you needed to be a producer.
After looking at hundreds of assets and spending hundreds of thousands of their own money, this team finally settled on a project.
They found a public company with three 100%-owned operating mines across Australia that collectively were producing more than 200,000 ounces annually.
But these assets had been mismanaged so many times by so many people that no one else was willing to back them or even talk about them.
The assets were outstanding, but a bad barber with the sharpest scissors still won't give you a good haircut. Such was the case with the Australian company's management. Furthermore, 80% of the company was owned by five hedge funds down in New York.
In other words, it really wasn't a public company at all; it operated more like a semi-private entity. As a result, there was no liquidity and very little institutional coverage.
But THIS team saw the diamond in the rough.
They saw a mismanaged world-class gold producer with massive exploration and discovery potential.
And they took advantage of it.
They negotiated a deal to merge the assets into a new Company for a measly $25 million.
But how?
Because of the people.
This team of individuals has collectively founded, managed, and sold mining companies with a combined value of nearly $30 billion at the time.
They not only turned the Australian mines around through significant improvement in operations but did exactly what they thought they could do: make a massive discovery.
In less than a year, this team turned that twenty-five-million-dollar acquisition into a sale of the assets just over a year later for over $1 billion.
That Company was Newmarket Gold.
A Massive Win
I first introduced Newmarket Gold (Newmarket) to readers back on July 26, 2015, when it was trading at C$0.82.
In September 2016, Canada's Kirkland Lake Gold announced that it would acquire Newmarket for roughly C$1 billion – valuing Newmarket at C$5.28 per share.
That's a gain of more than 540% in barely over a year.
But that's not all.
The team at Newmarket didn't look at the deal as an exit – they looked at it as a way to bring even more value to existing shareholders.
And boy, were they right.
Since that transaction, Kirkland Lake Gold has been one of the best performing gold stocks.
Today, Kirkland Lake is worth over C$65* per share.
*as at November 20, 2019.
If you were a Newmarket shareholder and held on, each one of your shares today could be worth over $30*.
That's a potential return of 3558% from the $0.82 per share.
*based on a 0.475 consolidation.
A $10,000 investment could have become $355,800.
A $100,000 investment could have become $3,558,000.
I bet anyone who sold early is kicking themselves – including myself.
But here's the good news.
We have a second chance.
What if I told you that there was an opportunity to once again participate alongside this super successful team?
What if I told you that you could participate at the same price levels – even cheaper in some cases – than the dream team involved in this deal?
Well, you can.
Betting on Themselves
The core founders of the company I am about to introduce have not only invested millions of their own money, but some have an average cost base (ACB) of between C$0.80-C$1.00.
Today, shares of this Company trade for C$0.75 – coincidentally around the same price as Newmarket when I first introduced it.
After many years of silence – this same team believes they have found another winner.
And I believe them.
Only this time, the team is even bigger and better than before.
Introducing…
Calibre Mining Corp.
(TSX: CXB) (OTCQX: CXBMF)
Calibre Mining Corp. (Calibre) is company with gold assets in Nicaragua, comprised of many of the same core individuals that created and sold Newmarket Gold.
Over the past few years, they have been patiently looking for another winner.
Under a similar formula of success as the one deployed at Newmarket, they began searching for gold-producing assets with the potential for massive exploration upside. They looked at hundreds of projects.
But to their surprise, and perhaps fate, there was one sitting right in their own backyard.
B2 Gold (B2) is a company worth over C$5 billion*. It owned and operated two gold mines in Nicaragua, but have since shifted their primary focus on mining in Africa and even the Philippines. To maximize value for shareholders, B2 felt it should focus its resources and expertise to the much larger mines in Africa.
*as at November 20, 2019.
And with good reasons: it seemed that no matter how strong the drill results were or how consistent gold production was at its mines in Nicaragua, B2 received little to no increase in incremental value for investors. Nicaragua was, after all, on the other side of the world. And with an expected 600,000 ounces/yr of gold production in Africa alone, along with around 200,000 ounces/yr in the Philippines, it only made sense for B2 to focus its efforts on the Eastern Hemisphere.
The guys at B2 are smart. So they quietly began looking for a suitor that could maximize the value of the assets for their shareholders.
In came the guys at Calibre.
While Calibre didn't have the necessary capital at the time to do the deal, they did have one key element that allowed them to get the deal done: a winning team.
Take a look: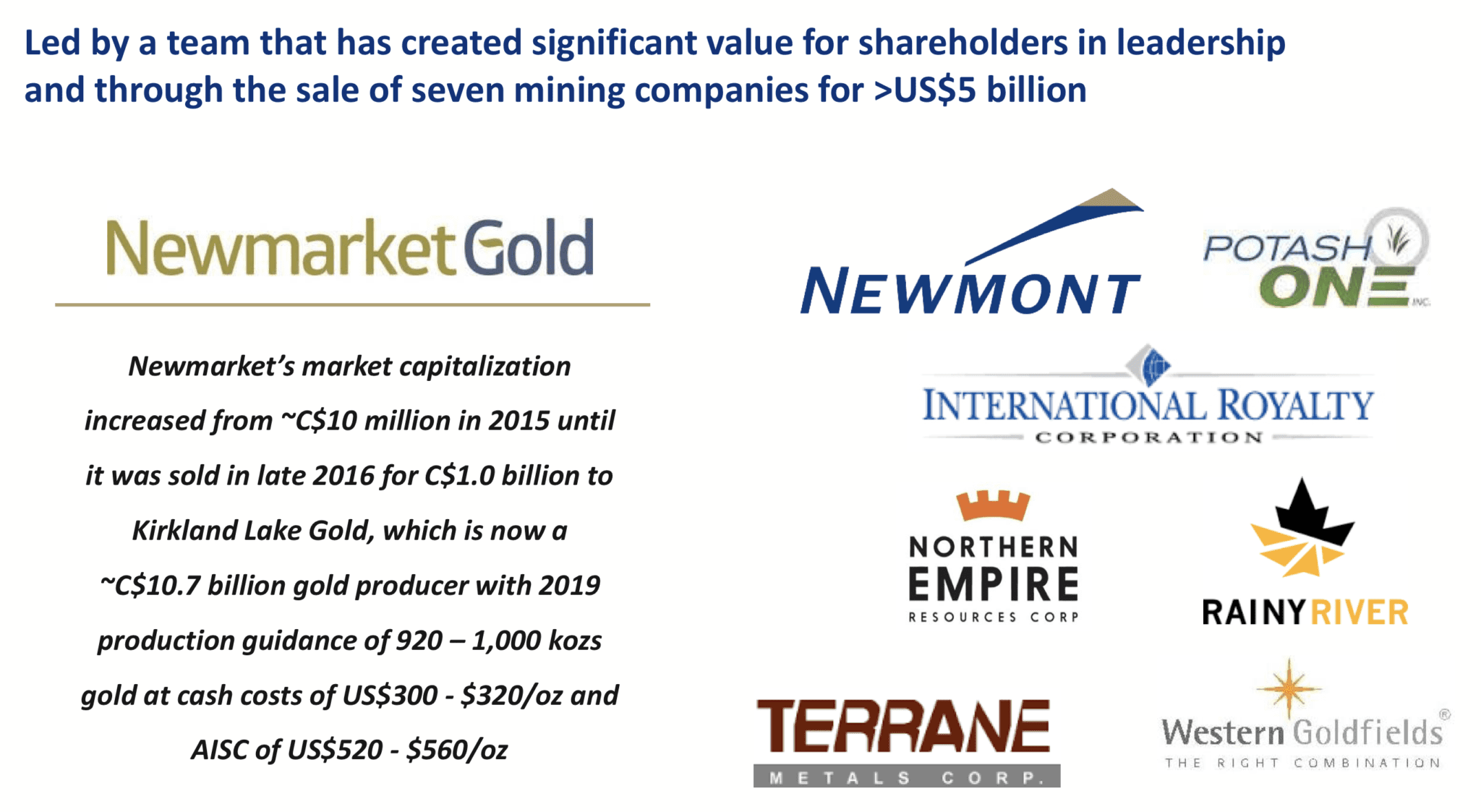 A deal was struck between the two groups, whereby B2 would sell Calibre the portfolio of Nicaragua assets for US$100 million.
But cash alone wouldn't be enough to maximize shareholder value for B2; after all, B2 knows that massive upside remains at Nicaragua – especially with the Calibre team.
B2 wanted to maintain that upside for its shareholders, so it took part of that $100 million in direct equity.
Shortly after that deal was struck, the team at Calibre raised over C$100 million and closed it last month.
B2 now owns 34% of Calibre, and Calibre now owns 100% of the assets – with CDN$45 million of cash to spare.
So just what did Calibre buy?
A Cash Flow Machine
Calibre now owns two operating gold mines: La Libertad and El Limon.
For nearly a decade, the La Libertad and El Limon Mines have been responsible for a large percentage of Nicaragua's gold exports. In fact, they are the largest exporters of gold in the country today.
In addition, the two mines are collectively also the largest individual exporting operations in the country.
Considering that gold is now the third-largest export for Nicaragua, that's a big deal.
Just how big?
From October 15 to the end of this year, the two mines are expected to produce between 32,000 – 35,000 ounces of gold with All-In Sustaining Costs (AISC) between US$950-980 per ounce of gold.

With the price of gold nearing US$1500, Calibre could be spitting out around $18 million of operating cash flow over the next few months, with potential revenues of over $50 million by the end of this year.
And that's not even a full quarter of production*!
*Calibre misses the first couple of weeks of production for Q4, as the assets belonged to B2.
Furthermore, operations at the two mines have already been improving in Q3 under B2: sustaining capex at both mines have been reduced, they're pulling out higher-grade ore from the El Limon Central open-pit, and getting higher mill throughput and recovery at El Limon.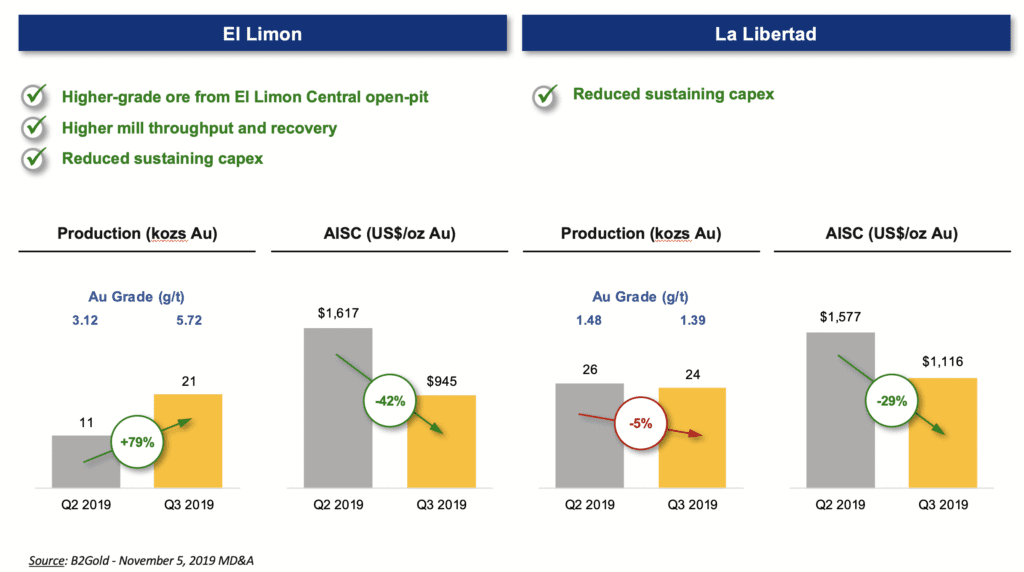 But the best part isn't that Calibre is making money right out of the gates with better results; the best part is what these assets could become…
The Two Producers: El Limon and La Libertad
Both El Limon and La Libertad are low sulphidation epithermal gold type systems – a type of gold system known to have created some of the world's premier gold mines and is very well understood by geologists.
In fact, these systems can be quite extensive with very high grades and can extend for up to 500 meters from surface when they're formed.
And from a geological perspective, the mineralization at El Limon and La Libertad is likely less than 10 million years old – an extremely young age for a mineralized system.
Why is that significant?
Mineralization can be hundreds of millions of years old. The older the system, the more time it has for faulting deformation and erosion to take place.
In other words, the older the system, the more likely you are to end up with structurally complex deposits – the more complex the system, the harder it is to track the gold and the more costly it may become when you're trying to mine it since much of it may have eroded.
For example, when you're looking for gold deposits, you're also looking for mineralogy: How clean is the ore? Is it recoverable?
Both El Limon and La Libertad are getting metallurgical recoveries greater than 90% – likely benefitting from being such a young system.
But that's not all.
The deeper you go down a system, the more deleterious elements you'll likely find – elements such as mercury, antimony, and other base metals such as galena, sphalerite, lead, and zinc.
And since much of those elements have yet to be found at the mines, it leads to the belief that Calibre is still fairly high in the system – and that's where you want to be.
That – along with the young age of the systems – means that a lot of mineralization is preserved, and the erosional level is not that deep.
Therefore, the depth extent can be quite extensive; as I said earlier, up to 500 meters on these types of systems. Calibre isn't even half way there yet. More on this in bit.
Given that both El Limon and La Libertad are already substantial low sulphidation epithermal deposits – having produced around 3.5 million ounces and 1.3 million ounces, respectively – it shows us there's likely still tons of upside.
And that's precisely what we want.
El Limon

El Limon is a high-grade, open-pit and underground mine with a 500,000 tpa mill capacity and district-scale exploration opportunity. It currently sits right in the middle of many well-known resources whose potential have yet to be unlocked.
Take a look: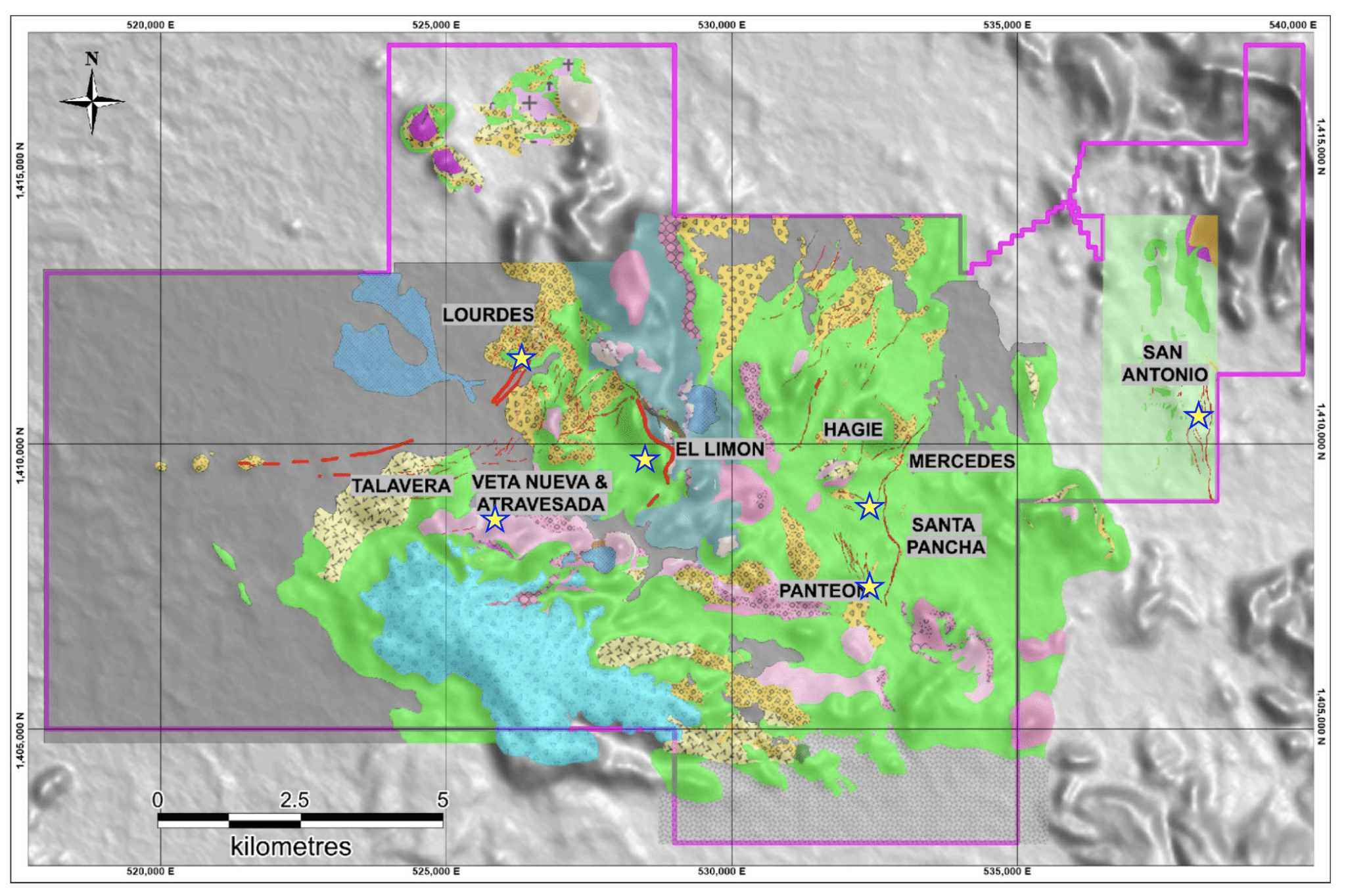 This is what we know of El Limon right now: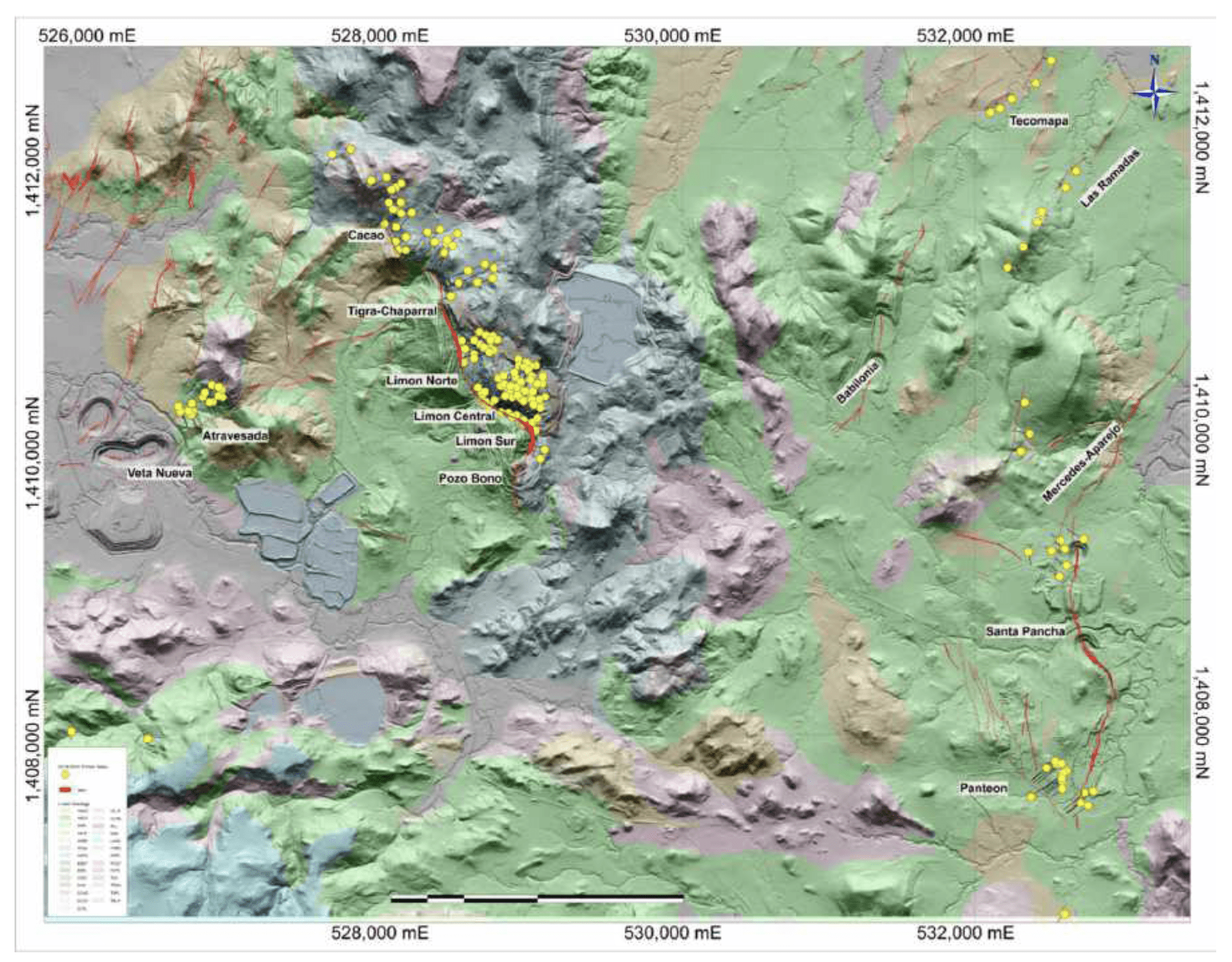 Those yellow dots are drill holes where they have found mineralization, and Veta Nueva is currently being mined and developed along with El Limon Central.
Here is another view: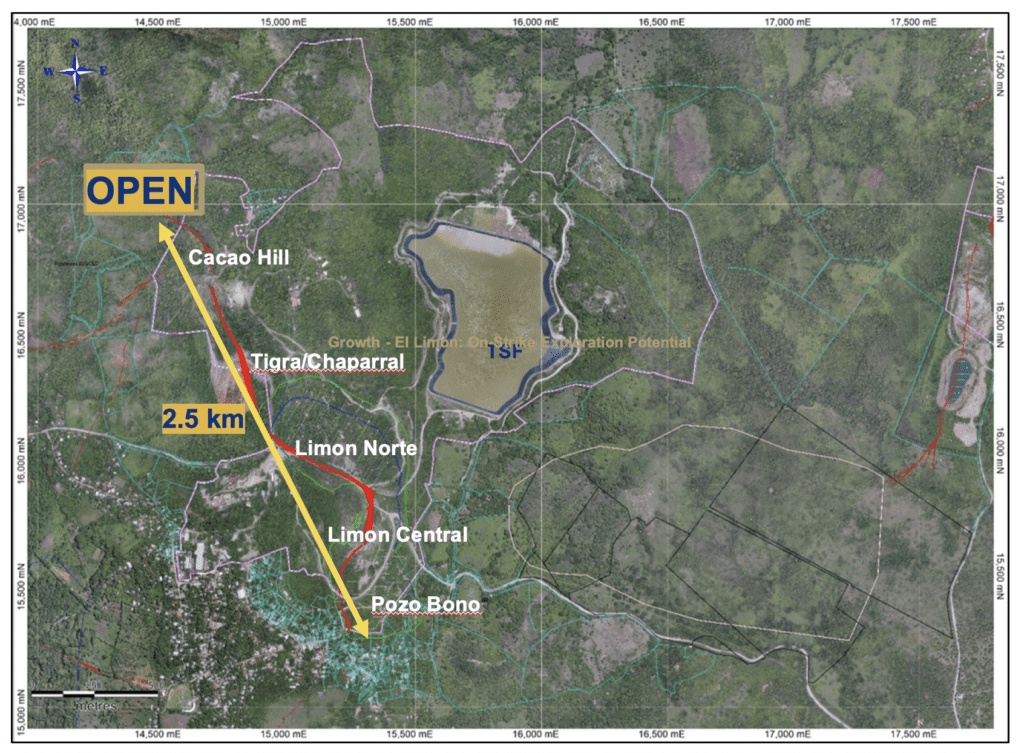 As you can see, there's around 2.5km of on-strike potential – meaning that they have, through drilling, discovered a very long system.
Calibre is currently processing ore from Limon Central, which represents only about 500m of the 2.5km strike. At Central, they're mining down to about 150-175m deep in an open-pit situation and drilled to around 250m thus far. Yet, it's still open at depth with excellent grades.
What's significant is that the vein system at Limon Central swells up to 30-meter widths, which is not necessarily usual for these types of systems and certainly not usual to have the type of grade and widths in an open pit-style configuration.
Remember, these systems can go as deep as 500m.
Just take a look at some of the grades at the deeper holes Calibre recently released:
6.66 g/t Au over 12.23m ETW (LIM-18-4299);
3.88 g/t Au over 14.35m ETW (LIM-18-4309);
5.61 g/t Au over 6.30m ETW (LIM-18-4295); and
3.63 g/t Au over 7.25m ETW (LIM-18-4303).
Now take a look at this: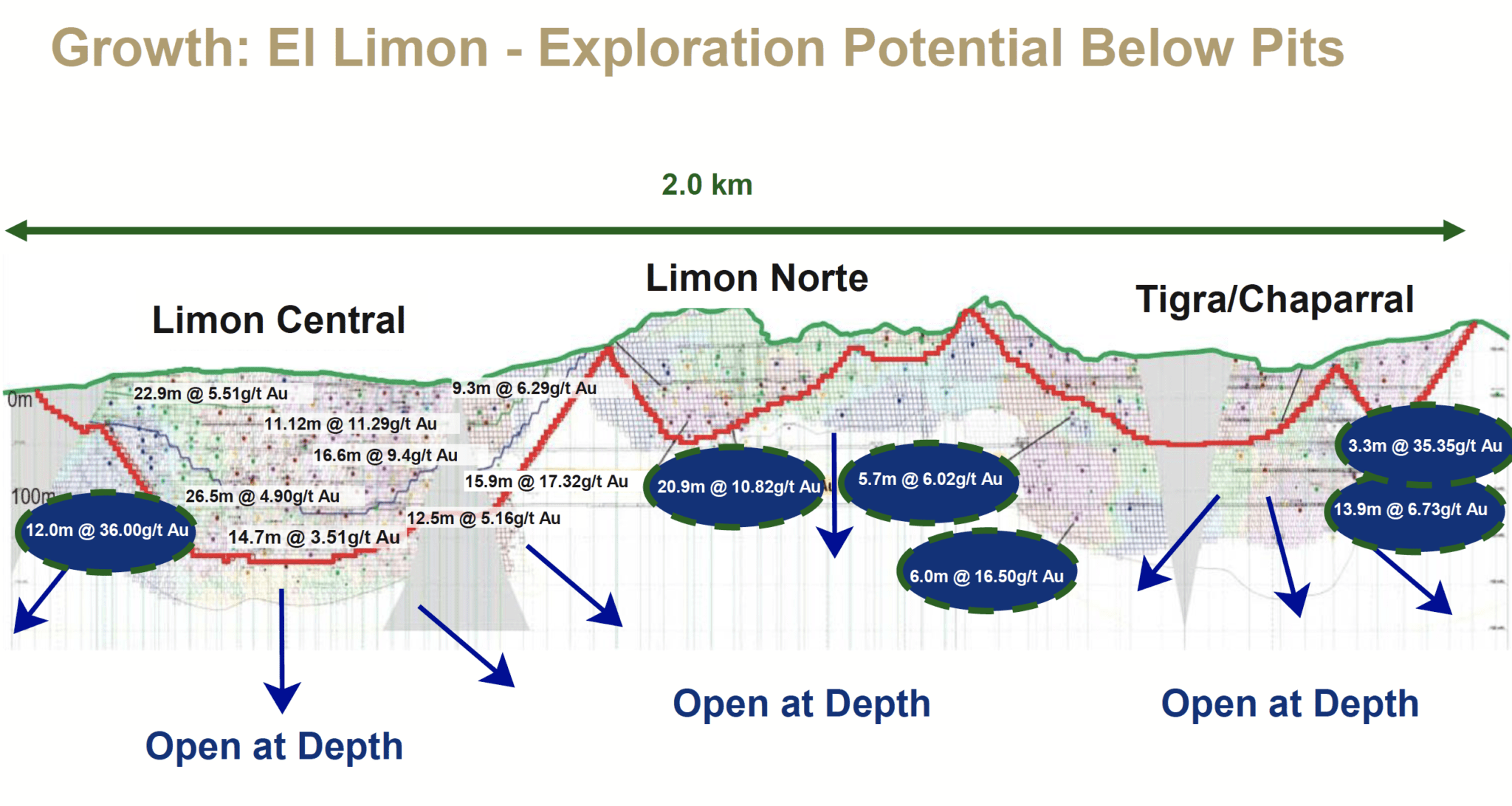 As you can see, the depth extent of Limon Central is significantly greater than Limon Norte, which is the deposit to the north.
However, that's merely a function of drilling; meaning they simply haven't drilled enough to see how deep Limon Norte goes.
And if you look at the more detailed sections of Limon Norte, you'll see excellent grades, such as:
10.82 g/t Au over 20.42m ETW (LIM-18-4359);
6.54 g/t Au over 12.00m ETW (LIM-18-4241); and
4.01 g/t Au over 6.44m ETW (LIM-18-4310).
The Limon Norte ore-shoot has been defined to a depth of only 150 vertical metres (60% of the depth of Limon Central thus far) and shows potential for expansion at depth.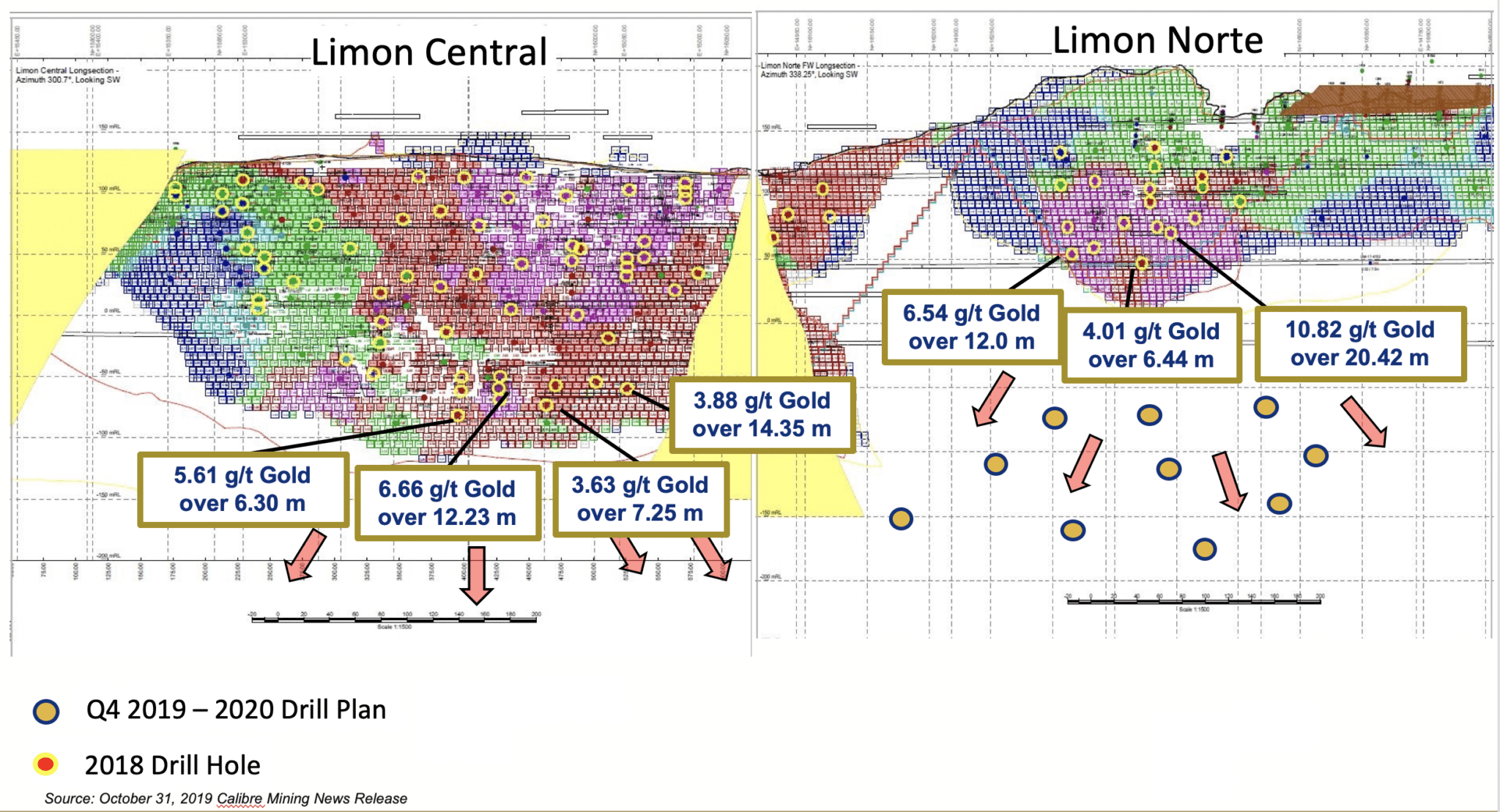 In other words, when they drill Limon Norte below the intercepts already discovered and it comes back showing similarities to Limon Central, it could be massive.
And that's precisely what Calibre just announced it would do: target extensions at Limon Norte.
But that's not all.
In addition to those targets, Calibre announced it would drill at other extremely promising targets as well, including Tigra-Chaparral and Atravesada.
Tigra-Chaparral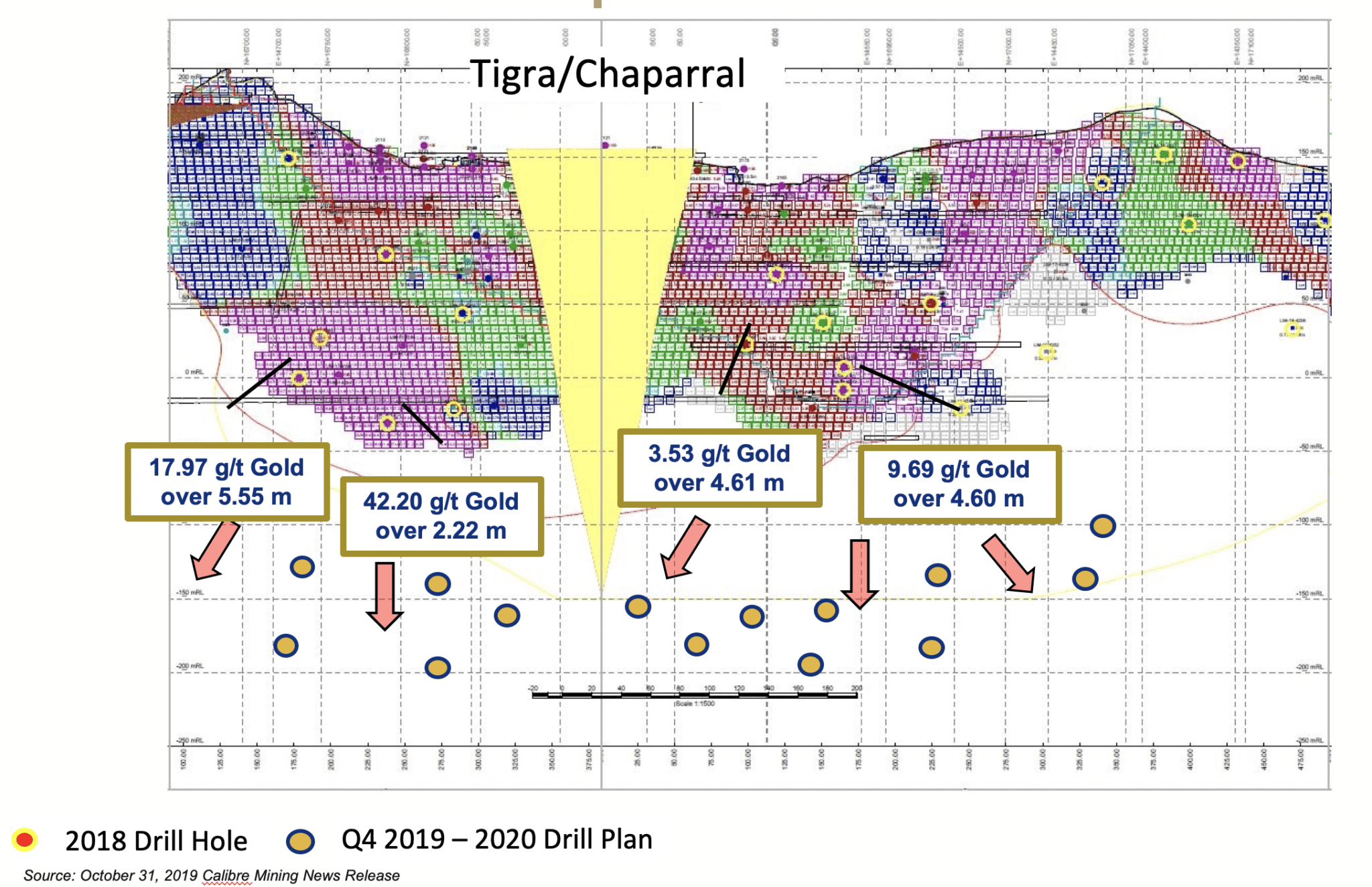 The Tigra-Chaparral zone has been drilled to a depth of 200 vertical metres with two high-grade ore shoots currently open at depth to the north and south. Highlights of deep holes drilled in 2018 include:
17.97 g/t Au over 5.55m ETW (LIM-18-4281);
9.69 g/t Au over 4.60m ETW (LIM-18-4232);
42.20 g/t Au over 2.22m ETW (LIM-18-4272); and
3.53 g/t Au over 4.61m ETW (LIM-18-4231).
Atravesada
Atravesada is a partially developed underground deposit that lies just 200m from Veta Nueva.
The Atravesada ore-shoot has been drilled to a depth of 200 vertical metres and mineralization is currently open at depth across the 400-metre-wide ore-shoot.
Take a look: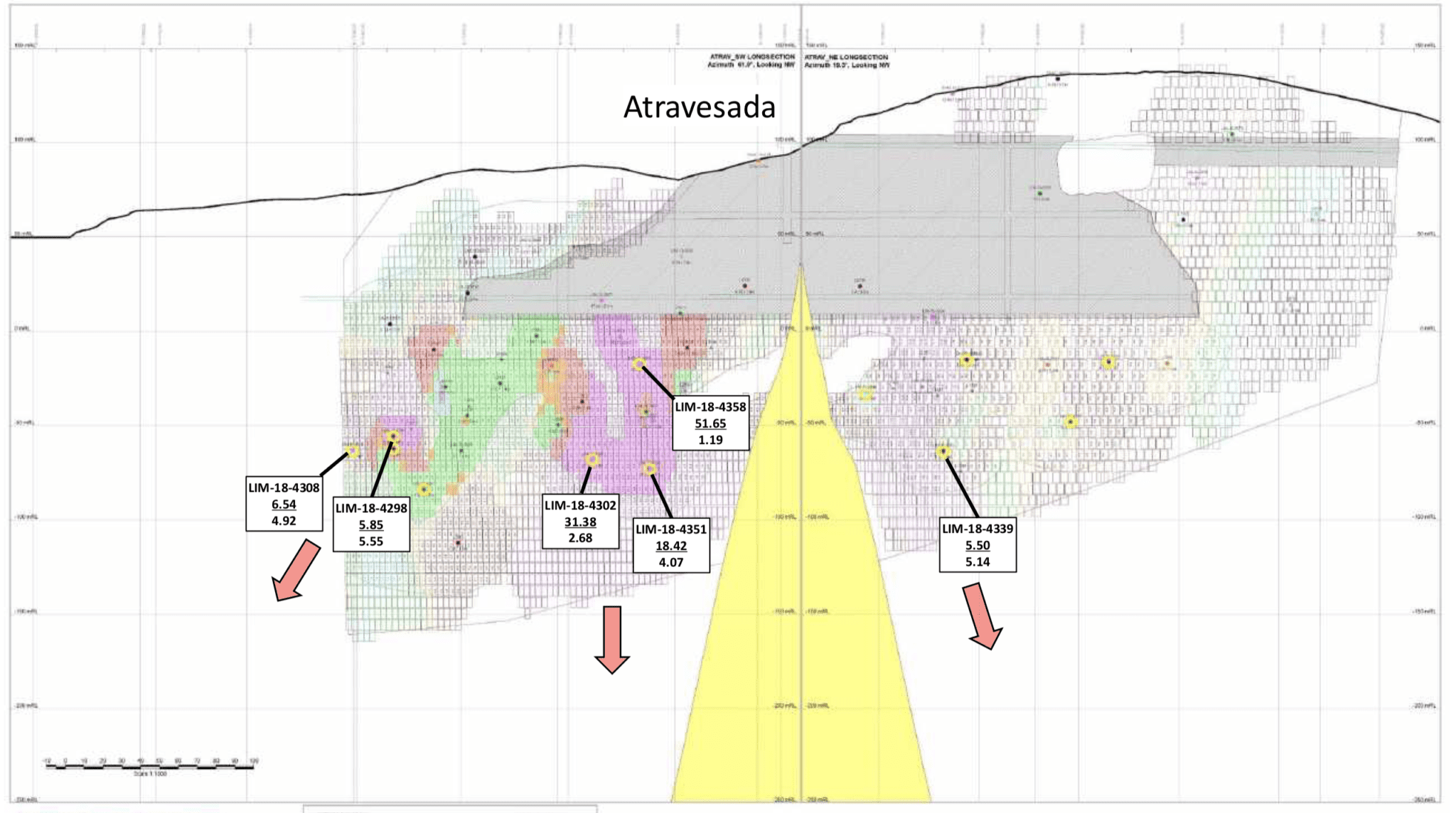 I could go on but I think you get the point: there is serious potential upside to this string of pearls at El Limon.
And remember: what really drove the share price at Newmarket was their continued drilling success. If Calibre can replicate that success – even to a small degree – it could mean a massive win for Calibre shareholders.
And that's just at El Limon.
Let's not forget about La Libertad.
La Libertad

The La Libertad Mine is an open pit and underground operation with a processing plant that can treat approximately 2.25 million tonnes per annum (tpa).
It sits in a gold district that covers an area of approximately 150 km2, with many promising targets.
Take a look: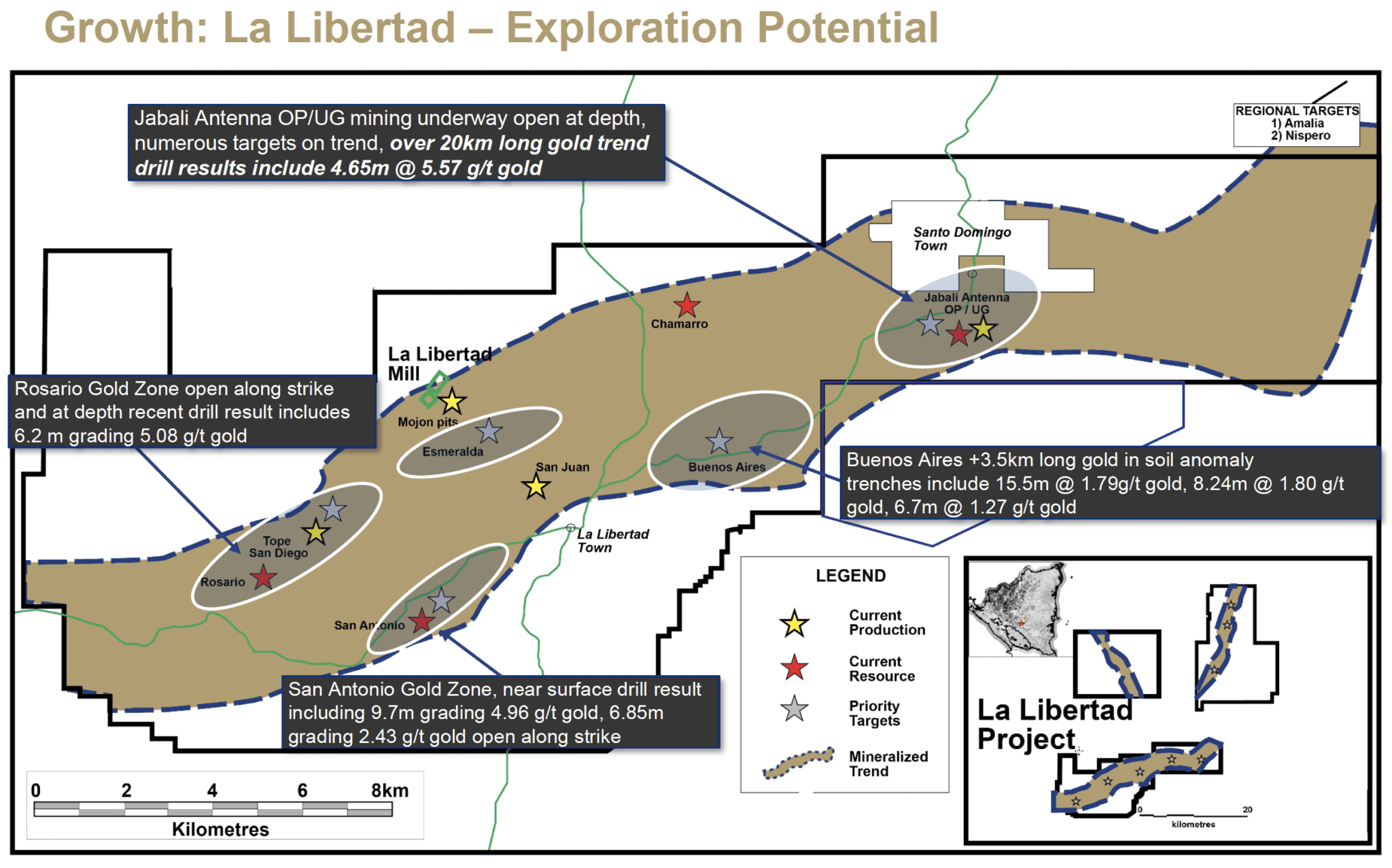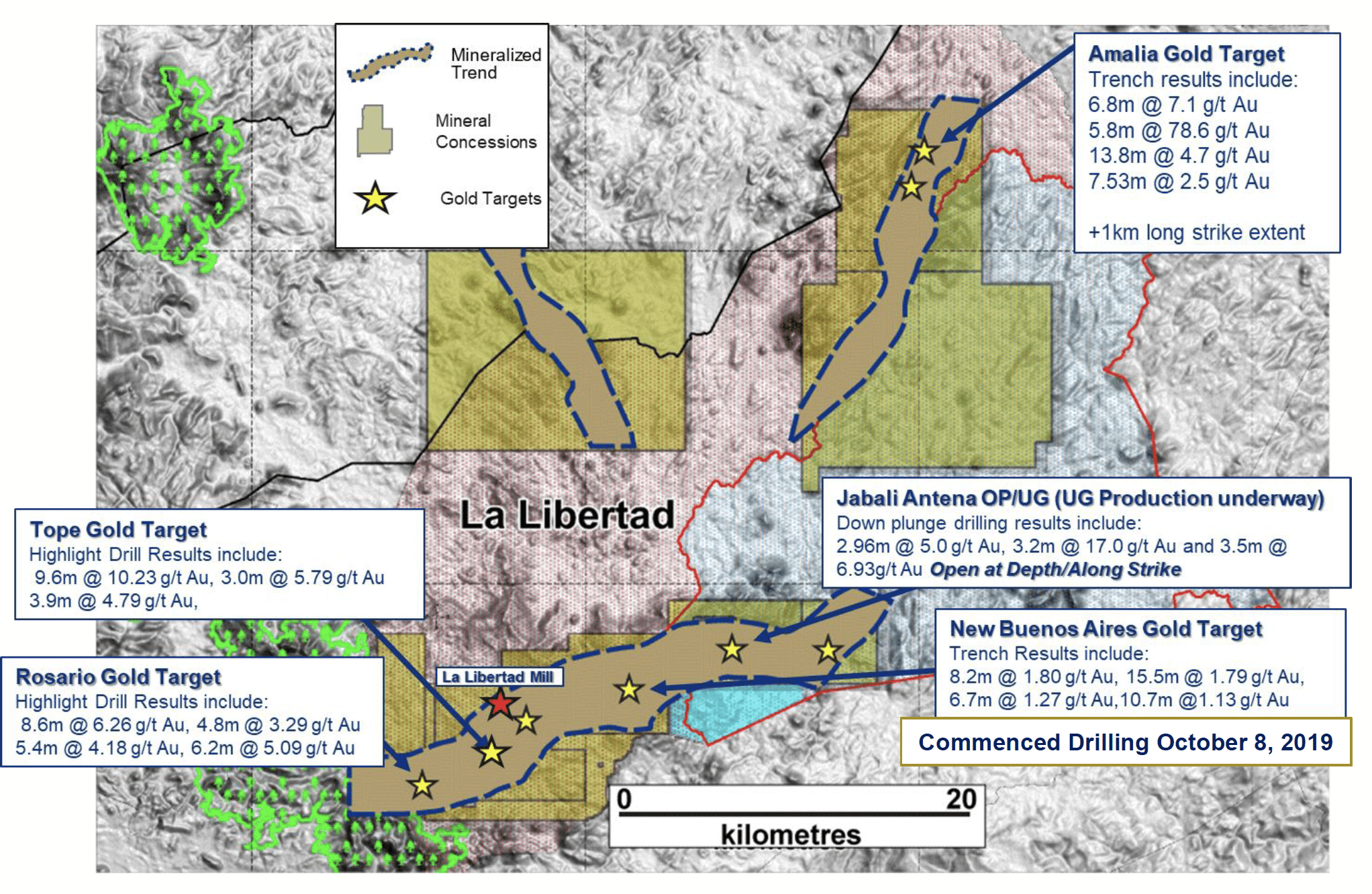 As you can see, these past drill results show tremendous potential.
For example, the New Buenos Aires Gold Target vein structure stretches for 3.5km. That's almost as big of a footprint as the biggest deposit found to date at La Libertad: the Mojón vein system that produced nearly 500,000 ounces of gold.
And it's never been drilled!
Trench results thus far have yielded incredible results, and drilling has already been planned for later this year.
That means Calibre could potentially find yet another massive deposit near the La Libertad Mill.
Then there's the Amalia Gold target that also has great trench results such as:
5.8m @ 78.6 g/t Au
13.8m @ 4.7 g/t Au
6.8m @ 7.1 g/t Au
And that, too, has never been drilled!
That means there is significant blue sky potential at La Libertad.
Given that La Libertad currently has a smaller resource than El Limon, I suspect much of the drilling for Calibre will be focused on expanding the resources at La Libertad and making discoveries there – especially with the capacity the mill there has to offer.
And new discoveries, combined with the backstop of production, is what propelled Newmarket to continually hit new highs – even after its billion-dollar buyout.
If Calibre can replicate that slightly, it could mean massive rewards for shareholders.
But there's more.
The Pavon Gold Project
The Pavon property is located approximately 227 km from the El Limon Mine and 300 km from the La Libertad mine. It currently has a small resource of 78,000 ounces of gold.
Seventy one historical diamond drill holes totalling approximately 10,700 metres tested veins occurring over a strike length of six kilometres, with results that include 10.3 g/t gold over 16.8 metres in one hole to the north and up to 6.7 g/t gold over 11 metres in one hole to the south.
Take a look: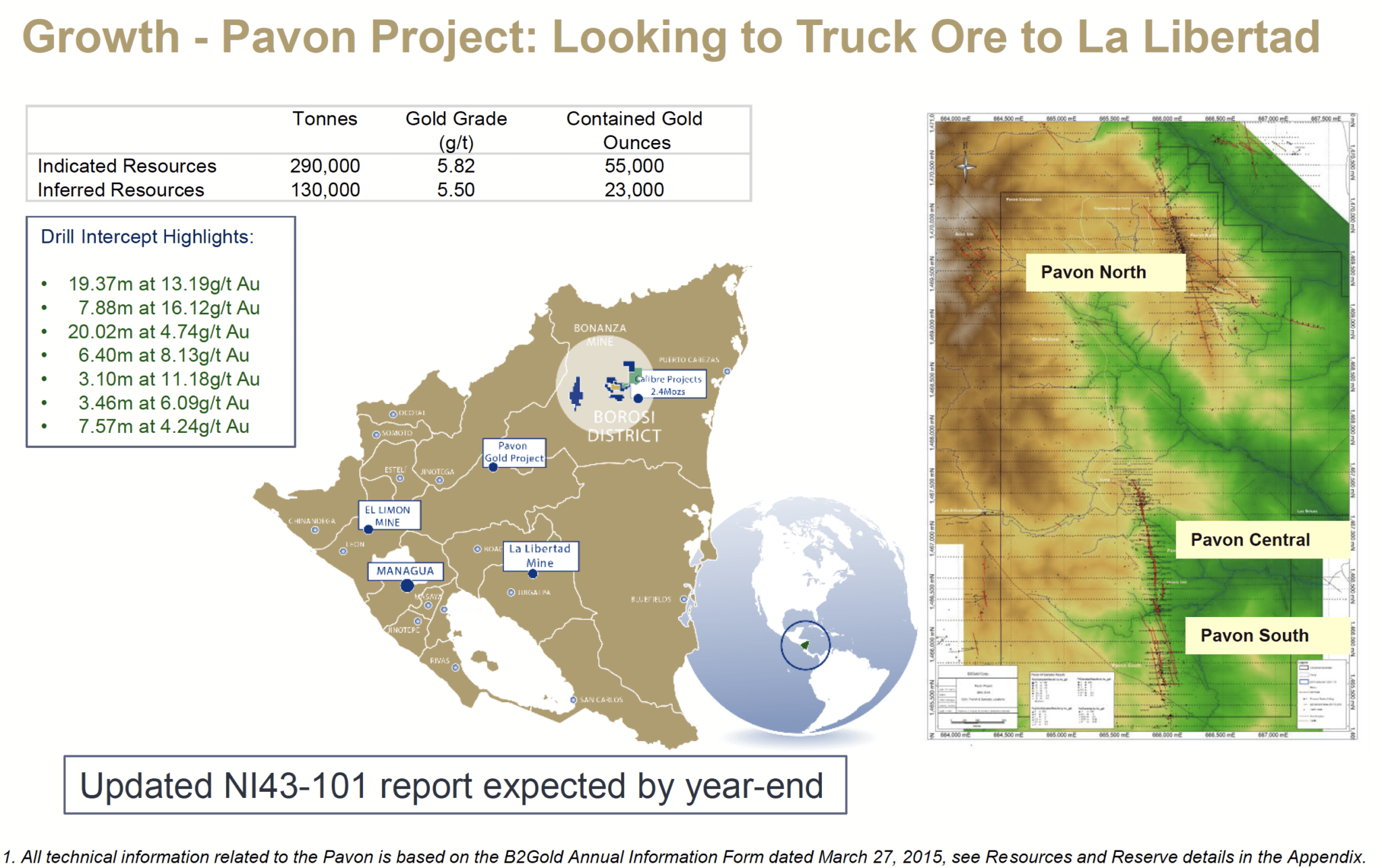 All drilling to date has been less than 100m vertically from surface and is open along strike and down plunge.
In prior years, B2 internally studied the potential to open-pit mine at Pavon and truck the high-grade material to El Limon.
Here's the exciting part:
The geological brain trust at Calibre, which includes Doug Hurst, Ray Threlkeld, and Doug Forster, have collectively helped discover more than a hundred million ounces of gold. And I am not just talking about your average gold discovery; I am talking about the discovery of economic ounces of gold that have been mined or ended up in production companies.
When you consider that most geologists never discover any economic ounces of gold, you can see just how highly skilled this group truly is.
Management recently visited the Pavon project with boots on the ground and believe there is excellent untapped potential to quickly advance this project.
And that's precisely why they're reviewing this potential opportunity as we speak.
In fact, Calibre is working on an updated NI 43-101 resource estimate for Pavon and the report could come out anytime now.
In other words, in just a few short weeks, Calibre could add even more resources to its Nicaragua portfolio – ounces the market doesn't even know about.
That's in addition to the millions they already have.
Backstop Assets: Millions of Ounces
In addition to the El Limon and La Libertad gold resources, Calibre owns a massive gold inventory across its Nicaragua assets.
Within the projects currently owned 100% by Calibre Mining, in 49% joint venture with IAMGOLD, and in 33% in joint venture with Santa Rita Mining, inferred resource total is 60,837,000 tonnes grading 1.53 g/t AuEq containing 2,992,469 ounces of gold equivalent.
Additionally within the Rosita D JV (33% Calibre) indicated resources host 251,500 gold equivalent ounces: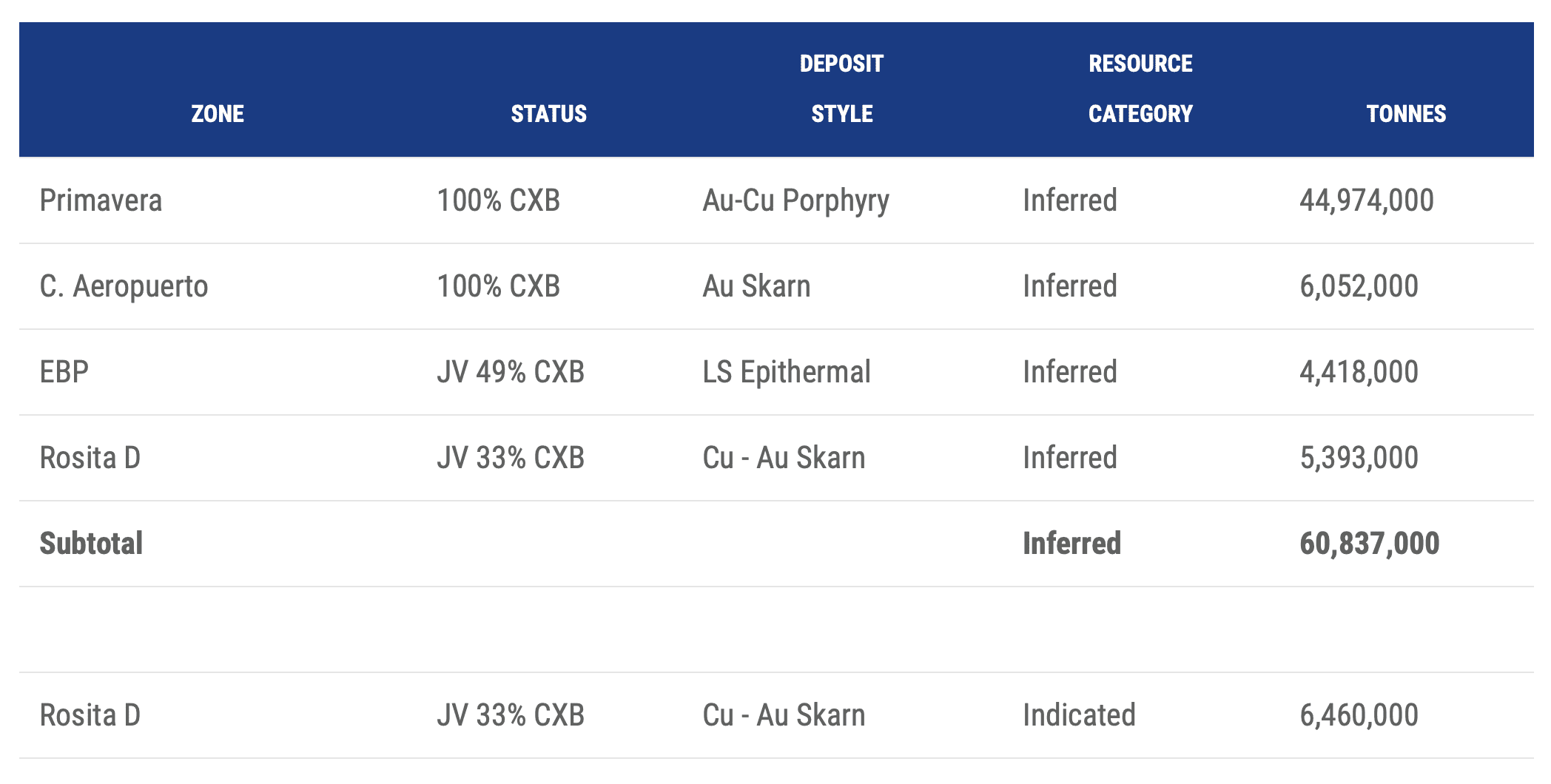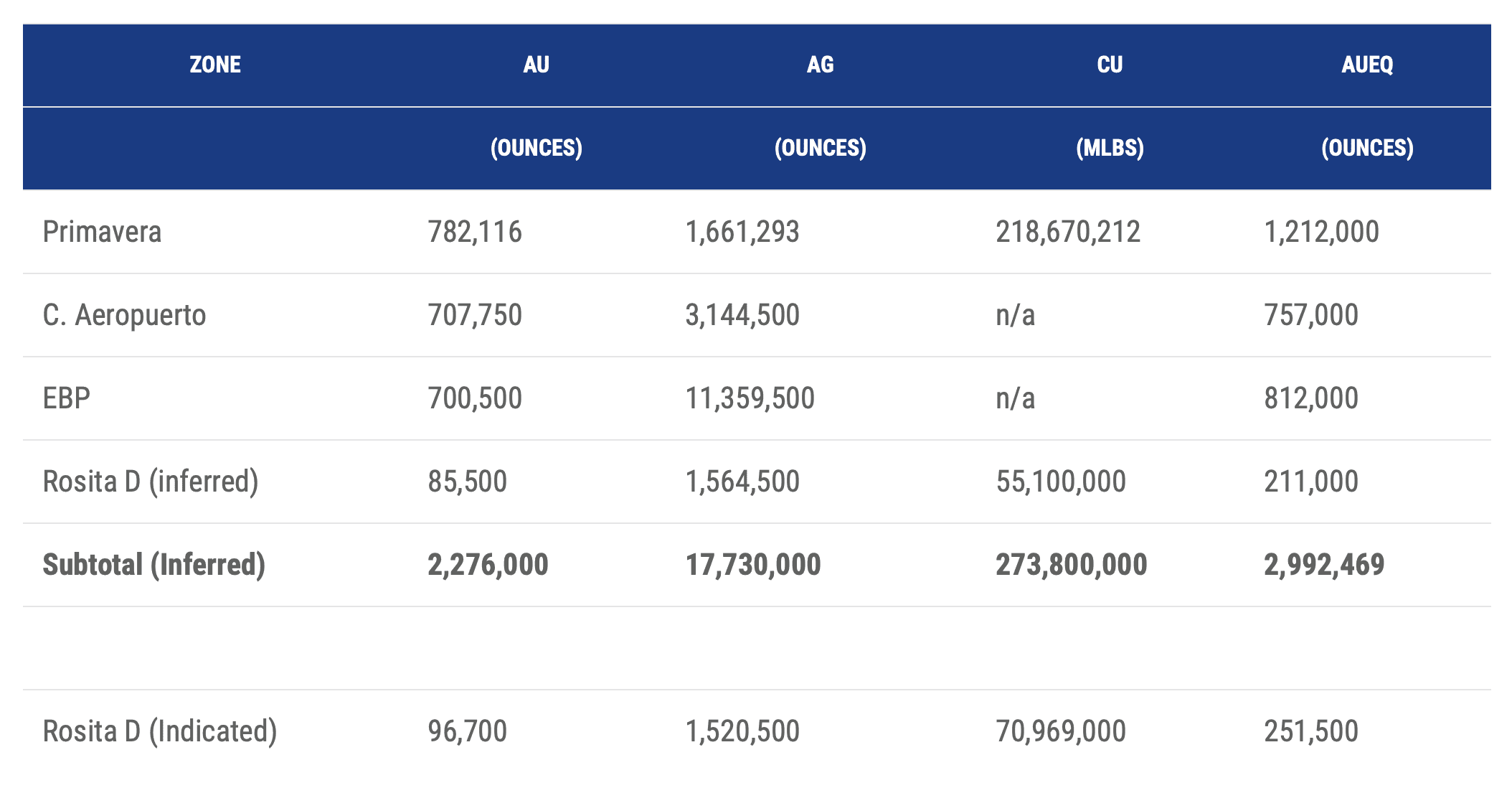 C
Collectively, that's a gold resource estimate of 5,533,969 ounces, of which Calibre owns 5,021,175 ounces!
That 5,021,175 of potential gold-equivalent resource could be worth over $7.3 billion* at today's gold price.
(*Coincidentally, that's slightly more than the value of the Australian gold assets when the team at Calibre initially took it over with Newmarket.)
And that number could swell in the coming weeks when the anticipated new resource for the Pavon Project is released.
Together, these resources are part of a land package with many district-scale opportunities, representing one of the biggest in all of South America.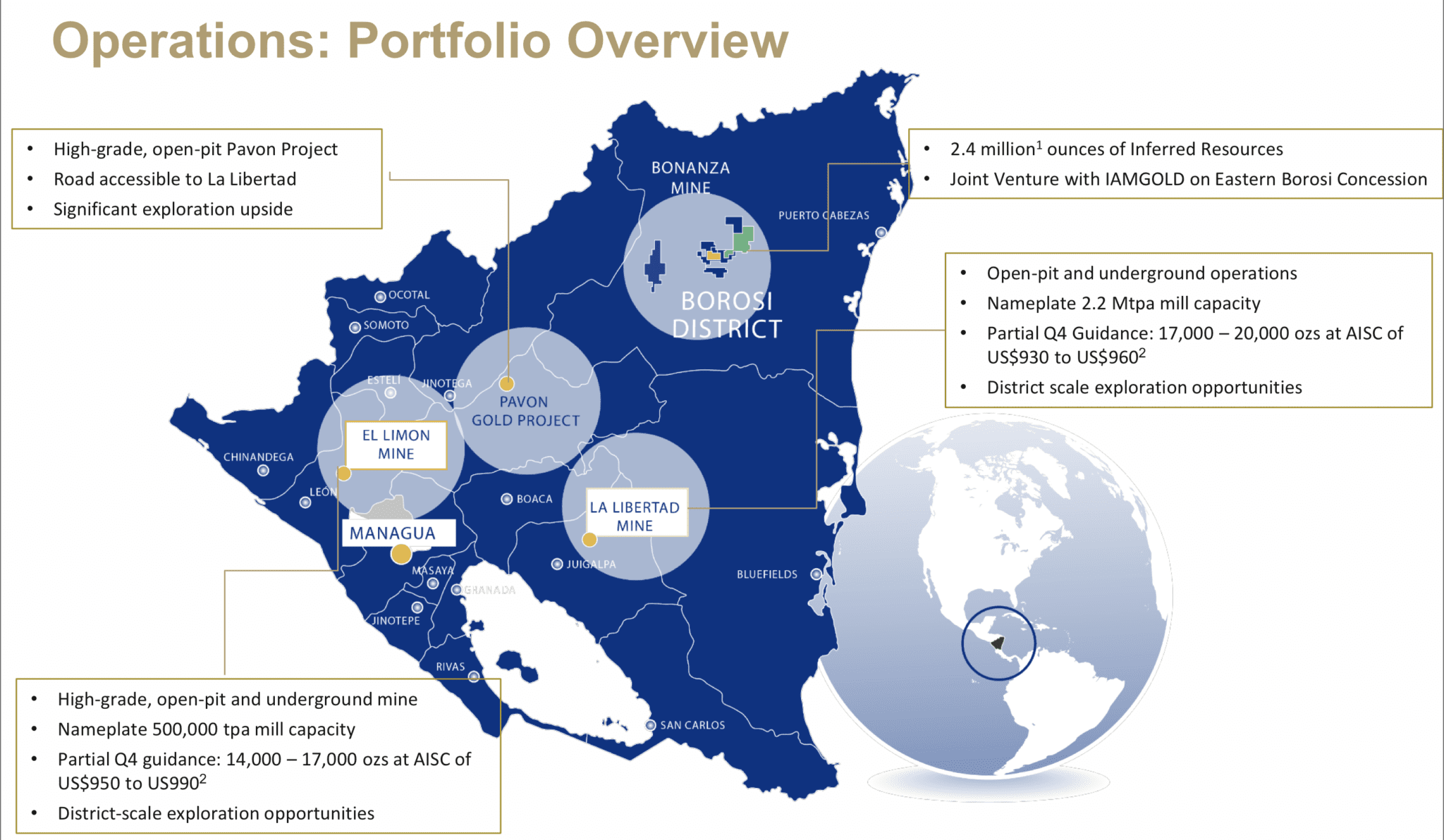 Of course, none of this would matter if Calibre couldn't advance these assets.
But luckily for shareholders, that's precisely what this team is great at.
Management Team
The team at Calibre is second-to-none.
They turned a ten-million-dollar company to one worth well over a billion in just over a year.
But this time, the team is even better.
In addition to the core team from Newmarket, Calibre also pulled in a couple of seniors from the biggest gold companies in the world.
Here are just some of the names involved:
Doug Forster: A man involved with numerous successes, including Terrane Metals, which was acquired by Thompson Creek in 2010 for $750 million and Potash One, which was acquired by K+S in 2011 for $434 million.
Blayne Johnson: A man involved in the acquisitions and buyouts of over a billion dollars, and helped his firm transact over $5 billion of equity financings
Russell Ball: An executive who served over 19 years with Newmont Mining and became CFO of one of the largest gold companies in the world ($30 billion-plus market cap).
Raymond Threlkeld: A man that has been responsible for putting more than 60 million ounces of gold into production
Doug Hurst: A founding executive of International Royalty Corporation from 2003 to 2006 and a director of the company until 2010, when the company was purchased by Royal Gold for $700 million.
Darren Hall: Ex-Chief Operating Officer of Kirkland Lake Gold, which acquired Newmarket Gold, becoming one of the best-performing gold stocks in the past few years.
Lukas Lundin (significant shareholder): A billionaire who sold billions of dollars worth of assets to major gold producers, including the $7.1 billion sale of Red Back Mining in 2010.
Together, the principals and large shareholders of Calibre have founded, managed, and sold mining companies with a combined value of over $30 billion!
Take a look:
Add in Russell Ball and Darren Hall and that number swells to over $60 billion!
If there's anyone who can take Calibre's Nicaragua assets to the next level, it's these guys.
More importantly, they're not just a team of explorers hoping to strike it big. They're a team of wealth creators whose sole focus is to make money for shareholders.
I don't say this lightly.
Most dealmakers in this industry structure deals in a way where they have the lowest cost base.
These guys, on the other hand, put the deal together so that everyone – including shareholders today – get to participate in their potential success right alongside them. And all with a lower cost base then some of the founders.
That's saying a lot – especially considering they have put millions of their own money into the deal.
Most importantly, it shows just how confident they are about what they can do.
From Zero to Hero
With Newmarket, the founding team at Calibre reduced the debt from $35 million to zero.
…They went from having essentially no cash at all, to a hundred million in cash.
…They went from having no analyst coverage, to more than 10 analysts covering the stock.
…They went from a non ETF-traded stock, to one of the most liquid stocks in the sector.
…Then they sold the company to Kirkland Lake for $1 billion.
And they did that all in 14 months.
No wonder they're confident.
Right now, Calibre has no analyst coverage. But next month, they're sending more than a dozen representatives from financial institutions to look at their assets.
I am not sure how many will end up covering the story, but if their confidence is any indication of success, then I suspect we're going to see institutions begin to participate in their potential upside.
Especially since some of the biggest institutions are now eagerly searching out gold deals…
Conclusion
Earlier, I told you how central banks have once again become net buyers of gold this year.
But they're not the only ones.
Over the last year, billionaires from all around the world have been pouring their money back into gold.
Billionaires such as David Einhorn, Stanley Druckenmiller, Ray Dalio, Jeffrey Gundlach, Paul Tudor Jones, and Lord Jacob Rothschild are all known to have big positions in gold.·
And last year, Egyptian Billionaire transferred half of his nearly $6 billion of wealth into gold.
This year, billionaire Sam Zell sold his real estate holdings and bought gold for the first time.
Billionaire Thomas Kaplan said gold could go to $5000.
In other words, some of the smartest money in the world are once again believers that gold is on the verge of a meteoric rise.
Gold is often viewed as one of the best protection against the aggressively loose monetary and fiscal policies of governments and central banks.
And it's no surprise that central banks around the world have, and continues to, print an astronomical amount of money.
The more we have, the less its worth.
On the other hand, the world's gold supply is diminishing as a result of less production.
Gold production from existing sources is expected to peak this year.
According to S&P Intelligence, by 2022, gold output is likely to decline as falling production from depleted operations start outpacing output at new or restarted mines. Furthermore, according to their report, more than 15% of gold production by 2024 will be coming from mines that are not yet producing.
In other words, as the demand for gold picks up, current production supply may not be enough to keep up.
And we know what happens to prices when demand outruns supply.
But here's the thing…
If you buy gold today and it climbs to $2000/oz, you're up around 30%.
Not bad.
But I bet the gold producer index – all costs being equal to today – will almost certainly climb higher than gold itself.
Why?
Gold is up around 15% over the last 6 months.
Meanwhile, the Gold Miners Index (GDX) is up over 32% in that same time; more than double the return of gold itself.
If you believe the price of gold is going higher, the gold producers are a better bet.
Calibre is a new gold producer with no institutional following and, as such, is trading significantly lower than their peers.
Take a look: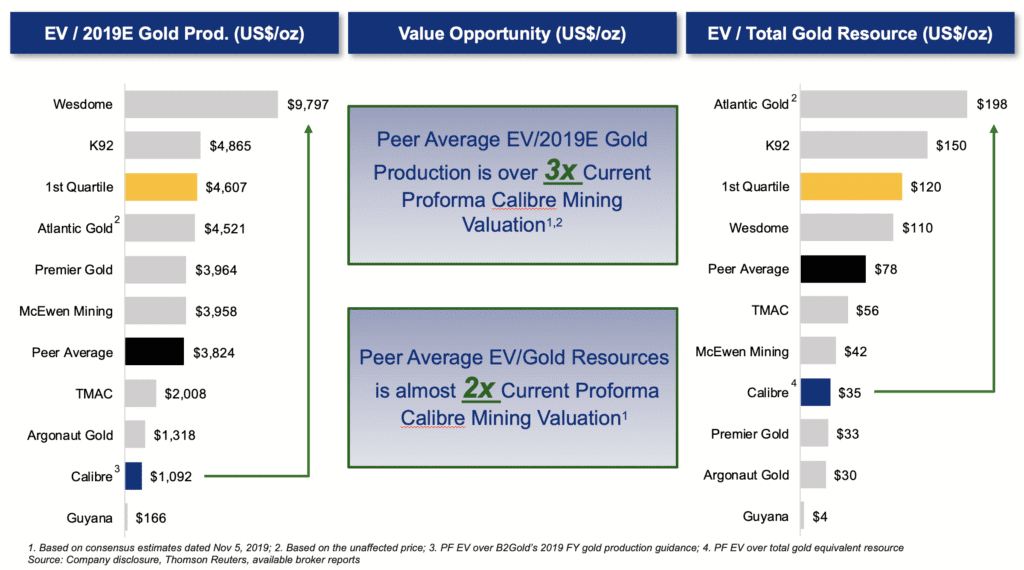 If Calibre can show a quarter of production that's inline with its forecast, there's little reason to believe why it shouldn't be trading at a price similar to it peers – even higher given management's ability to execute.
Calibre's peer average of EV(enterprise value)/gold resources is more than 2x its current proforma valuation, and over 3x that based on the peer average of EV/2019E gold production.
In other words, catching-up to its peers alone can reap significant rewards for shareholders today.
Combine that with the potential for Calibre to make new discoveries, increase resources, and extend mine life, and we have a very strong investment thesis.
That's why I have invested a small fortune into Calibre.
Big institutions are now positioning themselves for the next gold bull market.
Are you?
Seek the truth,
Ivan Lo
The Equedia Letter
www.equedia.com
Disclosure:
Equedia.com and Equedia Network Corporation are not registered as investment advisers, broker-dealers or other securities professionals with any financial or securities regulatory authority. Remember, past performance is not indicative of future performance. This article also contains forward-looking statements that are subject to risks and uncertainties that could cause actual results to differ materially from the forward-looking statements made in this article. Just because many of the companies in our previous Equedia Reports have done well, doesn't mean they all will. We are biased towards Calibre Minning Corp (CXB) because the Company is an advertiser on www.equedia.com. We currently own shares of CXB and have been granted options by CXB. You can do the math. Our reputation is built upon the companies we feature. That is why we invest in every company we feature in our Equedia Special Report Editions. It's your money to invest and we don't share in your profits or your losses, so please take responsibility for doing your own due diligence and consult your own professional advisers before investing in CXB or trading in CXB securities. CXB and its management have no control over our editorial content and any opinions expressed in this article are our own. We're not obligated to write a report on any of our advertisers and we're not obligated to talk about them just because they advertise with us. For a complete disclosure of the compensation received by us from CXB, please review our Terms of Service and full disclaimer at www.equedia.com/terms-of-use/.
Forward-Looking Statements from Calibre Materials
Certain information set forth in this presentation contains "forward-looking information", and "forward-looking statements" within the meaning of Canadian and United States securities laws. Some of the forward-looking information and statements may be identified by words such as "will", "expects", "anticipates", "believes", "projects", "plans", and similar expressions, and include information or statements about the Company's expectations with respect to its business and operations, the proposed acquisition and the Company's strategy. These statements are not guarantees of future performance or outcomes and undue reliance should not be placed on them. Forward-looking statements and forward-looking information is based on currently available information, beliefs and expectations of management as of the date such statements are made and they are subject to known and unknown risks, uncertainties and other factors that may cause the actual results, level of activity, performance or achievements of the Company to be materially different from those expressed or implied by such forward-looking statements or forward-looking information including, without limitation, risks related to general business and economic uncertainties, regulatory risks, risks associated with acquisitions, risks inherent in the mining industry and other general risks affecting the Company which are disclosed in its public disclosure, including but not limited to, the Company's Management Discussion & Analysis for the three months ended March 31, 2019. Although management of the Company has attempted to identify important factors that could cause actual results to differ materially from those contained in forward-looking statements or forward-looking information, there may be other factors that cause results not to be as anticipated, estimated or intended. There can be no assurance that such statements or information will prove to be accurate, as actual results and future events could differ materially from those anticipated in such statements or information. Accordingly, readers should not place undue reliance on forward-looking statements and forward-looking information. The Company does not undertake to update any forward-looking statements or forward-looking information that are included in this presentation or incorporated by reference herein, except in accordance with applicable securities laws.
IMPORTANT: YOU MUST READ THE FOLLOWING
The information contained are based from a presentation prepared by Calibre Mining Corp. (the "Company") and contains information pertaining to the business, operations and assets of the Company and certain mining assets being considered for acquisition. The information contained in this presentation (a) is provided as at the date hereof and is subject to change without notice, (b) does not purport to contain all the information that may be necessary or desirable to fully and accurately evaluate an investment in the Company, and (c) is not to be considered as a recommendation by the Company that any person make an investment in the Company.
An investment in the securities described herein is speculative and involves a number of risks that should be considered by a prospective investor. No sales of the securities of the Company shall be made until the Company and the potential investor enters into a subscription agreement for such securities.
This presentation is confidential and is being provided to you solely for your information and may not be reproduced, in whole or in part, in any form or forwarded or further distributed to any other person. Any forwarding, distribution or reproduction of this presentation in whole or in part is unauthorized. By accepting and reviewing this presentation, you acknowledge and agree (i) to maintain the confidentiality of this presentation and the information contained herein, (ii) to protect such information in the same manner you protect your own confidential information, which shall be at least a reasonable standard of care, and (iii) to not utilize any of the information contained herein except to assist with your evaluation of a potential investment in the Company.
U.S. INVESTOR NOTICE: This presentation does not constitute an offer to sell or the solicitation of an offer to buy, nor shall there be any sale of securities of the Company in any jurisdiction in which an offer, solicitation or sale would be unlawful prior to registration or qualification under the securities laws of such jurisdiction. The securities have not been approved or disapproved by the SEC or by any state securities commission or regulatory authority, nor have any of the foregoing authorities or any Canadian provincial securities regulator passed on the accuracy or adequacy of the disclosures contained herein and any representation to the contrary is a criminal offense. The securities offered hereby have not been and will not be registered under the United States Securities Act of 1933, as amended (the "1933 Act"), or the securities laws of any state and are being offered in reliance upon certain exemptions from registration under such laws. Prospective investors will be required to represent, among other things, that they meet the requirements of an available exemption from the registration requirements of the 1933 Act and are familiar with and understand the terms of the offering and have all requisite authority to make such investment. In making an investment decision, investors must rely on their own examination of the Company and the terms of the offering, including the merits and risks involved.
Disclosure from Calibre Mining Presentation


Opportunity for Superior Returns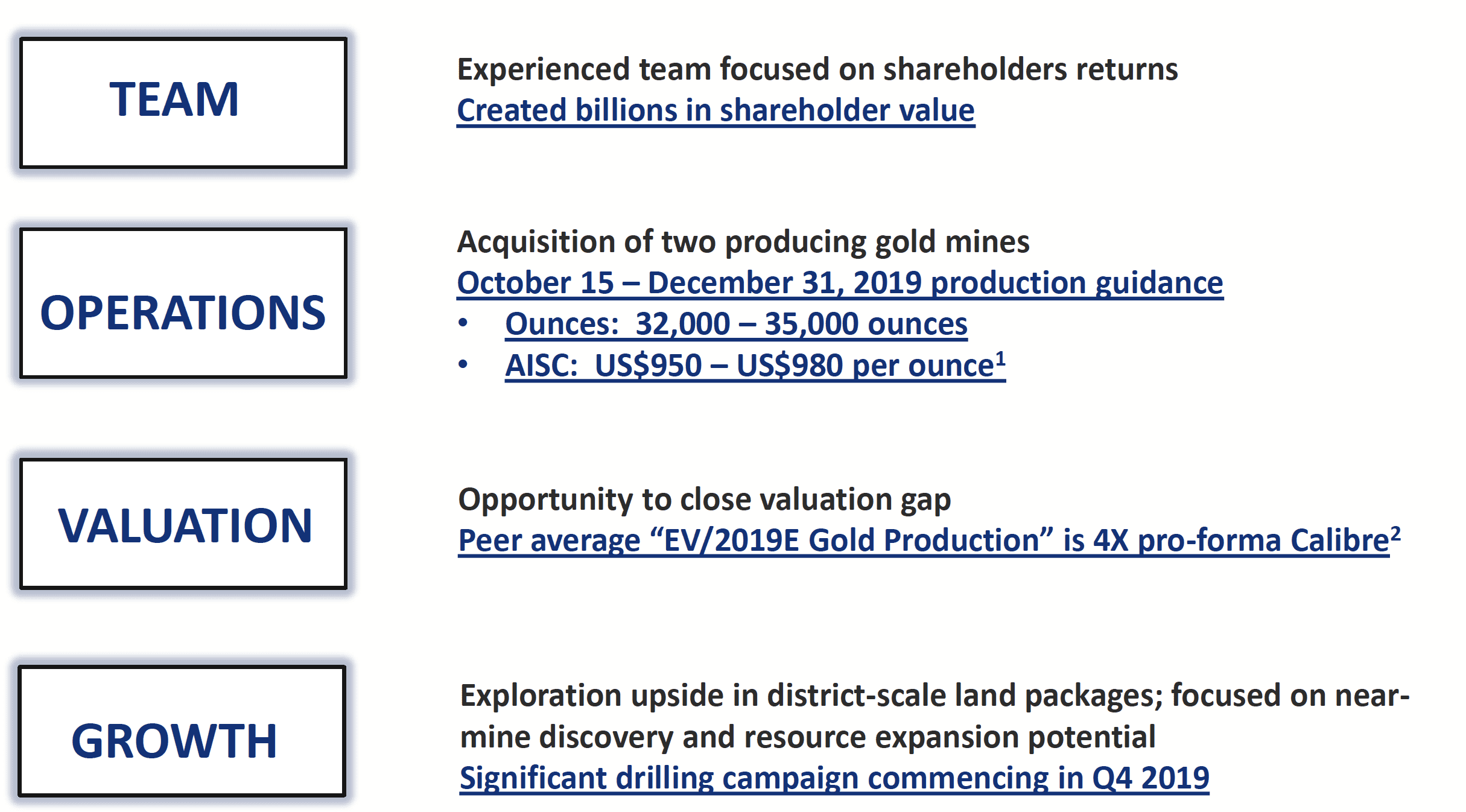 Valuation
*Convertible Debt Outstanding has been converted. B2 Gold ownership is now up to 34%.
Significant Re-rating Potential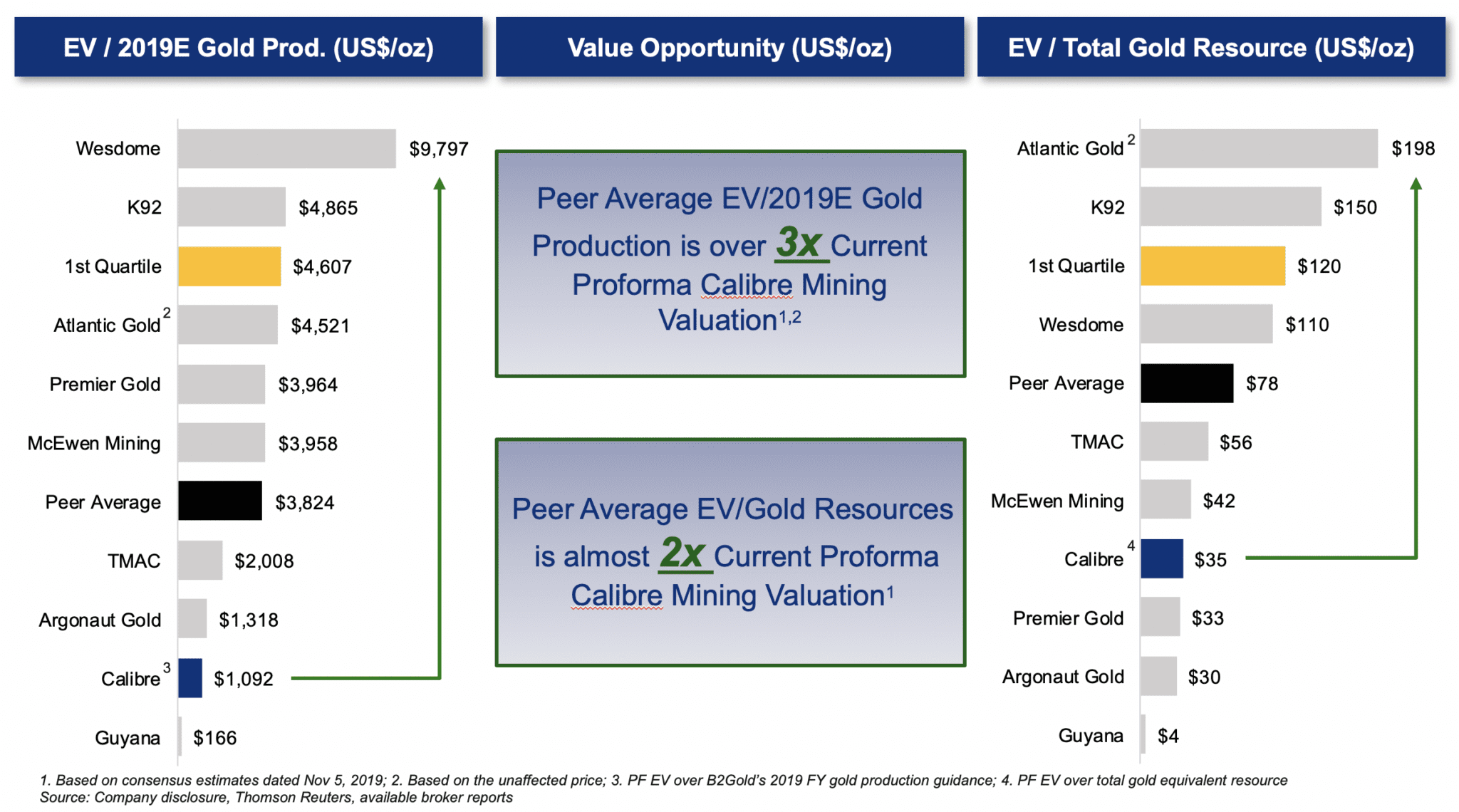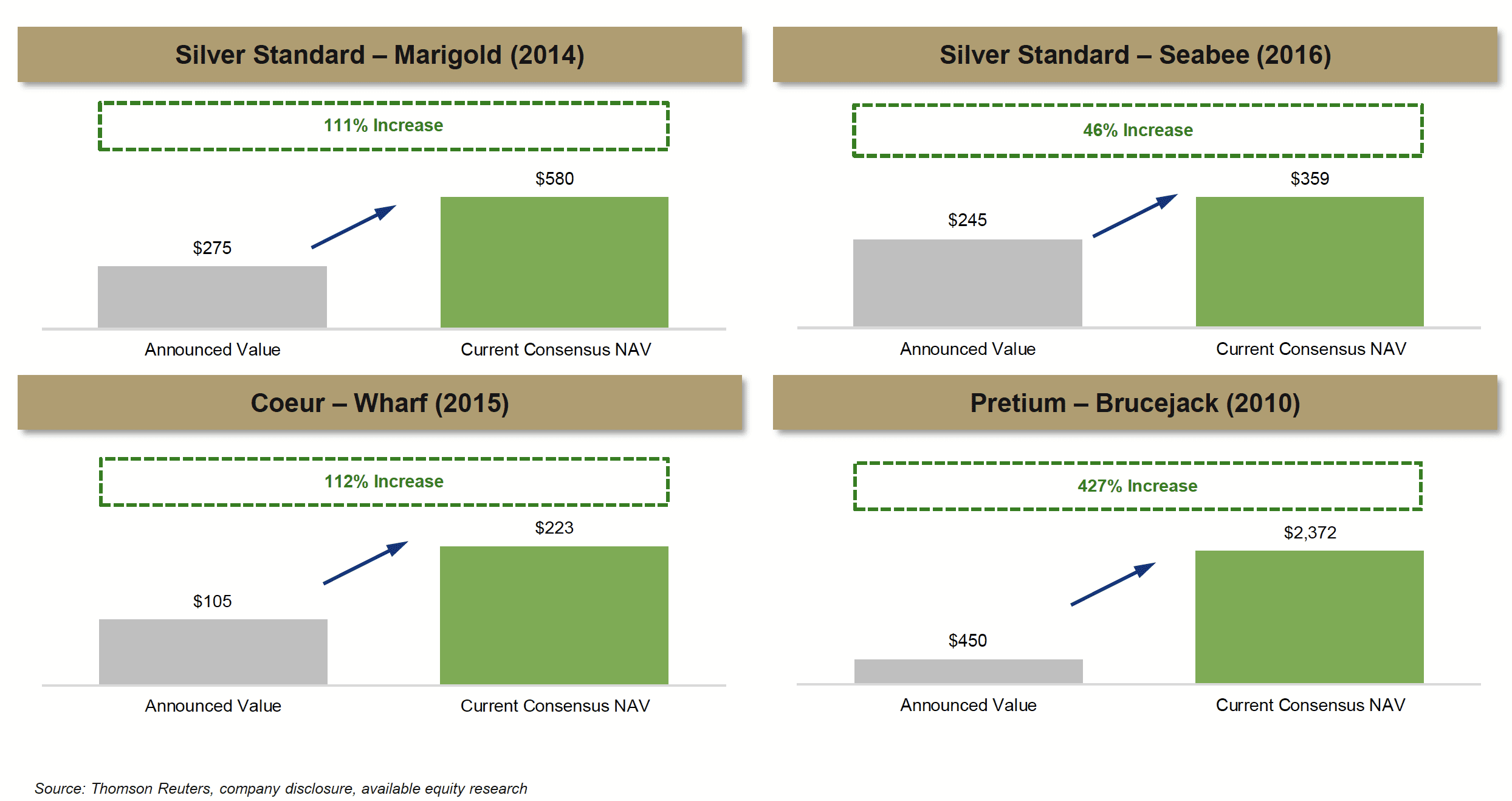 Favorable Mining Jurisdiction
Experienced Team