Rising Dollar, Rising Rates Slowly Eroding Confidence in Gold
Last week we presented a monthly chart for a widely held gold ETF, the VanEck Gold Miners ETF (NYSE: GDX), better known as the GDX. Technical indicators were positive and, most importantly, a long-term downtrend line was crossed to the upside.
Now, just a week later, the picture is looking a little less clear.
Why?
Rising rates, even those that do not come close to resolving the difference between nominal and real rates, have been attracting some additional support for the $USD.  
Here is a look at the monthly chart of the $USD: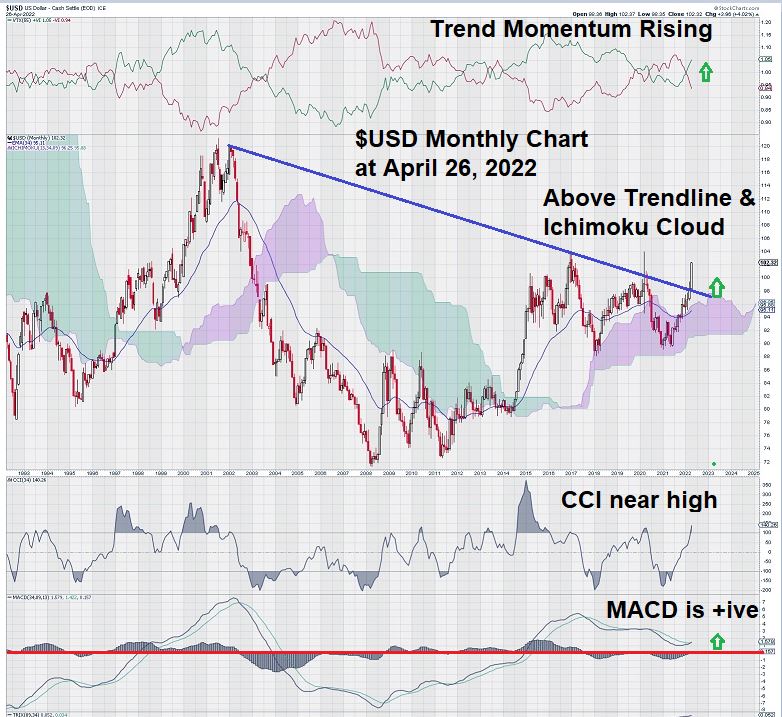 The monthly chart for the $USD has some positive technical attributes. These are:
Trendline break-out

Positive Trend Momentum
Trading above Ichimoku Cloud
MACD is positive and above zero line.
Does this monthly chart look familiar to you? It should. Take a quick look back at the monthly chart we presented for the GDX last week: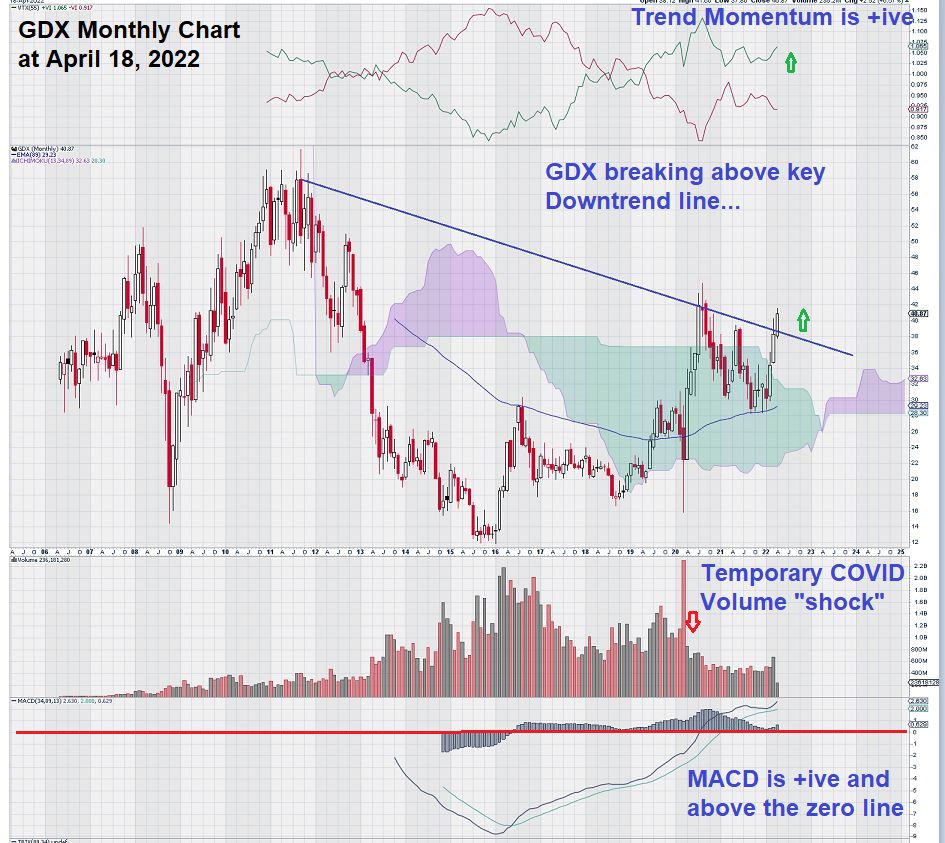 In both charts, we see a downtrend line that is being broken to the upside, with MACD and Trend Momentum Positive.
So, what is going on? 
First, there is a commonly held view that the $USD and Gold (represented by its proxy through the GDX) have a long-established "inverse" trading relationship.
Yet, we see very similar charts for both for the same time interval.
This leaves us to start thinking about a lower gold price, but the gold price appears unlikely to give up the $1,900 level without a fight. On the other hand, has the FED allowed inflation to move to levels where it will be very, very difficult to control except by strong action of high rates – maybe even progressively higher rates?  
Higher rates will crush the US economy. 
Construction of new homes will decline as more and more home buyers become priced out of the housing market. 
Debt-laden businesses will start to feel the full weight of rising interest payments.  
And yet…the FED is persistent in its efforts to see how far they push rates to engineer a so-called "soft landing" for the economy.
Today, the stock market told us that the balance between greed and fear is getting to be more evenly distributed.  
The trading in one stock caught our attention: Freeport-McMoRan Inc (NYSE: FCX):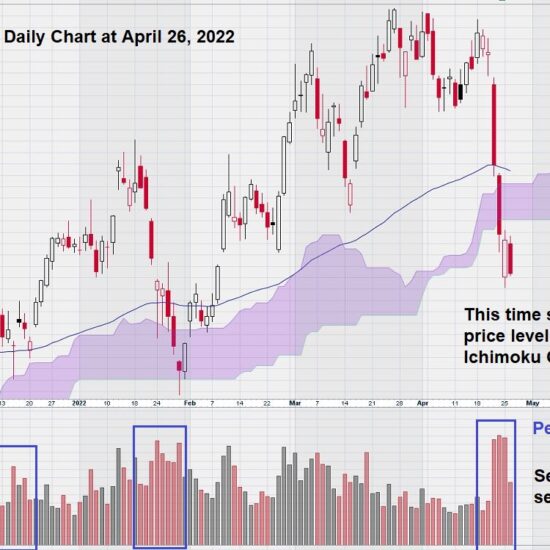 The copper miner, FCX declined almost 20% in just four days. 
Hard to make a bullish case for miners when a stalwart leader suffers such a profound decline. We may be entering a trading period where we start to see "harmonic waves of selling" – the bulls simply can not match the bears with the same intensity at a given price point – so declines are inevitable.
Summary and Wrap-Up
We all understand the story about the straw that broke the camel's back. 
Are we seeing a modern-day version of this play out before our eyes?
Is each new "crisis" another "straw" for the camel (the global economy) to carry? Let's think about it.
War in Ukraine, food shortages, weak political leadership, rising inflation, rising interest rates, higher oil prices, financial hang-over from COVID, more COVID concerns that won't go away, etc. 
Need we continue?
Have investors had enough?  
A few weeks ago, we presented this daily chart for the DOW: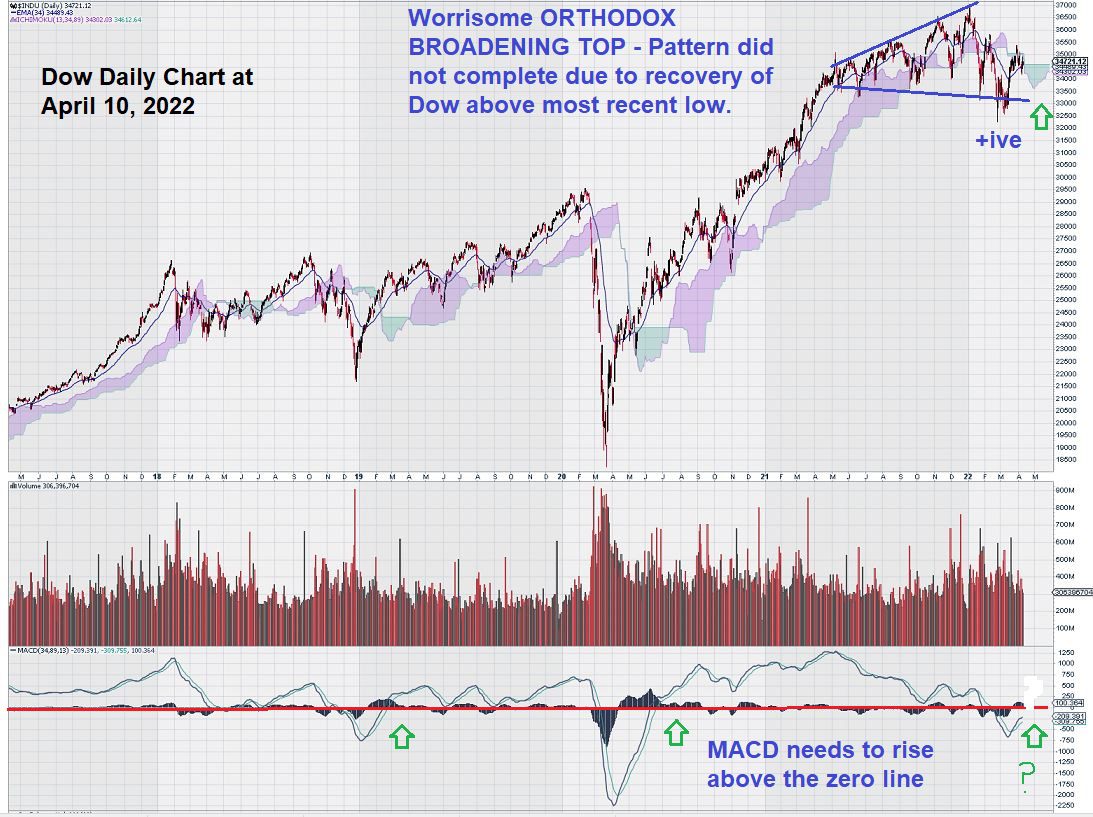 The daily chart for the Dow is not looking good at all. 
The weekly chart is starting to show a similar pattern to the daily one.
Today's decline in the Dow has certainly heightened our level of concern for the future.
– John Top, the technical trader
Disclosure: We own gold and gold stocks.