Worth The Golden Wait
As Easy as 1-2-3 When You Use Long Term M-A-C-D
(Educational Segment 005)
Investors new to using charts to help them find "trades" are often very surprised when a chart pattern sets up a good trade entry point. I was this way once, so I completely "get it."
After all, isn't picking trade entry points supposed to be difficult? We can all picture someone poring over a chart, frantically drawing many lines until all they are left with is some unintelligible scribble.
Why do we collectively have such a mistrust of our charting abilities?
Does it ever go away?
Happily, I report to you that it does with time – perhaps with a very, very long time.
But the good news is that once you develop your individual charting methods that you have become comfortable with, you begin to gain confidence. This confidence, over time, gives way to experience.
We can all appreciate that there really is no substitute for experience. Any parent can readily see this take place as their own children mature and develop.
I have passed on a few words of encouragement to my son to help provide some guidance to him: "What comes first – Confidence or Success?"
OK – now that our "feel good" and "you can do it" pep talk is out of the way, let's get to it…
Here is a 12-year chart of the S & P TSX Global Gold Index. Regular readers will not need reminding that this is one of my "legacy charts." I have been watching this chart since before 2008. It is comprised of around 40 gold companies and is a great way to take the temperature of investor sentiment as it relates to gold stocks.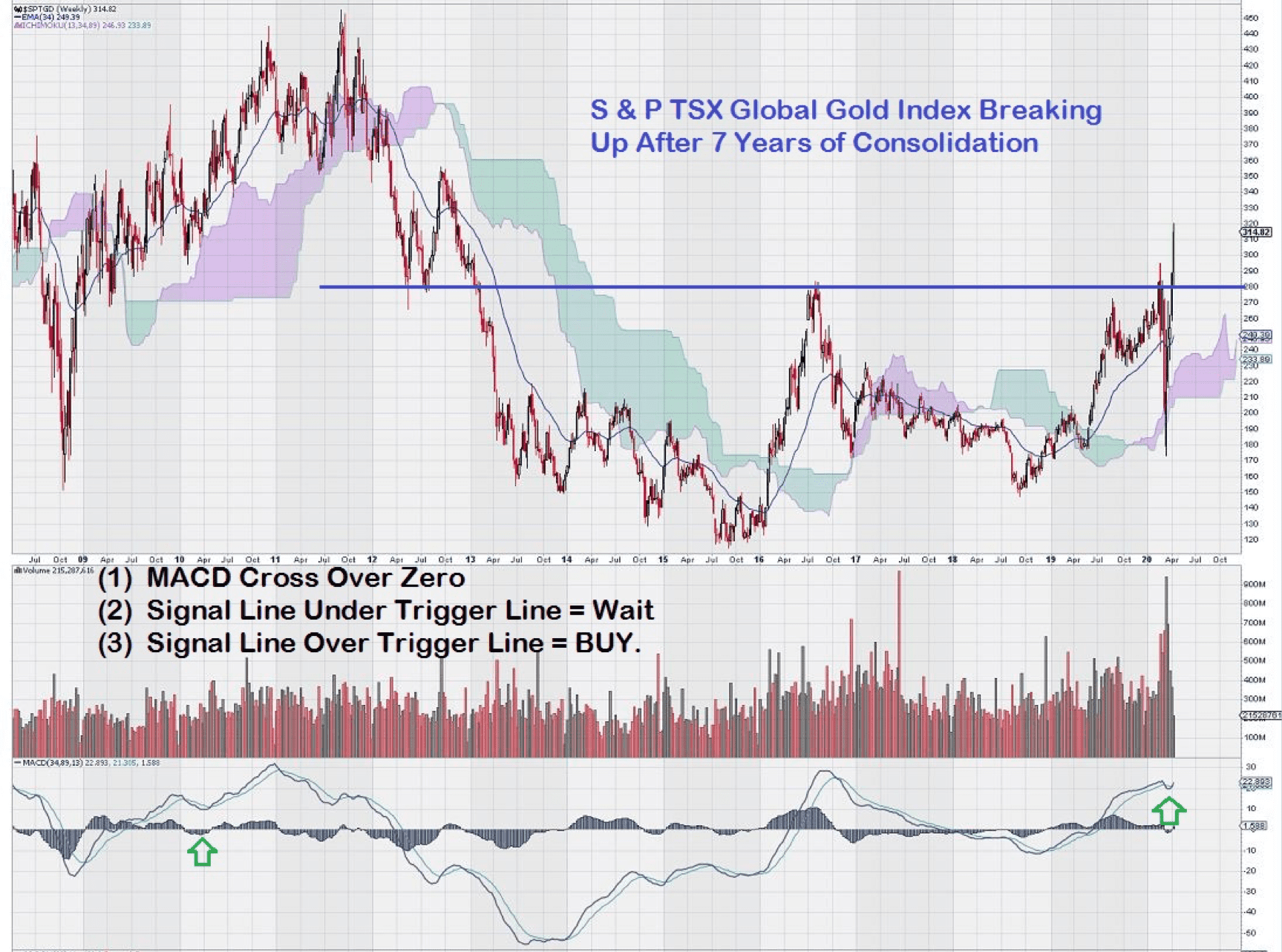 In the first quarter of 2010, a MACD crossover gave a buy signal using long settings based on Fibonacci numbers. As noted in previous lessons, there are three conditions that need to be met:
(1) MACD Cross Over Zero Line (1st Confirmation)
(2) Signal Line Cross Under Trigger Line
(3) Signal Line Cross Back Over Trigger Line (2nd Confirmation)
The S & P TSX Global Gold Index rose another 100 points to around the 430 level.
The key to the signal is based on a "double confirmation." The first confirmation occurs when both the signal line and trigger line for MACD cross over the zero line. The second confirmation happens when the Signal Line re-crosses the Trigger Line from below it; while remaining above the Zero Line.
Last week, we got the second confirmation that lets us know that the gold index is primed for a strong move up. See the detailed chart below.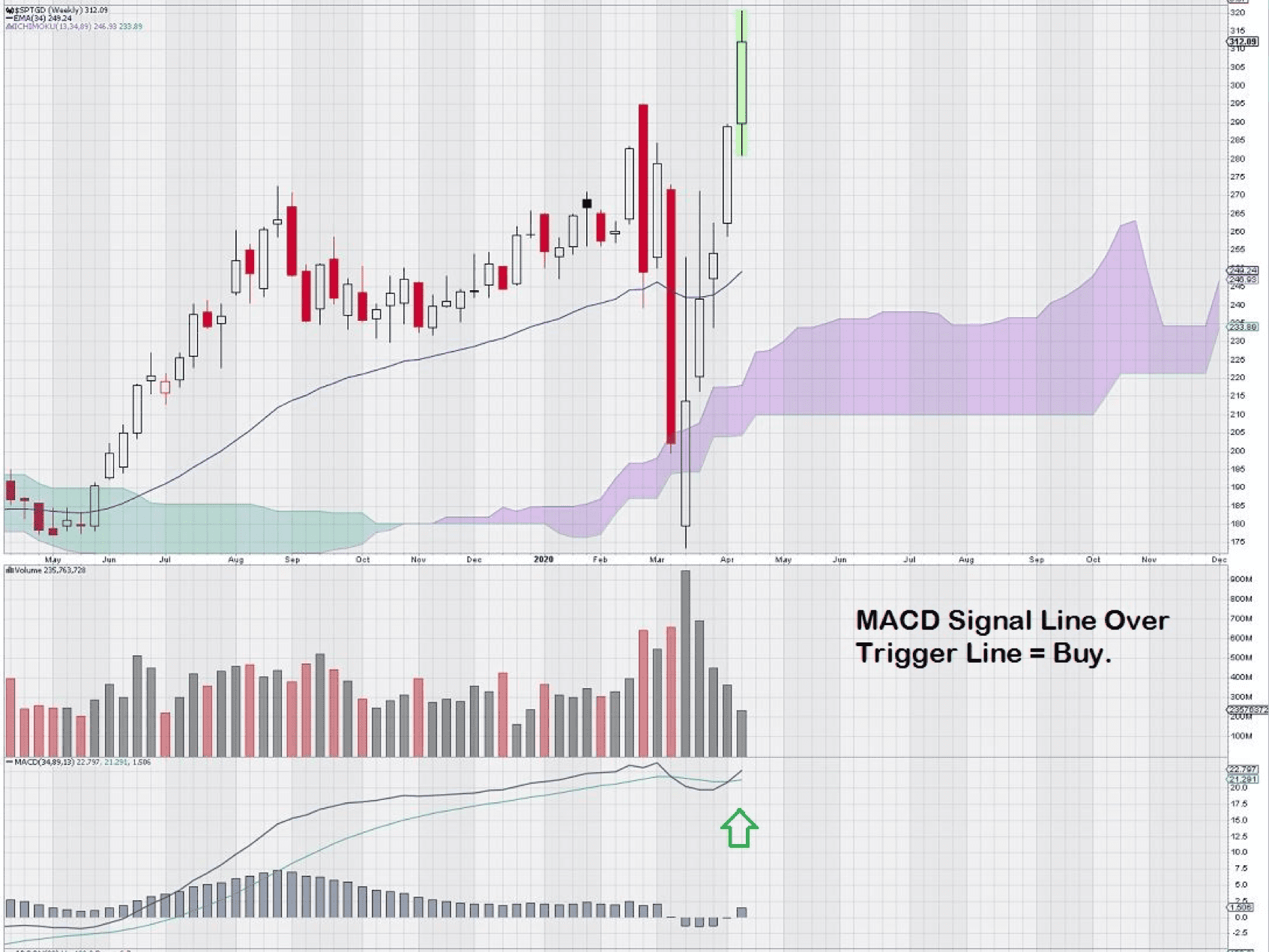 Another interesting aspect of this detailed chart is volume. Note the strong volume spike that preceded the move higher.
Does that phrase ring any bells for our regular readers? It should.
Check out the chart for the Dow that was featured in the recent article dated March 30, entitled: "No Liquidity Could Spell Big Trouble for the Dow as it Tries to Recover." Do you see what I see?
It sure looks like the volume pattern in 2008 that preceded the decade long bull market run for the Dow is being repeated by the TSX Gold Index: strong and sustained buying following a marked decline.
Although not shown on the Dow weekly chart, MACD was below the zero line for both the signal line and the trigger line. This means that the buy signal that we see in the gold index chart has more "chart backing" because of the position of both the signal line and trigger line being above the zero line and not below it.
So what should investors do?
Now is a great time to enter trades on gold stocks that suit an individual's risk tolerance.
The "tide has turned" for gold stocks, and although there may be temporary pullbacks, the trend is clearly up.
It is useful to note that several previous attempts to break up and over the 280-level for the TSX Gold Index have failed. This one did not.
Perhaps investors needed to see a stronger move above $1700 for gold to motivate buying of gold stocks. The massive money printing exercise by the FED may have been another "Buy" catalyst.
Has a fear of the virus and the uncertainty about the future "spooked" investors?
Whatever the reason, investors are getting firmly behind gold and gold stocks.
In the future, we will take a closer look at some of the component companies of the S & P TSX Global Gold Index to see if we can highlight some "chart based" picks as part of our on-going "Educational Segment."
In the meantime, investors should focus their attention on the gold stocks that interest them. Here at Equedia, Ivan has a large position in THIS company – he has told me that he hasn't sold a single share through the recent equity downturn; a smart decision considering the recent rally.
-John Top
Disclosure: We own gold and gold stocks.