The Real Reason Why COVID-19 Death Rates are So High
Want to know why Covid-19 death rates are so high?
Just ask the CDC and look at their guidelines on how to report COVID-19 deaths:
Via CDC:
"In cases where a definite diagnosis of COVID–19 cannot be made, but it is suspected or likely (e.g., the circumstances are compelling within a reasonable degree of certainty), it is acceptable to report COVID–19 on a death certificate as "probable" or "presumed." In these instances, certifiers should use their best clinical judgement in determining if a COVID–19 infection was likely. However, please note that testing for COVID–19 should be conducted whenever possible."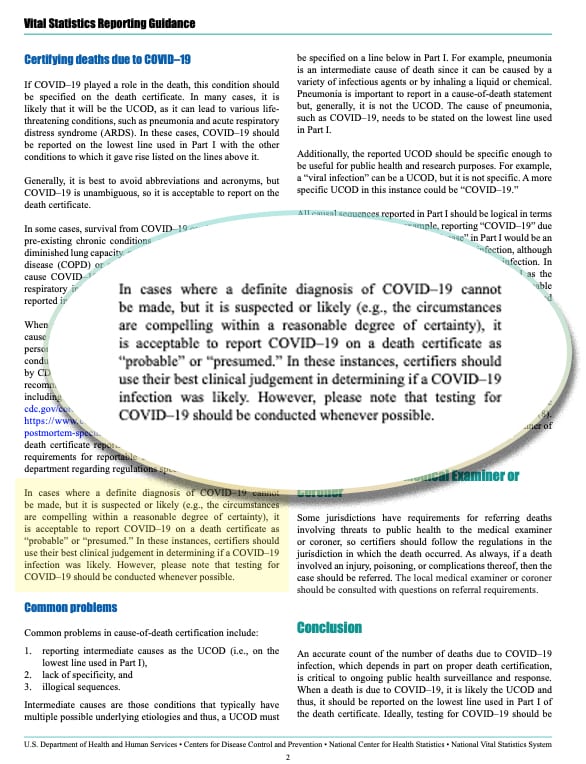 That's right: A doctor can label anyone who dies with the symptoms of COVID-19 – which are very hard to distinguish from the common cold, flu, or even pneumonia – without actually testing them.
And as we already know, COVID-19 can cause all kinds of symptoms similar to that of many other diseases.
Via the Government of Canada:
"Those who are infected with COVID-19 may have little to no symptoms. You may not know you have symptoms of COVID-19 because they are similar to a cold or flu.
Symptoms have included:
cough
fever
difficulty breathing
pneumonia in both lungs
In severe cases, infection can lead to death."
In other words, it's actually very difficult for doctors to distinguish COVID-19 symptoms from other causes without actually testing for it.
Not only that, those affected with COVID-19 might not have even died from the disease itself.
Via National Post:
"…different countries are also reporting cases and deaths in different ways: in Italy, Covid-19 is listed as the cause of death even if a patient was already ill and died from a combination of illnesses.
"Only 12 per cent of death certificates have shown a direct causality from coronavirus," said the scientific adviser to Italy's minister of health last week.
Spain's national government simply lists how many people with confirmed cases of coronavirus have died and provides no extra information on any other medical conditions."
So deaths are not only being diagnosed by doctors as COVID-19 deaths without being tested, but people who supposedly died of COVID-19 might not have died from it at all.
Don't believe it?
Just ask Minnesota State Senator Scott Jensen, who also happens to be a practising physician.
In fact, he said that for the first time in his 35-year career as a practising physician, he has never received specific instructions on how to fill out a death certificate.
Yet, he recently received an email from the department of health, "coaching (him) on how to fill out death certificates…I felt like they were saying…you don't have to confirm laboratory tests for COVID-19 in order for the death certificate to be COVID-19."
Crazy, right?
But it gets worse.
In a 7-page document he received, the document essentially told Dr. Jensen that:
"…if (he) had an 86-year old patient that had Pneumonia but was never tested for COVID-19, but sometime after she came down with Pneumonia we learn that she had been exposed to her son who had no symptoms, but later on was identified with COVID-19, that it would be appropriate to diagnose on the death certificate COVID-19. Now, we have not done that. If someone has Pneumonia and its in the middle of a flu epidemic, and I don't have a test on influenza, I don't diagnose influenza on the death certificate."
Yet, "they" are asking Dr. Jensen to do just that.
Take a look:
(This video has since been removed. Why? I am sure you can answer that…)
But that shouldn't come as a surprise.
Italy, Germany, the UK and Austria are all doing the same thing.
Perhaps that's why Germany has been so quick to open their economies back up?
But that's not all. Here's the craziest part…
Hospitals Get Paid for COVID-19 Cases
What if I told you that doctors in the US are actually being incentivized for COVID-19 patients?
Certainly you would agree that it would be a serious conflict – especially if they are allowed to mark COVID-19 as the cause of death on death certificates simply based on their judgment.
Well…
Here is more from Dr. Jensen:
"Right now Medicare is determining that if you have a COVID-19 admission to the hospital you'll get paid $13,000. If that COVID-19 patient goes on a ventilator you get $39,000, three times as much. Nobody can tell me after 35 years in the world of medicine that sometimes those kinds of things impact on what we do."
Take a look:
It sounds crazy, but that's what is happening right now.
Now get this.
Via AP News:
"As health officials around the world push to get more ventilators to treat coronavirus patients, some doctors are moving away from using the breathing machines when they can.
The reason: Some hospitals have reported unusually high death rates for coronavirus patients on ventilators, and some doctors worry that the machines could be harming certain patients."
Now, recall that, "if that COVID-19 patient goes on a ventilator (the hospital) gets $39,000." Interesting.
What do you make of all this?
Perhaps there is a bright side to this: While millions are losing their jobs, and potentially their homes, at least the hospitals are getting more funding.
Seek the truth.