I have a confession to make: at times, I am fascinated by numbers. Perhaps this is just a carryover from looking at too many stock charts, racing forms, or both.
What do the Coronavirus and COVID-19 numbers tell us so far?
The simple answer seems obvious: "bad" data and worse assumptions.
That's it.
Let's take a look at the "numbers" for 2018 that were derived from some "good" data from the CDC. They show a breakdown of deaths attributable to various categories.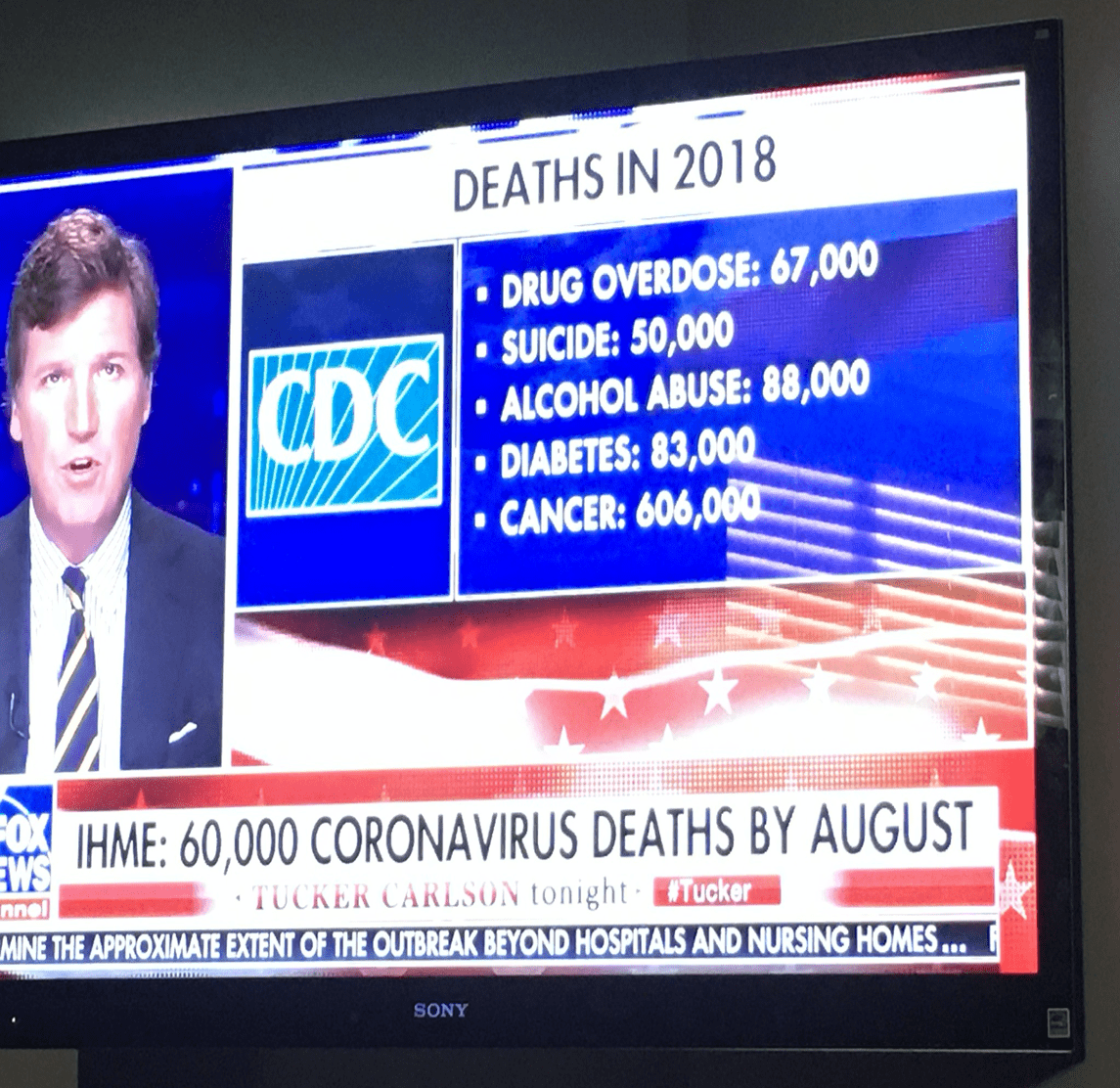 To date, the virus has claimed just over 16,000 lives in the USA, with the revised expectation that total deaths maybe around 60,000.
The virus death count would simply be another line in the table. And it could not be considered extraordinary by comparison to other forms of death.
Recall that early "death estimates" were as high as 2 million or more. This was revised downwards by a factor of 10 to around 200,000.
And now this total also appears to be overstated as the current estimates are less than ½ that amount. So how could the scientists and health experts be so wrong?
When the virus outbreak first occurred, there was an equal measure of fear and scientific concern. No one could accurately predict the course of the virus and the timetable it would eventually follow as it continued to spread.
What happened next was breathtaking.
The power of fear was captured by a media that no longer deals in facts but instead prefers to embrace assertions. The old adage in the newspaper business once again boldly asserted itself: "If it bleeds – it leads." And so the higher the projected death count, the bigger the story. The die was quickly cast. Fiction became fact.
Various news outlets were locked in a morbid game of one-up-man-ship: Who could report the highest projected death totals?
And what was the "prize" for this silly game? Leverage. The right to stand up in the daily press briefings and demand why the government was not "taking the situation more seriously." After all, look at how many good citizens would perish if more effort was not put forth. Why wasn't the government taking extreme measures to combat this growing threat?
Around the globe, one by one, governments caved into this irrational fear and took progressively more drastic steps in an effort to contain the virus. This is how we got to where we are now.
But where are we now?
The naked failure of the media has been laid bare for all to see. The twenty-four-hour per day reporting has driven citizens into their homes, which many now consider "bunkers." We all have acquiesced to staying at home as a part of a global collective. So how's that working out for you now? Do you really feel like a "global citizen"?
I have to say that I do not. I feel like someone, somewhere "pulled a fast one" on everyone, including me. And I don't like it.
It takes some doing, but if one stands far above the fray, the vision is clear.
Have all the free-market capitalists been herded into the socialist pen? Or rather, did they go there willingly?
In time, I am sure that the analysis of the "global pandemic" will reveal some very, very interesting insights. But alas, that time is not now.
Now it will be all that capitalists can do to band together and hold their ranks as the "free money" drug of socialism is being placed in front of them. As it turns out, the virus was not about death at all – it was about life.
How will we define our lives going forward? Will we continue to toil at our respective professions and obey the rule of "An honest day's pay for an honest day's work"? Or will we simply put our hand and take.
This thought really scares me, and it should scare you too.
Are there any clues that might tell us where things are going and perhaps provide some insight as to what will happen next?
Well…maybe.
Consider that through all the confusion of falling markets, record bailouts by the lender of last resort, the FED, and strong steps by the government to ease tax burdens, there is an asset class that is starting to shine a little bit brighter: gold.
This "ancient relic" has undergone a modern makeover.
Gold has surpassed $1,700 per ounce (as I suggested it might last week) and has its sights squarely set on a re-test of its old high just under $1,900.
When the lights are turned off, it might be a good idea to have a "golden flashlight" to find our way out of the darkness.
John Top.
PS: Ivan has mentioned Calibre Mining Corp. (TSX:CXB; OTCQX:CXBMF). The Company released some excellent drill results yesterday from drilling at its Panteon gold deposit, which can be accessed by existing underground infrastructure. The market rewarded the Company, and its shares rose 16% on the news. More drilling success seems likely.
Readers should review Ivan's initial report on Calibre (November 24, 2019) and also the various updates throughout the months that follow. The Company is delivering on its strategy to expand the known gold reserves through an aggressive drill program that focuses on organic growth adjacent to its existing mining operations.
Disclosure:
Equedia.com and Equedia Network Corporation are not registered as investment advisers, broker-dealers or other securities professionals with any financial or securities regulatory authority. Remember, past performance is not indicative of future performance. This article also contains forward-looking statements that are subject to risks and uncertainties that could cause actual results to differ materially from the forward-looking statements made in this article. Just because many of the companies in our previous Equedia Reports have done well, doesn't mean they all will. We are biased towards Calibre Minning Corp (CXB) because the Company is an advertiser on www.equedia.com. We currently own shares of CXB and have been granted options by CXB. You can do the math. Our reputation is built upon the companies we feature. That is why we invest in every company we feature in our Equedia Special Report Editions. It's your money to invest and we don't share in your profits or your losses, so please take responsibility for doing your own due diligence and consult your own professional advisers before investing in CXB or trading in CXB securities. CXB and its management have no control over our editorial content and any opinions expressed in this article are our own. We're not obligated to write a report on any of our advertisers and we're not obligated to talk about them just because they advertise with us. For a complete disclosure of the compensation received by us from CXB, please review our Terms of Service and full disclaimer at www.equedia.com/terms-of-use/.