Confidence Lost Becomes "A New Start"
Some stock charts just reach out and grab your attention.
TSX-V: EVM
That is the part of charting that is so obvious that it goes unnoticed.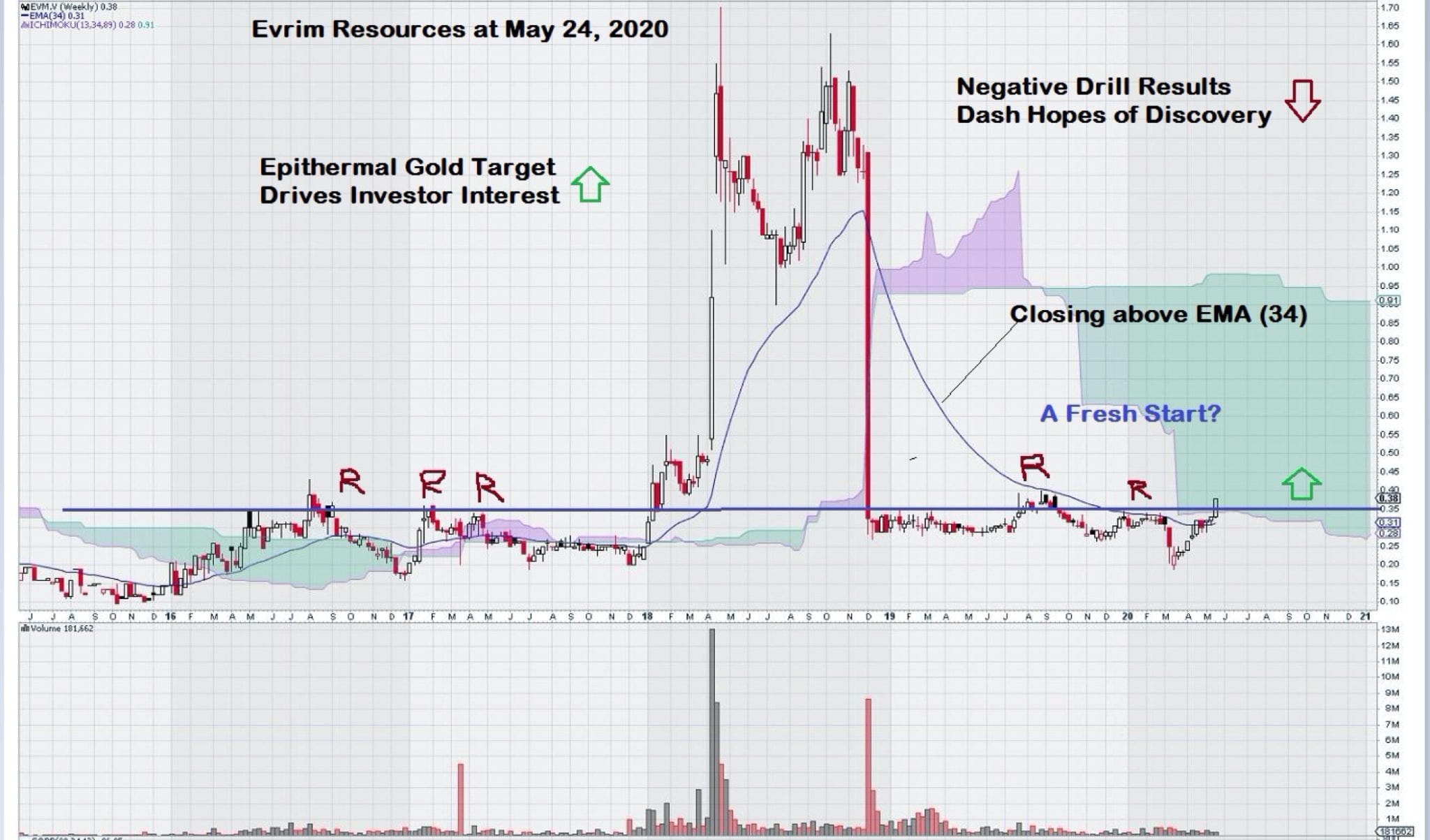 This is the case with Evrim Resources Corp., EVM.V, a prospect generator that has shown it can "bounce back" from a market set-back when a Mexican drill play failed to live up to the high expectations that investors had for an untested epithermal gold target.
Here are the first few paragraphs of a news release dated April 16, 2018 – it reads like Evrim had exposed a tremendous high-grade deposit that lay just below the surface. Evrim conducted extensive surface trenching and exposed high-grade gold over significant intervals.
Evrim samples 106.2 metres grading 13.61 g/t gold at 100%-owned Cuale High Sulphidation project Vancouver B.C. – April 16, 2018: 
Evrim Resources Corp. (TSX.V:EVM) ("Evrim" or the "Company") is pleased to announce additional exploration results from the Phase Two exploration program on its 100%-owned Cuale high sulphidation epithermal gold project in Jalisco, Mexico. Results from two cross trenches to complete the Phase Two program show significant widths and consistency of mineralization within the "La Gloria" prospect as well as high grades over shorter intervals. A second line of induced polarization (IP) geophysics demonstrates a similar character to the first line and defines additional quality drill targets.
La Gloria Highlights:
• Trench 4 grades 13.61 grams per tonne "g/t" gold over 106.2 metres from 29.4 metres along the trench
• Including 50.0 metres grading 26.13 g/t gold from 85.6 metres along the trench 
• Including 7.5 metres grading 163.3 g/t gold from 100.6 metres along the trench 
• Trench 2 grades 2.94 g/t gold over 29.4 metres from 2.0 metres along the trench (entire length of trench)
• Including 17.9 metres grading 4.55 g/t gold from 11.5 metres along the trench 
• The second IP line located 500 metres north of first line defines a 1200 metre long by 50 to 120 metre deep highly resistive ledge associated with strong silicification and minor anomalous gold at surface and a deeper feeder target
Drill results released in December, 2018 told a much different story…
Evrim announces initial drilling results at Cuale Gold Project in Mexico Vancouver B.C. – December 6, 2018: Evrim Resources Corp. 
(TSX.V:EVM) ("Evrim" or the "Company") announces initial drill results from the Cuale high sulphidation epithermal gold project in Jalisco, Mexico. The Company has received assay results from four of the first five drill holes targeting the La Gloria prospect. A total of 1,167 metres has been completed of a planned 3,000 metre program. Drill Intersection Highlights Drill Hole GLR18-01
• 14.0 metres grading 1.92 grams per tonne ("g/t") gold from surface and 10.2 metres of 1.58% copper from 238.8 metres downhole Drill Hole GLR18-02 
• 17.0 metres grading 0.52 g/t gold from surface Drill Hole GLR18-03 
• 29.0 metres grading 0.87 g/t gold from 6.0 metres downhole
 Paddy Nicol, President and CEO of Evrim commented:
"Unfortunately, the gold grades in the first few drill holes were significantly less than that encountered in the trenches at La Gloria.
 The drill rig is currently turning near the North Dome, where we have additional targets, and we are continuously evaluating our exploration program as results are received."
But is this all there is to EVM.V?
Apparently not. Despite the "big miss", the stock is now recovering as investors start to focus on Evrim's royalty assets.  
Evrim released a resource update for the Emitano Project on April 1, 2020. This is important because Evrim holds a 2% net smelter royalty (NSR) on the project. The property owner is First Majestic Silver Corp., who operates the St. Elena mine, 4 kilometers away.
Regular readers will automatically recognize that the gold/silver mineralization at Emitano could be considered a satellite deposit for the mine operator.
https://www.evrimresources.com/news/2020/evrim-announces-resource-upgrade-at-the-ermitano-project/
There is great competition for mine royalty companies to aggregate royalties in their respective portfolios. Evrim's 2% NSR would be a valuable addition to a number of small to mid-sized royalty companies.  
The recent recovery in the share price tells us that investors are dismissing the past and focusing on the future.
Disclosure: We do not own shares of EVM.
– John Top