Calibre Mining (CXB) – A Winning Corporate Strategy that Keeps on Winning
What a difference a year makes!
Let's go back to July 2019 when Calibre Mining (TSX: CXB) (OTCQX: CXBMF) announced that it would be acquiring two operating gold mines from B2Gold for USD $100 million.  
The purchase was financed in part by a CDN $105 million equity financing, which closed on October 1, 2019. The transaction to buy the gold mines was completed on October 15 and was followed by a TSX listing on October 21.
(Our original report, dated November 24, 2019, can be found by CLICKING HERE.)
Since that time, the new management group has grabbed the reins and made exceptional progress, both on the operations front and in advancing their exploration initiatives.
Operating a mine is not an easy everyday task. There are many "moving parts," and plenty of things can disrupt production so that quarterly gold production targets fall short of expectations.
Calibre Mining (CXB) set its original production guidance for 2020 at 140,000 to 150,000 ounces and has given revised guidance of 110,000 to 125,000 ounces. This revised guidance figure includes the loss of production from the second quarter due to a complete shutdown of operations in response to the global virus pandemic.
Analysts Cheer
While Calibre Mining will not meet its original guidance, it is fair to say that the transition of the mines to the new operating group has been a smooth one. Mining analysts who cover the Company take this into consideration when they decide to further upgrade their target price for the Company. 
Recently, Tom Gallo, Vice President, Equity Research Metals & Mining at Canaccord Genuity Group Inc., gave CXB a powerful endorsement by setting a revised, higher price target of $3.20.  
In part, the recommendation was based on the recent strong drill results that continue to show that the El Limon and La Libertad gold regions are characteristic of other long-lived gold systems elsewhere in the world. One of them was a high-grade intercept of 149.4 g/t Gold over 4.8 metres at Panteon! In other words, there is a "district-scale" or "gold camp" potential that is being realized as the large scale exploration drilling continues to advance the project overall.
The fact that Calibre Mining currently has 14 drills working was not missed by this analyst who understands that drilling success will directly translate into further production success. Calibre's management has shown that they have what it takes to not only operate mines that make money, but deliver great drill results along the way. This is at the heart of what the mining business is all about.
User-Friendly Interactive Technical Platform to Showcase Drilling Results for Mining Analysts and Investors Alike
Calibre has some interesting links on its websites that I would encourage our readers to click on to see how the Company presents its drill data on an ongoing basis. This helps with understanding where progressively more "value-add" comes from.
The technology being used by Calibre Mining is called VRIFY. What it does is simplify the drill data and present it in an easy to understand format. This summary comes from the VRIFY website:
"Until now, we have relied on two-dimensional tools to convey three-dimensional stories."
That said, here is a link that helps explain the significance of the recent drilling success at one of Calibre's projects, Panteon.
https://vrify.com/explore/decks/9236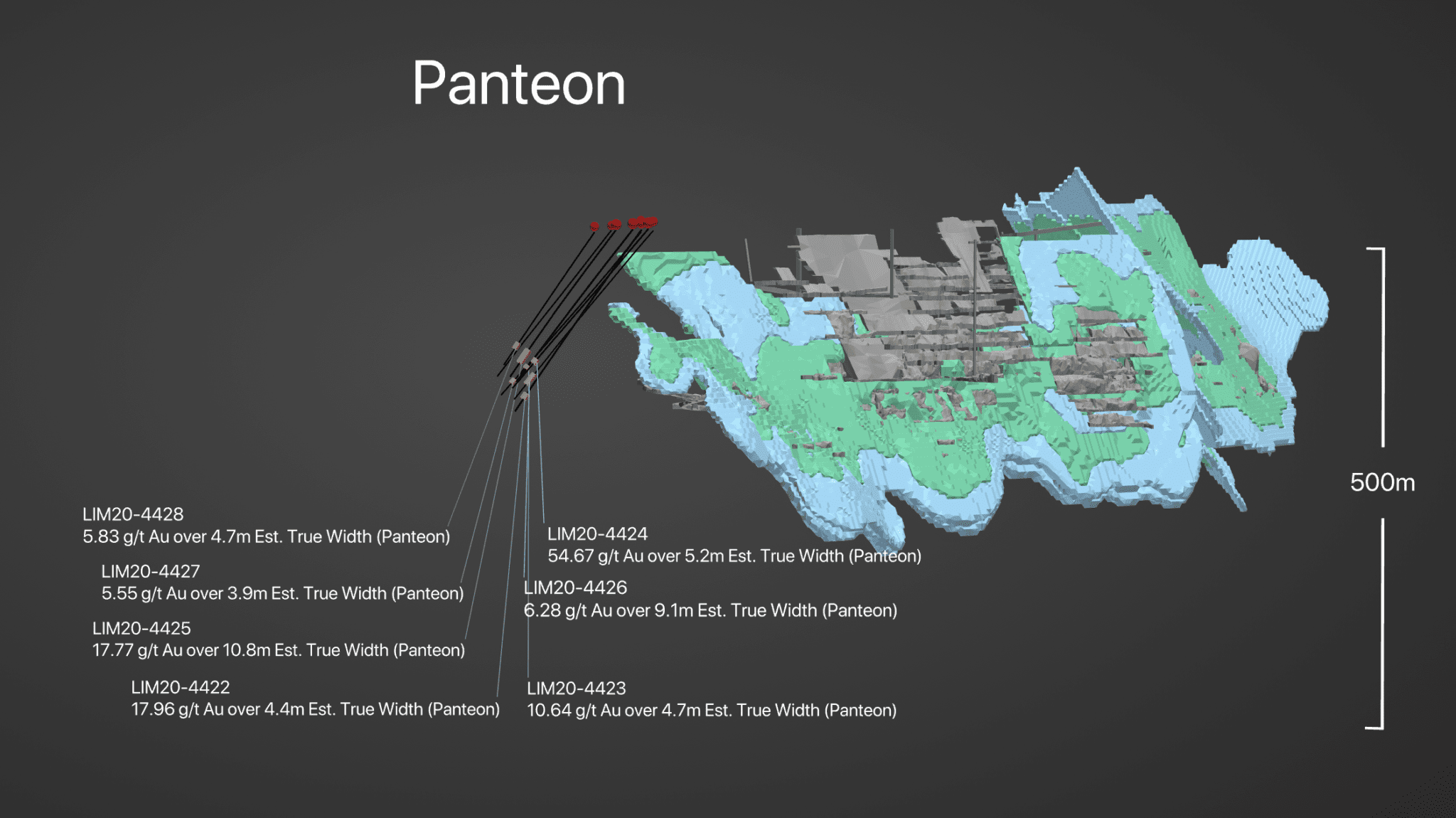 If you happen to have two screens, it is useful to open the link on one and then read the press release on another. It soon becomes clear that the drilling to date has shown a zone of gold mineralization that has good continuity of both grade and thickness.
Let's take a look at the current stock chart to see how the Company's exploration progress is being reflected in its stock price.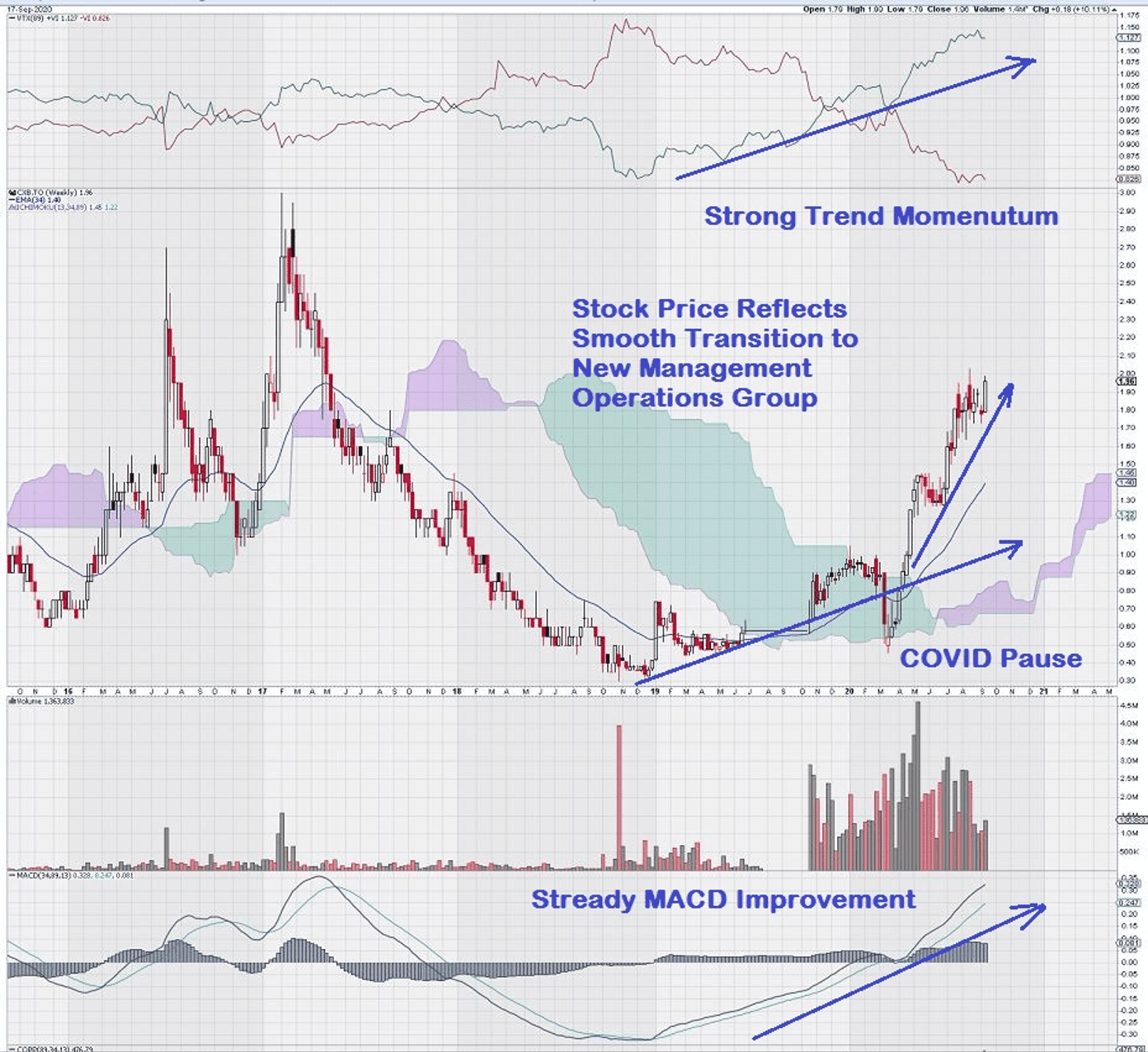 The stock chart reveals that, aside from a brief "COVID pause," the stock is very responsive to good news from the exploration front. We should not be surprised about this because the VRIFY technology makes it easy for analysts and investors to track the Company's progress in "real-time".  
In summary, shareholders of CXB have a lot to look forward to in the months ahead, as the 14 drills will not remain silent.  
One last thought worthy of mention, and repeated from our last look at CXB, is the "10-Year Plan". This shows the absolute commitment of the management group to the future of the Company. 
Bravo and well done!
-John Top
Disclosure: Equedia and its directors own shares of Calibre Mining and options granted by the Company. Calibre Mining is also an advertiser.