Are We There Yet?
Gold stocks have been lagging gold these past few weeks. 
They have not been keeping up with the move up that gold has made. We will use our charts to illustrate this observation.
First, a look at gold stocks since 2008 shows how responsive they have been to coincident moves over the zero line by both MACD and the Coppock Curve when "trend settings" are used.
We can see that the TSX Gold Index has finally closed above its Ichimoku Cloud. This is the first time this has happened since early 2020 when the COVID pandemic was recognized by severe lockdowns that "paused" the global economy. 
Before that, it was in mid-2019 that the Cloud level was crossed to the upside.
As measured by the TSX Gold Index, all of the sustained moves up in gold stocks occur when it remains above the Ichimoku Cloud.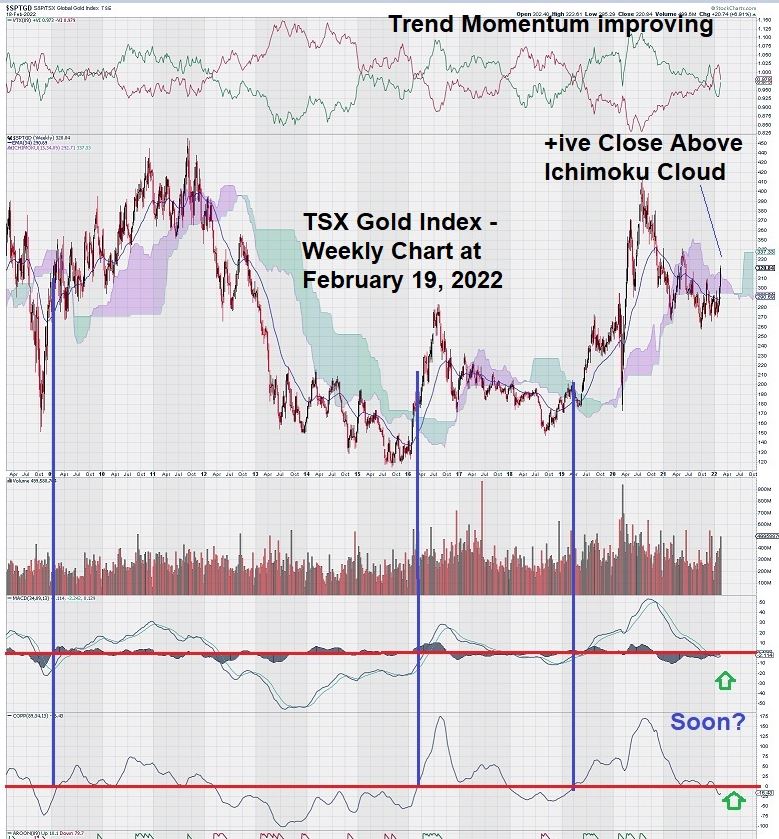 Let's take a closer look at the RHS of the chart: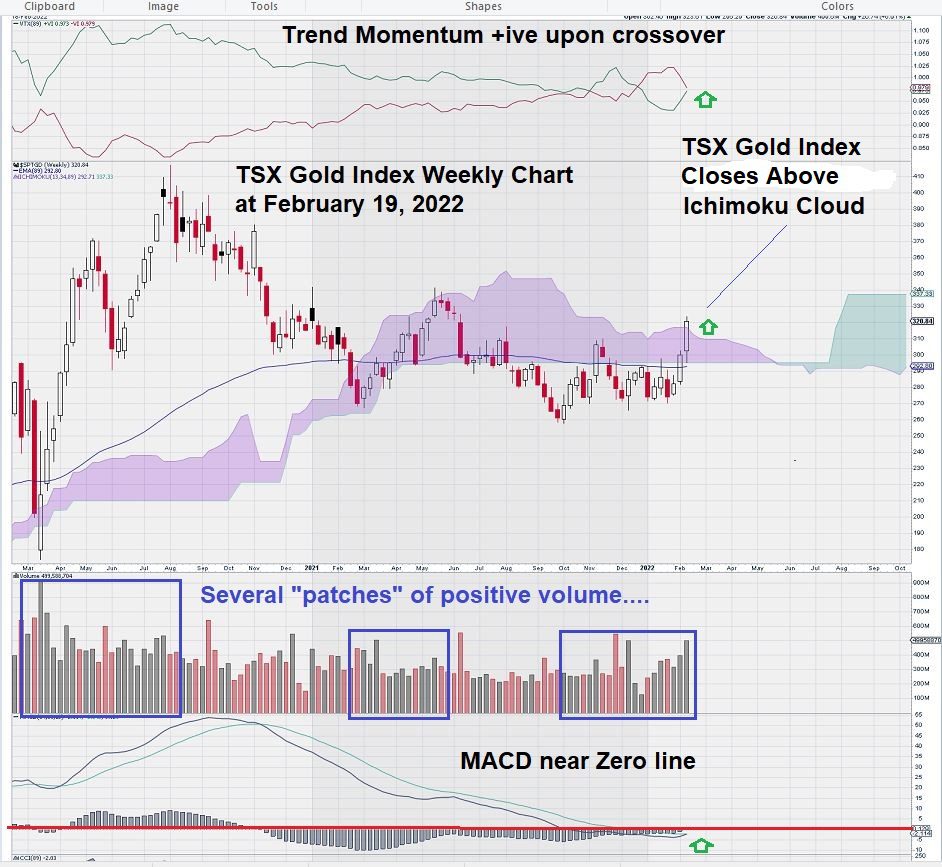 The TSX Gold Index weekly chart shows that since closing below its Ichimoku Cloud, gold stocks have been trading in a somewhat narrow range of 270 – 310 – with a one-week close below this level followed by a quick recovery the following week.  
Our charting discipline is founded on "at least two consecutive closes" above or below defined horizontal levels.  
In the past, we have often stated that we prefer to see the 2nd candlestick as a better one than its preceding candlestick. By following this rule, we generally keep "on trend." We let the action of the chart dictate our observations and trading conclusions.
Looking closely at the TSX Gold Index Chart, we see what could be characterized as "slight decay" below the Ichimoku Cloud. 
Previously, stronger red candles, one after the next, marked the start of a more significant and long-lasting decline.
With all of that said, we like what we see in the last two weeks of trading for the TSX Gold Index. Notice that there is increased volume in this past week over the one that preceded it. Also, see that last week's candle is another strong upward one. This shows that there has been good, sustainable interest in gold stocks for the last two weeks.  Investors are not afraid to pay up for stocks that are priced less just two weeks ago.  
Summary and Wrap-Up
The recent strength in gold stocks may be a combination of many factors. These include strong earnings due to a rising gold price, response to geopolitical uncertainty, and a growing belief that the word "transitory" may not apply to inflation and especially inflation expectations.  
Several years ago, I came across a reference comparing gold stocks to all stocks. The article noted that gold stocks were less than 0.50% of all stocks by their market cap weighting.
It is helpful to be reminded that there are just not enough gold stocks to satisfy investors' requirements to hold them – especially when a tiny fraction of "generalists" decide to buy gold and gold stocks as a "hedge" against a negative future outcome for the broader markets.
As time marches on, the actions of the FED may serve as the catalyst to pressure the economy. The stock market is a leading indicator that can see ahead. The trading action in the DOW shows a concentration of uncertainty at the current level of 34,500 – 35,500. (We have posted several charts that clearly show a more even distribution of trading conviction now shared between the Bulls and the Bears.)
Gold remains the global "go-to" asset in uncertain times. Gold is starting to perform well, and gold stocks, although lagging a bit, are starting to get their shine back.
– John Top, the technical trader
Disclosure: We own gold and gold stocks.