Minimum Long Term Gold Price Target Shaping up to be $3600 – Here's Why
On July 30th, a mining industry stalwart, Byron King, opened a two-day virtual investor conference with a brief presentation that included some references to gold. Sipping my coffee and following along with the slide deck, I was listening and watching intently. Then, a chart of inflation-adjusted gold prices since 1970 appeared. The rest of the presentation went on without me. There is a strong message in that chart that I want to share with you.
Let's begin.
As many of you may know, I was introduced to the subject of technical analysis by Jim Sinclair, who's website bears his initials:  www.jsmineset.com  
Somehow, over 20 years ago, the information about chart patterns just seemed to click. 
It all made sense to my brain. 
Years later, I learned that if a person is too analytical, too scientific in their approach, they fail to see emerging patterns. Conversely, if a person is too artistic, they see patterns everywhere, including places where they do not exist. So what is required is a correct mix of science and art. Too much of one and not enough of the other and the ability to "let a chart speak to you" is lost.
I needed to include this brief prelude to set up my thinking on a very long term gold chart that has nearly completed a strong, widely recognized technical trading pattern. Upon completion of the "Cup and Handle Pattern," a minimum gold price target of $3600 is indicated. My notations on the chart define this pattern for you to observe. 
The original source of the chart is from MacroTrends, and it appears in an article written on July 28th on the 5minforecast website. You can read this article by clicking on the link provided.
https://5minforecast.com/2020/07/28/a-blowup-event-gold/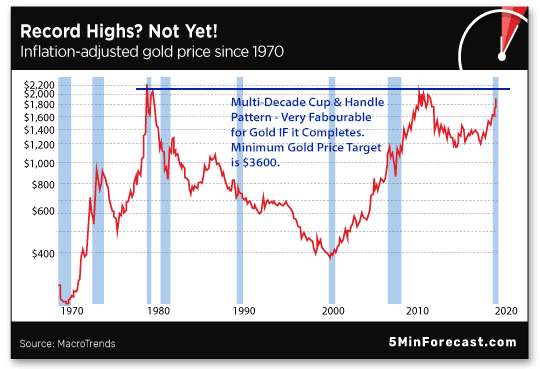 This chart is very exciting for me because of time. As you can see, without any doubt or reservation, the interval of time spans many decades. The period from 1980 to 2013 forms the "cup" part of the cup and handle pattern. The handle is not yet formed, but it sure seems likely that it will. 
So what is the big deal about some "silly chart pattern" some might ask?  
On the time frame that it represents, this pattern is extremely bullish because of the time taken for the pattern to form, and it is nearly complete.
Let's, for simplicity's sake, consider the pattern completing sometime next year. This would mean that the pattern would include a time interval of 1980 to 2021 – a period of more than 40 years.  
Even for someone who does not follow charts, technical analysis, or the information gained from their study, it is pretty difficult to "argue the case" against such data based on such a long time interval. In the past, I have identified this pattern on weekly charts. 
In general, very good trading success followed.
For more on this particular chart pattern, put the phrase "cup and handle pattern" into your search engine.
Summary and Trading Strategy
Markets are volatile, and volatility is on the rise. The Inflation adjusted gold price chart, containing over 40 years of data, certainly smoothes out a lot of trading "bumps."  
Gold and gold stocks have risen since gold broke out and up from its six-year trading range that had capped the price in the $1350 to $1375 range. The unanswered question with investors is, "What Happens Next?". This is usually followed by another query, "How High Can Gold Go?". 
The good news for readers of this letter is that both of these questions are addressed in the 40-year chart. Next, we simply wait on a clear break out of the cup and handle chart pattern. It seems we don't have long to wait, even if the wait is within the next two years. A break out above the top of the cup and handle pattern has a measured minimum price target of $3600.
One final comment: time – that is, enough time – puts many things in perspective. 
This is important because, as the chart clearly demonstrates, a "once in 40 years break out" on this chart is quite literally a "once in a lifetime opportunity". Don't squander it.
-John Top