The Long Shadow of Uncertainty Continues to Cast Doubt over Pretium's Valley of the Kings Gold Deposit
Doubt is a nasty thing. It never seems to go away…
A Look Back in Time To October – 2013
Pretium Resources (TSX: PVG) (NYSE: PVG) got off to a very rough start. After a series of strong drilling results that showed the outline of an exceptionally high-grade gold deposit with erratic gold distribution in northern British Columbia, it was time to prepare a resource estimate. 
This was completed and became the basis for a feasibility study that identified 6.6 million ounces of gold at the project.
The next logical step was to complete a "bulk sample" test to see how much gold was actually there. Two well-respected engineering teams took a different approach, leading to vastly different results.  
Using the Snowden Mining Industry Consultants methodology, (authors of the resource estimate), a 2,167-tonne sample returned 281 ounces of gold. On the other hand, Strathcona Mineral Services Ltd. (the Toronto firm that revealed Bre-X to be a scam), estimated the sample would only contain 145 ounces.
Testing of the larger, 10,000-tonne sample, which inclued the initial 2,167-tonne sample, continued. Pretium was expecting to recover 4,000 ounces from the larger sample.
Strathcona resigned from the project and sent a scathing indictment to Pretium's management, outlining their views of the geological engineering work that had been completed up to that time. Here is a sample of what they said:
 "There are no valid gold mineral resources for the [Valley of the Kings] zone, and without mineral resources there can be no mineral reserves, and without mineral reserves there can be no basis for a feasibility study," Strathcona said. The firm went on to say that Pretium's statements about probable mineral reserves and future gold production from the project are "erroneous and misleading."
Pretium had no choice but to make these disclosures in keeping with reporting requirements of "material facts."
The market did not take kindly to this decidedly negative independent arms-length assessment, and the stock was punished, dropping over 50% in October.
Yet, the testing of the sample continued…
The Proof is in the Pudding!
To the delight of some and the shock of others, on December 13, 2013, the final results of a 10,302 dry tonne sample were reported. The triumphant news release headline said it all:
"Pretium Resources Inc.: Bulk Sample Processing Totals 5,865 Ounces of Gold" 
So what happened next?
The stock quickly recovered, and the company proceeded headlong towards production.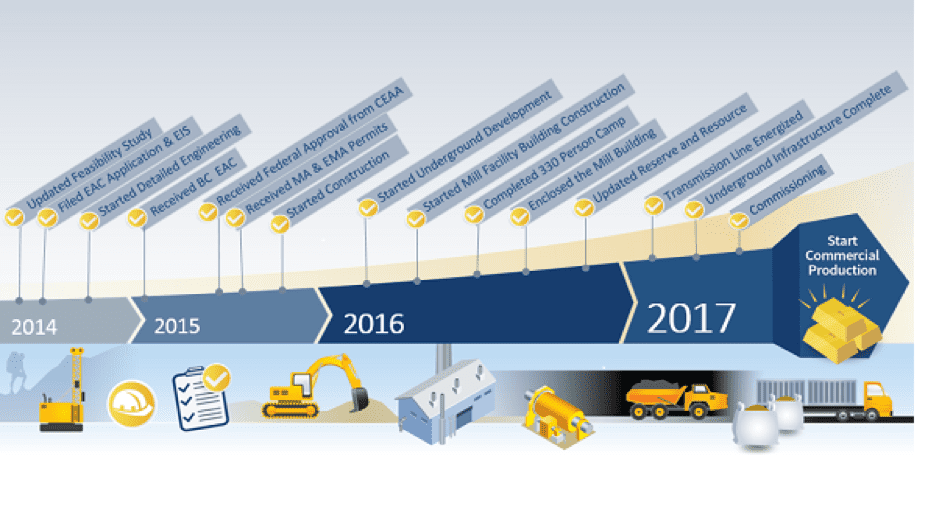 With the "uncertainty" of the gold content in the bulk sample removed, Pretium attracted a strategic investor, Zijin Mining Corp., who invested $C 81 million at the end of 2014. This was followed up with a $US540 million construction financing package later the next year in September 2015.
On track and on schedule, the mine poured its first gold in June 2017 and has been in production ever since. 
For the full year of 2019, the mine produced 354,405 ounces of gold, mining more tonnes but at a lesser grade than in 2018.
Recent Management Changes Shake Investor Confidence
In May 2019, Pretium announced that its founding shareholder and Executive Chairman, Robert Quartermain, was set to retire at year-end. Just a few weeks ago, further management changes were also announced. The President and CEO, Joseph Ovsenek, was also going to be replaced as soon as an external search resulted in a suitable candidate. Perhaps the most important management change, given the history of the company, was the resignation of Vice President of Geology and Chief Geologist, Warwick Board.
The market was not pleased with these announcements and with disclosures about future full-year production estimates for 2020. As a result, and once again, the shares were negatively impacted.
Here are some links to some analysis done by various contributing writers published by Seeking Alpha:
https://seekingalpha.com/article/4323421-pretium-resources-digging-fyminus-2019-results
https://seekingalpha.com/article/4324189-pretium-resources-history-repeats-investors-to-face-another-bloodbath
https://seekingalpha.com/article/4324777-pretium-resources-to-get-real-nature-of-brucejack-mine
A sample of what one of them had to say is noted below:
"Pretium Resources reported its FY-2019 earnings results this week, missing significantly on both production, grade, and cost guidance.
Despite an updated mine plan forecasting over 500,000 ounces of gold production for FY-2020, the company is now guiding for annual gold production of less than 350,000 ounces for FY-2020.
While the company's valuation has improved after significantly lagging its peers the past year, it's difficult to get behind a company that consistently misses its targets by a massive margin."
Technical Comment – Stock Chart Has Broken Its Up Trend Line
PVG.TO has broken a long uptrend line that has been in place since the end of 2013. Of particular note on the chart are the long red candles that show significant selling pressure. The extreme drop in price at the start of 2018 penetrated the previous trend line drawn with a slightly higher slope; however, the stock did not have two consecutive weeks of closing below it. Two other significant weekly "drops in price," one at the end of 2019 and another around September of this year, both did not come close to violating the trend line that was in place at the time.
This time, things look different…
The next few weeks on the Friday close will be most interesting for PVG.TO. Can the stock recover above the clearly defined multi-year up trend line, or will it remain below it?
It figures to be a "one to watch," especially since the price of gold is starting to rise a bit over the $1600 level.  
Time will tell if the spate of management departures were just a coincidence of "bad timing" or a harbinger of more doubt and uncertainty that is yet to come.