Mining is a global enterprise. Capital flows easily around the world to where it is best allocated. 
Or at least that is what economic theory would dictate.
But what about jurisdictional risk?  
How do mining companies, which are capital intensive, decide when and where to look for a mine, develop one, and operate it?
Let's take a look at various mining jurisdictions and see what we can learn by way of recent decisions, both by governments and by companies.
Here we go.
Governments around the world share one common and pressing issue that never goes away: how to create a new source of taxation for the state. This is where the "rubber meets the road" when it comes to approving a long life NEW source of tax: a new mine.  
Mining comes with a lot of "bad baggage." Stories of tailing dams failing, environmental damage due to residual acid drainage, and various other legitimate concerns over poor mining practice.
It is easy to see how there is support for environmental groups that are against mining activity.
But let's be fair to the miners.  
The miners have made great strides to "clean up their act" — engineering practices around mining now center on how to leave the least offensive environmental footprint after mining activity ceases.
Progressive governments recognize that it is in the self-interest of miners to behave responsibly. This is why "brand new" mining laws are being written to encourage mining, while at the same time protecting the environment; a happy compromise that benefits miners, environmentalists, and governments. After all, the government creates a long-term steady taxation source, as well as the many benefits of employment and various economic spin-offs.
Why is this important?  
Many government programs need long-term funding support to be effective. This can stress a government budget, and a stressed budget means budget cuts. Budget cuts lead to unhappy constituents who are inclined to make changes at the ballot box.
Look, mining will not "save" a government from itself and any poor decisions it makes. The point is that responsible governments who see the value in creating a fair and workable scenario for miners are themselves rewarded.  
In particular, Central and South American governments have recently made miners feel welcome.
In Ecuador, a country that was once considered "off-limits," there have been profound and positive changes.  
A recent corporate presentation by INV Metals at the February 2020 BMO Conference provided a good summary of which companies are currently active in Ecuador and the extent of their financial exposure.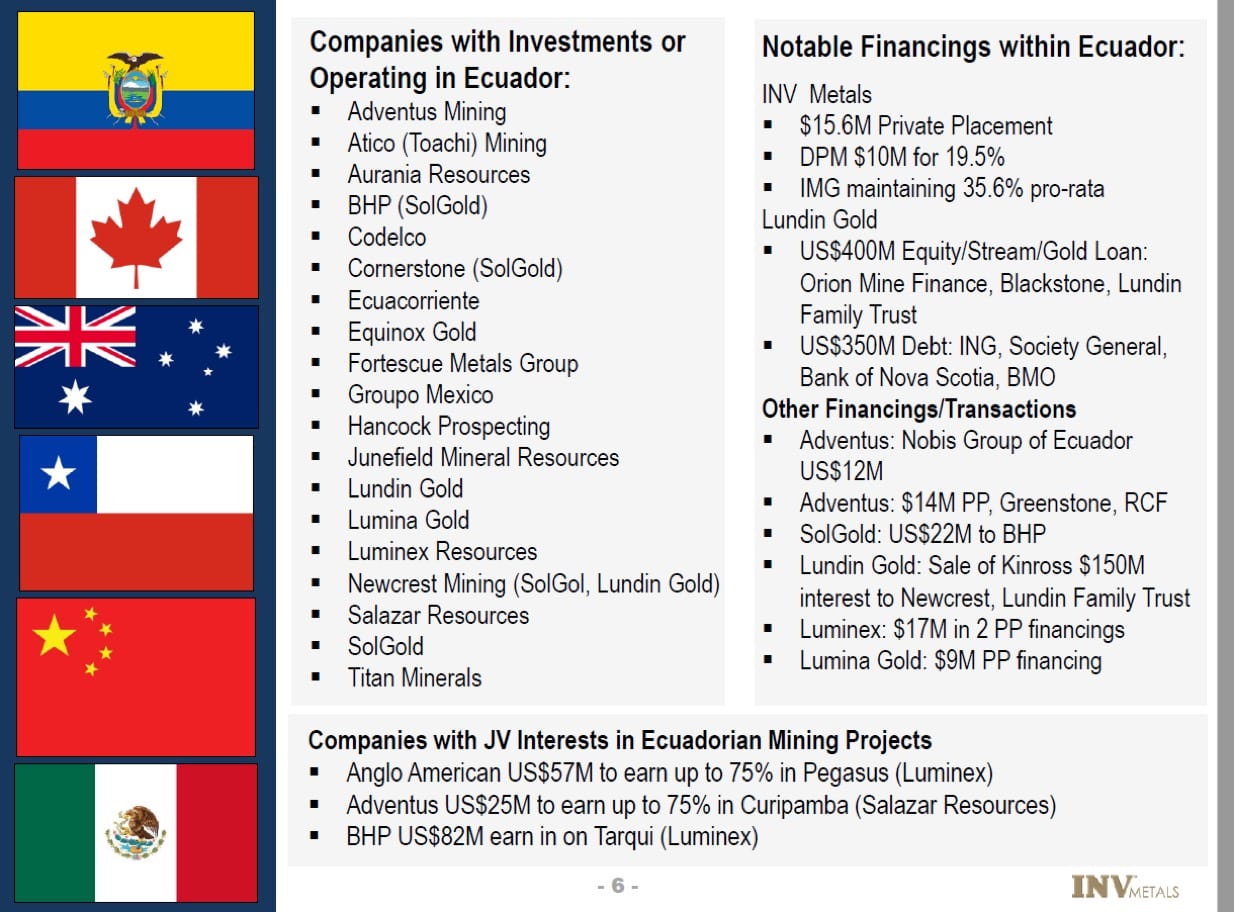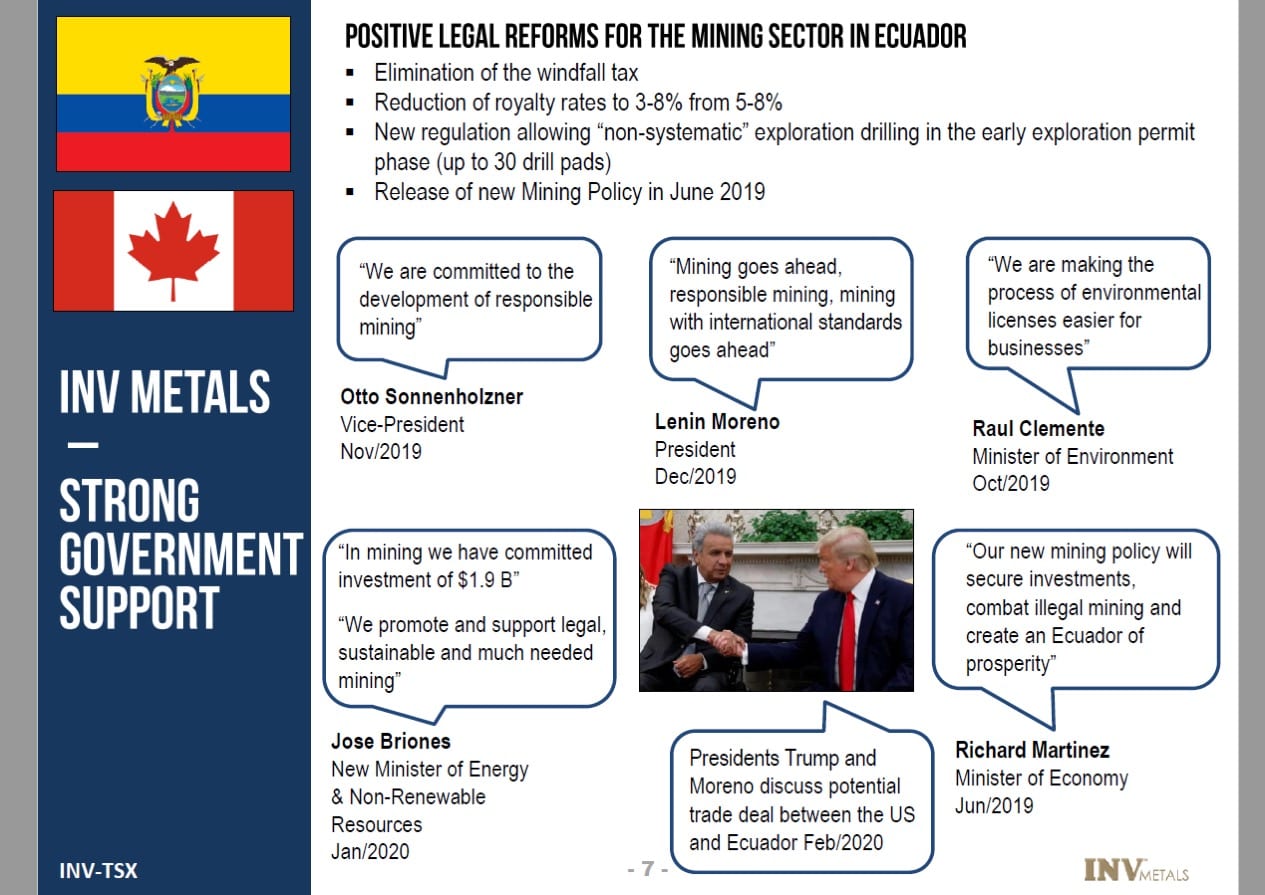 A few days ago, INV Metals announced that the Ecuadorian Constitutional Court denied a request to hold a referendum related to current and future mining activities at their Loma Larga gold project. The referendum's primary concern was over water. The Court was satisfied that INV had taken all necessary steps to preserve and protect the "recharge, discharge and water regulation areas, badlands, wetlands, protective forests and fragile ecosystems in the province of Azuay" where the mining activity was to take place. 
Via INV Metals Inc. press release – February 24, 2020:
"On February 21, 2020, the Ecuadorian Constitutional Court denied the request to hold a referendum related to future and present mining activities within the Province of Azuay, which was presented for consideration to the Court on January 7, 2020. The Constitutional Court denied the request stating the standards and criteria previously established by the Constitutional Court to hold a referendum regarding mining activities were not met in either of two questions that were analyzed. Furthermore and importantly, the Constitutional Court indicated that the application regarding the cancellation of current mining concessions, which would retroactively affect concessions already granted by the Ecuadorian state, violated the concessionaire's right to legal certainty. Therefore, the right of mining concession holders to legal security has been upheld and confirmed by the Constitutional Court as a right enshrined by the Constitution of Ecuador."
Where else in the world are governments starting to make miners feel welcome?
Canada's Rock Solid Historic Relationship to Mining 
Well, how about here at home in Canada, eh?
Canada has a long and storied history of resource development. Most notably, the Flin Flon Smelter and the Sudbury Smelter were both financed and constructed during the start of the "Great Depression." 
This commitment to mining can not be understated in terms of its importance to the development of Canada, as a nation, at the time.
"In June 1930, production begins at Flin Flon. At the time, Flin Flon was one of the largest industrial development projects in the Western Hemisphere. It has been said that it was second only to the Panama Canal in terms of scale."
Of course, given the new far-left viewpoints and funding from anti-oil and gas U.S. lobbyists, things have changed…
Canada Abandons Its Mining Roots
Canada's reputation as a "good place" to develop a mine took a hit when Teck Resources Limited withdrew its Frontier Project from the regulatory review process. 
In an open letter to the federal Minister of Environment and Climate Change, Teck CEO and President, Don Lindsay explains the reasons for the change in heart:
"However, global capital markets are changing rapidly and investors and customers are increasingly looking for jurisdictions to have a framework in place that reconciles resource development and climate change, in order to produce the cleanest possible products. This does not yet exist here today and, unfortunately, the growing debate around this issue has placed Frontier and our company squarely at the nexus of much broader issues that need to be resolved. In that context, it is now evident that there is no constructive path forward for the project. Questions about the societal implications of energy development, climate change and Indigenous rights are critically important ones for Canada, its provinces and Indigenous governments to work through."
This is a stinging indictment of the Government's failure to deal with the key issues that face miners today.  
Worse yet, particularly for gold miners, it comes at a time when "the gold train is starting to leave the station." After waiting nearly a decade for better markets to appear, the gold industry is ready to take advantage of improved conditions, especially improved and improving sentiment amongst investors who seem finally willing to support financings. 
So far, we have not seen any material changes that have prohibited the advancement of gold projects in "mining-friendly Canada," but with the Teck decision, it should be "front of mind" to mining CEOs that are faced with the decisions necessary to advance gold projects.
Nicaragua: Mining Friendly Jurisdiction Attracting Senior Mining Companies
Regular readers of EQUEDIA are aware that Ivan has been very supportive of Calibre Mining Corp. as they continue to build a gold mining company with operations in Nicaragua.  
Calibre got a big "confidence boost" when global mining giant, Rio Tinto, through Rio Tinto Exploration, entered into a multi-year US$45 million exploration agreement.
 "CALIBRE AND RIO TINTO EXPLORATION ENTER INTO AGREEMENTS: 
$45 MILLION EARN-IN AGREEMENT FOR 100%-OWNED BOROSI PROJECTS; AND STRATEGIC EXPLORATION ALLIANCE FOR NICARAGUA"
Investors should be thrilled that one of the world's largest metals and mining companies believes there is significant exploration potential in the concessions controlled by Calibre – after all, Rio Tinto isn't one to go after small mines.
More importantly, it shows that Rio Tinto is comfortable enough with the jurisdictional risks associated with Nicaragua to invest that kind of money.
This is the independent third-party validation that cannot be "bought" – it must be earned.
So while investors should always be aware of jurisdictional risks involved with mining, they should also be mindful that there are multiple opportunities outside of the big mining countries that can prove rewarding. 
Just remember, while some jurisdictions may appear to be politically unsafe, it took only a few protestors in Canada to wipe out billions of dollars and thousands of jobs.
-John Top
Disclosure: We are biased towards Calibre Minning Corp (CXB) because the Company is an advertiser on www.equedia.com. We currently own shares of CXB and have been granted options by CXB.