Excelsior Mining Shares Responding to Rising Copper Price and Favorable Operations Updates
A few years ago, I was invited to attend a mine tour of a very different kind of mine. There were no underground workings, and there were no open pits. This was because the "mining" was to be done "in-situ" by injecting weak sulphuric acid and then recovering leach solutions containing copper.
Excelsior Mining has coined the phrase, "The Copper Solution Company" to describe itself. The company has been patiently solving minor operational difficulties and now seems to be headed in the right direction to achieve production status finally.
For a quick reference, Excelsior Mining Corp. (TSX:MIN) (FSE:3XS) (OTC: EXMGF) is at the final stages of placing a large underground copper oxide deposit into production using low cost, environmentally friendly in-situ recovery that will leave the surface landscape in original condition when "mining" is completed.  
The project is known as the Gunnison Copper Project and is located approximately 60 miles east of Tucson, Arizona.
A major interstate highway, I-10, runs right over part of the deposit and will not impact the project except for a small tunnel that has been bored under the highway so that leach solutions could flow back to the recovery plant.
MIN.TO has a well-maintained and up-to-date corporate website that shows what they are doing at the Gunnison Copper Project.
https://www.excelsiormining.com/project
We like the way the stock has been trading lately, and it appears to be on the verge of a breakout that can reverse a decline that has lasted almost three years.  
Let's take a detailed look at the weekly chart and see why it has garnered our attention.
First, we highlight trend momentum.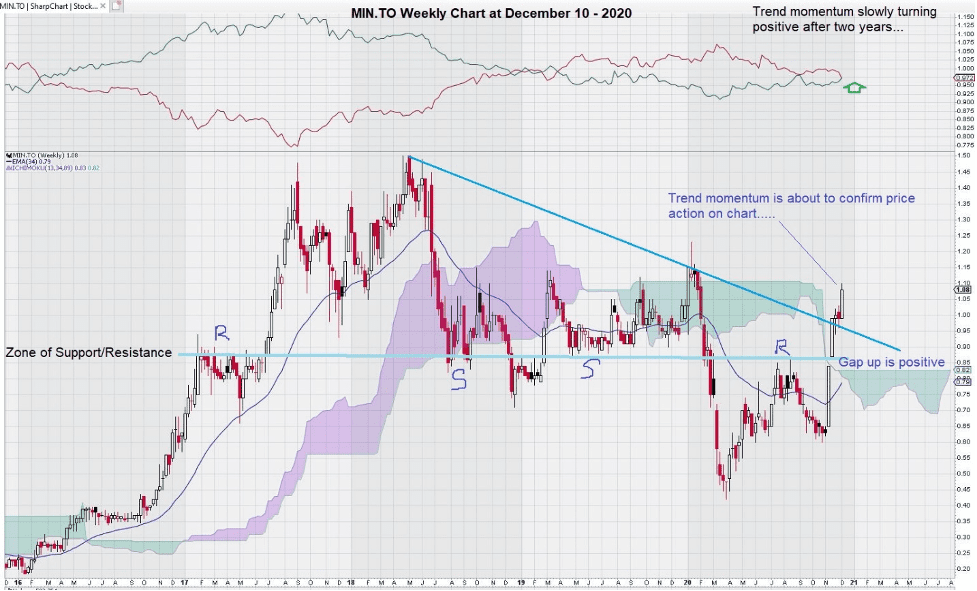 Here we can clearly see that Trend Momentum is about to turn positive, and this would help confirm the break out above the 3-year downtrend line.
Next, we will see if volume and the volume indicators tell us that this rise above the downtrend line could be the start of a long, sustained rise in the MIN.TO share price. Recall that we have a "trading rule" that requires confirmation by way of volume on the "second candlestick."
We just presented a detailed "textbook example" of how to recognize volume confirmation when it happens. The example we gave was: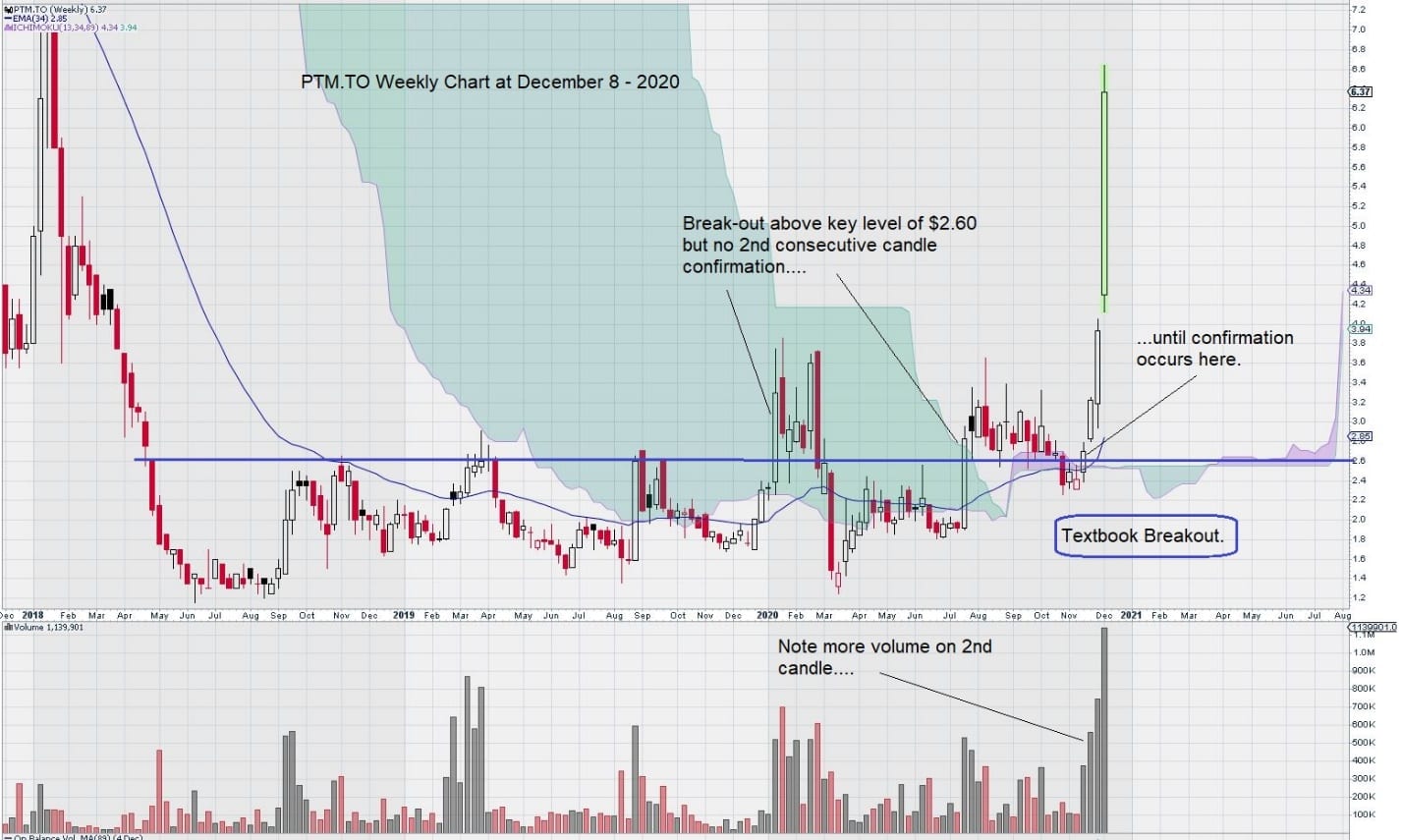 Check it out so you (not me!) can monitor MIN.TO and learn how to "pick the spot" to become more successful in your investment choices.
We will now review an infrequently used technical indicator, the Aroon, that is very useful in determining when consolidation ends, and a new trade direction is established.  
There is a range of consolidation between $0.80/$0.85 and $1.10 that is evident on the chart. This observation ignores the "COVID decline" noted on most charts, starting in March 2020.
To learn more about the Aroon indicator and for more detail on why this chart is one we should continue to follow, refer to this link:
Aroon [ChartSchool] (stockcharts.com)
Summary & Wrap-Up
Dr. Copper is telling us that the global economic engine is starting to "rev up" and that there are better times ahead. Our trade strategy is simple, find some companies that will directly benefit from the massive infrastructure projects (yet unannounced) that will put people back to work again. 
By carefully and thoughtfully analysing their weekly stock charts, we can find good trade entry levels that are well-timed and offer excellent upside trade leverage.  
We know that our objective is never to "pick the absolute bottom" but rather to use technical analysis as a tool to find trades that offer a greater margin of safety and yet which still can produce good returns.
-John Top