Calibre Mining Analyst Report: Insights from Haywood Securities
Last week, Haywood Securities' Co-Head Mining Research, Geordie Mark, Ph.D. prepared a comprehensive report on Calibre Gold. My brief review of the report follows…
The Golden Gift that Keeps on Giving: El Limon Gold Mine
Calibre Mining (TSX: CXB) (OTCQX: CXBMF) has a consistent, proven record of production from the El Limon Mine that dates back to 1941. A variety of owners has successfully operated the mine. Total production to date has been almost 3.5 million ounces. 
How come so much gold was found at El Limon?
A simplified description of the type of gold mineralization provides the answer. 
The El Limon vein system has been classified as a low sulphidation epithermal system. These types of gold deposits occur as the result of the hydrothermal circulation of weakly acidic fluids that are driven by intrusive source rocks for metals at considerable depths. The deposits form when these gold-rich fluids find their way along a major structure and into what geologists call "reactivated dilational structural settings." The low sulphidation gold deposit model is well understood, and, for more curious readers, it is suggested to let "Google" take you on an educational journey to learn more about them.
Currently, CXB reports proven and probable mineral reserves of around 300,000 ounces of gold equivalent at a gold equivalent grade of 4.25 grams/tonne at El Limon. Measured and indicated mineral resources (Inclusive of reserves) are 800,000 gold equivalent ounces at a grade of 2.26 g/t and inferred mineral resources are reported as an additional 780,000 gold equivalent ounces at a grade of 5.29 g/t.
To summarize, at El Limon, a large gold deposit was emplaced into a favorable structural setting. This deposit has been mined for many years, and, with continued strength and stability in the gold price, the future of even more gold production from El Limon looks as bright as gold itself.  
La Libertad: Delivering Early Exploration Success
Today (February 11, 2020) CXB reported some very nice drill intercepts from the start of its large 40,000-meter drilling program at La Libertad and surrounding satellite exploration targets. One of these nearby targets, Amalia, delivered a near-surface interval of over 17 g/t gold over an estimated true width of 7 meters at a very shallow depth of around 60 meters.
The Haywood Research report correctly summarized the exploration potential at La Libertad and the surrounding area: 
"…within the portfolio of targets, true grassroots exploration options are still apparent (at) the Amalia target area…". 
This target is in a newly tested area that was highlighted by a surface geochemical anomaly and by strong trenching and channel sampling results, prior to drilling.
De-risking the Future By Targeting Reserve Expansion
The strategy of CXB management is simple and clear. Exploration success is the first step toward delivering organic resource growth and mine-life expansion. Investors need to take note when management is able to articulate a goal and then deliver on it.
Technical Trading Comment
Shares of CXB have recently risen from the $0.60 level to around the $1 level. The stock has pulled back and is consolidating its recent gains
Currently, the daily chart is showing MACD declining; however it remains well above the zero line. A reversal of the signal line over the trigger line would be the positive signal that some technically minded investors might be looking for…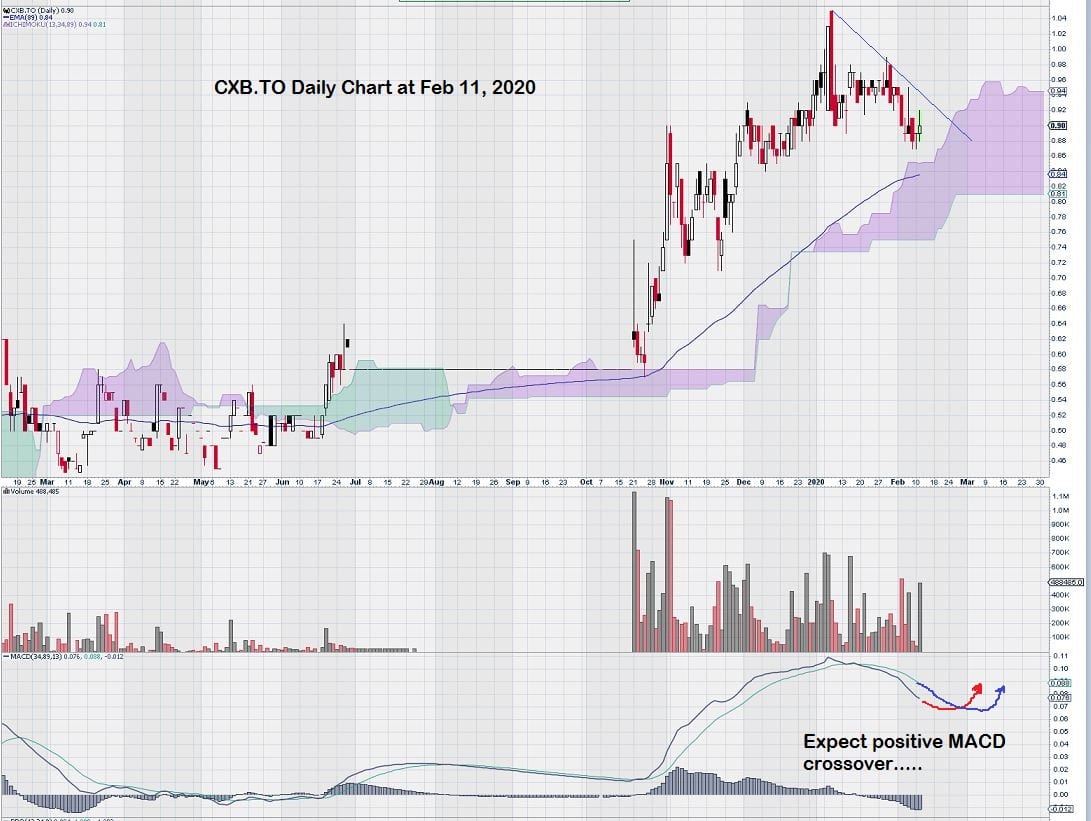 Calibre Mining
Canadian Trading Symbol: TSX: CXB
US Trading Symbol: OTCQX: CXBMF
Equedia Initiation Price: CDN $0.75
Current Price: CDN$0.90
Disclosure: We are biased towards Calibre Minning Corp (CXB) because the Company is an advertiser on www.equedia.com. We currently own shares of CXB and have been granted options by CXB. Please also contact Haywood Securities for their full disclaimer and disclosure of their research report on CXB.