Time to Find the Missing Silver Link
Geology is a profession that requires imagination but also discipline. Success comes when the right mix of these two ingredients is applied to solving an age-old question: "Where is the buried treasure?" Let's take a brief look at this most interesting challenge through the examination of Reyna Silver (TSX-V:RSLV). 
Reyna Silver is the "new kid" on the silver block. It was recently formed by Jorge Ramiro Monroy. Prior to devoting his effort to advancing RSLV, Jorge acted as founder and managing director for a Hong Kong investment firm specializing in natural resources.  
Jorge realized two important aspects of the resource business. You need to have the "right people looking in the right places" – after that, success will follow. This is where the Reyna Silver (RSLV) story gets quite interesting. 
The Alpha Explorers
RSLV's technical advisory group consists of Peter Megaw and Doug Kirwin. Both men have received the mining exploration industry's highest honor: the Prospectors and Developers Association of Canada's Thayer Lindsley Award – given for making significant mineral discoveries. 
Peter was recognized for the discovery of the Juanicipio and Valdecanas high-grade silver veins that resulted in the market capitalization of MAG Silver going from $20 million to $2.2 billion.*
(*MAG Silver was once a featured company and advertiser on Equedia, back when its market cap was less than $500 million – it has been a massive win for Equedia readers. First report can be found here.)
Doug* was likewise recognized for the discovery of the Oyu Tolgoi copper/gold deposit in Mongolia, one of the largest deposits of its kind in the world, currently being developed by mining giant Rio Tinto. When underground mining commences, this mega deposit will host the third largest copper mine in the world.
(*Doug is also an advisor to K92 Mining, which is also a past Equedia featured company. K92 is one of the best-performing gold stocks this year and one of the world's lowest-cost gold producers. It, too, has been a massive win for Equedia readers.)
Ok, I'm convinced, RSLV has assembled an "Alpha Exploration Team." But where are they going to unleash their collective wealth of geological knowledge?
The answer, of course, is in the shadow of a proven silver giant.  
Well-Positioned Land Package
Reyna Silver (RSLV) has put together a very well-positioned land package immediately adjacent to several mines which, together, have produced 500,000,000 ounces of silver.  
RSLV's flagship exploration project, the Guigui property, is focused in the Santa Eulalia silver district, home to the world's largest known CRD deposit (Carbonate Replacement Deposit). Dr. Peter Megaw's Ph.D. studies were at Santa Eulalia, where he developed the geological model noted below.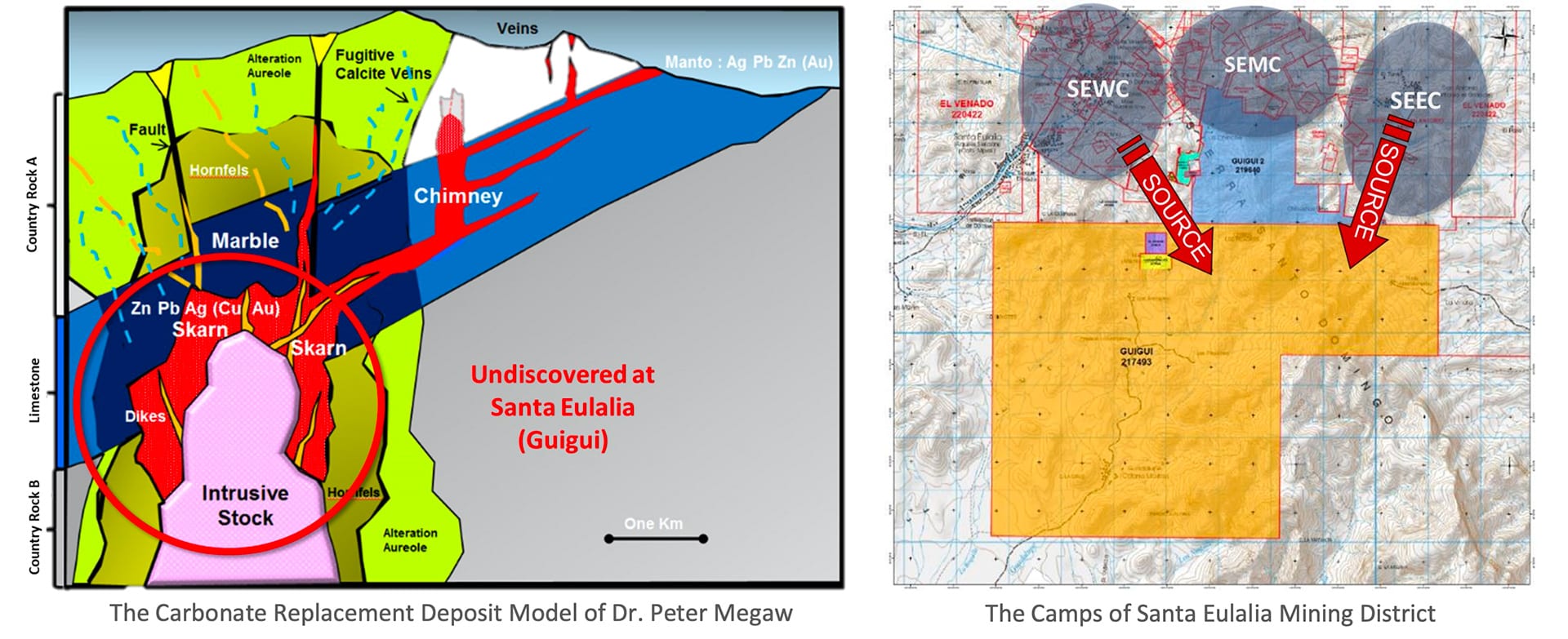 This model has been repeatedly validated by other explorers in the worldwide search for economic CRD deposits.  
So there you have it. Reyna Silver is focused on the discovery of the "missing silver link" at its Guigui property in the Santa Eulalia silver district.   
The company is well backed by institutional investors who also have a strong historical record of financing resource companies that overcome the odds of failure and create enormous value for their shareholders. An interesting side note is that these institutional investors span the globe, from the Orient to Australia to North America and Europe. 
It seems that when you do the right things, you get noticed.
Summary and Wrap Up
The recent rise in the silver price has meant that there is an "overload" of drilling applications flooding the administrative offices of the Mexican government's resource department. Management of Reyna Silver acknowledges that while they would like to receive drilling permits within weeks, it will likely be longer. 
While this slight delay in permitting is unavoidable, it has a "silver lining."  
Investors have time to accumulate shares and be positioned for the drilling programs scheduled to start early next year.
We have all heard the expression "one to watch," but for us, this is "one to watch" as a shareholder, not as a casual observer in the peanut gallery.
-John Top
Disclosure: We own shares of Reyna Silver, and the company is an advertiser.