Newcore Gold (TSX-V; NCAU, OTCQX: NCAUF) provided gold investors with an important piece of information that will help them see the value proposition that the Company is offering through its shares.  
Newcore Gold (NCAU) released an updated PEA (Preliminary Economic Assessment) for its Enchi Gold Project in Ghana. One of the keys to appreciating how this may impact the future share price is to realize that the capital cost estimate is a modest $97 million with a short after-tax payback of only 2.3 years. The project has a $333 million pre-tax net present value (5% discount) and 42% IRR. These calculations reflect a gold price of $1,650.
Recent financings of gold projects (commonly upsized to accommodate strong investor demand) suggests that this project will essentially "finance itself" with such strong project economics.
The PEA goes on to highlight other important aspects of the project. These include a low LOM (Life of Mine) stripping ratio of 2.1 to 1 of a mined grade of 0.57 g/t gold. The recovery rate is exceptional for a heap leach operation at 79% – a more standard recovery rate might be around 65 – 70%, depending on how well the ore leaches.
Overall, the Company currently envisages recovering just under 1 million ounces (983,296) over the first 11 years. There is a strong probability that the current ongoing exploration will add more gold ounces that can be treated at the central heap leach facility.
So, with all this "good news," what is happening to the share price? Let's take a look at a current weekly chart.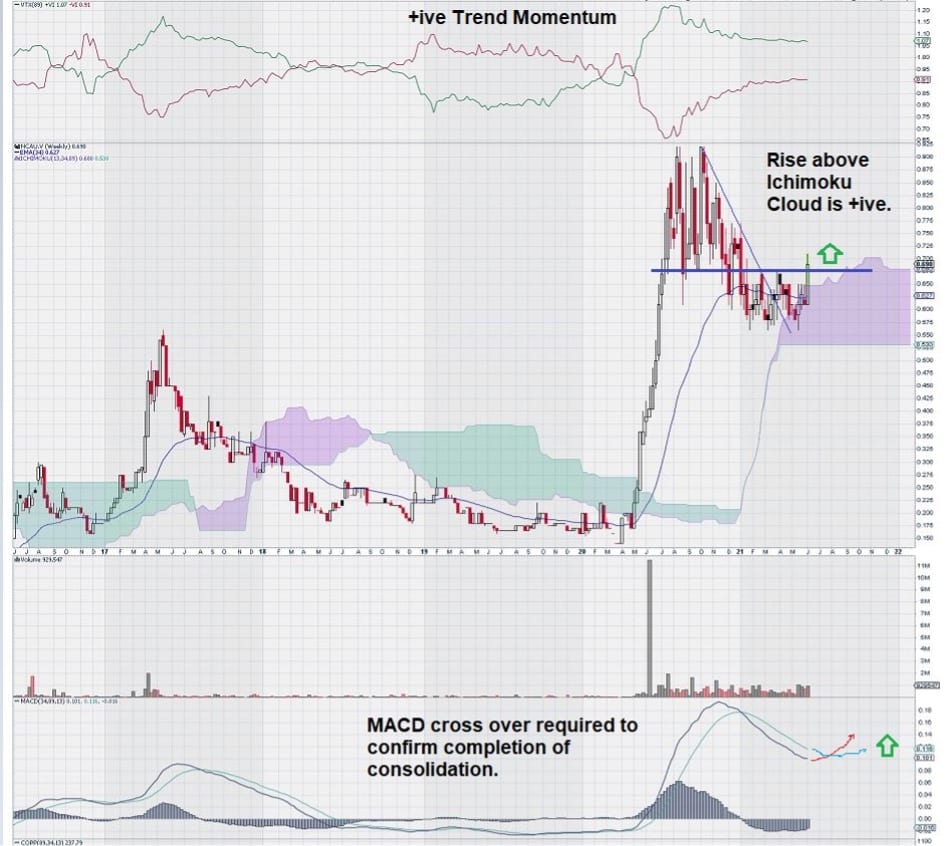 As you can see, the market is just starting to react to this important news. Regular EQUEDIA readers do not need to be reminded that we really like "positive MACD cross overs ABOVE the zero line." We have seen this chart set-up before, and it provides a very good trade entry point. This is because it signals the end of a positive consolidation – a completion of the shift of share ownership from weak hands to strong hands — a shift from perhaps investors with a short-term horizon to those with a longer one. 
A quick check of the volume shows that it is picking up. Volume over the past ten days is much better. The improving outlook for the gold price coupled with a strong plan for the future shines a light on NCAU.
Early this morning, I listened to a podcast that featured legendary gold investor Pierre Lassonde – (Franco Nevada). He reiterated his primary investment criteria with these words: "Good people do good things." Management is his key investment filter.
As we apply this "investment filter" to NCAU, we see that the management group for it are seasoned professionals with a long track record of being able to evaluate under-valued or under-performing gold assets, inject the required funding, and manage the projects to a successful outcome that could include a buy-out by a much larger gold producer.
A few mining analysts that follow NCAU (Raymond James/Stifel/Sprott) have released price targets that range from $1.60 to $1.75 per share. At the time of writing this note, NCAU is trading at $0.70.
These reports do a good job of "digesting" the PEA from a shareholder perspective.
Summary and Wrap Up
We encourage investors to take the time to read and understand the latest press release from NCAU. In a world of "information overload," it is easy to miss a "golden opportunity" when it comes along.  
-John Top
Disclosure: Newcore Gold is an advertiser.