Dear Readers,
It could send this Company to new heights.
It could usher a whole new wave of profits for an entire industry – an industry locked and loaded to take the world by storm.
In fact, the trickle-down effects alone could spell billions upon billions of profits across multiple markets.
And one, in particular, could be the biggest of them all.
It's a market owned by some of the biggest companies in the world – companies whose core products are on the decline, and thus, waiting to pounce on this event.
In this report, I'll tell you about the one company that is set to take advantage of this massive boom.
…A Company that's expected to be the first national U.S. company of its kind to bring this special product to U.S. consumers.
And with a massive network that includes some of the biggest names in the world, it has a giant headstart.
It's no wonder analysts and institutions from all over the country are looking to get involved.
And for the very first time, they can.
That's because tomorrow, this Company begins trading on the NASDAQ.
The NASDAQ is the second largest stock exchange in the world – home to shares of the world's biggest companies including Facebook, Google, Microsoft, Amazon, and Apple.
That means a whole new audience of investors – including retail, funds, and institutions – could come pouring into this Company.
But time is of the essence…
Any Day Now
In less than 30 days – and as early as next week – a new law is expected to pass that will open the floodgates to an insane amount of profits for those who enter early.
That's right, all of this could happen before the year is over.
As a matter of fact, it could happen tomorrow.
And with the Democrats now controlling the House, it's all but guaranteed to happen.
In fact, as I mentioned last week, agriculture leaders from the United States House of Representatives and the Senate just reached an agreement in principle on this bill.
I am talking about the new U.S. Farm Bill – a bill that now includes the full legalization of hemp across the United States.
When passed, the new Farm Bill may not only make hemp legal, but it could open an entirely new market expected to be worth billions.
Via RollingStone:
"For years, experts have predicted that if the cannabis industry expands at its current rate, the American market will reach $20 billion by 2020.
But it turns out that one market is spinning off into a mega-industry of its own: according to a new estimate from cannabis industry analysts the Brightfield Group, the hemp-CBD market alone could hit $22 billion by 2022."
And here's the latest headline from CNBC just the other day:

It's why I am urgently issuing this report now…before it's too late.
The legalization of hemp in the world's biggest economy is imminent.
But don't take my word for it.
Just ask Rep. Collin Peterson of Minnesota, the key congressional voice on agriculture and the top Democrat on the House Agriculture Committee.
Via National Post:
"Peterson…who's expected to become chairman next year…said…that the final bill will get filed Monday, that he expects the House will take it up next Wednesday or Thursday, and that the Senate could then take it up the next day.
"With any luck it'll be out, it'll be passed by the end of next week. But knowing how things go around here, it may drag into the week after," Peterson said.
"But I think we are going to get this thing done before the end of the year."
And if Peterson is right, a whole new industry is about to emerge.
The Floodgates Will Open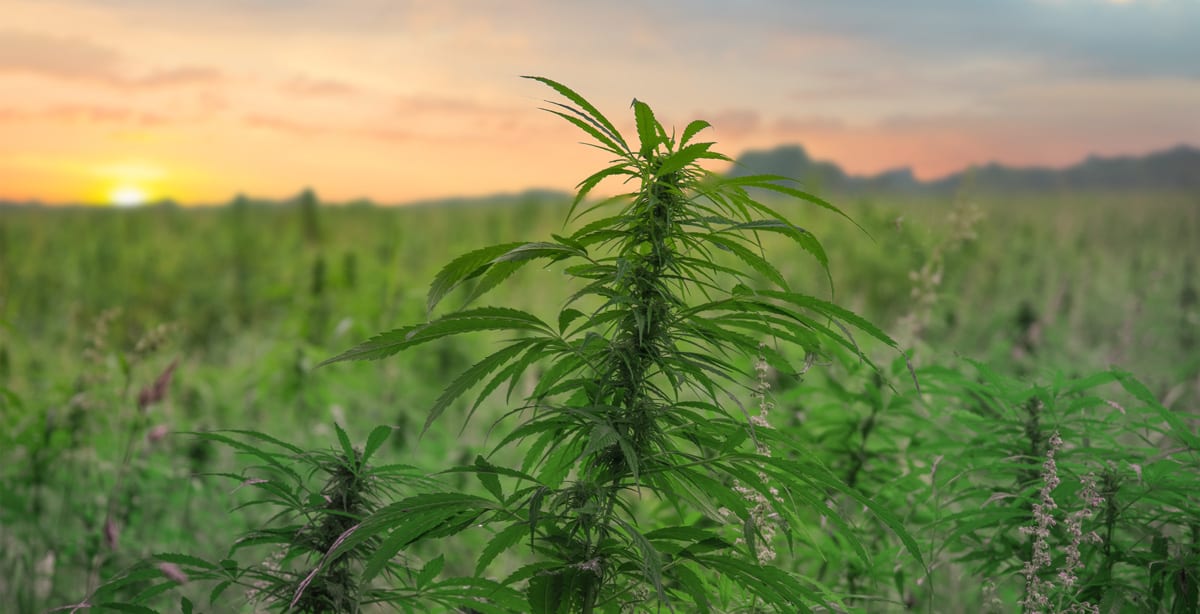 Readers of this Letter already know just how big the hemp market will become.
In fact, many of you may have already made 100% or more in the last few months alone as a result of my previous report.
But I believe it's only the beginning.
If certain events culminate in the next 30 days – and they are expected to – stocks within this sector could go parabolic.
Because the U.S. Farm Bill isn't the only catalyst…
Via Fortune:
"As early as mid-December, CBD is expected to be removed from the U.S. Drug Enforcement Agency's (DEA) Schedule I list of controlled substances.
…That's the same time at which the 2018 Farm Bill could be finalized and passed.
Lifting the DEA's restrictions on CBD could set off a new wave of investment in hemp production…"
And I believe it will.
Cannabidiol, better known as CBD, is a cannabis compound that has long been known to have positive health benefits, including pain and inflammation relief, as well as many others.
Even the FDA approved a CBD drug earlier this year.
It's no wonder CBD may be the next big health trend.
However, CBD itself will still be considered a Schedule 5 drug, which means it will still be illegal without a prescription.
In other words, while the media goes crazy over CBD, it still can't be sold in the U.S. without FDA approval – at least not for now.
But luckily, there may be a loophole.
CBD doesn't have to be derived from marijuana – it could come from hemp, an already (mostly) legal substance.
And when derived from hemp, CBD contains practically no THC – the primary ingredient that causes people to get "high."
In other words, hemp – which contains CBD – can act as more of a nutritional supplement, rather than a psychoactive or mood altering substance.
And that means there is one sector that could significantly benefit and potentially bypass the Schedule 5 category*.
*Right now, the FDA has concluded CBD is excluded from the definition of a dietary supplement under the Federal Food, Drug & Cosmetic Act (FDCA) because it has been authorized for investigation as a new drug and is the subject of substantial clinical investigations that have been made public.
Big Beverage is Coming
If you had the chance, would you have invested in some of the biggest growing trends of the past decade before they became what they are today?
Would you have invested in Vitaminwater before vitamin-infused waters became a thing?
…Or Red Bull before the energy drink craze took off?
…Or Kombucha before it became a household name?
I am betting the answer is yes.
Because if you invested in the right companies in any of those segments before they blew up, you would likely be extremely wealthy.
Of course, those times have mostly passed.
But today, I am going to introduce you to a new segment of the market that I believe could be BIGGER than all of those spaces.
It's a brand new functional health trend that could take the world by storm – so big that
the biggest players in the world have already publicly stated their intentions to participate.
You see, unlike those other segments, this particular one already has significant media coverage – even before sales have really begun.
Here's just one headline from the Financial Post this week:

Heck, even TechCrunch, an American online publisher of technology industry news, just covered the space.
And it's only the beginning – a newborn segment of a market that could become the single fastest-growing category in the industry.
It's like investing in marijuana stocks a few years ago before Legalization was announced and before recreational weed sales had even taken place.
For example, Canopy Growth (WEED) was under C$2 per share just three years ago.
Earlier this year, they hit C$75 per share.
That's a potential return of more than 3600%…
…in less than three years!
Now…
What if there was a new market that could rival and become just as big as the marijuana market…maybe even bigger?
And what if we combined the massive allure of marijuana legalization with the massive functional health beverage trend?
And what if, unlike marijuana legalization in the US, it could be completely legal before the year is over?
We may have one of the biggest untapped markets of all…
The Rise of Hemp-Infused Beverages
Earlier this year, Coca-Cola, one of the most iconic brands in the world, publicly announced their interest in CBD.
They weren't the only ones.
As soon as news of Coca-Cola's interest in CBD, Pepsi's CFO Hugh Johnston immediately responded by saying:
"…I think we'll look at it critically (CBD), but I'm not prepared to share any plans that we may have in the space right now."
Their words immediately sent shares of almost all cannabis stocks that hinted of infusing CBD into beverages soaring.
Then, in a call with investors, Pepsi's Johnston stated that he has no plans at this point to enter into the CBD market, due in part to regulatory issues.
Shortly after, Coca-Cola's CEO James Quincey also responded with similar remarks.
But what if those regulatory concerns were alleviated?
What if by the end of this year, the U.S. Farm Bill passes and hemp is federally legalized?
You see, while extracting CBD for use may still be classified as a schedule 5 drug, hemp itself – which contains CBD – may not be.
In other words, hemp-infused beverages could soon be legalized across the nation.
And thus, I suspect we'll hear some big news from Big Beverage very, very soon.
When Constellation Brands, one of the largest beer distributors in the world, announced a $5 billion investment into Canopy, it took the stock market by storm – sending the entire sector higher.
But as I mentioned earlier, even that is peanuts when compared to Coca-Cola.
Coca-Cola is more than FOUR TIMES bigger than Constellation.
And you can bet that if Coca-Cola is interested in CBD, Pepsi and others will be too.
If the global beverage kingpins enter the CBD – or rather hemp – space, it will be a race to the top.
The next biggest boom in cannabis isn't aimed at getting people "buzzed" or "high."
It will be aimed at everyone.
And that's a really, really big deal.
Mark my words: Big Beverage is coming.
When they do, I predict it will send shares of companies within the hemp-infused beverage space soaring to record highs.
In fact, the mere rumour of Coca-Cola entering the CBD space has already led to companies in the CBD-infused beverage category to more than double in share price in just a few short days.
Only, most of those companies don't have much, let alone a brand.
But one company does…
In fact, this Company is not only expected to hit near US$40 million in revenue this fiscal year, but it's core products are already on the shelves at over 47,500 retail locations.
…Including Walmart and Krogers.
And the Company just announced something BIG.
They are going NASDAQ tomorrow.
That means it's about to became one of the very few companies with ties to CBD listed on a major U.S. stock exchange.
…It means a whole new wave of investors will have access to shares of this Company.
It's no wonder analysts at Canaccord – the largest independent investment dealer in Canada – just said that, "increased liquidity should assist in investors' ability to create a position in a pure-play water bottle company with exposure to CBD-infused alkaline water."
And with only 34 million shares outstanding, new investor demand could send this Company to new heights.
The Alkaline Water Company
US Stock Symbol: NASDAQ: WTER
Canadian Stock Symbol: TSX-V: WTER

Over the past few months, I published multiple reports on why I believed the Alkaline Water Company was undervalued and why it was a potential takeover target by the Big Beverage companies.
If you missed the first report, I strongly suggest catching up by:
For some of you, what you're about to read may sound familiar.
However, it is important to go through it again as the Company has achieved some significant milestones since my first report – milestones that support the Company's upward trajectory.
In short, The Alkaline Water Company Inc. is a leading producer of premium bottled alkaline drinking water produced using the Company's proprietary Electrochemically Activated Water (ECA) system, and sold under the brand name Alkaline88®.
Alkaline88® is now sold in over 47,500 retail locations nationwide in all 50 states, with a distribution that spans more than 150,000 stores.
These include 9 of the top 10 largest retailers in the entire U.S. and two of the largest retailers in the entire world.
Take a look: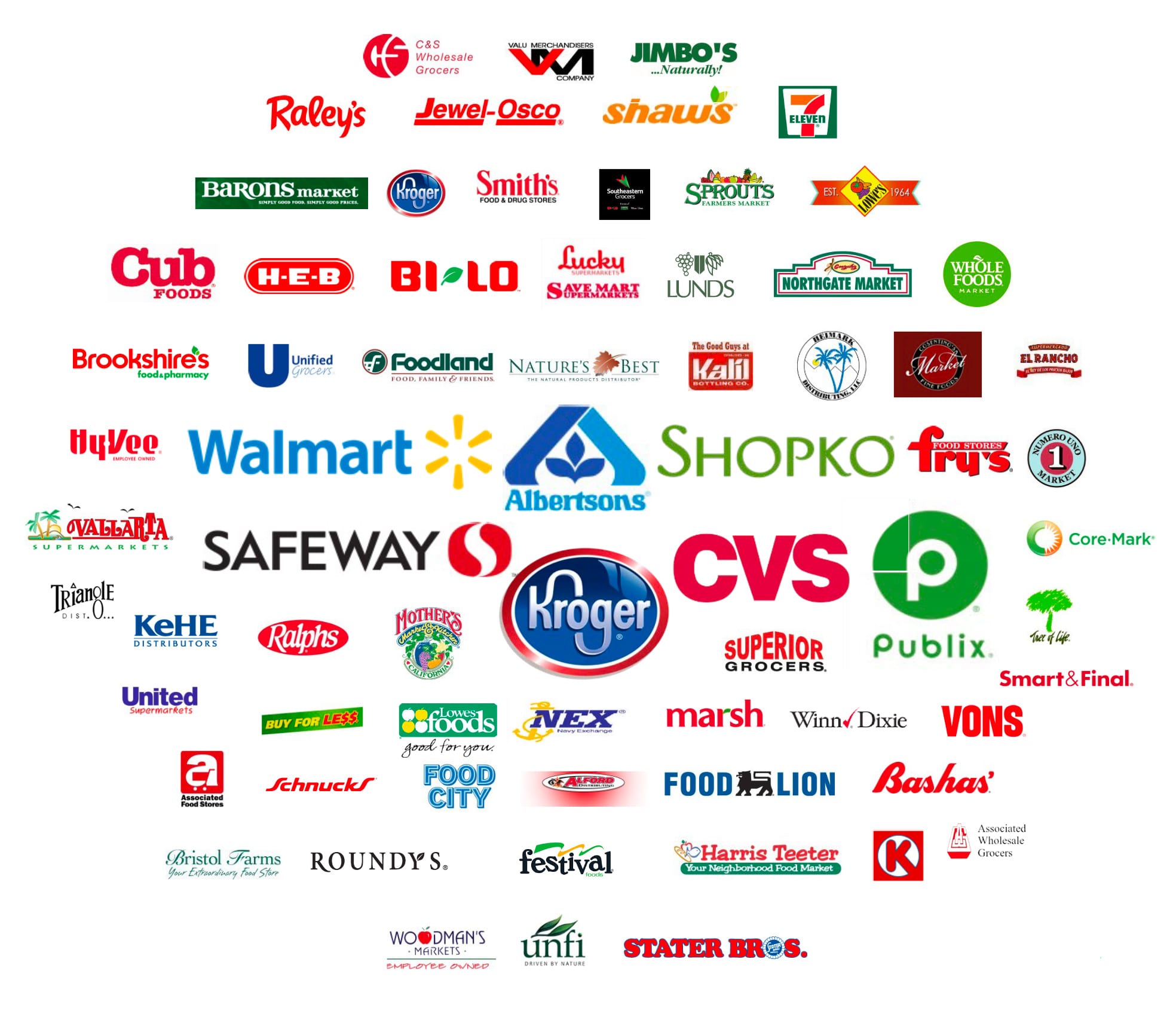 The Company is now both the fastest-growing alkaline water company and the fastest growing premium water brand in the U.S.
And that's a bold statement considering the alkaline water category is the fastest growing premium water category in the U.S.
According to Canaccord :
"From 2014, alkaline water industry sales in the US increased from $48M to $246M in 2016 and are expected to grow to $676M by 2020.
The growth rate is being supported by strong endorsements from athletes and celebrities such as Kawhi Leonard and Tom Brady, among others."
Here are just some of the Company's numbers: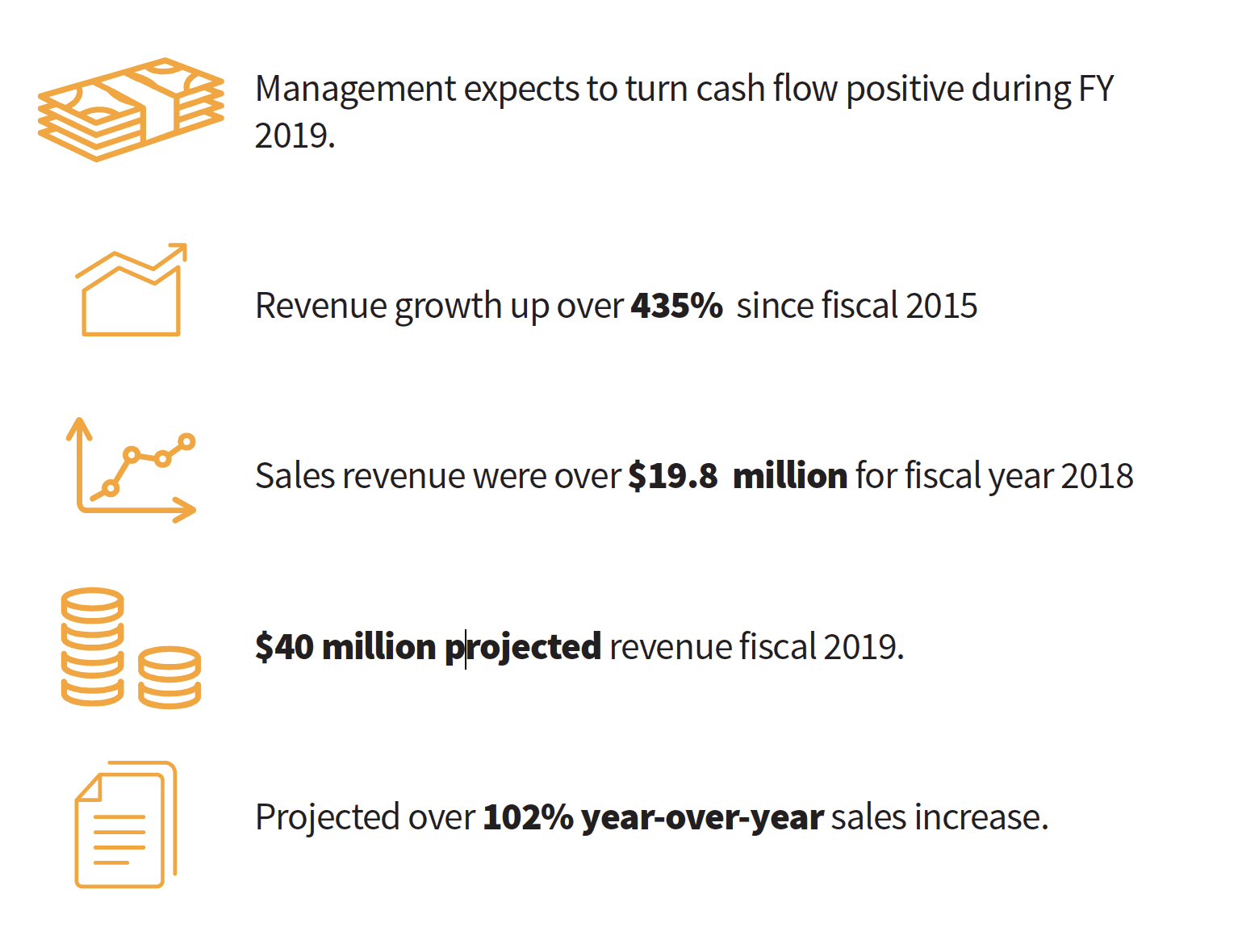 It's why I believed that they were not only undervalued at the time of my first report but why they were a prime takeover target.
I listed many of those reasons in my original report, which you can find HERE.
In fact, most recently, the Company recorded sales of over US$8.6 million for the second fiscal quarter 2019, up over 78% compared to the second fiscal quarter 2018.
But the Alkaline Water Company is now an even BIGGER opportunity than I first suspected.
First, recall what I wrote in a recent report:
"…many types of functional beverages – such as those infused with CBD, Hemp, and soon THC – will likely require alkaline water to maintain their efficacy and stability.
Long-time readers of this Letter know that we have made many big predictions regarding the marijuana space with pretty consistent accuracy.
Many of you have also made lots of money as a result.
And I predict that the cannabis-infused beverage space will become absolutely massive – not only because it will be an alternative to alcohol, but it will also become a functional health trend as well.
So it's no surprise that you may have already seen a few CBD and marijuana beverage companies come to market.
Most of them have little experience – and practically no footprint – when it comes to beverage distribution.
But the Alkaline Water Company has both – which means if they enter the functional beverage market, they not only have a proven distribution platform but a national brand."
With the U.S. Farm bill expected to pass within the next 30 days, the Company could be in a position to significantly expand its sales through new product offerings.
Imagine the power of branding associated with the name "alkaline," as the functional health drink space – and marijuana beverages – explodes.
Alkaline CBD…Alkaline Chlorophyll…Alkaline Hemp…Alkaline THC…Alkaline Calcium…Alkaline…you name it!
Recently, the Alkaline Water Company announced it is entering the functional health drink space, and it will launch a whole new product line.
And one of those products is of absolute significance.
Hemp-Infused Alkaline Water
The Alkaline Water Company has been busy creating a whole new line of products in the healthful water category – the fastest growing beverage category in the world.
This includes Alkaline88® infused with Natural Vitamins and Minerals, Natural Sparkling Alkaline88® water, and Naturally Flavored Alkaline88® water.
Most importantly, it is planning to use its Alkaline88® platform to launch a hemp-infused Alkaline88® water.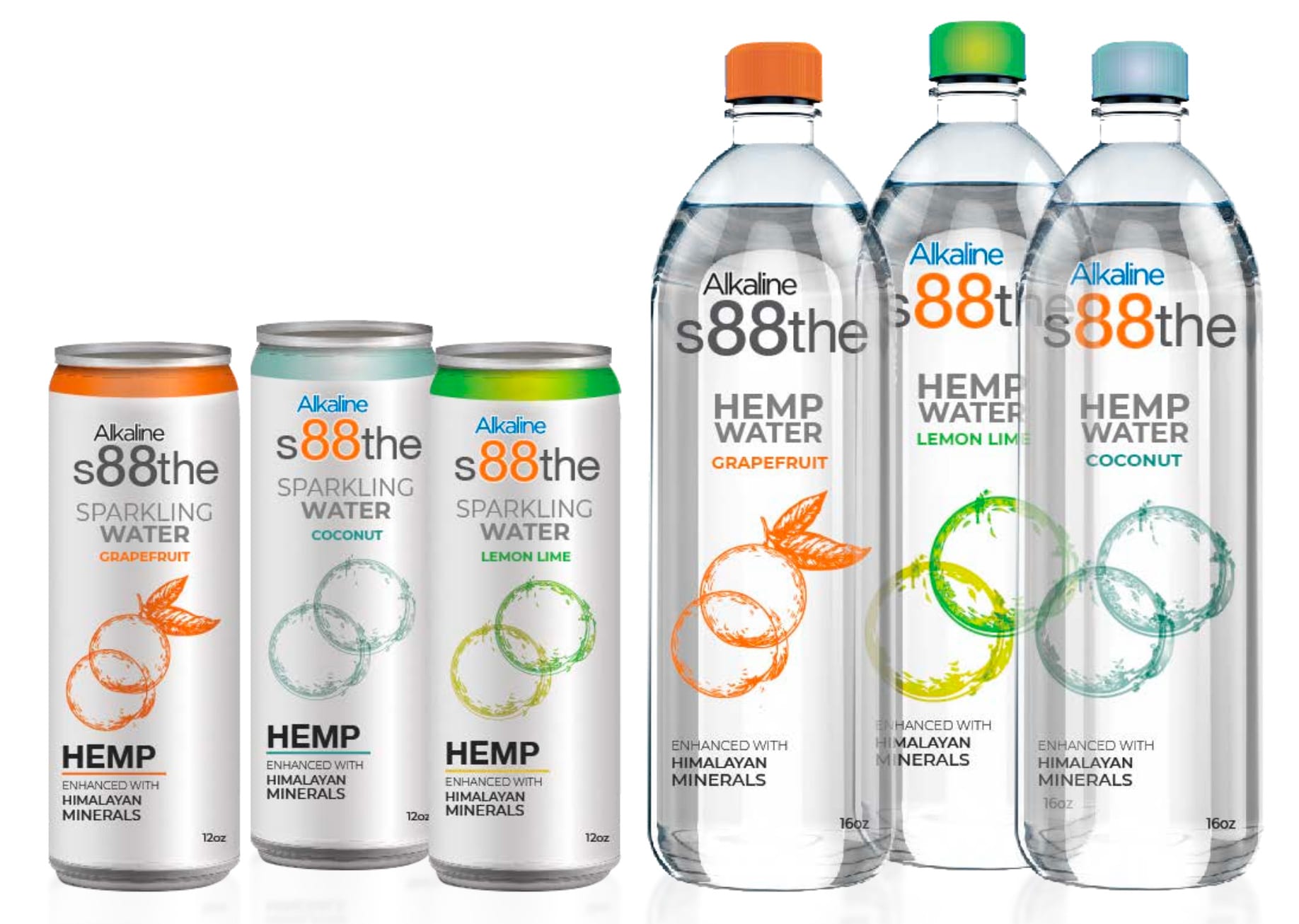 In other words, the Alkaline Water Company is entering the cannabis space – without even touching marijuana.
But unlike many of the companies touting a CBD-infused beverage line to excite the market, the Alkaline Water Company has already been researching the infused space and has been taste-profiling and testing product formulations for the launch of their new product line.
It's already announced a co-packing agreement with American Nutritional Products Inc. (ANP) for the development of each of its recently announced product extensions.
But that's not all.
The First National U.S. Beverage of its Kind
One of the biggest challenges when it comes to infusing beverages with CBD, or hemp, is maintaining efficacy.
But Alkaline Water Company just secured a deal that brings a patent-pending process that can bring true water-soluble, full-spectrum features of bioactive natural hemp extract molecules to U.S. consumers.
Via Alkaline Water Company:
"The Alkaline Water Company Inc. has entered into a Binding Letter of Agreement with Infusion Biosciences, Inc., that provides a non-exclusive license to utilize its proprietary Aqueous Phytorecovery Process ("APP") technology.
Under the Agreement, IBS agreed to provide A88 Infused with ready-to-drink natural hemp-extract formulations."
With APP's formulations, A88 Infused is expected to be the first national U.S. beverage company – and the first NASDAQ-listed company – to bring true water-soluble, full-spectrum features of bioactive natural hemp extract molecules to U.S. consumers.
If the U.S. Farm Bill passes this month, the Company is locked and loaded to take advantage of the space – especially considering that its core product is already expected to do US$40 million in sales this year, spread across the biggest retailers in the U.S.
If the Company is successful in its hemp-infused launch, it could prove very rewarding for shareholders.
And considering their achievements over the past few years, why wouldn't they be?
The Growth of the Alkaline Water Company
Five years ago, the Alkaline Water Company entered into one of the hottest beverage markets: Alkaline Water.
Today, the Company has transformed into the fastest growing alkaline water brand, on track not only to double its revenue but with expectations to become cash flow positive for the first time this fiscal year.
And that's a big deal considering most beverage companies on such a high growth curve – let alone bottled water companies – are generally losing lots of money.
It's one of the many reasons why the Company could be considered a prime takeover target by Big Beverage.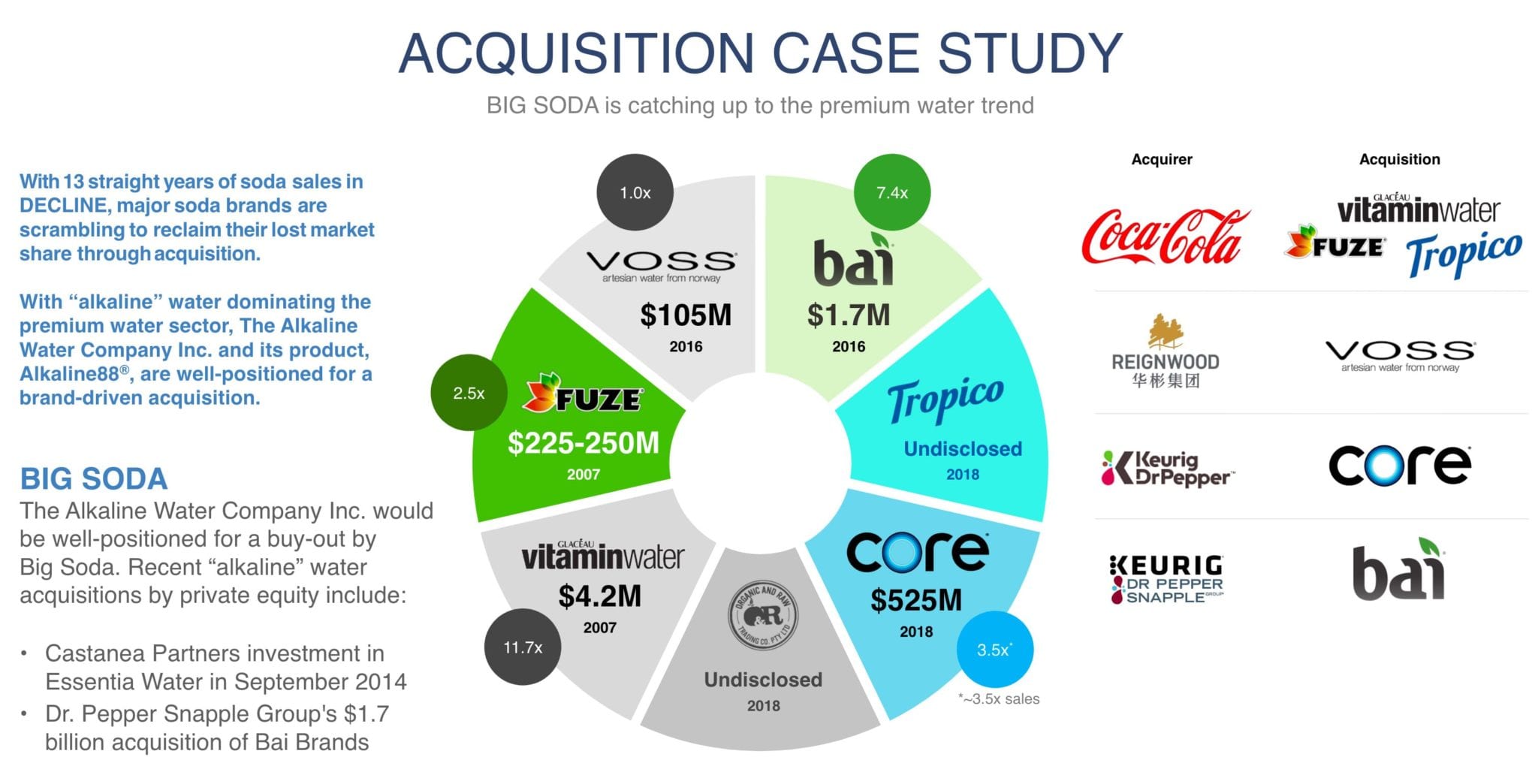 Before I conclude, I want to emphasize what I wrote in my first report about this Company:
"…the really exciting part is that Alkaline Water's growth can compound in ways the Company hasn't done before – even though the Company has shown immense and steady growth over the past three years.
Let me explain.
There are a few ways beverages come to market.
1. Direct to Warehouse – selling directly to the retailer.
2. Third-Party Logistics Providers – who essentially act as middlemen leveraging their distribution platform.
3. Direct to Store Distribution (DSD) – where middlemen distribute the products for you directly to the retailers' shelves.
The majority of the Alkaline Water Company's growth has been their ability to sell the large bottle format directly to the warehouses of retailers – a segment of the market that no one even comes close to touching.
Right now, big-name retailers such as Walmart are primarily selling Alkaline Water's one-gallon and three-liter bottles, and the Alkaline Water Company sells to them direct.
Judging by Alkaline88's sales performance, and the fact that Walmart has rolled out Alkaline88 nationwide, the Company's products are clearly flying off the shelves.
That means Walmart, and other big-name retailers, could easily add different SKU's such as 1 or 1.5 litres, 750 ml, and six-pack formats without having to bring on new brands into their system – a very time-consuming and risky process.
In other words, Alkaline88 sales could continue its growth organically with the retailers they already have.
But they have barely scratched the surface of the gas stations, convenience stores, and pharmacies, which primarily belong to the DSD and third-party logistics buyers.
They have barely scratched the surface of the single-serve market.
And the Alkaline Water Company has plans to hit those markets next.
Given that their brand is already spread nationwide through the world's largest retailers, and over 150,000 stores, many of the DSD players – the most prominent players of all – could soon call for Alkaline88 products."
And call they have.
Shortly after that report, the Alkaline Water Company launched its 2018 drugstore sales strategy and immediately saw success by placing its flagship product, Alkaline88®, in over 7,500 locations of one of the largest drugstore/pharmaceutical chains in the U.S.
If the brand continues to grow and expand into the convenience stores and gas stations, who knows how fast sales could rise.
I haven't even begun to talk about global expansion.
The Alkaline Water Company recently received their FDA export approval and fully expects to be selling their products in international markets by Q4 of FY2019.
Barely Scratching the Surface
The Alkaline Water Company is now planning to launch a whole new product line – a line which I predict could do very well in a market they have barely scratched the surface of: the DSD market.
Even more exciting is that one of those products will be hemp-infused water.
As we know, many companies in the marijuana space are commanding insane valuations of over 100 times revenue – some even over 240!
I am not saying that we should expect to see those types of valuations for the CBD/Hemp infused-beverage space, but what I am saying is that those in the space will likely command very high valuations also.
And why shouldn't they?
According to New Frontier Data, the domestic Canadian cannabis market will reach C$9.2 billion by 2025.
Meanwhile, the CBD market could reach US$22 billion by 2022 if the new U.S. Farm Bill is passed this month.
If the CBD market is estimated to become twice as big as the Canadian legalized marijuana market, but in a shorter amount of time, those in the CBD space could command even higher valuations.
Furthermore, we have heard for years that marijuana stocks are overvalued, yet they continue to not only hit record-high valuations but are being supported by big names such as Constellation Brands.
What will happen to CBD/Hemp-infused beverage stocks, like the Alkaline Water Company, if Coca-Cola or Pepsi Co. officially announce their foray into the space?
What will happen to these stocks if hemp becomes officially legalized across the entire United States, potentially in just a few weeks?
It could be mind-blowing.
Conclusion
Earlier this year, I told you the Big Canadian Banks were coming to the cannabis space.
…And they came.
I also told you that Big Alcohol was coming.
…And they came.
And I have been telling you that Big Tobacco was coming.
…they just came.
Now I am telling you that Big Beverage is coming.
And while they won't get into the marijuana space, I strongly believe – and predict – that they will enter the CBD market via hemp.
The beverage space is constantly dying for innovation and new products.
We have witnessed multi-billion dollar deals that have made investors in the beverage space  hundreds of millions of dollars.
But those investments were generally reserved for the rich and famous.
Just ask basketball legend Kobe Bryant who recently scored nearly US$200 million on his investment in BodyArmor SuperDrink.
Or rapper 50 Cent who reportedly scored US$100 million on his investment in Vitaminwater.
But starting tomorrow, the Alkaline Water Company will be trading on one of the world's largest stock exchanges, the NASDAQ.
That means almost any investor can get involved in the beverage space.
It means investors can now also indirectly get involved in the hemp market.
And that's a big deal.
The Alkaline Water Company Inc.
US Stock Symbol: NASDAQ: WTER
Canadian Stock Symbol: TSX-V: WTER
Seek the truth,
Ivan Lo
The Equedia Letter
www.equedia.com
Disclosure:
We are biased towards the Alkaline Water Company (WTER) because the Company is an advertiser on www.equedia.com. We currently own shares of WTER. You can do the math. Our reputation is built upon the companies we feature. That is why we invest in every company we feature in our Equedia Special Report Editions. It's your money to invest and we don't share in your profits or your losses, so please take responsibility for doing your own due diligence and consult your own professional advisers before investing in WTER or trading in WTER securities. Equedia.com and Equedia Network Corporation are not registered as investment advisers, broker-dealers or other securities professionals with any financial or securities regulatory authority.  Remember, past performance is not indicative of future performance. This article also contains forward-looking statements that are subject to risks and uncertainties that could cause actual results to differ materially from the forward-looking statements made in this article.  Just because many of the companies in our previous Equedia Reports have done well, doesn't mean they all will. WTER and its management have no control over our editorial content and any opinions expressed in this article are our own. We're not obligated to write a report on any of our advertisers and we're not obligated to talk about them just because they advertise with us.  For a complete disclosure of the compensation received by us from WTER, please review our Terms of Service and full disclaimer at www.equedia.com/terms-of-use/.
Regarding Forward-Looking Statements and Health Claims    
This presentation contains "forward-looking statements." Statements in this presentation that are not purely historical are forward-looking statements and include any statements regarding beliefs, plans, expectations or intentions regarding the future. Such forward-looking statements include, among other things, the statements that The Alkaline Water Company Inc. (the "Company") is positioned for accelerated growth and is well positioned to leverage the strength of its business model, reputation for quality, and sustainable products to gain significant share in an $18.5B market; that expansion of marketing efforts and diversification in other classes (drug stores, health clubs, big box, airport, military, and commissary) presents enormous opportunity; the Company's plans to expand beyond word of mouth marketing and capitalize on healthy lifestyle and sustainability megatrends, to expand channels and distribution, including continuing national expansion with major retail chains, adding new classes of trade, and broadening co-packing relationships, to enter new markets/categories, including "A88 infused" expansion to Flavored and CBD beverage categories and to build shareholder value through top-line revenue growth, market share, first-to-market; projected growth of 49% to $27.5 billion by 2021 for U.S. bottled water sales; that flavored and functional waters are projected to reach $36 billion in annual revenue by 2019; that the Company's business model positioned the Company to lead the trend; that expansion of product line into single-serve bottles, as well as addition of new categories such as flavor- and CBD-infused alkaline waters are a natural next step; that upcoming investment in new marketing will reach untapped consumers; that recent addition of e-commerce channels (Walmart and Amazon) and upcoming international expansion offer new opportunities to boost sales; that the Company will be selling Alkaline88 in international markets by Q4 of FY 2019; that A88 Infused will bring new product development to the Alkaline 88 \brand; that the Company is poised to capitalize onthe CBD market; the Company's new line of infused beverages; that Infusion Bioscience's technology allows A88 Infused to be the first to bring true water-soluble, full-spectrum features of bioactive CBD molecules to U.S. consumers; the projection of to the worldwide hemp-derived CBD market to $2.1 billion by 2020 and estimated growth of U.S. CBD market (including $646 million by 2020); that A88 Infused is actively working to launch a line of CBD-infused alkaline waters once federally legalized in the U.S. and in Canada shortly; that great tasting water in bulk sizes can drive a billion-dollar category; that the Company is well positioned for a brand-drive acquisition and the Company would be well-positioned for a buy-out by Big Soda; that the Company is poised to expand internationally and into new classes of trade; and that the Company is exploring near-term category expansion into flavor- and CBD- infused product. The material assumptions supporting these forward-looking statements include, among others, that the demand for the Company's products will continue to significantly grow; that the past production capacity of the Company's co-packing facilities can be maintained or increased; that there will be increased production capacity through implementation of new production facilities, new co-packers and new technology; that there will be an increase in number of products available for sale to retailers and consumers; that there will be an expansion in geographical areas by national retailers carrying the Company's products; that there will be an expansion into new national and regional grocery retailers; that there will not be interruptions on production of the Company's products; that there will not be a recall of products due to unintended contamination or other adverse events relating to the Company's products; and that the Company will be able to obtain additional capital to meet the Company's growing demand and satisfy the capital expenditure requirements needed to increase production and support sales activity. Actual results could differ from those projected in any forward-looking statements due to numerous factors. Such factors include, among others, governmental regulations being implemented regarding the production and sale of alkaline water or any other products, including products containing CBD; the fact that consumers may not embrace and purchase any of the Company's infused water products; the fact that the Company may not receive approval for any of its CBD infused products; the fact that the 2018 Farm Bill may not be passed resulting in CBD derived from hemp continuing to be a controlled substance under Schedule 1 of the Controlled Substances Act; the fact that the Company may not receive approval from the USDA or the FDA for its CBD infused products; additional competitors selling alkaline water and enhanced water products in bulk containers reducing the Company's sales; the fact that the Company does not own or operate any of its production facilities and that co-packers may not renew current agreements and/or not satisfy increased production quotas; that fact that the Company has a limited number of suppliers of its unique bulk bottles; the potential for supply chain interruption due to factors beyond the Company's control; the fact that there may be a recall of products due to unintended contamination; the inherent uncertainties associated with operating as an early stage company; changes in customer demand and the fact consumers may not embrace enhanced water products as expected or at all; the extent to which the Company is successful in gaining new long-term relationships with new retailers and retaining existing relationships with retailers; the Company's ability to raise the additional funding that it will need to continue to pursue its business, planned capital expansion and sales activity; competition in the industry in which the Company operates and market conditions. These forward-looking statements are made as of the date of this presentation, and the Company assumes no obligation to update the forward-looking statements, or to update the reasons why actual results could differ from those projected in the forward-looking statements, except as required by applicable law, including the securities laws of the United States and Canada. Although the Company believes that any beliefs, plans, expectations and intentions contained in this presentation are reasonable, there can be no assurance that any such beliefs, plans, expectations or intentions will prove to be accurate. Readers should consult all of the information set forth herein and should also refer to the risk factors disclosure outlined in the reports and other documents the Company files with the SEC, available at www.sec.gov, and on the SEDAR, available at www.sedar.com. The Company has not conducted any clinical studies regarding the health benefits of alkaline water and accordingly makes no claims as to the benefits of alkaline water.