Dear Readers,
This solution could potentially save billions of lives and trillions of dollars..
It's a solution so simple that you'll be shocked once you find out what it is.
In fact, very few people even talk about it.
Yet, it's one of the fastest growing segments in one of the fastest growing markets in the world.
No, it's not marijuana.
But a prominent rapper did reportedly shoot his net worth to half a billion dollars from it.
And a basketball superstar last month just turned his US$6 million investment into $180 million.
In just a bit, I'll tell you about the only pure play in the stock market today that's not only taking advantage of the solution but is on the verge of a significant breakout.
But first…
A Global Epidemic
Two out of three adults in the United States are overweight or obese.
And one out of three kids suffers the same problem.
In fact, according to the Centers for Disease Control and Prevention, more than 36% of all adults and around 17% of all children and adolescents in the United States are obese.
If you think the United States is alone in this problem, think again.
According to the latest study, more than 62% of Canadians are overweight and more than a third of adult Canadians are expected to be obese by 2025.
But wait, it gets worse…
A third of the
entire world

will be overweight or obese in the next five years!

Via Global News:

"According to a report (by the World Obesity Federation), the global cost of treating obesity-related illnesses will be US$1.2 trillion each year beginning in 2025.

By the same year, there will be an estimated 2.7 billion overweight and obese people in the world – that's a third of Earth's population."

It's no wonder researchers from multiple institutions across the globe – including the Special Institute for Preventive Cardiology and Nutrition in Salzburg, Austria, the Geneva University Hospitals in Switzerland, and the University of Navarra in Spain – teamed up to find the culprit.

Their conclusion?
Sugar-sweetened beverages, or SSBs.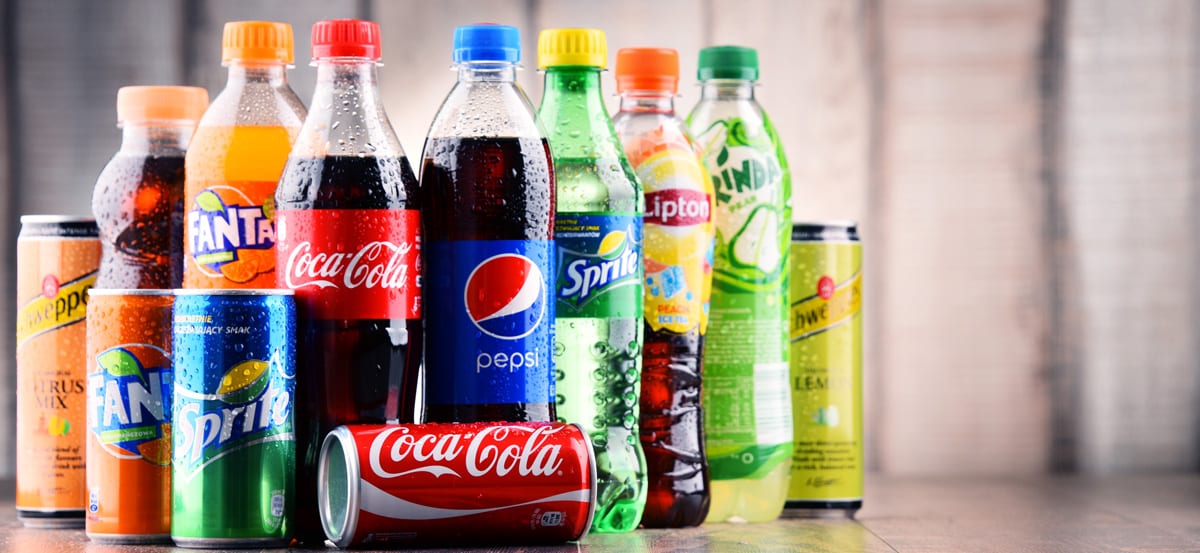 Via Karger:
"Recent evidence suggests that SSB consumption is positively associated with or has an effect on obesity indices in children and adults.
By combining the already published evidence with the new one, we conclude that public health policies should aim to reduce the consumption of SSBs and encourage healthy alternatives such as water."
In fact, these sugary soft drinks are so bad that they are now being linked to not only diabetes and obesity, but cancer, aggression in children, and even poorer memory and smaller brain volumes.
That's right, smaller brains!
One study even showed that those who drink just one soft drink a day triple their risks of having a stroke or developing dementia, compared to avoiding the drinks.
Considering more than half of the North American population have at least one sugar-sweetened drink per day, that's a whole lot of health issues.
The good news is that the consumption of carbonated soft drinks is on a fast decline.
Take a look: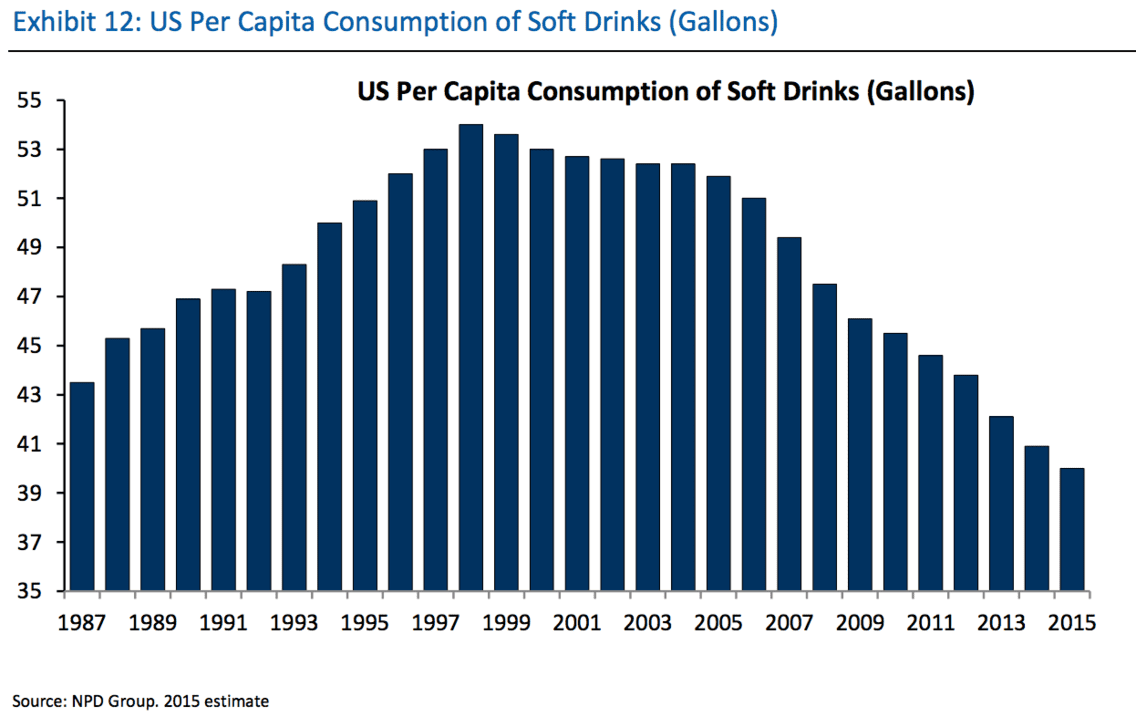 The bad news?
It's being replaced by other sugary drinks.
Via the Star:
"Although non-diet soft drink sales have fallen over the last 12 years, that decline has been offset by increased consumption of energy drinks, flavoured waters, sweetened coffees, and flavoured dairy products…
…The study found per capita sales of such products increased dramatically between 2001 and 2015. For instance, sales of energy drinks rose by 638 per cent; sweetened coffees by 579 per cent; and flavoured water by 527 per cent."
A Simple Solution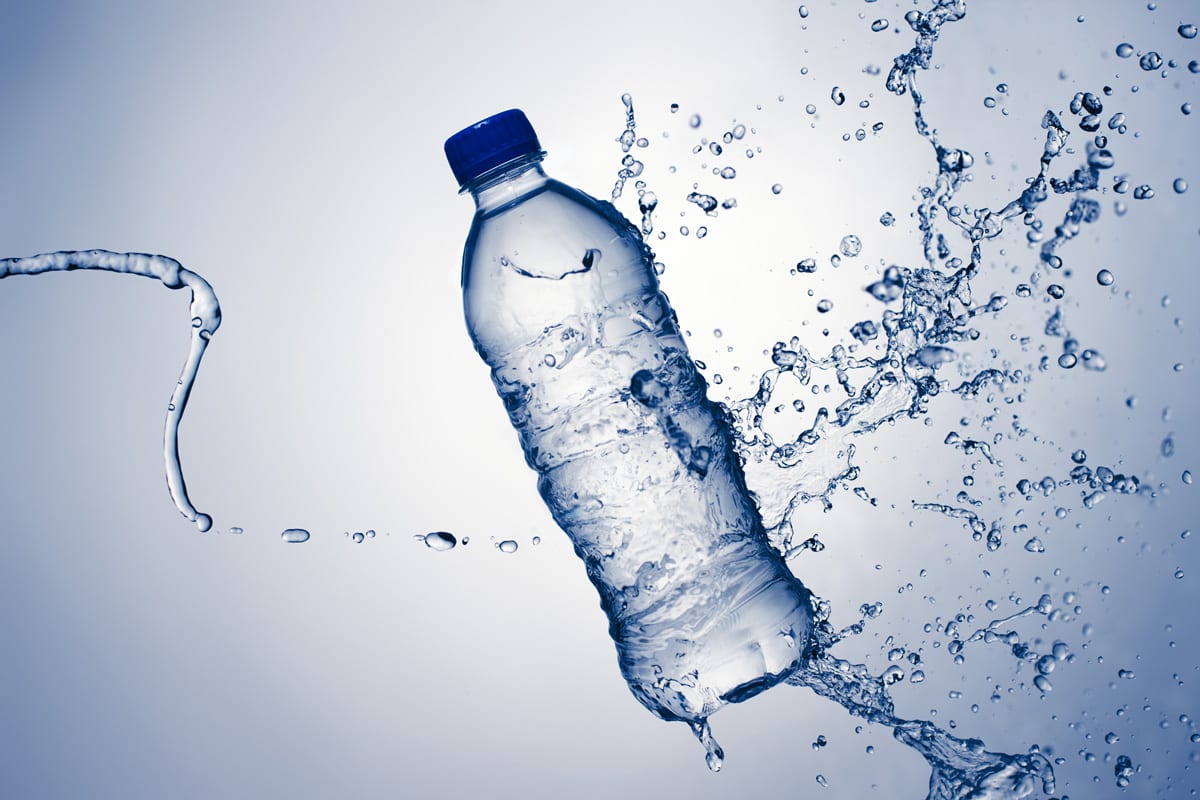 The solution to this global epidemic is rather simple:
Water.
All of the studies show that simply replacing sugared drinks with water may not only prevent obesity and other related problems but also save the world trillions of dollars in health care bills.
Via Business Insider:
"…ditching those drinks could pay off: According to a 2008 study of 173 obese women ages 25 to 50, researchers found that swapping out sweetened beverages with plain old water was linked with weight loss, independent from diet and exercise."
With so many studies being released every year showing the adverse effects of sugared drinks, water has become an incredible profit maker for those who have participated in the category.
And it is the fear of dying that has driven sales of one simple category to new highs: bottled water.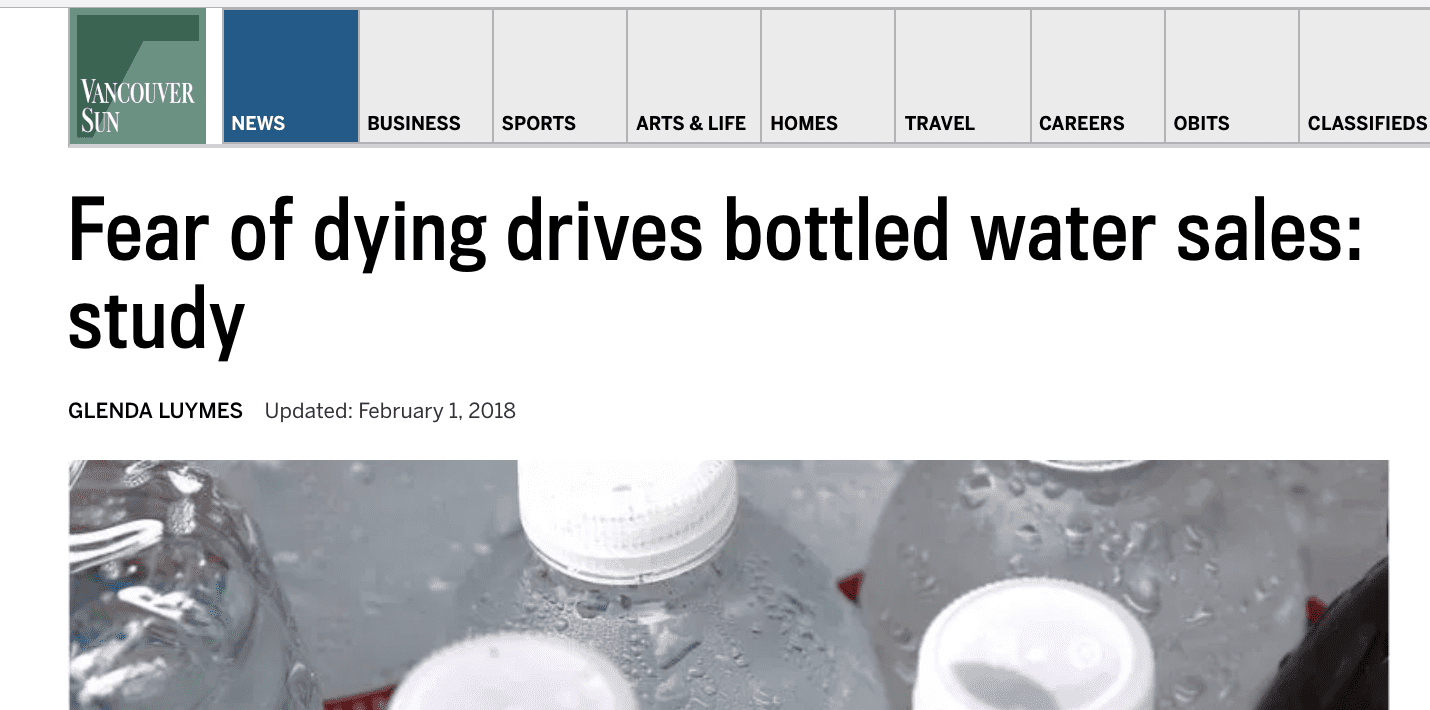 Just look at the emergence of companies like Soda Stream, which has continued to hit new highs in the stock market – up nearly 900% over the last three years and now worth well over US$3 billion!
And what about the crazy buyout prices by Big Cola for water-related brands such as Vitaminwater, whose parent company got bought out for a whopping US$4.1 billion!
Even those numbers can't compare to the number one beverage in the world…
The Number One Beverage: Bottled Water
While soda has been on the decline year-over-year during the last decade, sales of bottled water have continued to hit new highs.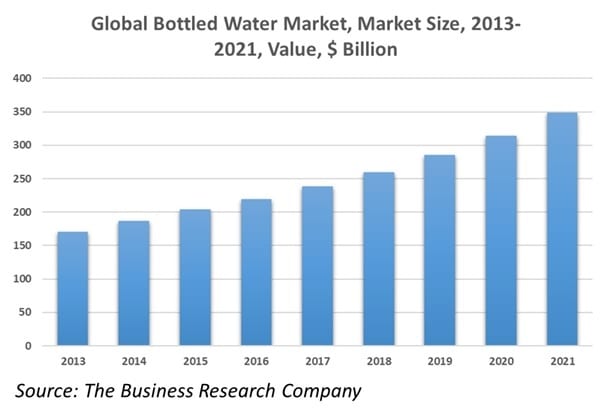 In fact, in 2016, bottled water surpassed soda as the largest beverage category by volume in the United States.
Via Beverage Daily:
"Bottled water is the No.1 beverage product in the US (by volume) for the second year running, while carbonated soft drinks sales continue to decline, according to new figures from the International Bottled Water Association (IBWA) and Beverage Marketing Corporation (BMC)."
Furthermore, sales of bottled water are expected to continue reaching new highs in the coming years – likely forcing the big beverage companies to immediately look for acquisitions to replace their declining soda sales.
And that means companies in the bottled water space are ripe for acquisition.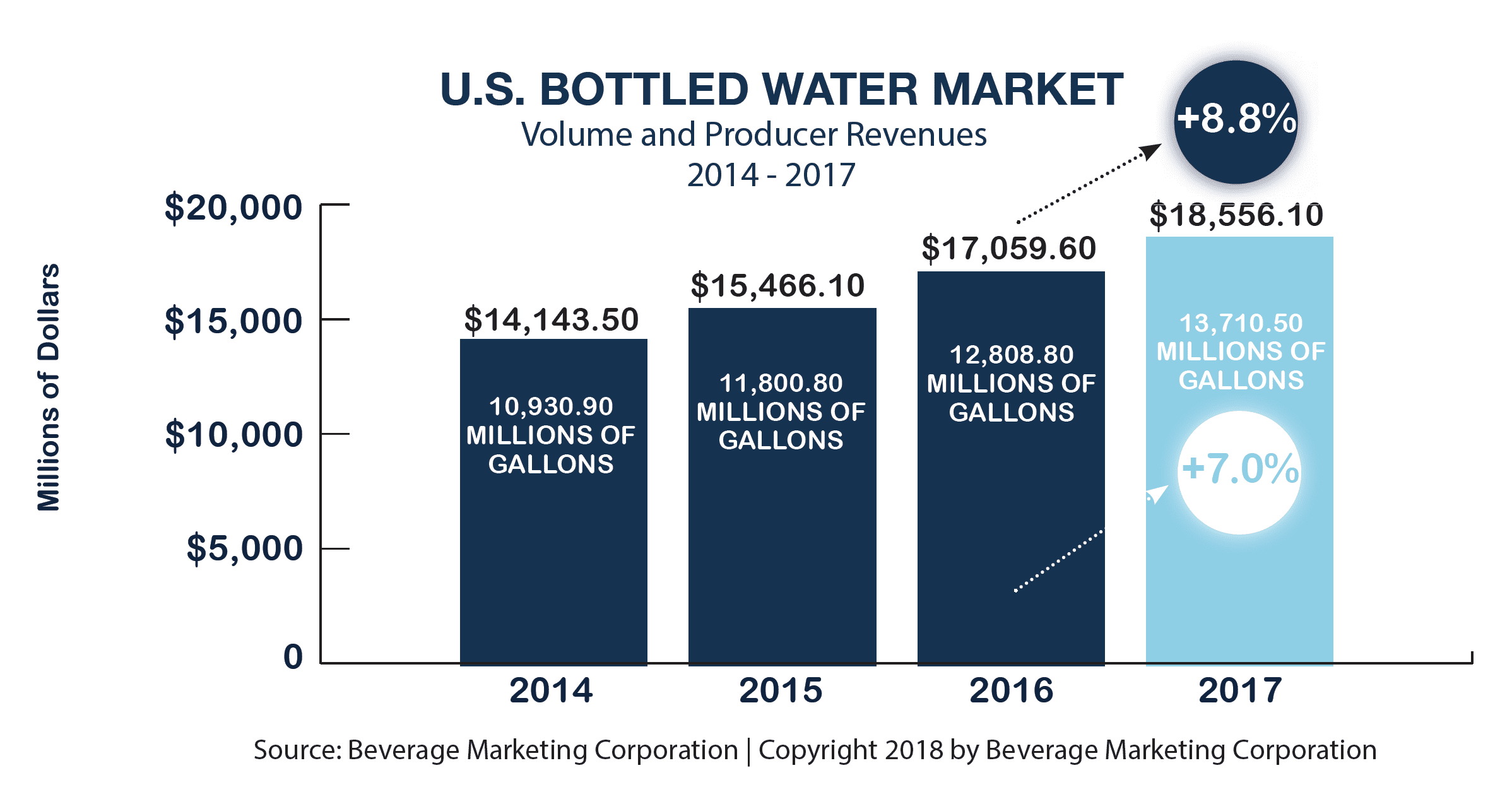 Unfortunately for investors, access to investments in the beverage category is mostly non-existent.
That's because most beverage companies are private and investments into high-growth beverage companies mostly belong to the elite celebrities and sports stars.
Just ask Kobe Bryant, whose US$6 million investment into sports drink BodyArmor just turned into a whopping $200 million after Coca-Cola made their recent investment in August.
That's more than a 30x return!
Via ESPN: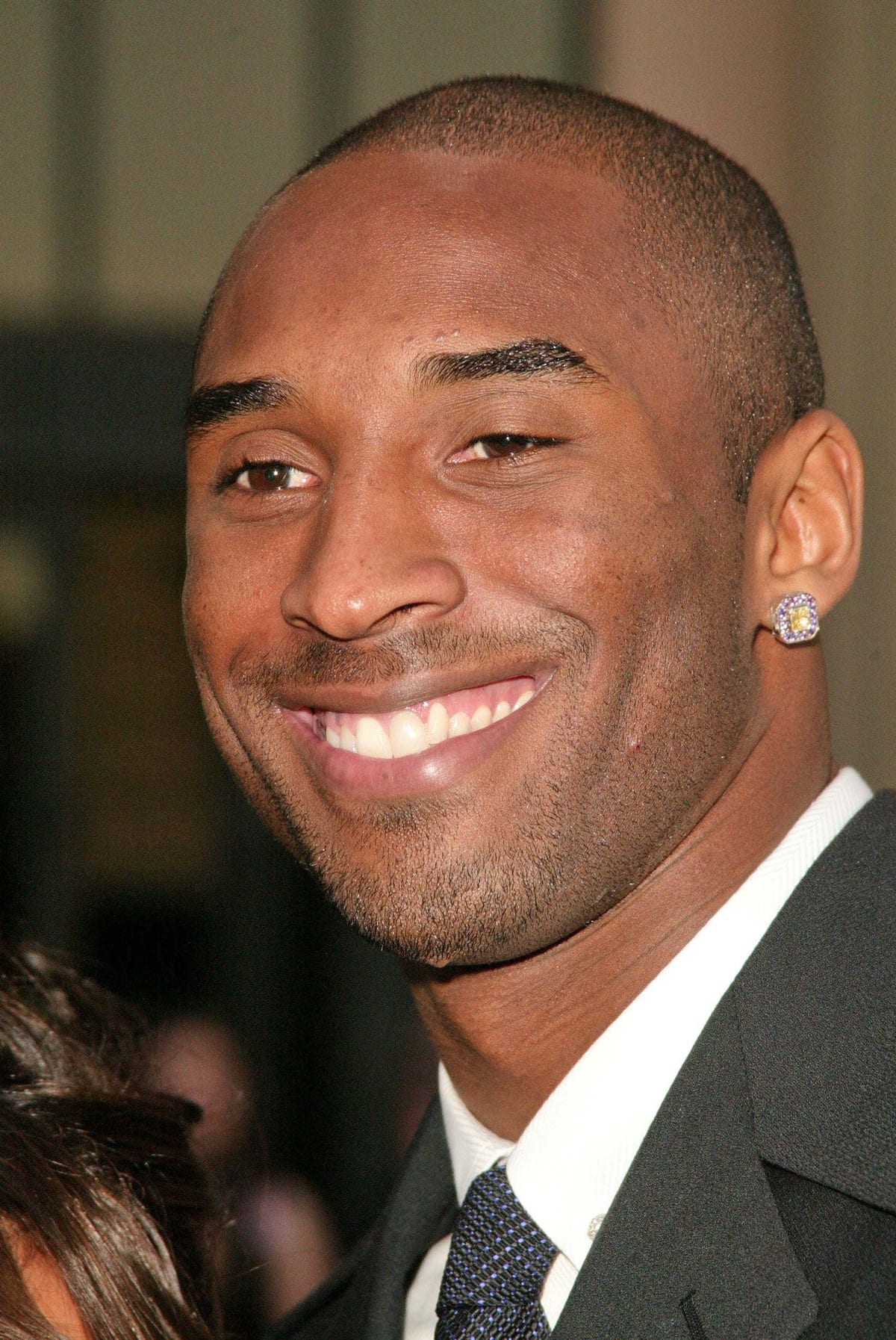 "An investment made by Kobe Bryant has yielded more than 30 times its money in fewer than four and a half years.
On Tuesday, Coca-Cola announced it had purchased a minority stake in sports drink BodyArmor.
Bryant made his first investment in the brand, for roughly 10 percent of the company, in March 2014, putting in roughly $6 million over time. Based on the valuation of the Coca-Cola deal, his stake is now worth approximately $200 million, sources told ESPN.
Bryant is now the fourth-largest investor in the brand, marketed as a healthier competitor to Gatorade, behind the brand's co-founder Mike Repole, Coca-Cola and Keurig Dr Pepper.
When Bryant invested in BodyArmor, the brand had just come off a year of $10 million in sales. BodyArmor is projected to top $400 million in sales in 2018."
So unless you're one of the best basketball players ever, or a big-name rapper like 50 Cent – who reportedly made US$100 million dollars on his Vitaminwater investment, shooting his net worth to half a billion dollars – the chances of participating in the lucrative beverage space are slim-to-none.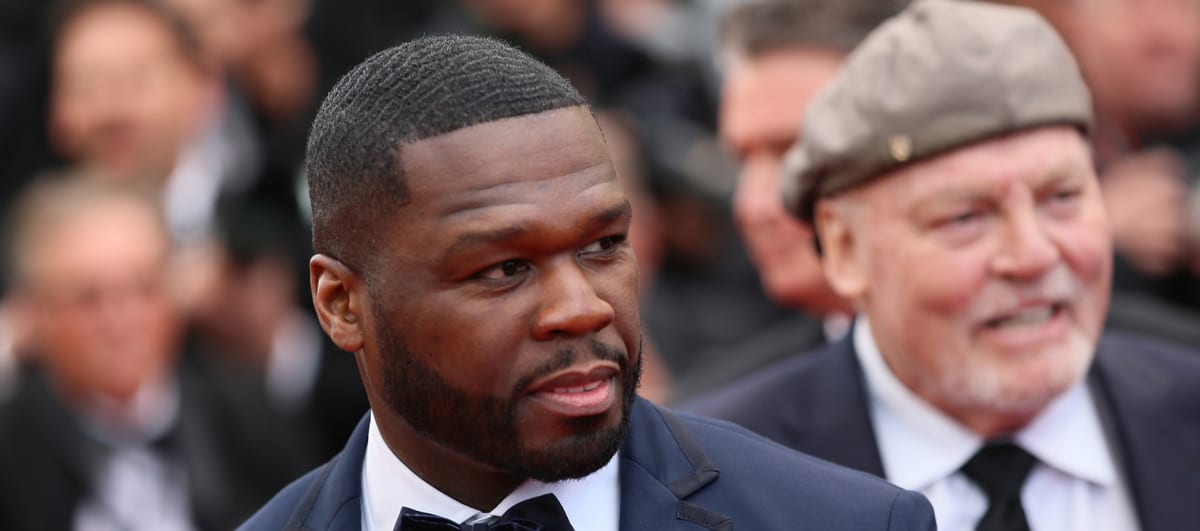 But of course, I wouldn't tell you all of this and not give you something special.
Today, I am going to introduce you to the only pure bottled water play in the stock market right now.
It's a Company that has seen a compounded annual growth rate of over 100% over the last three years, with sales up a whopping 435% since its fiscal 2015.
It's a Company that now has its products in almost every major supermarket in the United States, including Walmart, Kroger, Albertsons, Costco, and Whole Foods.
It's a Company that's ranked as the fastest growing enhanced water brand in the U.S.
It's no wonder RBC Capital Markets just listed this Company's brand as one of the top potential bolt-on M&A targets within the non-alcoholic beverage space.
In fact, of the 24 companies screened by RBC, only 3 of them are pure bottled water plays – making the potential of a buyout even more promising.
And guess which one is one of them?
Introducing…
The Alkaline Water Company Inc.
(TSX-V: WTER) (OTCQB: WTER)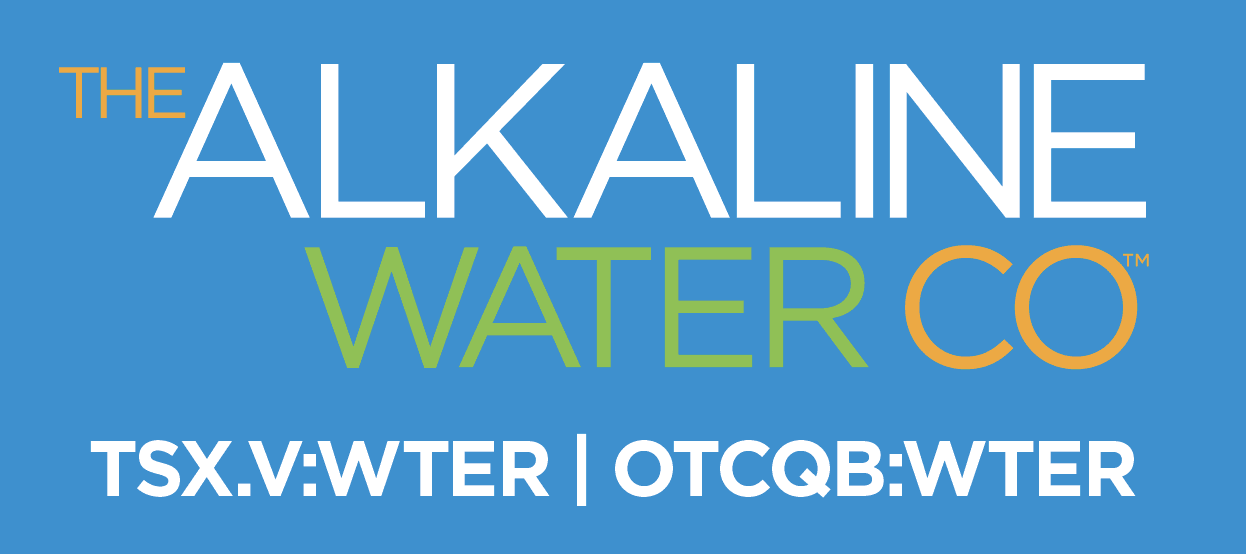 The Alkaline Water Company Inc. is a leading producer of premium bottled alkaline drinking water sold under the brand name Alkaline88.
The Company's proprietary electrolysis process enhances its product with trace minerals and electrolytes to produce a water high in alkalinity with an 8.8-pH balance.
This not only provides an exceptionally smooth drink, like that of a Fiji water (without the silica), but it also offers many potential health benefits via the trace minerals, electrolytes, and high alkalinity.
(I won't get into the details of the potential health benefits, but those who drink alkaline water swear by it. Just ask Lebron James and other NBA superstars.)
You may have seen the tremendous growth of bottled water in your neighbourhoods, with all kinds of new water brands popping up in your local market.
You may recognize them as Essentia, Fiji Water, Evamor, Happy Water, and even Hawaiian Volcanic water.
But what separates them from regular bottled water and why are they considered premium waters?
They all have a higher than neutral pH content, with alkaline minerals.
In short, this means that they are all alkaline waters – a premium style water that is one of the fastest growing segments of water in the world.
In fact, premium water sales growth is outpacing regular water by a factor of 3-to-1, while the growth of alkaline water dominates the premium water market.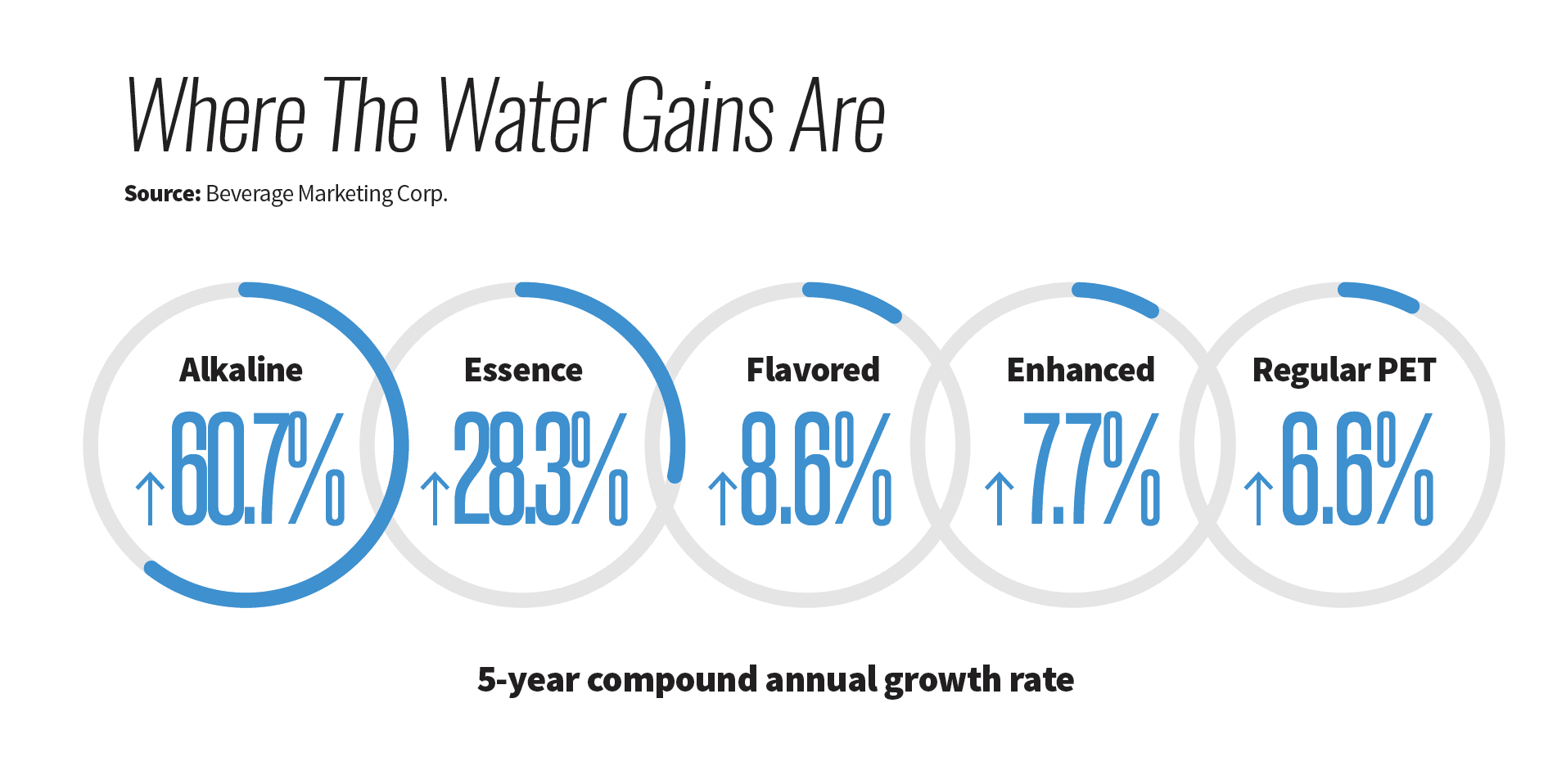 Now if you were shopping for alkaline water, you likely wouldn't know that any of the above brands were alkaline waters unless you looked closely at the bottle and did a little research.
But that's precisely what sets the Alkaline Water Company apart from its competition.
And it's also why the Company is a prime takeover target.
The Only Alkaline Water
When Coca-Cola bought Glaceau for US$4.1 billion in cash, they paid a massive premium of nearly 10 times the Company's trailing 12-month revenue.
The biggest part of that transaction was the acquisition of the brand Vitaminwater.
Today, the Vitaminwater brand is one of Coke's most prized assets.
More importantly, the Vitaminwater acquisition gave Coke trademark possession of the word "vitamin" to maximize positioning of the brand within the vitamin water sector – an enhanced water segment that was showing rapid growth.
Trademark possession of a name means no competitor can use it to brand its products. In other words, no one can use the word "vitamin" in their beverage brands.
And that's precisely what the Alkaline Water Company has.
The Alkaline Water Company has incorporated the word "alkaline" in the company's Alkaline88 trademark.
That means it is the only U.S. company legally allowed to use the word "alkaline" in its brand name – a critical competitive advantage within the category.
And that also means the Alkaline Water Company has the most upfront branding of the most dominant water segment in the premium water category: alkaline water.
One look at their bottles and you know right away what it is and what makes it premium.
The Growth of Alkaline Waters
You already know that bottled water is the biggest beverage category by volume.
Meanwhile, premium water sales growth is outpacing regular water by a factor of 3-to-1.
And within that category is the fastest growing segment of them all: alkaline water.
The alkaline water market is expected to reach more than US$200 million in annual revenues this year.
But according to one of the foremost experts in the beverage space – one who advises some of the biggest names in the world – alkaline water could become a billion-dollar category in the next five years.
(Remember, it took Kobe Bryant only four and half years to make his 30x return on BodyArmor.)
In fact, I believe the alkaline water category could be much bigger when you consider all the health trends associated with beverages that are coming to market.
You see, many of the health-infused drinks – such as chlorophyll water – require alkaline water to maintain shelf-life.
In fact, many types of functional beverages – such as those infused with CBD, Hemp, and soon THC – will likely require alkaline water to maintain their efficacy and stability.
Long-time readers of this Letter know that we have made many big predictions regarding the marijuana space with pretty consistent accuracy. Many of you have also made lots of money as a result.
And I predict that the marijuana-infused beverage space will become absolutely massive – not only because it will be an alternative to alcohol, but it will also become a functional health trend as well.
So its no surprise that you may have already seen a few CBD and marijuana beverage companies come to market.
Most of them have little experience – and practically no footprint – when it comes to beverage distribution.
But the Alkaline Water Company has both – which means if they enter the functional beverage market, they not only have a proven distribution platform, but a national brand.
Imagine the power of branding associated with the name "alkaline," as the functional health drink space – and marijuana beverages – explodes.
Alkaline CBD…Alkaline Chlorophyll…Alkaline Hemp…Alkaline THC…Alkaline Calcium…Alkaline…you name it!
The Two Biggest Alkaline Waters that Matter
If you want to play in the alkaline water space, there are only two pure alkaline water companies that matter.
They are the two biggest and the two that are at the top of the list for a potential buyout, according to a foremost expert I spoke with.
The first one is Essentia Water – a private Company that just put itself up for sale.
Via CNBC:
"Premium water company Essentia has hired an investment bank to run an auction for the company, sources familiar with the matter told CNBC, and it could fetch $500 million or more in a sale.
The water brand, which has a proprietary ionization process it claims provides better hydration, has roughly $100 million in revenue, the people said. It is likely to catch the eye of the country's biggest beverage brands…Among the companies likely to consider a bid would be Nestle, Danone, PepsiCo and AB InBev, though it is early in the process."
Word on the street is that Essentia is seeking nearly a billion dollars in the sale – even though it only did US$100 million in revenue in its most recent statement.
That's a 10X multiple if they succeed!
The second pure alkaline water play is the Alkaline Water Company – the fastest growing alkaline water company and the fastest growing premium water brand in the U.S.
That's saying a lot when you consider that the premium water category is the fastest growing category in the biggest beverage market by volume.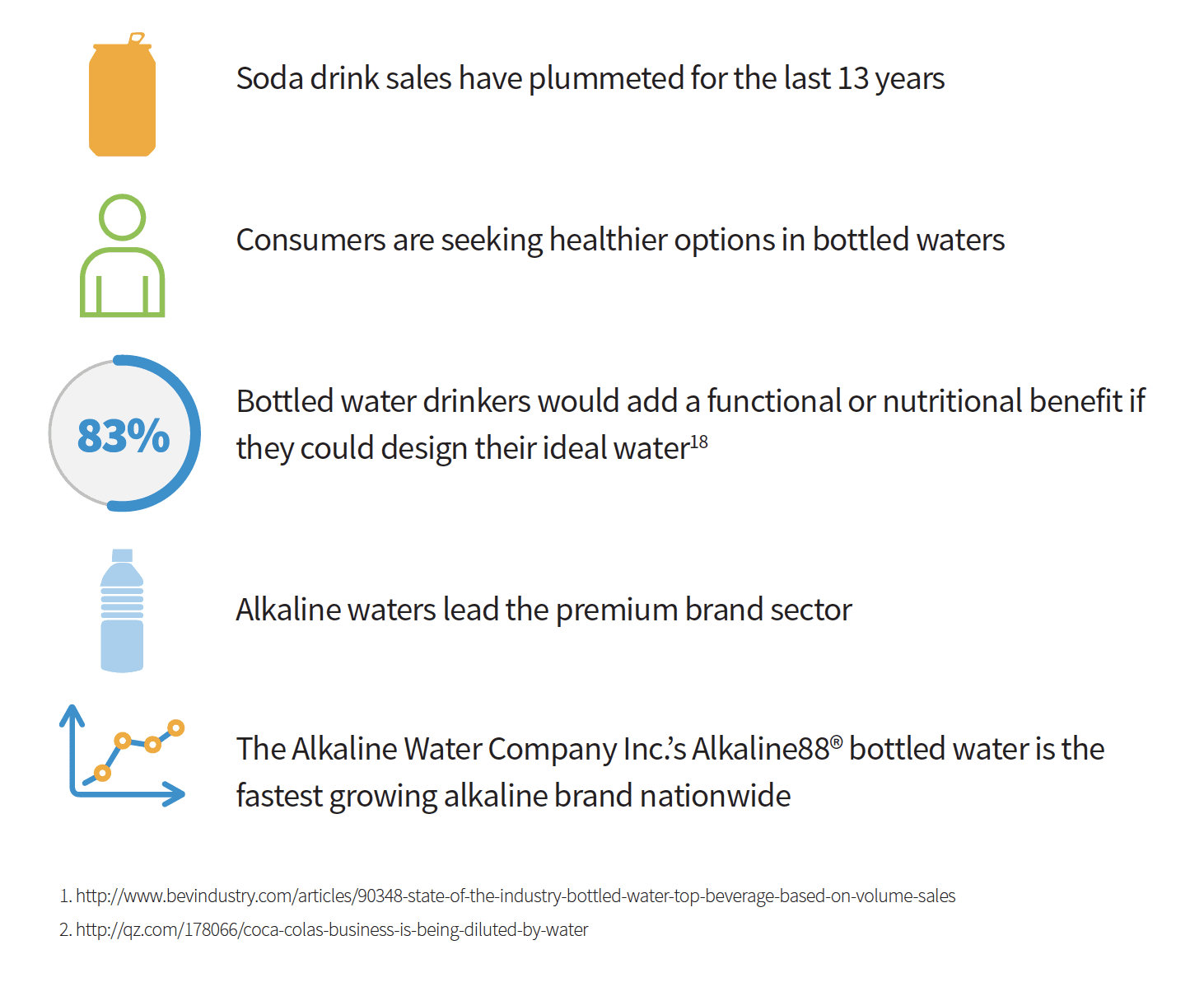 That means the only way for retail investors to truly hop on the alkaline water train is through the Alkaline Water Company.
But just how does the Alkaline Water Company stack up in terms of numbers?
One of the Fastest Growing Stories
Alkaline88® is now sold in over 40,000 retail locations nationwide in all 50 states, with a distribution that spans more than 150,000 stores.
These include 9 of the top 10 largest retailers in the entire U.S. and two of the largest retailers in the entire world.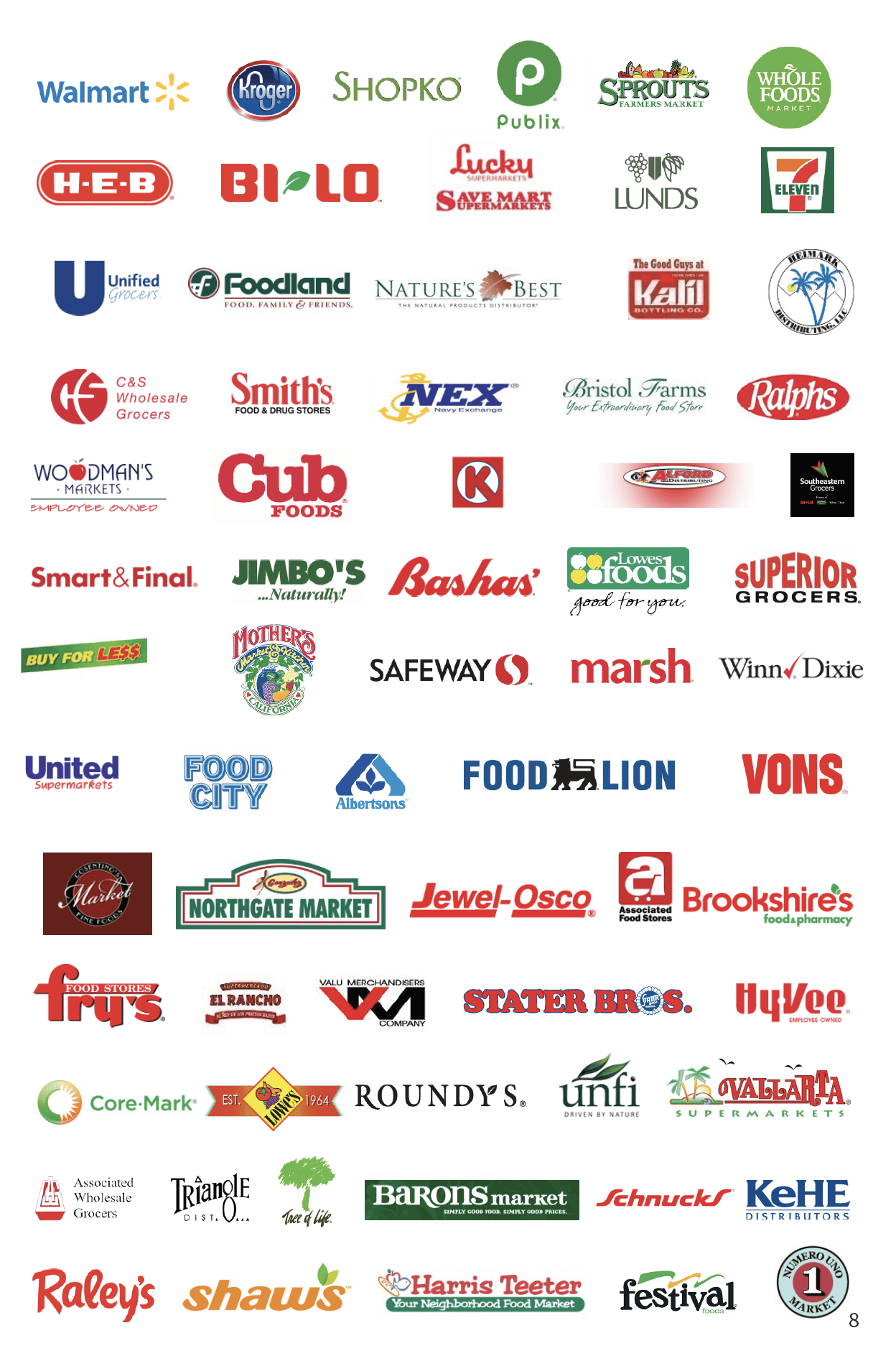 In its last fiscal year, the Company generated over US$19.8 million in sales.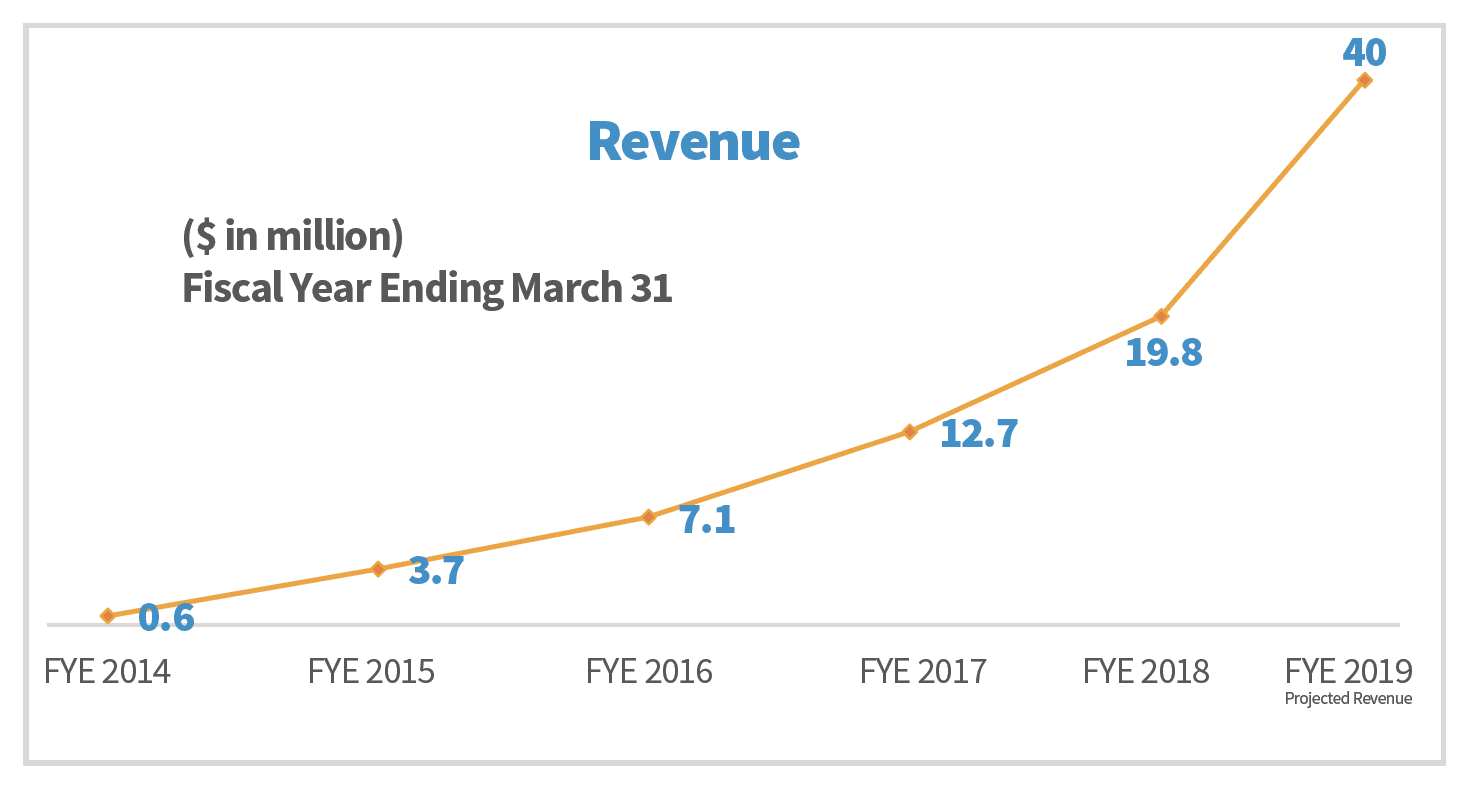 But for this fiscal year, the Company is projected to hit over US$40 million in sales – potentially showing triple-digit growth.
Given that they continue to add new retailers, I wouldn't be surprised to see them surpass their expected $40 million target.
They have the infrastructure and money in place to do up to US$75 million in sales, with little financing required to reach the $100 million mark.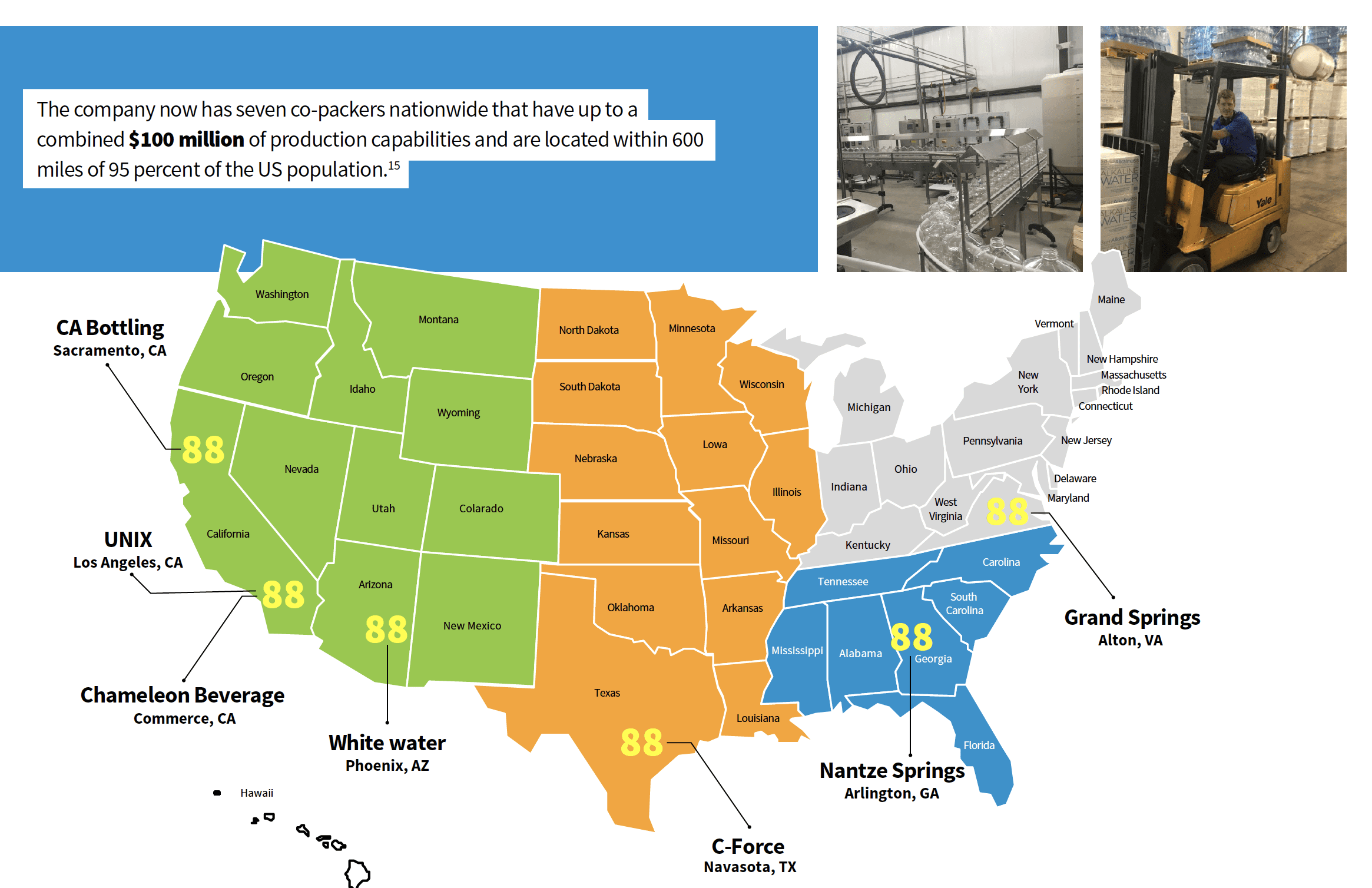 Furthermore, the Company runs lean. In fact, for every employee they have, the Company generates around US$2.8 million in revenue!
That's more than Google or Apple!
These milestone numbers are extremely important.
First, before Alkaline Water announced that it had record March revenues, shares were trading at around US$1.
That announcement sent the stock to over US$2 in just a few short months.
If the Company can reach its expected sales of US$40 million this fiscal year, it wouldn't surprise me to see shares double again – based purely on historical performance.
Second, and more importantly, is what those numbers mean for those in the beverage market.
An Expert's Take
Since I am not engrossed in the beverage market, I sought the opinion of someone who is – someone who lives and breathes the beverage space and who advises some of the world's largest beverage companies.
Since he advises many of the big players, I have to respect his anonymity.
He's told me that the sweet spot for acquisitions is now around US$100 million in revenue, with triple-digit – or close to triple-digit – growth (which Alkaline is expected to do).
But this number ranges from company to company.
For example, one particular company – one of the biggest in the bottled water space – is looking to acquire companies that hit the US$60 million revenue mark, while showing continued growth.
He's even told me that they would be interested in doing something with a company in the alkaline water space if one could hit around US$40 million in sales.
The Alkaline Water Company is expected to hit triple-digit growth.
It's also expected to hit US$40 million in sales.
In other words, the Alkaline Water Company would be a prime takeover if it can hit the numbers it is expected to hit.
Furthermore, he said that while the growth of alkaline water is strong, it is still a space represented by very few players. In fact, only two are really in contention – as I already explained – with the Alkaline Water Company being one of them.
And the Company is in a space where there are perceived health benefits – very similar to how Vitaminwater went to market.
The difference, however, is that Vitaminwater couldn't really promise a functional benefit because vitamins lose their efficacy when exposed to moisture or sits in water.
Meanwhile, minerals – such as those in Alkaline88 – do not.
Now the really exciting part is that Alkaline Water's growth can compound in ways the Company hasn't done before – even though the Company has shown immense and steady growth over the past three years.
Let me explain.
Just the Beginning
There are a few ways beverages come to market.
Direct to Warehouse – selling directly to the retailer.
Third-Party Logistics Providers – who essentially act as middlemen leveraging their distribution platform.
Direct to Store Distribution (DSD) – where middlemen distribute the products for you directly to the retailers' shelves.
The majority of the Alkaline Water Company's growth has been their ability to sell the large bottle format directly to the warehouses of retailers – a segment of the market that no one even comes close to touching.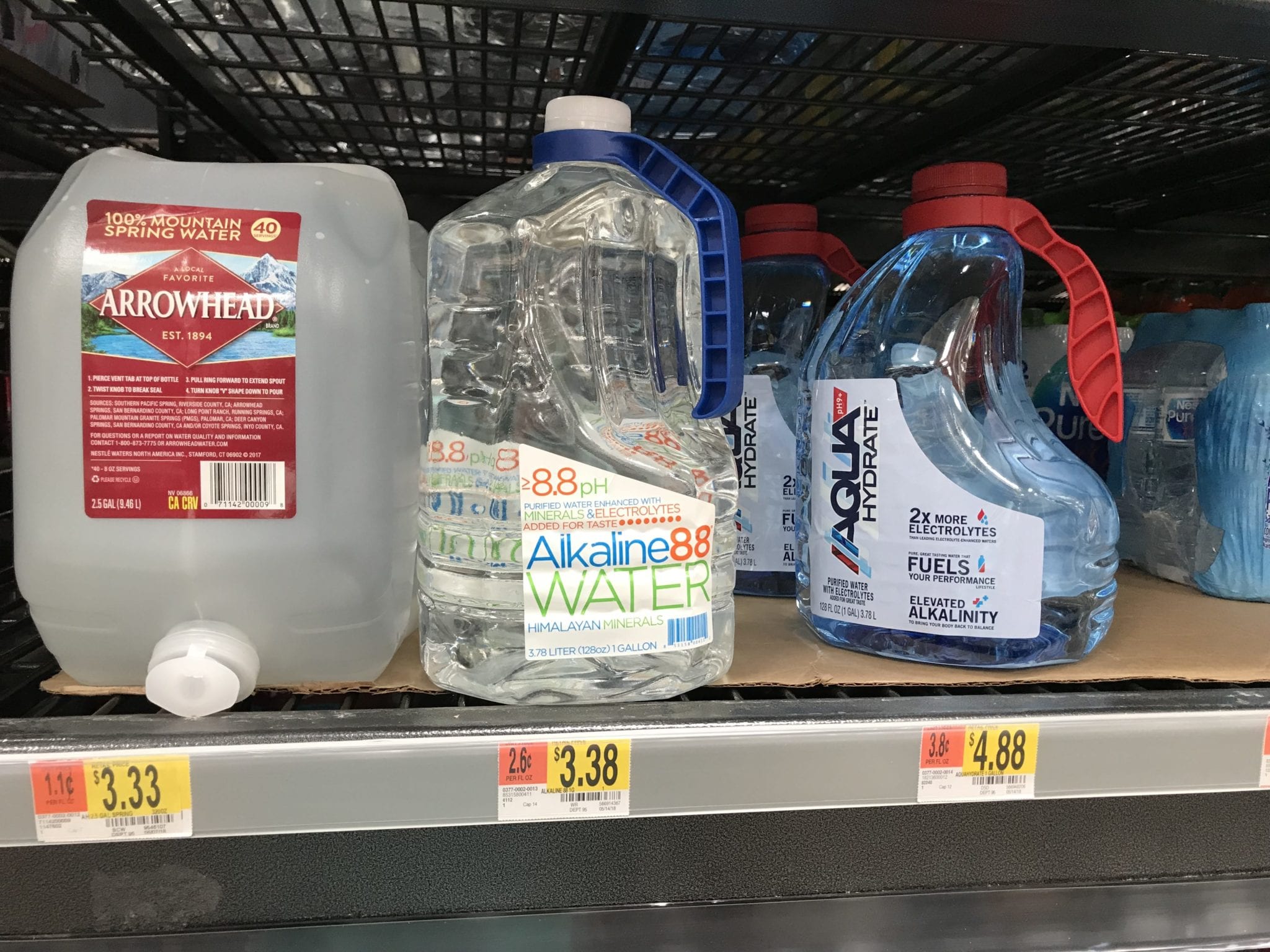 Right now, big name retailers such as Walmart are primarily selling Alkaline Water's one-gallon and three-liter bottles right now, and the Alkaline Water Company sells to them direct.
Judging by Alkaline88's sales performance, and the fact that Walmart has rolled out Alkaline88 nationwide, the Company's products are clearly flying off the shelves.
That means Walmart, and other big-name retailers, could easily add different SKU's – such as 1 or 1.5 litres, 750 ml, and six-pack formats – without having to bring on new brands into their system – a very time-consuming and risky process.
In other words, Alkaline88 sales could continue its growth organically with the retailers they already.
But they have barely scratched the surface of the gas stations, convenience stores, and pharmacies, which primarily belong to the DSD and third-party logistics buyers.
They have barely scratched the surface of the single-serve market.
And the Alkaline Water Company has plans to hit those markets next.
Given that their brand is already spread nationwide through the world's largest retailers, and over 150,000 stores, many of the DSD players – the most prominent players of all – could soon call for Alkaline88 products.
And that would be a major breakthrough for Alkaline Water.
But that's not all.
De-risking the Brand
According to my source, the single-serve market is initially a more accessible market, but it costs a lot of money and requires a lot of upfront capital – capital primarily reserved for the bigger players.
It's very difficult to enter the market by selling in the large format as the Alkaline Water Company has done.
But if you can do it, it can prove very rewarding.
For example, Sparkling Ice started in the large format before moving into the single-serve. In other words, it built a brand selling bigger, and then attacked the single-serve market – much like the Alkaline Water Company is doing now.
In 2010, Sparkling Ice had $10 million in sales.
In 2016, Sparkling Ice did US$667 million in sales.
It just announced record summer sales.
If Alkaline Water can match that success, it could be extremely rewarding for shareholders who participate today. Extremely…
It's no wonder the Alkaline Water Company is already on the radars of the top beverage companies in the world – companies who have been busy scooping up every major growth story.
Big Beverage Buyouts
It's clear that the water space is heating up in a big way.
10 years ago, Coca-Cola (NYSE: KO) bought Glaceau, the maker of Vitaminwater, for US$4.1 billion in cash. Today, Vitaminwater generates nearly $1 billion in annual revenues for the company.
Then there's its spin-off water brand, Smartwater, which generated $860 million in sales during the twelve months ended May 2017.
Despite all of the water brands Coca-Cola already owns, it continues to buy premium water brands.
Last year, it bought Topo Chicos, a sparkling mineral water brand, for US$220 million.
Not to be out-done with the popularity of so-called premium water brands, PepsiCo's (NYSE: PEP) launched Lifewatr, a pH-balanced (alkaline) water beverage. It did US$148 million of sales in its first year of launch.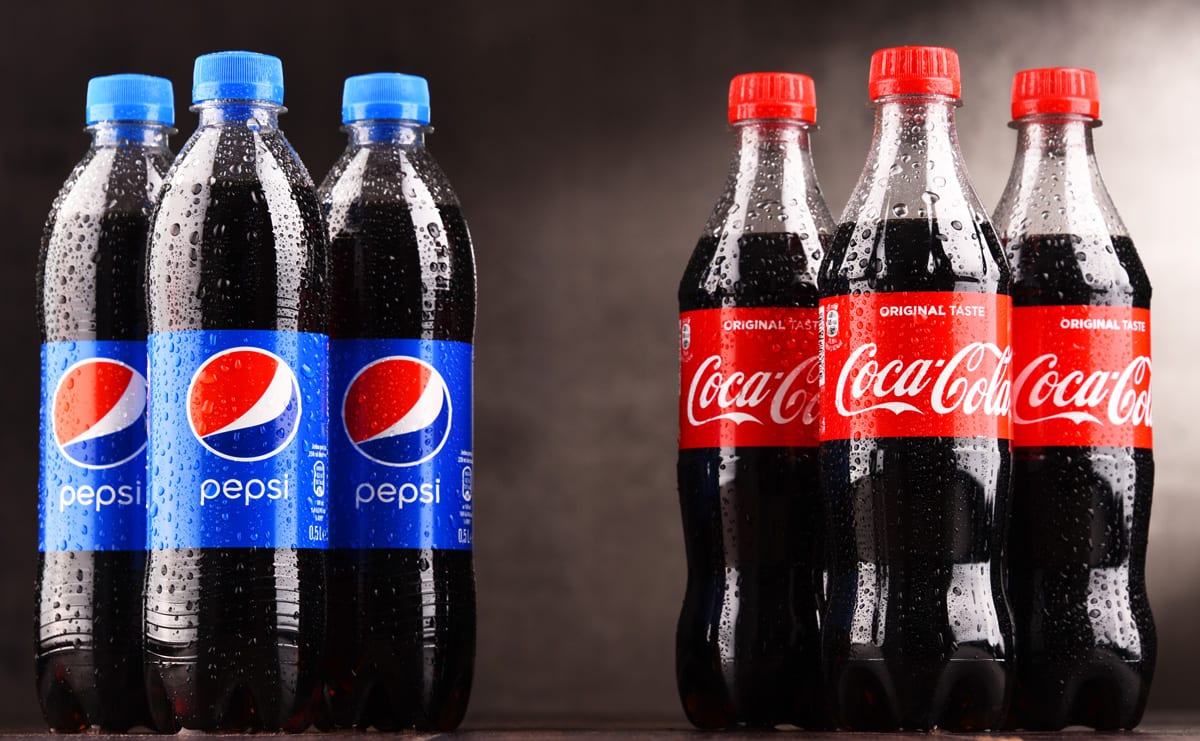 But Coca-Cola and Pepsi aren't the only ones buying up water brands.
In 2016, China's Reignwood Group agreed to pay around US$105 million to buy slightly more than 50% of Voss of Norway ASA, a premium bottled water maker.
Last year, Dr. Pepper Snapple Group (NYSE: DPS) bought Bai Brands, which makes the Antiwater alkaline water brand, for US$1.7 billion.
Earlier this year, Primo Water Corporation (Nasdaq: PRMW), bought Glacier Water Services, Inc. for approximately US$273 million.
And today, Essentia Water – Alkaline Water's main competitor – is up for sale with rumours of a price tag between US$500 million and $1 billion.
In short, acquisitions in the water space are heating up as water continues to be the top beverage category in the world.
But how are these companies being valued?
The Bottled Water Multiples
The general consensus is that bottled water companies are being valued at around 4-6 times top-line revenue, but can reach as high as nearly 12 (as was the case with Vitaminwater).
Via CNBC:
"…Companies similar to Essentia are often valued at four to six times revenue…"
In most cases, the big beverage companies focus on top-line revenue because they know they can trim the fat with their distribution platforms.
So what does that mean for shareholders if the Alkaline Water Company were to be acquired based on their expected US$40 million in revenue for this fiscal year?
Assuming a low-end multiple of 4x revenue, the Alkaline Water Company would be valued at US$160 million.
With Alkaline Water's current share structure, that would mean more than US$5 per share.
At a 5x multiple, it's nearly $6.50 per share.
And at 6x it's $7.75 per share.
Shares of Alkaline Water are less than US$2 today.
And that's all before we factor in the other potential growth that the Alkaline Water Company has in store, including entering the single-serve market.
And even the international market.
The Alkaline Water Company just received their FDA export approval.
Via Alkaline Water:
"…In addition to our continued U.S. expansion, we have received our FDA export approval and believe that we will be selling Alkaline88® in international markets by Q3 of FY 2019. We expect to see record sales throughout FY 2019."
Conclusion
Five years ago, the Alkaline Water Company entered into one of the hottest beverage markets.
Today, the Company has transformed into the fastest growing alkaline water brand, on track not only to double its revenue, but with expectations to become cash flow positive for the first time this fiscal year.
And that's a big deal considering most beverage companies on such a high growth curve – let alone bottled water companies – are generally losing lots of money.
Which is precisely why I believe the timing for shareholders couldn't be better.
The Company spent the last five years and lots of money learning how to grow, and is now on track to hit triple-digit growth and become cash-flow positive.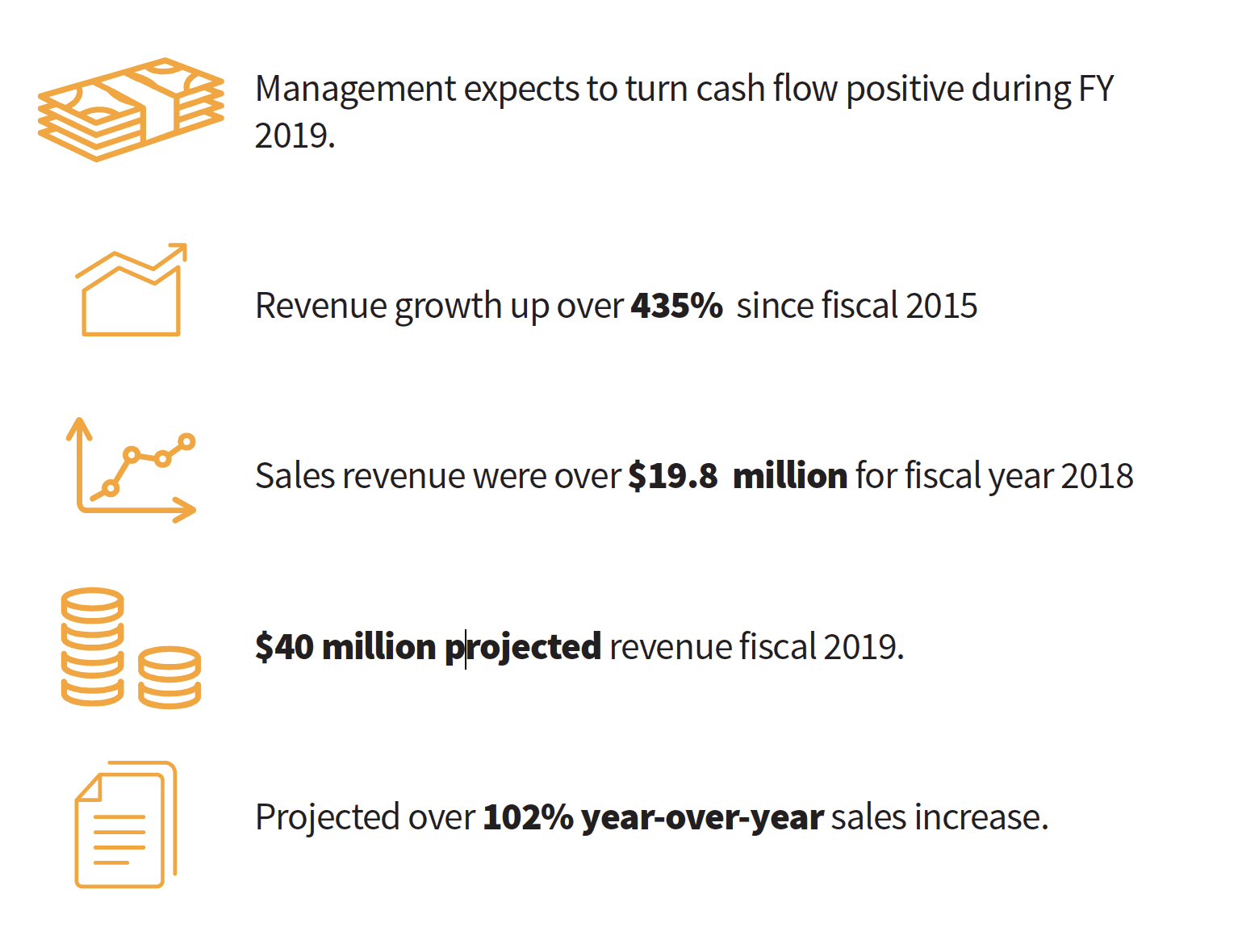 The world's biggest beverage companies – companies who made their fortunes on selling soft drinks – have noticed the massive decline of their sugary products.
In turn, they have been pushing other flavoured drinks onto consumers in order to keep their profits alive.
And they have been on a buying spree over the past few years – buying a number of soft drink alternatives with growing sales and adding those products into their massive global distribution pipeline.
It's precisely why I believe the premium water space will continue to heat up.
And the only way for retail investors to play in the premium water space is through the Alkaline Water Company.
Furthermore, in RBC's most recent screen for non-alcoholic beverages likely to be acquired, the Alkaline Water Company ranks number 6 in the US for year-to-date sales, and behind only Essentia in the water category.
The big players, such as Coke and Pepsi, believe alkaline water is here to stay.

The Alkaline Water Company is both the fastest-growing alkaline water company and the fastest growing premium water brand in the U.S.
When you consider that premium water sales growth is outpacing regular water by a factor of 3-to-1, you have a Company that is likely on the hit-list for many big-name players looking for a water acquisition.
And that bodes well for shareholders of the Alkaline Water Company.
The Alkaline Water Company Inc.
Canadian Stock Symbol: TSX-V: WTER
US Stock Symbol: OTCQB: WTER
Seek the truth,
Ivan Lo
The Equedia Letter
www.equedia.com
Disclosure:
We are biased towards the Alkaline Water Company (WTER) because the Company is an advertiser on www.equedia.com. We currently own shares in WTER. You can do the math. Our reputation is built upon the companies we feature. That is why we invest in every company we feature in our Equedia Special Report Editions. It's your money to invest and we don't share in your profits or your losses, so please take responsibility for doing your own due diligence and consult your own professional advisers before investing in WTER or trading in WTER securities. Equedia.com and Equedia Network Corporation are not registered as investment advisers, broker-dealers or other securities professionals with any financial or securities regulatory authority.  Remember, past performance is not indicative of future performance. This article also contains forward looking statements that are subject to risks and uncertainties that could cause actual results to differ materially from the forward-looking statements made in this article.  Just because many of the companies in our previous Equedia Reports have done well, doesn't mean they all will. WTER and its management have no control over our editorial content and any opinions expressed in this article are our own. We're not obligated to write a report on any of our advertisers and we're not obligated to talk about them just because they advertise with us.  For a complete disclosure of the compensation received by us from WTER, please review our Terms of Service and full disclaimer at www.equedia.com/terms-of-use/.
Forward-Looking Statements from Alkaline Water materials
This presentation contains "forward-looking statements." Statements in this presentation that are not purely historical are forward-looking statements and include any statements regarding beliefs, plans, expectations or intentions regarding the future. Such forward-looking statements include, among other things, the statements regarding projected growth of 49% to $27.5 billion by 2021 for U.S. bottled water sales; the statement regarding growth rate of U.S. bottled water sales expected for 2018; First Beverage Group's projection of the global flavored and functional water market reaching $36 billion by 2019; the statement that the new look should give single-serve bottles of The Alkaline Water Company Inc. (the "Company") a significant sales boost this coming year; the Company's belief that the Company will be selling Alkaline88 in international markets by Q3 of FY2019; the statement that no company is as uniquely positioned in the 18.5 billion bottled water market than the Company; the statement that the Company and its product, Alkaline 88 are well positioned for a brand-drive acquisition and the Company would be well-positioned for a buy-out by Big Soda; the statements that the Company is engaged in a forward-looking plan and in the areas of marketing, sales, financing and production, the Company has plans in place for continued success; and the statements that the Company's current production capacity well exceeds its mid-term volume projections and should demand exceed projections, the Company is ready to meet that demand with little or no shortfall in product supply. The material assumptions supporting these forward-looking statements include, among others, that the demand for the Company's products will continue to significantly grow; that the past production capacity of the Company's co-packing facilities can be maintained or increased; that there will be increased production capacity through implementation of new production facilities, new co-packers and new technology; that there will be an increase in number of products available for sale to retailers and consumers; that there will be an expansion in geographical areas by national retailers carrying the Company's products; that there will be an expansion into new national and regional grocery retailers; that there will not be interruptions on production of the Company's products; that there will not be a recall of products due to unintended contamination or other adverse events relating to the Company's products; and that the Company will be able to obtain additional capital to meet the Company's growing demand and satisfy the capital expenditure requirements needed to increase production and support sales activity. Actual results could differ from those projected in any forward-looking statements due to numerous factors. Such factors include, among others, governmental regulations being implemented regarding the production and sale of alkaline water; additional competitors selling alkaline water in bulk containers reducing the Company's sales; the fact that the Company does not own or operate any of its production facilities and that co-packers may not renew current agreements and/or not satisfy increased production quotas; that fact that the Company has a limited number of suppliers of its unique bulk bottles; the potential for supply chain interruption due to factors beyond the Company's control; the fact that there may be a recall of products due to unintended contamination; the inherent uncertainties associated with operating as an early stage company; changes in customer demand; the extent to which the Company is successful in gaining new long-term relationships with new retailers and retaining existing relationships with retailers; the Company's ability to raise the additional funding that it will need to continue to pursue its business, planned capital expansion and sales activity; competition in the industry in which the Company operates and market conditions. These forward-looking statements are made as of the date of this presentation, and the Company assumes no obligation to update the forward-looking statements, or to update the reasons why actual results could differ from those projected in the forward-looking statements, except as required by applicable law, including the securities laws of the United States and Canada. Although the Company believes that any beliefs, plans, expectations and intentions contained in this presentation are reasonable, there can be no assurance that any such beliefs, plans, expectations or intentions will prove to be accurate. Readers should consult all of the information set forth herein and should also refer to the risk factors disclosure outlined in the reports and other documents the Company files with the SEC, available at www.sec.gov, and on the SEDAR, available at www.sedar.com. The Company has not conducted any clinical studies regarding the health benefits of alkaline water and accordingly makes no claims as to the benefits of alkaline water.