A Wolf in Sheep's Clothing?
A Long Look at a Great Exploration Story
Early in 2019, a senior gold company made an investment in an obscure junior exploration company that was working on a polymetallic deposit in a jurisdiction not noted for mining. Interested? 
Then read on….
The senior gold company is Kinross Gold, and the junior exploration company is Wolfden Resources (TSX-V: WLF). Kinross became a strategic partner with Wolfden (WLF) in March 2019 when it advanced $2.5 million and subscribed for 12,500,000 shares of WLF at a price of $0.20 per share. This meant that Kinross would hold approximately 9.7% of the issued and outstanding shares of WLF.
I know what you are thinking, as the same thought rumbled through my mind as well: Why would a senior gold company invest in what is essentially a zinc company? What did the geologists of Kinross see that others may have missed?
First, let's take a quick look at the primary asset of WLF and see if we, too, can identify the "upside." Here is a summary of where things stood in January 2019:
Indicated Mineral Resource of 2.05 million tonnes at 9.88% zinc, 3.93% lead, 1.38% copper, 101.58 g/t silver & 0.92 g/t gold (19.32% ZnEq). 
Inferred Mineral Resource of 2.03 million tonnes at 10.98% zinc, 4.35% lead, 1.20% copper, 111.45 g/t silver & 0.92 g/t gold (20.61% ZnEq).
"This mineral resource estimate supports our belief that Pickett Mtn. is one of the highest-grade undeveloped massive sulphide (VMS) deposits in the base-metal sector in North America", stated Don Hoy, Senior Vice President of Exploration for Wolfden. "Our goal is to further upgrade and expand the resource while we consider various scenarios that could be used to develop a mining operation on the project. These types of deposits often occur in clusters and future exploration will test for additional satellite massive sulphide lenses that could occur elsewhere on the property and in the large prospective volcanic belt that hosts the Pickett Mtn. deposit. The past-producing Buchan's mine in Nfld., which occurs within the same Appalachian orogenic belt as Pickett Mtn., produced 16.2 million tonnes of ore from five lenses, that averaged 14.5% zinc, 7.6% lead, 1.3% copper, and 126 g/t silver and 1.4 g/t gold over 58 years and was one of the highest grade base metal camps in Canadian history."
So there we have it, a small high-grade deposit located in the State of Maine, with a very, very high value per tonne and lots and lots of exploration upside in a known belt of rocks that has produced some truly exceptional high base metal mines. It is noteworthy to recall that the press release summary above points to an important observation:  
"These types of deposits often occur in clusters…"
Wolfden explored the Pickett Mountain project during 2019 and had success in identifying another sulphide bearing horizon that was designated as the Footwall Zone. 
In addition, WLF continued to define and explore targets that were adjacent to the area that contained most of the current and past drill holes.
In early 2020, Wolfden reported a "New +200 metre Stringer Sulphide Zone". This zone, while uneconomic with low grades, demonstrated that the mineralizing system at Pickett Mountain was much larger than previously thought. One way to put it is that the geology was indicating the footprint of an elephant, not the footprint of a mouse.
Now the investment by Kinross starts to make a little more sense. Of course, they could not have seen one year into the future to this intercept, but obviously, some pretty smart geologists could see the potential of the "big picture."
Almost on the heels of the discovery of the large stringer zone, WLF made an interesting announcement. The company secured up to $4.5 million in non-dilutive funding for its exploration activities by selling forward timber from its project. Under the terms of a five year stumpage agreement with a forestry company, WLF will receive USD $4.5 million; including an upfront amount of USD$ 3 million (received). 
Wolfden has just announced that it has started an expansion drill program. This from a press release dated July 8, 2020:
"The drill program is designed to test new targets identified from recent exploration work that are both proximal and distal to its known high-grade polymetallic massive sulphide resource. This includes follow-up of a new 200-metre long sulphide stringer zone discovered during the 2019 drill program. The diamond drilling will be carried out by Boart Longyear of Virginia and is expected to continue into the fall."
Summary & Wrap-up
Market sentiment has become a positive driver for exploration companies that can deliver results at the right time in the metals cycle. Over the balance of the summer and into the fall, WFL will be reporting results from its drilling program. Although the exploration of this new and rapidly expanding VMS (Volcanic Massive Sulphide) camp is still in an early stage; indications are that the best is yet to come. 
The management of WFL includes seasoned exploration geologists with a full appreciation of the opportunity for discovery that lies before them at Pickett Mountain. A new discovery of a substantial VMS lens will be immediately recognized and rewarded. 
The market capitalization has much room to expand to reflect a revaluation based on success.
The current market capitalization of WFL is around $CDN 20 million. Speculators with a sweet tooth for success can position themselves early in this exciting exploration play that is backed by an existing high-grade polymetallic resource. 
We will revisit WFL later in the fall to see whether our "discovery instincts" were on the right track.
A quick look at the weekly stock chart tells us that WFL is just starting to get noticed by investors. Both MACD and TSI are responding well and are turning positive below the zero line. Trend momentum is still negative; if it were positive, then it is likely that the price moves up would be stronger.
Also, after many years, the price chart is showing that this time the break out up above the EMA (89) has some more technical chart based power than the previous brief but unsustainable breakouts above it. 
As well, it is instructive to note also that price remains below the upper boundary of the Ichimoku Cloud. In early 2017, upon breaking above the Ichimoku Cloud, the share price performed as expected with a nice move to the upside.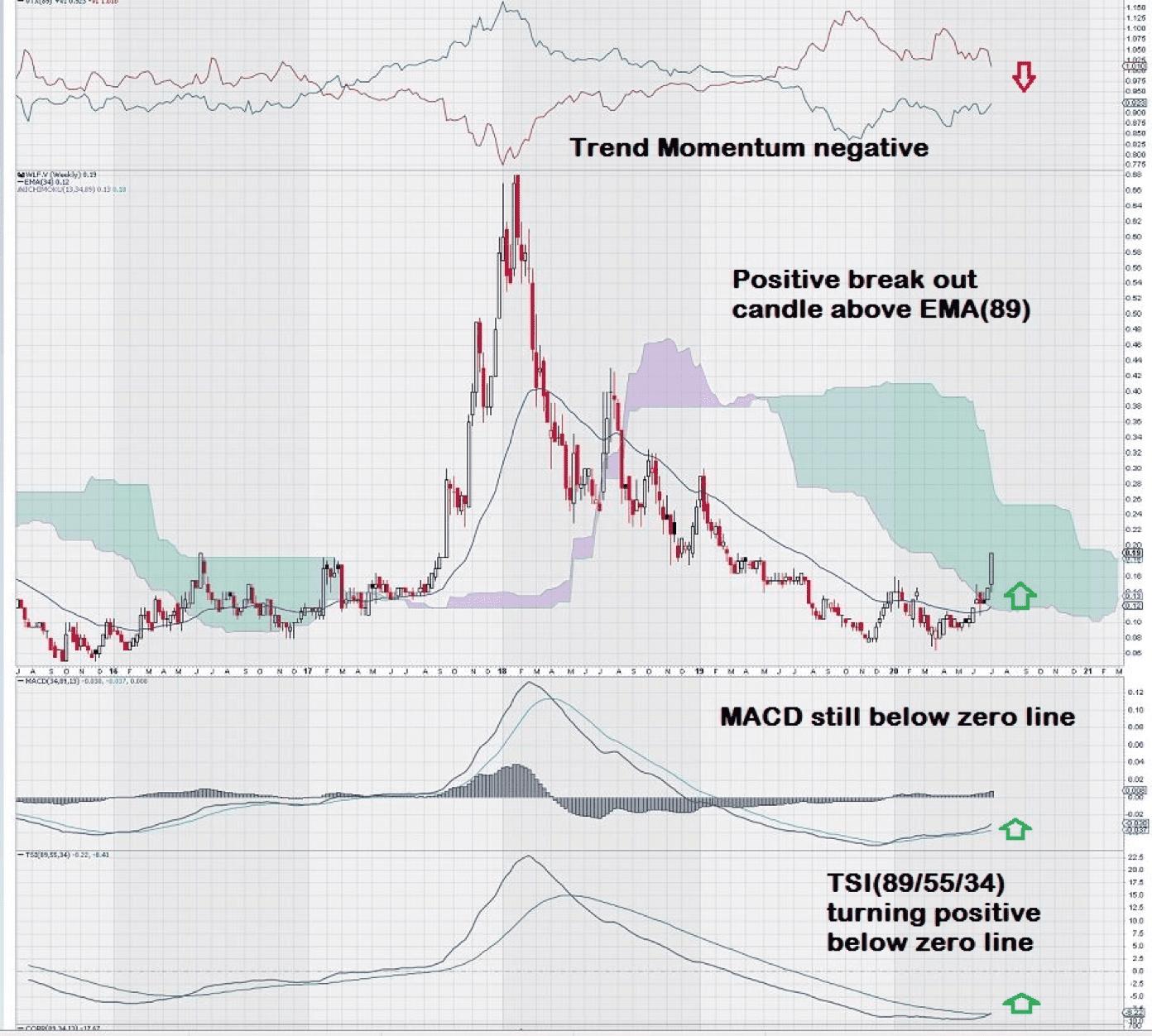 -John Top
NB – Investors who want to delve more into the technical side of WFL can review the investor presentation on the company's website and also search the terms "Buchans Mine" and "Bathurst Mining Camp" to learn more.
Disclosure: We do not currently own shares at the time of this writing.