Beacon's Michael Curran upgrades Calibre Mining's Price Target
Calibre Mining (TSX: CXB) (OTCQX: CXBMF), a company we featured late last year, got another vote of confidence this week when Michael Curran, Managing Director and Research Analyst (Mining) at Beacon Securities and who once received the #1 Ranking for Mining & Metals research coverage by The Wall Street Journal, upgraded his assessment of the Company on January 22, 2020. The price target was $1.65; it is now $1.95*.

But why the upwards adjustment, and why now?
It may have been based, in part, on the fact that Calibre delivered on its Q4/19 production results. Curran anticipated that the company would produce 34,000 ounces, and actual production was 33,590. Analysts tend to favor companies that meet their expectations.
Another factor that may have prompted the upwards revision of the target price is that Beacon has adjusted its long-term gold price from US$1400 to $1500 per ounce.
So, it seems a reasonable conclusion that if CXB continues to meet its production targets and gold stays at or above $1500, then the financial analysis documented in Curran's latest research update will justify a higher market valuation for the Company.
The true upside for CXB is by way of a large exploration program currently underway* that has the potential to deliver exceptional organic growth. This is what makes CXB such an attractive investment idea. The Company is on its way to developing a strong profile that will serve as a solid yardstick for valuation.
(*Ivan's note: Since our initial coverage, Calibre has been drilling many targets. As such, I suspect that we should see some initial drill results over the next few weeks which could have the potential to drive Calibre's share price higher if results are good. I have already seen many gold companies propel higher this year on strong drill results; meaning the appetite for exploration is alive and well. Furthermore, Calibre expects to have six drill rigs turning by the end of this month and is already budgeted for a massive 47,000-metre drill program.)
In the meantime, exploration is in full swing in the background with twin objectives: define a higher reserve base and follow-up on new, promising discoveries that are in close proximity to the existing processing facilities.
Taking a look at the chart, while considering the positive re-rating that has already taken place due to the transitional change from a gold exploration company to a gold mining company, it is necessary to view CXB as a "new company."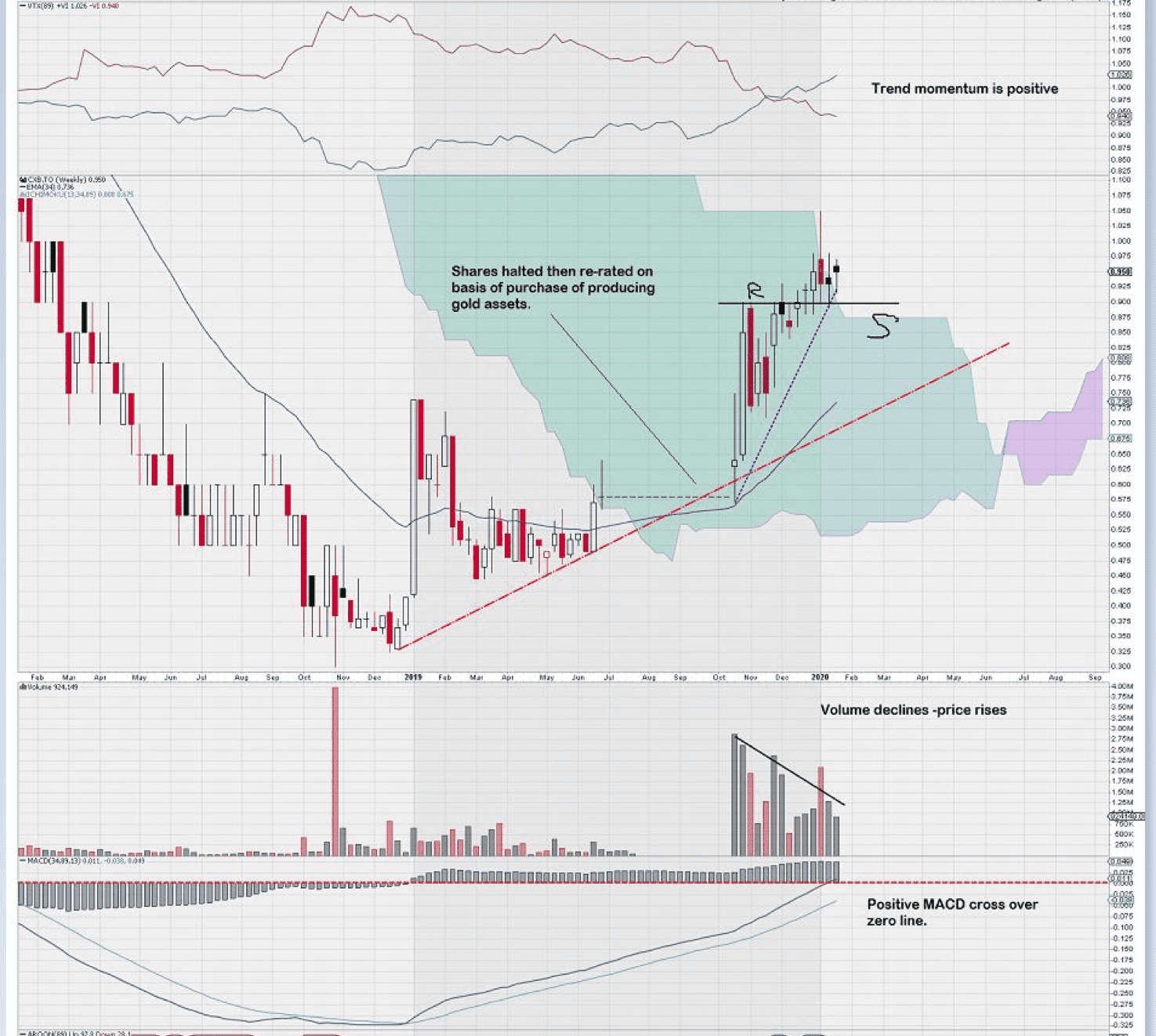 CXB.TO has seen a strong rise to reflect its transition from explorer to producer. This is reflected in several of the chart indicators: Trend momentum remains positive; the price chart is just now breaking above the Ichimoku Cloud – a positive sign; volume is declining, while price is rising; and finally, long-term MACD is just crossing into positive territory above the zero line.
The signal line for MACD is well above the trigger line, as noted. There appears to be some support built into the chart at around the $0.90 level*.
(*Ivan's note: In October 2018, Calibre completed a CDN$5 million private placement at CDN$0.44, with warrants which entitles the holder to acquire an additional post-consolidation common share for $0.95 until October 30, 2023. I suspect that we are seeing some of this pressure now, since those shares were priced at $0.44, while the warrants at $0.95. Perhaps that is why we have seen some resistance at the $0.95-level. Once this pressure is gone, I think the chart could resume its upward progress given additional news on drill results and the continued support of a higher gold price.)
In summary, we can see how the formulation for the analyst upgrade took place.
Calibre's current 47,000-meter drill program could deliver the "right stuff," and the Company has shown by its past share performance that it has an active, engaged and savvy shareholder base that will match valuation to value creation.
– John Top
Calibre Mining
Canadian Trading Symbol: TSX: CXB
US Trading Symbol: OTCQX: CXBMF
Equedia Initiation Price: CDN $0.75
Current Price: CDN$0.95
About Michael Curran:
Michael Curran is a managing director and mining analyst with Beacon Securities in Toronto. He was previously a director and a mining research analyst with RBC Capital Markets. Curran received the #1 Ranking for Mining & Metals research coverage by The Wall Street Journal (Annual Best on the Street Survey) in May 2013. He holds a Master of Science degree in mineral exploration and a Master of Business Administration, and is a CFA charterholder.
Disclosure: We are biased towards Calibre Minning Corp (CXB) because the Company is an advertiser on www.equedia.com. We currently own shares of CXB and have been granted options by CXB. Please also contact Beacon Securities for their full disclaimer and disclosure of their research report on CXB.