Calibre Near Key Break-Out Level on Chart
Recently Calibre Mining Corp. (TSX: CXB) (OTCQX: CXBMF) received the attention of another mining analyst. This time, it was Steven Green, CFA, at TD Securities. His one-year target is C$3.25. 
CXB currently trades at $2.45.
This price objective may prove to be somewhat conservative, but only time will tell. 
Why do we make such remarks – especially when we first introduced this Company almost a year from this date, when it was trading at just $0.75?
Take a look at the multi-year chart for Calibre Mining. Once again, we see an all too familiar pattern: "3 taps and out".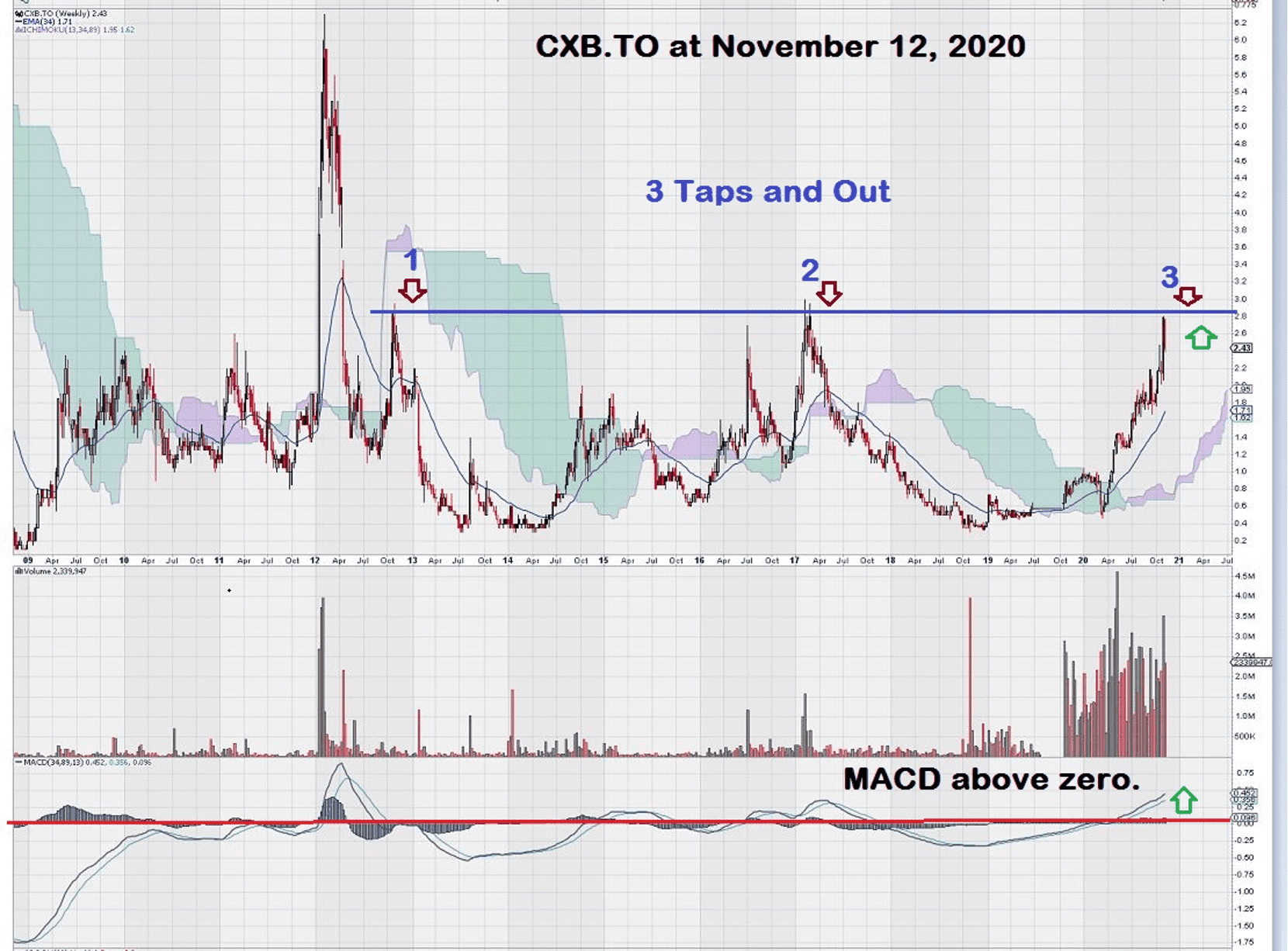 Regular readers of EQUEDIA have seen several examples of this pattern and the subsequent positive response it has on the price of stocks when it successfully completes. 
Also, take note that the trend MACD is very favorable with the signal-line above the trigger-line and both lines above the zero-line.
Calibre Mining (CXB) traded up to the $2.80 break-out level, and the price was repelled lower, as expected. 
Currently, the stock continues to trade well as it continues to reflect both value (gold production) and growth (excellent success in on-going exploration).
CXB recently reported strong assays from a drilling program that is probing below the current open pit at Limon. Not to be left behind, the good news was also reported via drill results that showed the Panteon underground gold deposit expanding along strike to the southeast. 
Progress was also made at several deposits further southeast at the La Libertad mine area.
So what does all of this strong exploration news really mean?
Let's focus on just two sentences from the TD report that provides a great summary and answer to that question:
TD Securities analyst report – November 3, 2020
"We believe Calibre trades at a discount on EV/EBITDA due to the relatively short reserve life. However, we expect this to be addressed over the next 18-months, as they upgrade resources with their aggressive exploration program and incorporate the Eastern Borosi acquisition from IAMGOLD."
Oh, we forgot to mention: CXB also recently announced revenues of $85.8 million, with a net income of $32.9 million in the last quarter alone. 
Summary and Wrap-Up
The Calibre Mining management group has consistently pursued a singular goal: prove the "hub and spoke" production model and then leverage it as much as possible through exploration success. Each new discrete gold discovery has a place already reserved at the El Limon mill, which has approximately 800,000 tpa (tonnes per annum) excess mill capacity.  
Shareholders can, therefore, expect to see future discovery success translate directly to improved share performance.
It is an unusual trade set-up to have such a large amount of excess mill capacity matched with such strong exploration and development potential due to the proximity of some of the new discoveries to existing infrastructure and leveraged to the "hub and spoke" production model.
Recognition of the CXB strategy continues to attract strong investment from institutional and retail shareholders alike. Recent weakness in the gold price has provided these investors with an opportunity both in terms of time and price. In the past few weeks, there has been a small spike up in volume near the key $2.80 technical break-out level.  
CXB has had few significant "pullbacks" during the course of its share price appreciation. Management keeps delivering more value, and the market is rewarding it. Investors should remain focused on these three items:
(1) Quarterly gold production
(2) Stock chart – technical break-out level of $2.80
(3) On going exploration results.
Trade guidance will become self-evident.
-John Top
Disclosure: Equedia and its directors own shares of Calibre Mining and options granted by the Company. Calibre Mining is also an advertiser.