A Perfect 10
Milestones don't come along every day – that's why when they do, we should pay very close attention. Otherwise, it might be an opportunity missed. 
Calibre Mining Corp. (TSX: CXB; OTCQX: CXBMF) recently released its multi-year production and cost outlook for the next decade – similar to a strategy that Barrick just deployed. Also released was the initial Libertad Complex Preliminary Economic Assessment ("PEA"), which provided many details. The best summary of this future outlook is given by the following sentence from the August 11, 2020 press release which gives details for production open pit material only at the Limon Complex:
"Based on the Mineral Reserves and expected conversion of the Mineral Resources, the outlook for the Limon Complex is expected to process 500,000 tonnes of mill feed and deliver between 50,000 and 70,000 ounces of gold production a year at AISC (1) of between $900 and $1,000 per ounce for the next 10 years (beginning in 2021)."
(1) Summarized definition – CXB defines AISC as the sum of Total Cash Costs (derived from the definition set out by the World Gold Council), sustaining capital (capital required to maintain current operations at existing production levels), capital lease repayments, corporate general and administrative expenses, exploration expenditures designed to increase resource confidence at producing mines, amortization of asset retirement costs and rehabilitation accretion related to current operations. 
Additionally, annual gold production is bolstered by gold ore, which is trucked to the Libertad Complex for processing.
The PEA shows that for 2021 to 2023, the average annual gold production is expected to be 120,000 ounces, produced at All-In Sustaining Costs (AISC) of $906. 
Looking out a bit further, the cumulative, after-tax free cash flow for 2021 to 2025 is:
$216 million at $1,500 gold

$319 million at $1,800 gold.
It is also important to note two important and potentially game-changing areas where even more value can be added. These are exploration and excess milling capacity.
On the exploration front, near-mine and infill programs are designed to provide additional mill feed. Secondly, any new ore developed will not have to wait to be processed. There is significant surplus mill capacity that could process upwards of 1,500,000 tonnes. The importance of having excess mill capacity in a rising gold market can not be understated. 
Usually, mine expansion follows a rather long time – even when it is done "quickly." 
This is because there are typically long lead times to secure key pieces of equipment. As we are all aware, the current operating environment is particularly challenging due to the uncertainty of supply lines. It is not the best time for building a new mine. 
CXB is well ahead of its peers by having the luxury of excess mill capacity.
An Unexpected Bonus for Shareholders: The IAMGOLD Transaction
A third way for CXB to add value was demonstrated when it acquired the remaining 70% interest in the Eastern Borosi Gold-Silver Property from IAMGOLD. The transaction includes payment to IAMGOLD of CXB shares, cash, and a 2% NSR royalty. Details of the purchase can be found on the CXB website.
The purchase is significant as it consolidates CXB's control over a low-sulphidation, epithermal that hosts numerous high-grade, gold-silver vein systems. 
These vein systems currently host around 700,000 ounces of inferred gold resources. The entire system is open for expansion and hosts numerous undrilled targets. 
It is shaping up to be an exciting exploration season for CXB.
Mining Analysts Continue to Upgrade Price Targets
The forward progress made by the CXB team has not gone unnoticed. Several mining analysts have recently "crunched the numbers," and they have reached a unanimous conclusion: CXB has more upside to its share price to reflect fair value.
Here are the firms that are recommending CXB and their corresponding price targets, in CAD:
Canaccord – $3.10
PI Financial – $2.70
Raymond James – $2.70
Haywood –  $2.30
Readers may contact these firms to obtain a copy of the current research reports, as well as each firm's disclosure policy.
Summary and Wrap-up
We began this update on CXB with the phrase "A Perfect 10". Now you see why. The management of CXB continues to deliver. There is widespread, independent recognition of their progress via analyst reports.  
However, the final arbiter of value is the market itself. Let's check out the stock chart and see what it is telling us.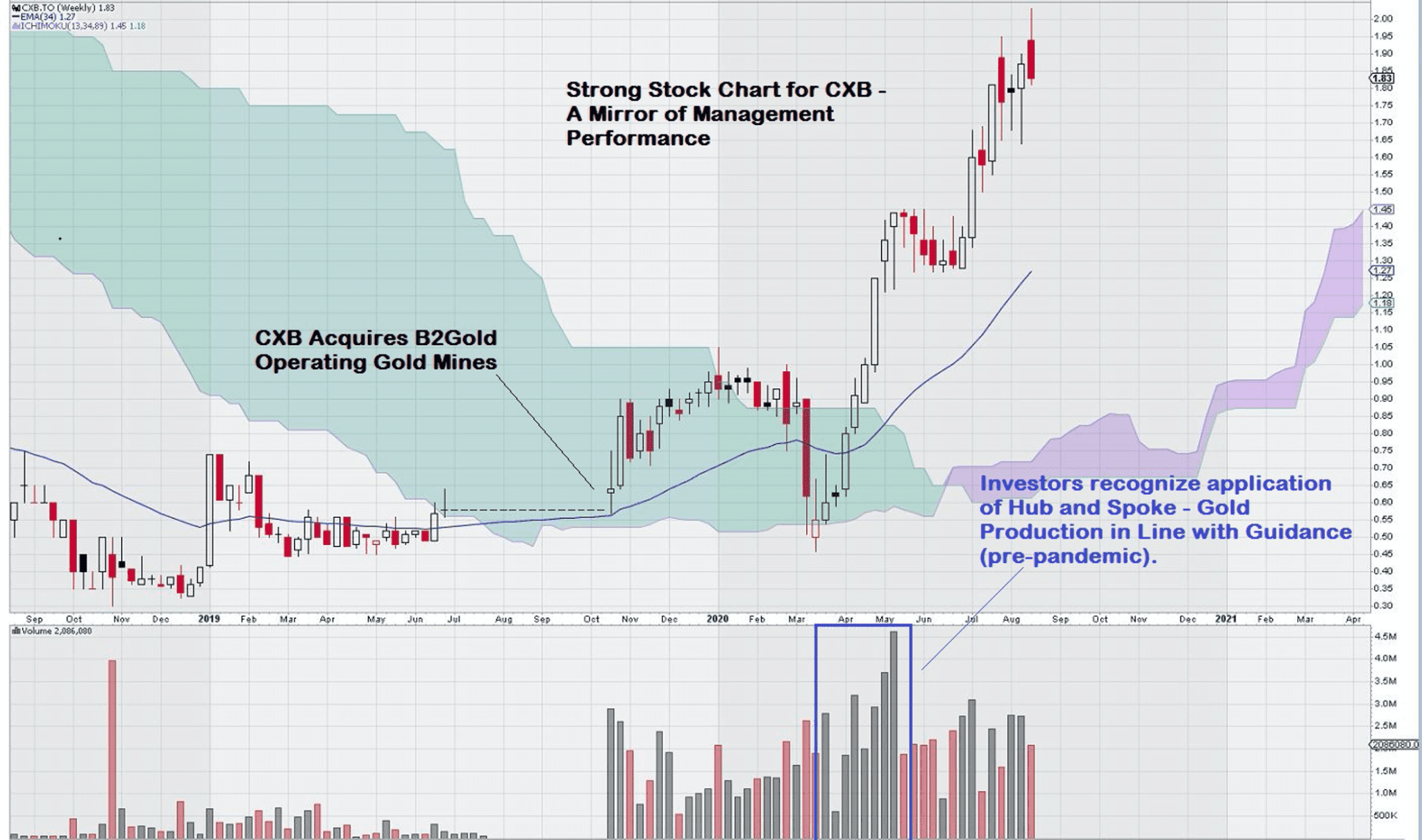 Investors who believe in a much better outcome for gold in the future will have no problem seeing how this will benefit CXB. The stock chart demonstrates that periods of market weakness are recognized by value investors who want to "buy and hold" CXB shares. 
CXB has proven that the Hub & Spoke model can deliver good results. With further exploration, even more "spokes" can be added to this "wheel of success."  
-John Top
Disclosure: CXB is an advertiser on this website. Equedia and its directors also own shares and options of CXB.