Dear Readers,
If this one event happens, the world could be in for a very disastrous and disturbing surprise.
In this Letter, I'll tell you what that event is and what to do if it should happen.
Is This a Joke?
You can't read or watch the news without hearing about Donald Trump.
The mere mention of his name and most people think, "Is this a joke?"
I promise it isn't. In fact, Trump's rise to the top of American politics will forever change the system.
I am not yet saying he will become President. But I do believe, as I have from the beginning, that he has a strong chance.
The first question is:
Why?
Then come the questions:
What will happen if he becomes President?
How should we invest?
What should we do with our financial assets?
Let's start by answering the first, since it represents the truth about America's stability.
Enter your email to get instant access (it's free!)
to this special content post:
*By entering your email, you are agreeing to our privacy policy and terms of use. You will also receive a free weekly subscription to the Equedia Letter, one of Canada's largest private investment newsletters. Don't worry, it's free and you can cancel at anytime.

Trump's Rise to the Top
When I first spoke of Trump's potential success last year, people thought I was crazy. They thought Trump's ambition of becoming President was merely a sideshow for a struggling country with numerous homegrown issues.
And at first, it was.
It gave the media something to talk about. It gave the people a distraction.
But as Trump continued his rally and gained the further support of the American people, things changed.
Trump is not only a real contender but is now at the top of the polls.
You may ask, "Why are people so stupid as to vote for Trump?"
"He has no political background."
"What does he know about running a government?"
"Have you heard the things he has said?
But none of the above matter anymore.
You see, voters aren't simply voting for Trump; no, they are voting to fight back against the regime of corrupt politicians, greedy bankers, and manipulative oligarchs, who together represent the Establishment.
Just as Canadians voted for change when we elected Justin Trudeau as our Prime Minister, the American populace is leaning towards Trump because they too want change.
In fact, I find it quite odd how many of us Canadians laugh at America's support for Trump.
We elected Justin Trudeau – a man without any history of hardship, leadership, or political background. I am not saying Trump is a better leader, but from the perspective of accomplishments, he has Trudeau beat.
Yet, here we are laughing at American politics.
Instead, what we should really be doing is looking at why Americans are supporting Trump.
What do you think of Trump vs. Trudeau?
Who has accomplished more?
Let us know what you think by CLICKING HERE
Fighting Back
For years, I have written about how big banks gained control of society via our financial markets and the manipulation that go on within.
I have been able to use that information and turn it into something positive by making investments based on the fundamentals of what I believe is really happening, as opposed to what the media tells us is happening.
But the majority of Americans haven't been able to do the same.
The majority of Americans have been sitting on the sidelines, struggling to pay the bills while watching the following headlines splash across the news:
Corporate profits soar to new highs
Stock market soars to new highs
Number of millionaires in the US soar to new highs
The media hasn't exaggerated those statements; those are all true.
The stock market is at an all-time high and corporations are raking in the profits. And there certainly are more millionaires in the U.S. than ever before.
But guess what? There are even more people without jobs and homes – many more.
Those without jobs and those barely making ends meet, are watching the news and seeing how great things are supposed to be.
And they've had enough.
They're tired of the lies the media has been spilling about the economy. They're tired of the years of deceit.
That is why they are voting Trump.
Trump, despite some of his controversial views, represents anti-establishment.
We generally have this idea of Republicans being all for profit and capitalism that they forget the little guys. Billionaire Trump most certainly fits this character.
But people are starting to realize that Democrats are no better. In fact, since 2008, they have raised and spent more money than the Republicans by hundreds of millions.
If you take a look at the amount of money from funds, corporations, and celebrities that have gone to support Democratic campaigns, you would see that the numbers are quite high.
For example, billionaire George Soros – who is shrouded by evil conspiracies – has already given Hillary Clinton and other Democrats this election cycle more than $13 million.
In the last mid-term elections, Liberal hedge-fund billionaire Tom Steyer poured nearly $74 million to support the Democrats.
These are the same fund managers that are the target of anti-establishment voters. And as we all know, in the world of finance, no one pours that much money without expecting a return.
Perhaps that's why, despite less campaign spending, Trump is killing it.
The Strongest Campaign in History
Trump has capitalized on the years of anger and disillusionment of the voters to propel one of the most powerful political campaigns we have ever seen.
According to mediaQuant, and via New York Times, Trump has managed to achieve close to $2 billion worth of media attention since he began his campaign. That's about twice the all-in price of the most expensive presidential campaigns in history. It's also more than twice the estimated $746 million that Hillary Clinton, the next best at earning media, took in.
In February alone, Trump earned as much media as Ted Cruz and Hilary Clinton combined.
You may be thinking, "That's because he has so much money, and so many rich friends to pay for his campaign."
Well, actually, that couldn't be further from the truth.
Take a look at this: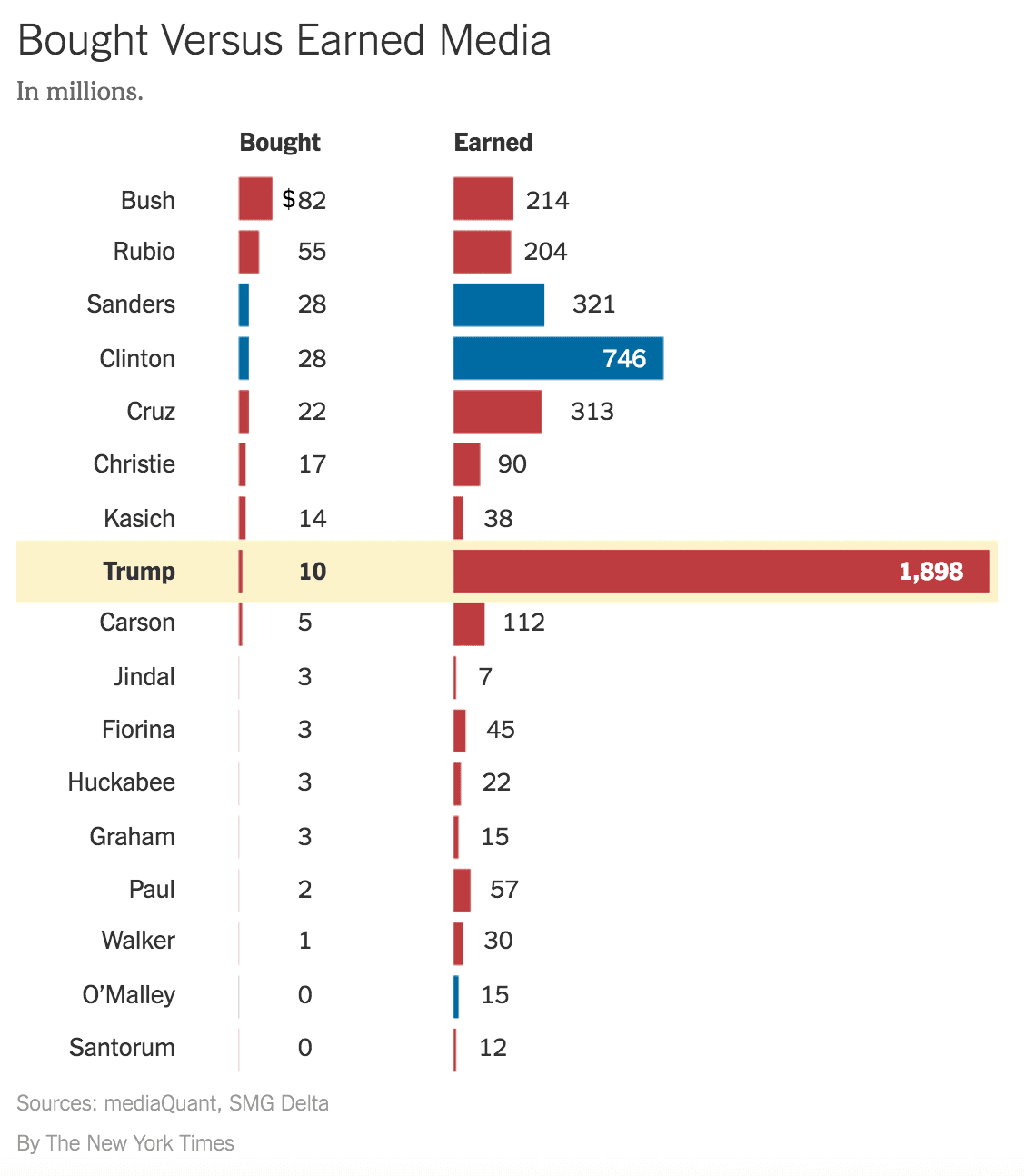 The above chart represents the amount of bought and earned media by the candidates in the 2016 election.
Trump has not only spent significantly less on media than his adversaries, but he has also gained significantly more than any of them – by a wide margin.
So much so that this week, Trump beat Rubio in his home State of Florida; thus, giving him the support of a majority of Republican primary voters nationwide.
What do you think of Trump's media triumphs?
CLICK HERE to Share Your Thoughts
Trump's momentum continues and anti-Trump Republicans are now preparing with all their might to stop his train.
But can they?
Every day, more Americans turn up to support Trump.
Americans are supporting Trump because he has been telling the truth when no one else will:
America's economy is NOT what it appears to be.
Americans – the ones who are sitting at home watching the rich get richer while they get poorer – want the truth exposed. And they are voting for Trump because he is exposing the truth about the American economy.
Hence Trump's slogan, "Make America Great Again."
But if Trump is indeed the anti-establishment leader he is making himself out to be, and continues to gain support, what then?
The Attack on the Establishment
For all we know, Trump, the master of the deal, may have already struck a deal with the bankers and politicians.
But as we know right now, Trump is anti-establishment and anti-globalization.
If Trump is elected under that presumption, we're going to see the building blocks of the Establishment and globalization come under attack, and they won't like it.
They will fight back, leading to major conflicts including riots, protests, and potentially even war and assassination attempts. It is quite possible that the Establishment might even be allowing Trump to succeed in order to cause chaos to show the people that the Establishment is a necessity once all hell breaks loose.
What I write may be difficult to grasp at first, but as time passes, the light will shine. Just keep in mind that throughout American history, whenever the Establishment has been challenged, it has always been followed by bear markets and economic contractions.
What do you think will happen if Trump is elected as President?
CLICK HERE to Share Your Thoughts
Market Outlook
For now, things remain bubbly, and the market continues to be propped up by Fed-induced euphoria and corporate share buybacks.
This week, the Fed left rates unchanged, just as I said they would over a month ago in a past Letter:
"…Those who believe the Fed will raise rates in March should think again. Unless the Fed and the banks are directly planning to steal assets through defaults, a rate hike in March is highly unlikely."
If you have been reading my Letters over the past years, front-running the Fed has been a great trading strategy almost every time.
On Feb 11, just a few days after I said the Fed would leave rates unchanged, the S&P 500 closed at 1829 on fears that the Fed may raise rates since the "numbers" were looking good.
Today, the S&P 500 sits at 2049 – that's a profit of more than 12% from a major index in less than a month.
Now do you see why hedge fund managers and the like have poured so much money into Democratic campaigns?
Corporate Buybacks
Over the last few years, I talked about how corporate share buybacks have continued to grow at record pace and how much of the buybacks have been purchased with borrowed money from – you guessed it – banks.
Via How the Fed Influences the Stock Market:
"…Share buybacks continue at record pace, and I expect billions of dollars in transactions over the next few months alone.
But there's even more to this story than what the face value suggests.
While the headlines tell us of record cash holdings at corporations (giving the illusion sales are great), what they don't tell us is that US corporate cash holdings are at the lowest level relative to corporate debt.
…companies aren't borrowing money to hire new workers; they're borrowing record amounts of money just to give away to shareholders."
And Via The Great US Debt Rotation:
"The companies in the S&P 500 are poised to spend more than $1 trillion on buybacks and dividends in 2015, shattering the record set last year, according to a new report.
Corporate buybacks have been surging since the financial crisis, with S&P 500 companies spending nearly $2.3 trillion on them since 2009, according to a new report from Aranca Investment Research. Last year's $553 billion in repurchases fell just short of the peak reached in 2007 while the $904 billion spent on buybacks and dividends combined set a new record, Aranca said."
And just as I predicted, these buybacks haven't stopped.
Via Bloomberg this week:
"Demand for U.S. shares among companies and individuals is diverging at a rate that may be without precedent, another sign of how crucial buybacks are in propping up the bull market as it enters its eighth year.
… Assuming Bank of America maintains a roughly 8 percent share in the total buyback pool since 2009 and the pace of transactions last through the end of March, corporate repurchases may reach $165 billion this quarter, data compiled by Bloomberg show. That would bring the 12-month total above $590 billion, an amount that's higher than the record $589 billion in 2007."
And more from WSJ:
"U.S. companies authorized $158 billion of new stock buyback programs in January and February, according to Birinyi Associates Inc. While there is no guarantee the rest of 2016 will maintain such a pace, it marked the best start to a year since the research firm started tracking this data in 1984."
As investors pull money out of the market, corporations are using their own cash to buy back shares in order to prop up the value of their companies – instead of using that money to invest in infrastructure and, of course, hiring more workers.
With the Fed once again showing the true colours of the economy by leaving rates unchanged, the demand for safe-haven investing is coming back.
Gold and Silver
Last year in July, I wrote in a report:
"Commodities, resources, and precious metals have continued their slide, crippling the majority of the Canadian market.
That's why over the past year, I have told my readers to stay away from the Canadian market while looking to the US market that was, and still is, hot.
This week was one of the worst weeks for gold, as a bear raid forced its price down to the lowest level in five years. It sent the benchmark Philadelphia Stock Exchange Gold and Silver Index of the largest producers to its lowest since 2001.
But shortly after the last time we witnessed panic selling like this, the leading gold-stock index more than quadrupled in value, and many of the smaller gold miners with strong fundamentals climbed even higher.
Gold stocks are now trading at fundamentally ridiculous price levels today and have never been cheaper relative to the gold price itself. This is an anomaly that simply isn't sustainable.
Which is why I believe that gold's actions this week may have just set us up for an incredible opportunity. It couldn't have been timed better."
The Company I mentioned in the report was New Market Gold (TSX: NMI), which at the time was trading at CDN$0.82.
Today, the Company's shares are trading at CDN$2.31, an increase of over 181%.
During that same time, the Market Vectors Gold Miners ETF, GDX, was trading at US$13.57 on July 27, 2015.
Today, the GDX sits at US$20.61, a gain of over 50%.
As the risk-on mentality begins to lose support, it transfers over to the support for gold and silver stocks.
In fact, silver may also be looking to break out.
Via Bloomberg:
"Investors own the most silver in exchange-traded products in seven months, boosting holdings from a three-year low."
Could these investors be preparing for a big silver run?
Perhaps.
Last week, China became an official participant in setting prices for one of the world's most important precious metals markets: London Bullion Market silver price.
Via USA Today:
"…one of China's largest banks just became a member of an elite group of players that controls fluctuations in this key metal.
CME Group, which runs the process for price setting of silver in London, said Sunday that China Construction Bank will officially join as a member of the silver price process. Putting it alongside existing participants HSBC, JPMorgan Chase, The Bank of Nova Scotia, Toronto Dominion Bank, and UBS.
These groups will now participate in price bids that go into setting the official London silver price. The first time that China will have direct influence on this process.
The expansion into China in itself is significant. And the entry of China Construction Bank into the market could also have some other important consequences for precious metals.
…Especially when it comes to currencies. With the Chinese bank having said it will support the development of renminbi-denominated futures contracts for physical delivery in London.
Such products would represent the first time that physical silver can be bought and sold here in China's home currency. A move that could reduce the longstanding relationship between the U.S. dollar and precious metals prices."
Silver is still trading at a low of US$15ish per ounce, but I suspect we could see this price move to the upside soon. Perhaps that's why silver stocks have been on the rise.
The smart money is piling in, and I think the move has just begun.
Seek the truth,
Ivan Lo
The Equedia Letter
www.equedia.com
Disclosure: We're biased towards both NexOptic and Newmarket Gold because they are advertisers. We also own shares in NexOptic which were purchased both in the open market and in the private placements announced on Feb 14, 2014 and Sept 21, 2015. You can do the math. Our reputation is built upon the companies we feature. That is why we invest in every company we feature in our Equedia Special Report Editions, including NexOptic and Newmarket Gold. It's your money to invest and we don't share in your profits or your losses, so please take responsibility for doing your own due diligence. Remember, past performance is not indicative of future performance. Just because many of the companies in our previous Equedia Reports have done well, doesn't mean they all will. Furthermore, NexOptic, Newmarket Gold and their management have no control over our editorial content and any opinions expressed are those of our own. We're not obligated to write a report on any of our advertisers and we're not obligated to talk about them just because they advertise with us.