A gray-haired woman is sifting through sweet potatoes drying in the sun. 
Lush mountains at her back. Chickens cluck in the background.
She's a humble farmer from a remote Chinese village near the city of Lishui.  
Yet, hundreds of thousands of people tuned in to watch her today.
But they didn't pop on some travel program on Netflix. Instead, they are watching her live on Kuaishou, the most popular social media app in rural China. 
And this live show is "shoppable," like a QVC infomercial.
At the bottom, there's a shopping cart button. Tap it, and these sun-dried potatoes and other farm delicacies will be at your door within hours.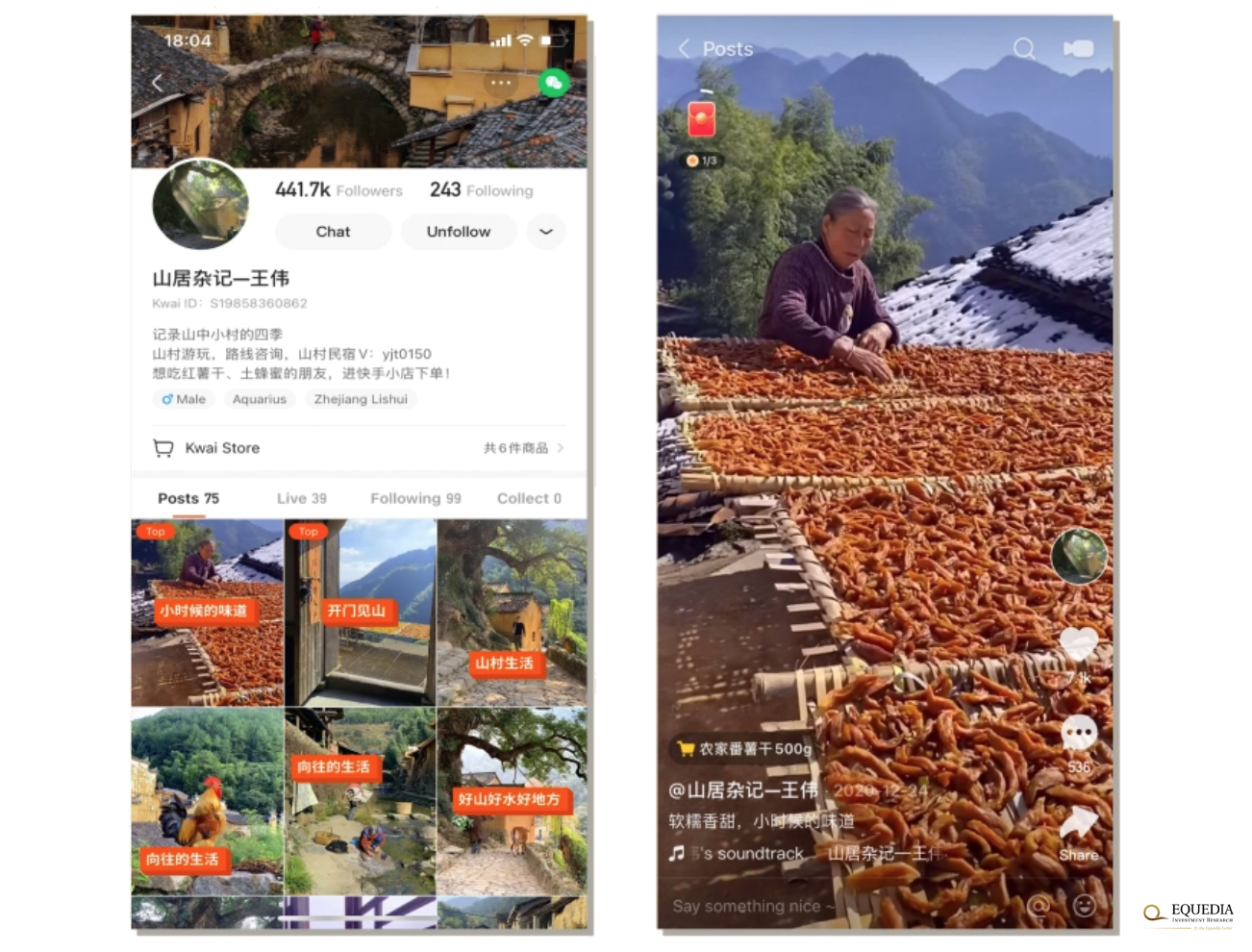 That's a whole new concept of shopping online that's spreading across China like wildfire.
It's called live commerce. 
A lot of investors aren't aware of it because it's not here yet. But mark my words, it will soon take the world by storm and forever change how we shop.
Now, there's one under-the-radar stock that's bringing this megatrend into the West. It's run by an elite team, including an ex-lead engineer and one of the founding employees from TikTok.
And it gives you a rare chance to get in on the ground floor of this retail revolution. 
I'll tell you about the company in just a bit. But first… 
Chinese Farmers Host Alibaba's Shows?
Seen this tweet? It's been making the rounds on the internet for a while… 
Influencer training school in #china #InfluencerMarketing #DigitalMarketing #marketing #kol #advertising #ecommerce #LiveStreaming https://t.co/SVU1rEEpEr

— Alvin Foo (@alvinfoo) November 28, 2020
That's a clip from one of the "influencer" schools in China. In short, it teaches folks to host live shows on social media (in other words, become a "streamer").
A lot of people who aren't familiar with China's market laughed it off as "dystopian" or even "outright stupid." And with good reason.
Here in the West, most streamers are either celebrities (aka influencers) or entertainers. A school that supposedly makes you one may seem like a fad preying on folks desperate for fame.
But in China, streaming has little to do with entertainment and fame. Instead, it's one of the fastest-growing professions.
In fact, it's so in demand that China's e-commerce giant, Alibaba, built over a hundred schools in China's villages where it trains farmers to anchor their live shows.
I'm sure by now you've got a lot of questions. 
For starters, what do farmers have to do with Alibaba? And why on earth is an e-commerce company putting up live shows?
Let me back up a bit…
Alibaba Invents New Way to Shop Online
It was 2016, and live streaming was catching on in China.
Millions of people began recording themselves doing all sorts of things in real-time—from gaming to applying makeup. Live shows became big entertainment on the Chinese internet.
So, Alibaba's Taobao (China's Amazon) decided to hop on the trend and integrate live streaming into its online store.
As a pilot, they launched Taobao Live – a new kind of online store where people could host live shows from their phones… show off products from Taobao's immense catalog… and sell them to their viewers in real-time. 
Little did they know this little offshoot would set off a new retail revolution…
Retail Disrupted…Again
Today, Taobao Live commands tens of thousands of "anchors"—from farmers to celebrities—who host live shows on 2,000 channels every day. Since the launch, they have sold more than $200 billion worth of products.
And if that's not enough to get your attention, take the last Singles Day— the "Black Friday" of China.
Last October, Viya, China's #1 internet influencer, went on TaoBao Live, drew 150 million fans, and sold over $719 million worth of products. All in a single day! 
Think about it. 
One influencer sold nearly as much in one day as Amazon averages per day – which includes holidays and Prime Days! And she was just one out of thousands of other live streamers selling that day.
In other words, Taobao Live has proven live streaming works like magic in retail. And now, every tech giant in China is working shoppable live shows into their platforms:
China's social media giants, Douyin (China's TikTok) and Kuaishou, added shopping carts to its live streams soon after Tabao Live's launch

Pinduoduo and JD, Taobao's main competitors, followed its lead and integrated live shows into their stores in 2019 and 2020.

And there are 

hundreds

 of smaller tech companies that have launched niche live commerce apps.
In all, live commerce is already a $350 billion industry in China. For perspective, it claims 1 out of 10 dollars spent online over there. That's huge even for a mature industry—let alone a still budding trend. 
And it's just the beginning.
A recent McKinsey study found sales from live streams in China are growing 280% every year. At this rate, live commerce will soon be a multi-trillion dollar industry claiming the lion's share of online sales… 
…which sends an important message to all investors.
After more than two decades, retail is getting disrupted again. It's shifting away from static, Amazon-like product catalogs, to interactive live shows. 
I'm convinced live commerce is the future of retail. And there's one way to invest in it on the ground floor…
OOOOO: the Taobao Live of the West
(TSX-V: OOOO)

OOOOO Entertainment Commerce Ltd. (TSX-V: OOOO) is an under-the-radar tech company based in the UK that's ripped a page out of Taobao's playbook to bring live commerce into the West.
In short, it's a mobile commerce platform, running a mobile app that features QVC-like channels – a network of channels starring real people, where everything you see is shoppable. Each channel is devoted to a particular product category. And each airs live shows where pre-vetted anchors demo various products for sale.
For example…
There's Toys.tv where you can see live demos of drones flying over buildings, RC cars racing against each other, and all kinds of other cool toys in action. 
Then there's Cosmetics.tv, where professional beauticians show off the best-selling hair products and makeup this fall.
There's even fish.tv that can show you around the oldest fish market in London.
And everything you see on those channels is shoppable. 
There's always the "buy" button on your screen. And if something catches your eye, you don't have to go to Amazon or Ebay. You don't have to Google it out. 
You just tap "buy" and get the product delivered to your door without ever leaving the app. 
Take a look: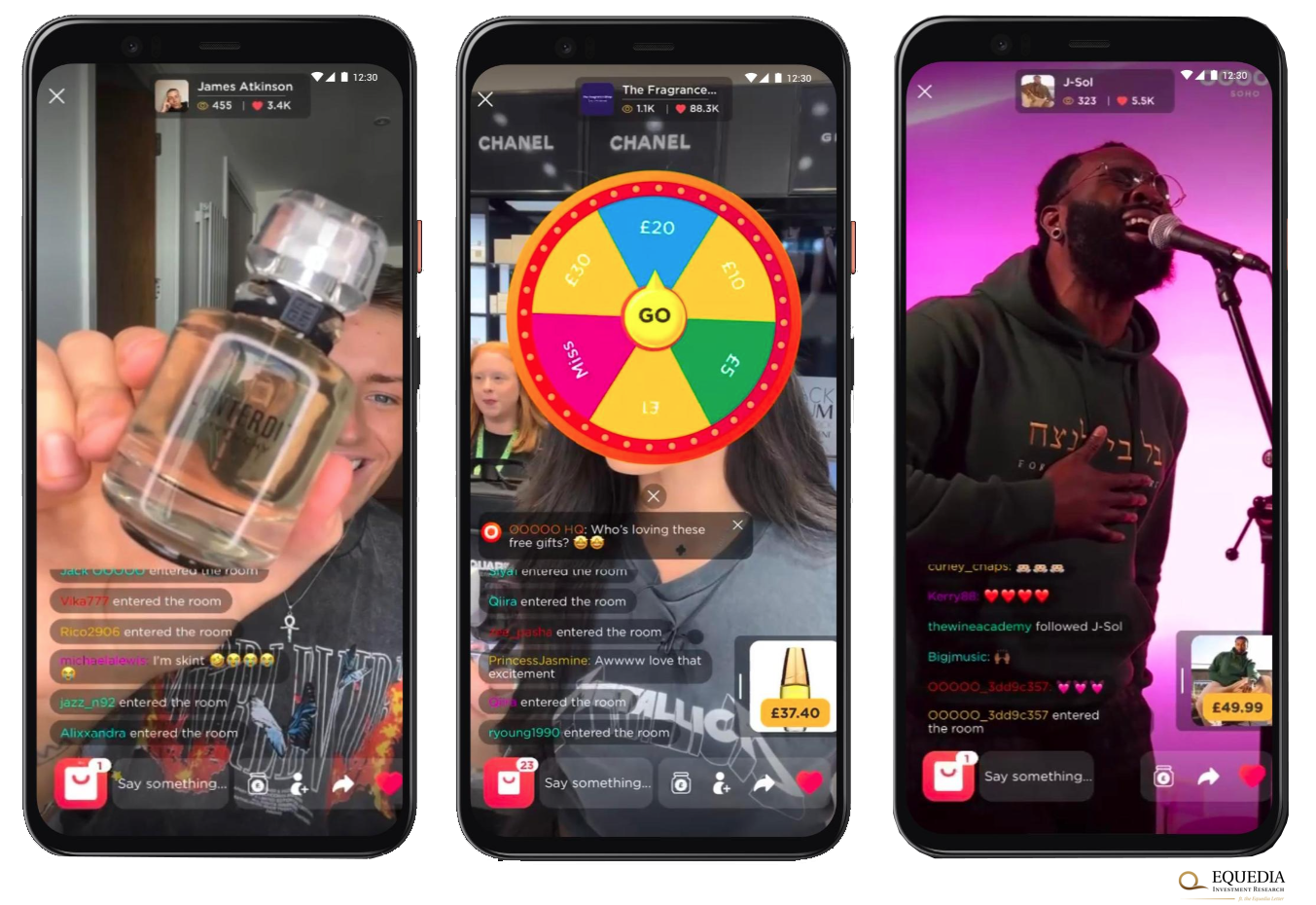 But OOOOO (OOOO) is more than just an app aggregating a bunch of QVC-like channels on your phone. It's what I call a budding "entertainment commerce" empire.
QVC Meets TikTok and Netflix
Apart from the app, OOOOO (TSX-V: OOOO) runs a Hollywood-like production house.
The company is setting up studios around the world armed with pro staff who can direct TV-grade production. They also film entertaining live shows on-site from the most authentic places on earth. 
For example, their "drinks" channels broadcast live drink-tasting events at renowned wineries from all over the world.
And nearly half of the channels in the app have nothing to do with infomercials. This is entertainment first, shopping second.
If you tune in to OOOOO's music channel, you can listen to indie bands perform live. And on School.tv, you can learn about, say, the Napoleonic Wars from a Harvard graduate.
It's like Netflix, only live…and interactive.
See, OOOOO's app offers its hosts a ton of features to engage its viewers. So they don't just watch shows – they participate in them.
There's tipping, which is now all the rage on social media. There are TikTok-like split-screen conversations, games, give-away prizes, "hot or not" quizzes, and real-time Q&As.
In other words, OOOOO is like QVC entered into a polygamous marriage with TikTok and Netflix. 
It took the selling power of a home shopping network and blended it with the entertainment of the media and interactivity of a social network. It's a stellar sales machine. 
And it's taking off… 
OOOOO Is Catching On in Europe
In less than two years, OOOOO (TSX-V: OOOO) has grown into a company streaming live shows every day. It's growing an army of "anchors" who have just begun selling products in the UK.
And at one point, OOOOO even beat Amazon on the UK's AppStore by app downloads.
That's starting to turn the heads of European retailers and brands. Last month alone, OOOOO brought onboard three giant retailers:
Ann Summers—one of the biggest lingerie retailers with annual revenue of $150 million

JD Sports—the UK's $10-billion-dollar-plus sports clothing retailer, selling brands like The North Face, Adidas, and Nike.

Missguided—a UK-based multinational women's fashion retailer with stores in Australia, the U.S., France, and Germany
I am betting that many more deals are coming.
But that's not all.
In addition to the retail partners, OOOOO (TSX-V: OOOO) has created a joint venture with Brazilian retail marketplace B2W, one of the largest online retail companies in Latin America and the first company to launch live e-commerce in Brazil.
And get this…they are pulling all this without spending a single dollar on advertising.
OOOOO is growing so fast because it has created a unique platform that rewards every stakeholder in modern commerce: brands and retailers, social media creators, as well as shoppers.
Think about it.
On one hand, you've got a brand or retailer who needs to sell stuff on the internet. 
They can set up an online store, hire a team of marketers, pay truckloads of money for influencers to praise their product on social media, and hope those endorsements eventually translate to sales. 
Or they could partner with an online store like Amazon, which shoves your product onto a catalog along with literally millions of other products. 
Either way, the process is expensive and fragmented.
On the flip side, you've got millions of social media creators who voluntarily stream live shows about things they love, such as cosmetics or tech gadgets. They draw tons of eyeballs and yet earn very little.
Sure, they might have an Amazon-affiliate link and make a very small cut. And, yes, they may get sponsorship deals from time to time. But they are sporadic, and the process is tedious: you've got to negotiate terms, fill out paperwork, and do it all over again with each deal. 
In the end, most of their streaming time is not monetized.
This is where OOOOO comes in. 
OOOOO can instantly put any product in the hands of thousands of credible influencers who will demo it out to millions of engaged shoppers from all over the world. And the retailer only pays a commission on actual sales. 
It's a no-brainer.
Meanwhile, social media creators get the tech, products, and most importantly, a ready-made audience of shoppers to put up interactive live shows, sell stuff, and earn in real-time. 
In other words, OOOOO instantly turns any "bedroom influencer" into a QVC anchor who can make a living from their shows. 
It's a win for shoppers, too. 
Shopping on OOOOO is more fun than sifting through Amazon. Instead of gazing at static images, you can watch live demos, play games, get advice, deals, and more—and all in one app.
Look at how successful reality tv has become. Look what the ultimate fighter did for the UFC. And then taken a step further, look what American Idol has done with live voting. The more the audience can participate, the more valuable the show becomes.
Imagine those demos at Costco being aired live, with every audience member able to buy that product without ever leaving their homes.
Imagine a fishermen live-streaming a 1000-lb tuna catch, and then being able to buy a piece of that tuna.
Imagine watching your favourite athlete train live, being able to ask him/her questions, and then buy the exact equipment they're using.
You get the point.
The Kardashians of the Tech World
There's a long-held rule in business. Idea is 10%, execution 90%. 
It's true. There are plenty of billion-dollar ideas. Yet, there are very few billion-dollar businesses. That's because anyone can come up with an idea, but bringing the idea to life takes people with exceptional skill.
So, when I vet early-stage companies, I'm more interested in the people who run the show rather than the business itself. And while I love OOOOO's business model, it's the team that I'm banking on here. 
Its founders are like the Kardashians of the tech world….
Sam Jones, CEO of OOOOO, is a serial entrepreneur who's successfully built three tech companies. 
He began his career in Accenture, which is the Harvard of tech consulting. And before starting OOOOO, Sam was the Managing Director of Marketing at Wish.com—the third-biggest online store in America.
The other co-founder, Eric Zhang, is a tech legend. He was one of the first ten employees in Musical'y in Shanghai (now TikTok) who built an AI engine that glued over a billion folks to mobile screens.
Eric started his career as a mobile software engineer at Huawei before becoming a founding member of the Musical.ly startup team as an engineering team lead, helping grow from 0 to 10 million daily active users.
Post the acquisition of Musical.ly by Bytedance, Eric was a leader across Douyin and Tiktok research and development teams, to promote user growth in all major markets.
Now he's using that skill to turn OOOOO into the world's most addictive online store.
Then there's Tom Judge, who brings a wealth of management experience from Rocket Internet, a nearly $4 billion company, where he led their operations, technical and customer service teams. In addition to Rocket Internet, Tom played an instrumental role in several highly successful technology start-ups that have either been acquired or gone public.
Best of all, the team is very in touch with the whole live commerce culture. The management is split between UK offices and Shanghai, where they get to experience this retail revolution in-the-making firsthand.
They learn from it, Westernize its features, and export it to the UK and other markets.
A Massive Untapped Market
It's very rare that you can invest in such a rock star tech company so early on. 
Such companies often go public at later stages with valuations in the billions. And by the time their shares make it to your 401k or RRSPs, venture capitalists claim most of the upside. 
That's not the case with OOOOO. 
OOOOO is only an 18-month-old company that's barely taking its first baby steps. The app is just testing waters in the UK and Brazil. And the stock hovers near its initial go-public price, at about a ~C$50 million valuation. 
That's spit in the ocean compared to the market they're taking on.
I spoke with Sam the other day. 
In the coming year, they are scaling to the US, Western Europe, and Australia. In all, they are going after a market turning over $2.2 trillion online every year. 
And Sam is convinced they will claim a big enough slice of it to hit a billion-dollar valuation within 24 months.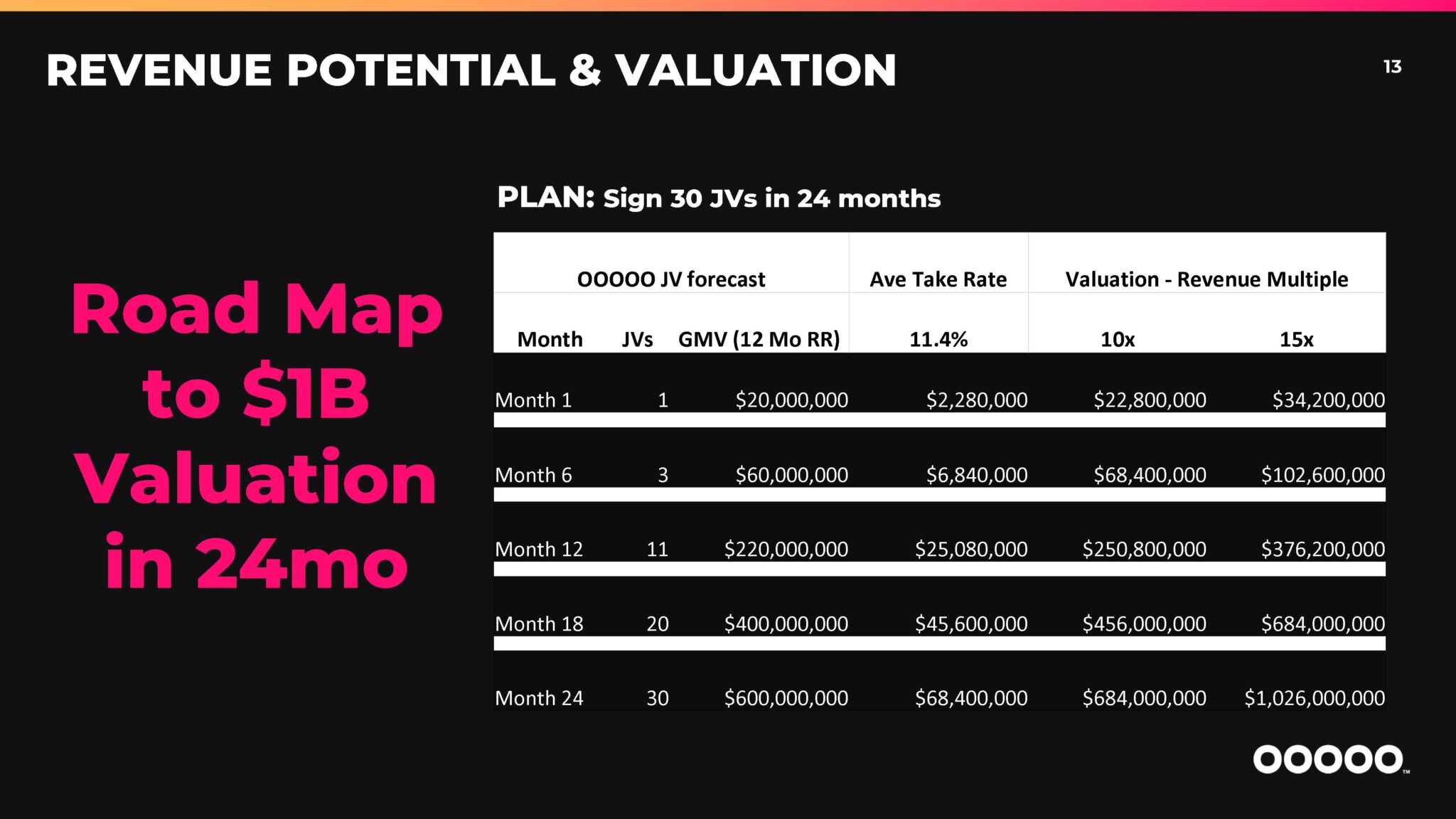 Obviously those are massive numbers. But I could tell by Sam's tone that he wasn't bluffing or just confident – he was convinced.
But you don't have to take his word for it.
For reference, just look at some Chinese stocks that are nailing live commerce to see how pricey they can get:
Pinduoduo, the third-largest e-commerce store in China, is valued at $118 billion; that's 2185X OOOOO!

TikTok's clone Kuaishou—which IPO'd this year and crashed 80% during Xi's tech crackdown—is still worth around $50 billion—1000X OOOOO
Xiaohongshu, a small product-review site whose concept is closest to OOOOO, is privately valued at $10 billion—200X OOOOO.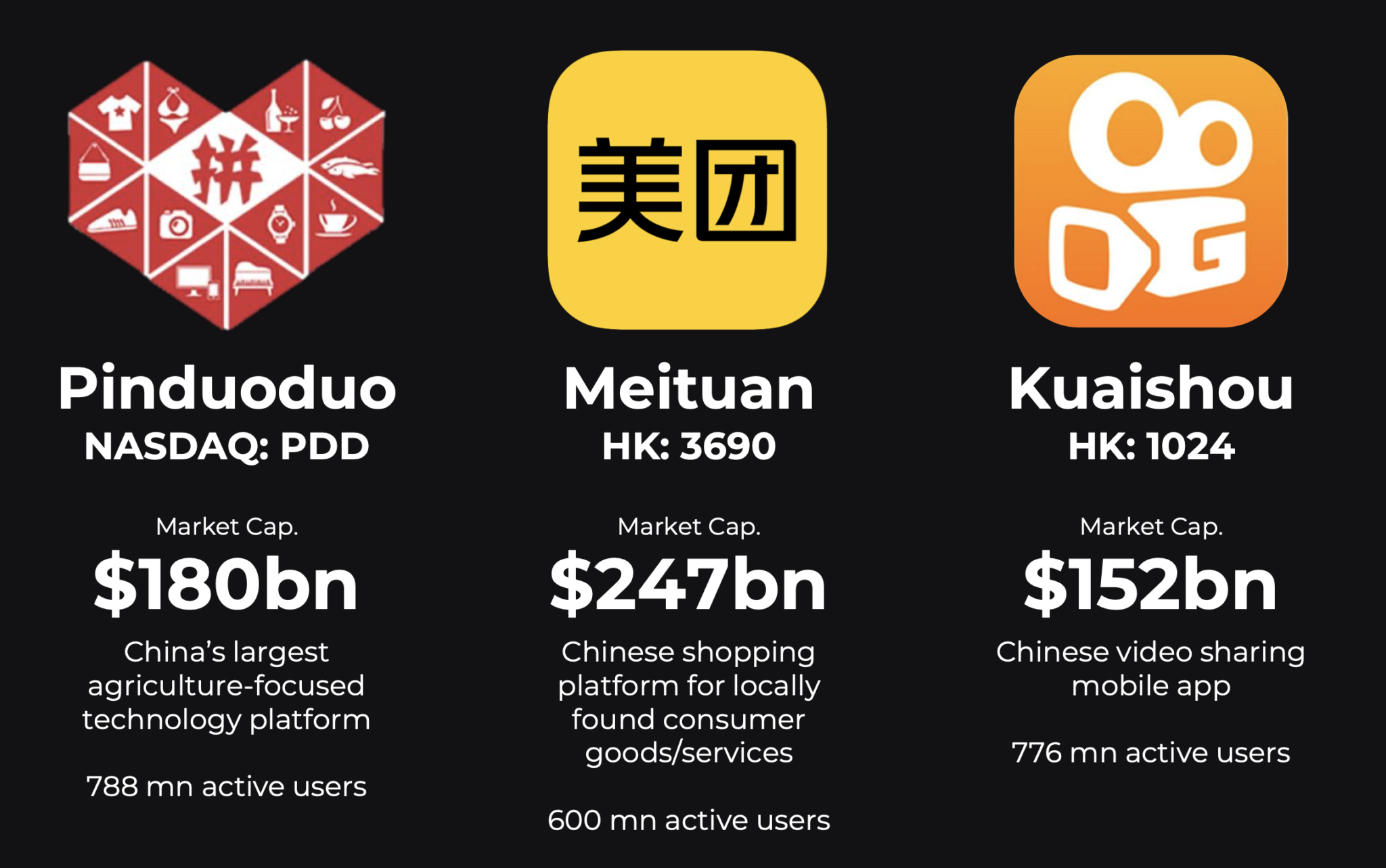 As you can see, OOOOO (TSX-V: OOOO) is just mere fry compared to China's live commerce whales. That means monstrous upside potential because there really isn't anything like this in the West. And the best part is…it doesn't even have to moonshot to these valuations.
If OOOO just grew to 1/100 of Pinduoduo's size, it would hit a billion-dollar valuation and potentially give you a 20X return. 
That said, I'm not going to sugarcoat it. While OOOOO has already experienced significant and rapid growth, it's still an early stage company.
And while it recently raised C$15 million, it's still a micro-cap stock that's not yet profitable. It's also only listed in Canada – although I suspect it will pursue an American listing. As such, many things can go wrong at this stage. And the stock will likely be on a rollercoaster ride for a while, given its early stage and liquidity profile.
But, if you can stomach the risk and want a piece of the West's live-streaming commerce market in its infancy, OOOOO could potentially hand you life-changing returns.
OOOOO Entertainment Commerce Ltd.
Canadian Trading Symbol: OOOO
Disclaimer:
Equedia.com and Equedia Network Corporation are not registered as investment advisers, broker-dealers or other securities professionals with any financial or securities regulatory authority. Remember, past performance is not indicative of future performance. This article also contains forward-looking statements that are subject to risks and uncertainties that could cause actual results to differ materially from the forward-looking statements made in this article. Just because many of the companies in our previous Equedia Reports have done well, doesn't mean they all will. We are biased towards OOOOO Entertainment Commerce Ltd. (OOOO) because the Company is an advertiser on www.equedia.com. We currently own shares of OOOO. You can do the math. Our reputation is built upon the companies we feature. That is why we invest in every company we feature in our Equedia Special Report Editions. It's your money to invest and we don't share in your profits or your losses, so please take responsibility for doing your own due diligence and consult your own professional advisers before investing in OOOO or trading in OOOO securities. OOOO and its management have no control over our editorial content and any opinions expressed in this article are our own. We're not obligated to write a report on any of our advertisers and we're not obligated to talk about them just because they advertise with us. For a complete disclosure of the compensation received by us from OOOO, please review our Terms of Service and full disclaimer at www.equedia.com/terms-of-use/.