Dear Readers,
There's something extremely terrifying brewing right now.
The media has mostly turned a blind eye to it, even though it should be splattered across the front page of every newspaper.
In fact, what's happening now could completely change the world in ways we can't imagine.
I urge you to read this Letter in its entirety. Perhaps after reading it, you may see things in a different light.
Here we go.
Watch the Video Instead:
Hear the Podcast Instead:
Apple Podcasts (click to download to your iPhone, iPad, or Mac): https://podcasts.apple.com/ca/podcast/may-2019-investing-through-a-nuclear-arms-race/id1462392573?i=1000440250955
MP3 (right click > save as): http://traffic.libsyn.com/equedia/May_2019_compressed.mp3
The Nuclear Arms Race
Last month, I ended my Letter, "A Most Radical Prediction," with a very dramatic hanger:
"…to correct the current global debt bubble, something massive will have to take place – something no one will be able to grasp until it happens.
During this time of radical change, countries around the world will be afraid and begin to defend themselves from the fall out of the credit bubble.
Unfortunately, massive global resets have only really occurred as a result of war.
Are we on that path?"
Call it a coincidence, but shortly after I wrote that, the world changed very quickly – and not for the better.
Just last week, a senior U.N. security expert told us that the risk of nuclear war is higher now than any time since WW2.
She called it an "urgent" issue that the world should take more seriously.
Via Reuters:
"Renata Dwan, director of the U.N. Institute for Disarmament Research (UNIDIR), said all states with nuclear weapons have nuclear modernization programs underway and the arms control landscape is changing, partly due to strategic competition between China and the United States."
Not Even Close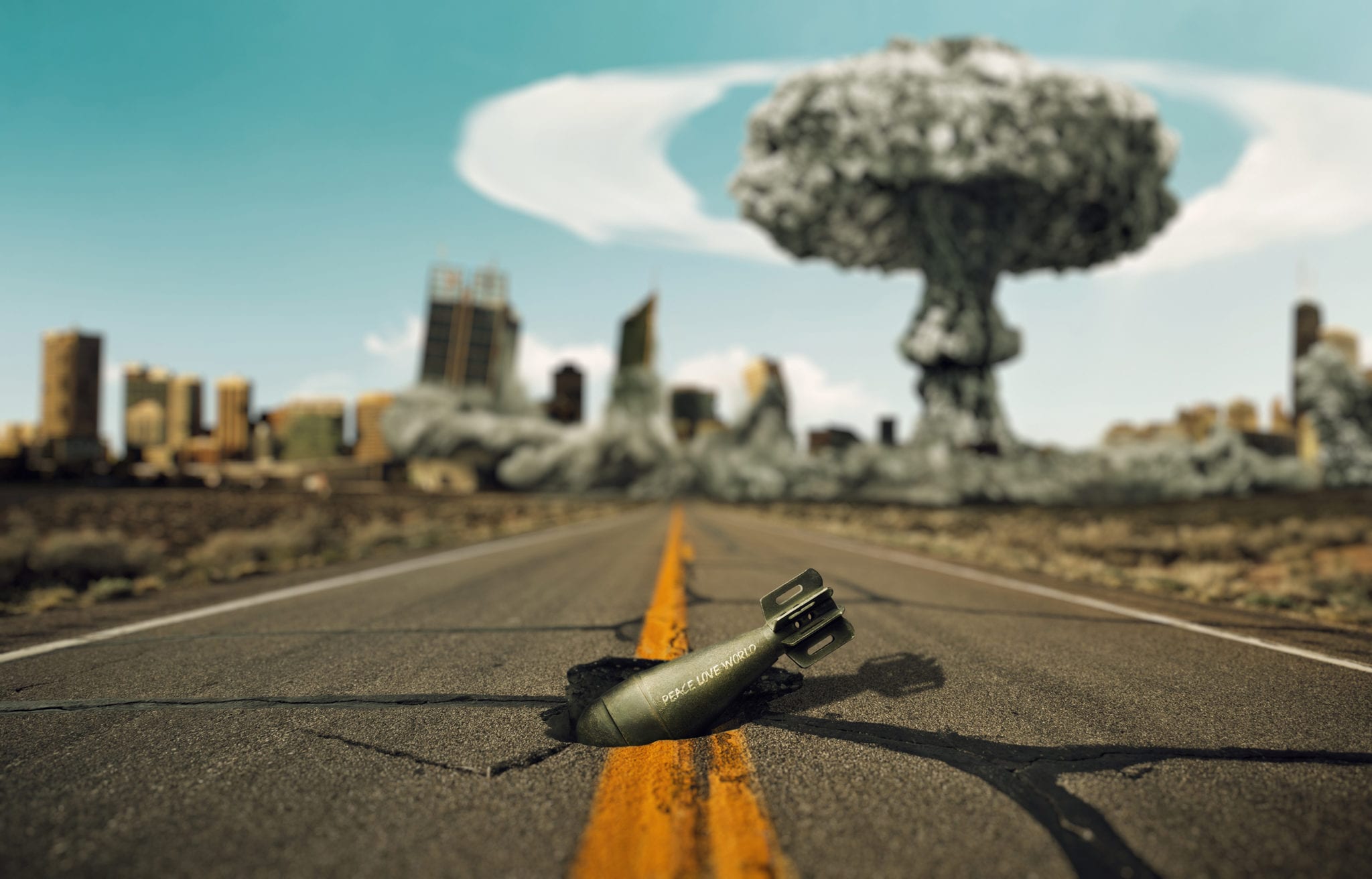 Over the past two decades, 122 countries have signed a treaty to ban nuclear weapons.
This treaty, called the Treaty for the Prohibition of Nuclear Weapons, was backed by the International Campaign to Abolish Nuclear Weapons (ICAN) – a campaign that won the Nobel Peace Prize in 2017.
But this treaty – one that makes complete sense for mankind – is not even close to being finalized.
It's not even halfway there.
The treaty has so far gathered just 23 of the 50 ratifications that it needs to come into force.
Countries such as Thailand, Vietnam, South Africa, and even Mexico have already signed the Treaty.
But the United States and Russia – and many other states with nuclear arms – have not. In fact, these power states strongly oppose it. I guess power is a hard thing to give up.
It's no wonder that since last year, the Doomsday Clock has been set only two minutes away from midnight – something not seen since 1947.
What's the Doomsday Clock?
Via the Bulletin of the Atomic Scientists:
"Founded in 1945 by University of Chicago scientists who had helped develop the first atomic weapons in the Manhattan Project, the Bulletin of the Atomic Scientists created the Doomsday Clock two years later, using the imagery of apocalypse (midnight) and the contemporary idiom of nuclear explosion (countdown to zero) to convey threats to humanity and the planet.
The decision to move (or to leave in place) the minute hand of the Doomsday Clock is made every year by the Bulletin's Science and Security Board in consultation with its Board of Sponsors, which includes 15 Nobel laureates.
The Clock has become a universally recognized indicator of the world's vulnerability to catastrophe from nuclear weapons, climate change, and new technologies emerging in other domains."
So where are we today?
Negotiation Stalemate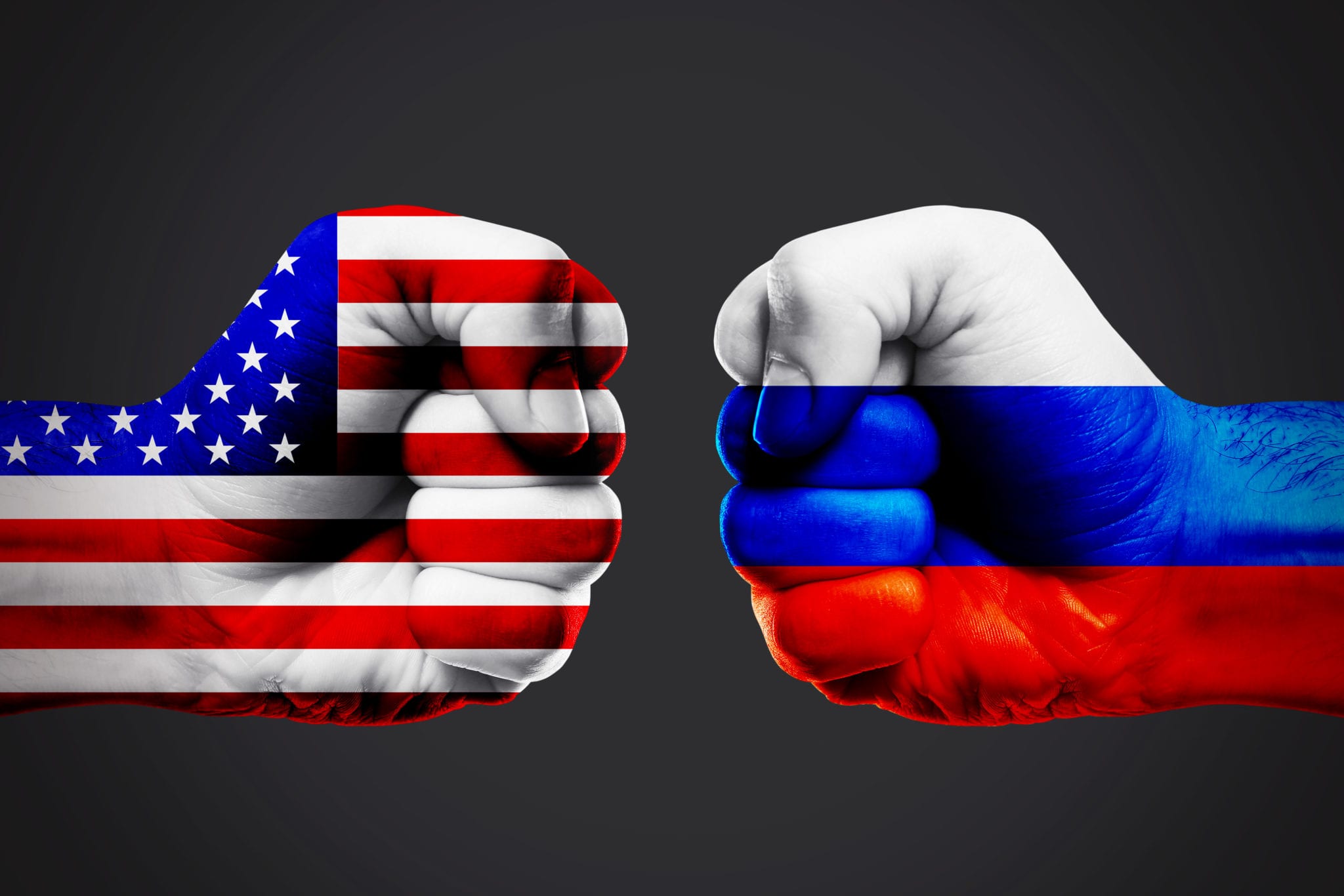 The two most powerful nuclear countries are Russia and the United States.
Russia has 6850 nuclear-capable warheads – the most in the world; the United States a close 2nd with 6550.
Both countries have been upgrading their nuclear arsenal at a staggering pace.
Russian President Vladimir Putin even bragged about Russia's new weapons last year – showing how it could destroy anyone around the world who stood in its way.
And in less than two years, in February 2021, the 2011 New Strategic Arms Reduction Treaty (New START), a massive nuclear arms treaty between Russia and the United States and the only U.S.-Russia arms control pact limiting deployed strategic nuclear weapons, ends.
It's why, earlier this month, U.S. President Donald Trump said he and Russian President Vladimir Putin discussed the possibility of a new accord – one that could even include China.
More on China in a bit.
While a new nuclear accord between the two biggest nuclear powers would ease global tensions, it seems we're much further away than we are close to an agreement.
Why?
Because the U.S. has now withdrawn from both the Anti-Ballistic Missile Treaty (ABM Treaty) and the Intermediate-Range Nuclear Forces Treaty (INF Treaty). These are actions that Russia feels will not only lead to an arms race, but lead to consequences worse than the Cold War.
Via Telesur in March:
"At the Conference on Disarmament held in Geneva, the Russian Foreign Minister Sergei Lavrov warned Wednesday that the U.S. recent withdrawal from both the Anti-Ballistic Missile Treaty (ABM Treaty) and the Intermediate-Range Nuclear Forces Treaty (INF Treaty) leads to an "Arms race" with likely worse consequences than the Cold War's one.
"Washington made no secret of an intention to have their hands free in order to build up unrestricted missile capabilities in the regions where the U.S. tends to push through their own interests," the Russian top diplomat said and explained that the U.S. withdrawal from the ABM and INF treaties "could lead to a renewed widescale arms race with unpredictable consequences."
It would seem Russia is right: a new arms race has begun.
In fact, it's been happening right under our noses over the past few years…
​Don't Miss
Our Next

Report ​!
...​get a free monthly subscription
to one of the best-performing investment letters: the Equedia Letter
*Don't worry. We will never spam you and our subscription comes only once per month. You can unsubscribe anytime with a simple click.
​

One Trillion Dollars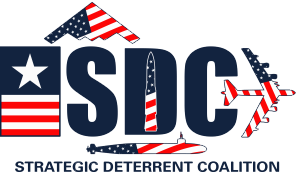 Back in 2016, senior U.S. military and nuclear weapons officials convened in Albuquerque to promote a $1 trillion nuclear weapons plan.
The meeting was organized by the "Strategic Deterrent Coalition" (SDC). But who are they?
Via the SDC:
"The Strategic Deterrent Coalition (SDC) is a nonprofit, nonpartisan community-based organization formed to support the Nuclear Triad by providing educational information on the importance to our nation of maintaining a safe, secure, and effective nuclear deterrent.
The SDC's purpose is to inform decision makers and thought leaders on how America's nuclear weapons contribute to our strategic position, in a world where potential adversaries are modernizing, innovating, and gaining in almost every way. SDC focuses on the nation's strategic deterrent – why it works, why it must be maintained, and how it contributes to global stability.
What is the Nuclear Triad?
The Nuclear Triad is America's strategic nuclear deterrent, comprised of Intercontinental Ballistic Missiles (ICBMs), Submarine Launched Ballistic Missiles (SLBMs), and nuclear capable long-range bombers.
This three-branched nuclear capability creates a strong and credible deterrence, significantly reducing the possibility that an adversary would ever attack, or that they could destroy all of America's nuclear forces in a first-strike.
The underlying foundation of the Triad is the ongoing maintenance and refurbishment of the nuclear stockpile conducted by the Department of Energy National Nuclear Security Administration national laboratories."
In other words, the SDC is an organization that encourages the advancement of nuclear weapons because, ironically, they believe advancing nuclear weapons is the best deterrent against nuclear weapons.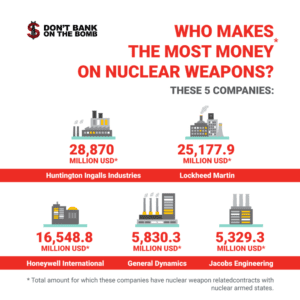 Go figure.
It should come as no surprise that the SDC meeting was funded by companies directly involved in the creation of nuclear weapons, including Northrup Grumman, Boeing, Orbital ATK, BAE Systems, and others.
It should also come as no surprise that while the stock market is down over the last month, companies involved in the arms race are doing just fine.
Record Military Spending
According to the Stockholm International Peace Research Institute (SIPRI), total world military expenditure has hit another record high, rising to US$1.8 trillion last year.
Via SIPRI:
"Total global military spending rose for the second consecutive year in 2018, to the highest level since 1988-the first year for which consistent global data is available. World spending is now 76 per cent higher than the post-cold war low in 1998."
Meanwhile, America's military budget is set to grow for a fifth consecutive year to near-historic highs in 2020. In fact, the U.S. remained by far the largest spender in the world and spent almost as much on its military in 2018 as the next eight largest-spending countries combined.
Via Washington Post:
"…The Trump administration has proposed $750 billion in defense spending as part of its budget request to Congress for next year…
…House Democrats in their budget proposed increasing defense spending to $733 billion a year…
…Under either budget plan, the United States is expected to spend more on its military in 2020 than at any point since World War II, except for a handful of years at the height of the Iraq War, said Todd Harrison, a defense budget expert at the Center for Strategic and International Studies, a think tank focused on foreign policy."
Why is the United States increasing their defense spending?
Continued via the Washington Post:
"…Pentagon officials have said the additional resources are needed to counter military escalations in Russia and China, which have invested heavily in next-generation military weaponry.
Russia claims to have already developed a hypersonic missile that can travel faster than the speed of sound, something some defense hawks warn could threaten U.S. missile defense systems that were designed decades ago.
And China has invested heavily in new submarines, warships, and other war equipment as its defense budget ballooned."
By now, I am sure you can see a common theme: rising tensions with the U.S. on one side, and Russia and China on the other.
China: The Quiet Assassin
While Russia and the United States are the two biggest nuclear powers, don't think for one second that China isn't preparing itself – especially with the ongoing trade war with the U.S.
In fact, China was the second-largest spender in the world, increasing its military expenditure by 5 per cent to $250 billion in 2018.
Via SIPRI:
"China, the second-largest spender in the world, increased its military expenditure by 5.0 per cent to $250 billion in 2018. This was the 24th consecutive year of increase in Chinese military expenditure. Its spending in 2018 was almost 10 times higher than in 1994, and accounted for 14 per cent of world military spending.
'Growth in Chinese military spending tracks the country's overall economic growth,' says Tian. 'China has allocated 1.9 per cent of its GDP to the military every year since 2013.'"
Together, the U.S. and China accounted for half of the world's military spending.
And when it comes to nuclear weapons, China isn't about to sign any treaties or back off in advancing it's nuclear arms capabilities.
Remember earlier when I said Trump and Putin discussed the possibility of a new nuclear accord that could even include China?
Well, China responded right away.
Via Telesur earlier this month:
"China will not participate in negotiations on any trilateral nuclear disarmament agreement with the United States (U.S) and Russia, the Chinese Ministry of Foreign Affairs said Monday.
"We're opposed to accusations from any country on arms control issues," Foreign Ministry spokesperson Geng Shuang said during a press conference, dismissing altogether the possibility of joint talks as "our nuclear forces have been at the lowest level of national security needs and are not on the same scale with the United States and Russia."
In other words, China is taking a page directly out of the SDC playbook: prevent nuclear war by creating more nuclear weapons.
But the tensions don't stop there.
You see, the U.S. has been busy enforcing its power all over the world; sometimes as Protector, and other times as Aggressor.
For example, in the growing trade war between China and the U.S., the U.S. has already called on allies, such as Japan and the U.K, to halt the phone sales of China's biggest cell phone manufacturer, Huawei Technologies Co.
And immediately, the U.S. allies complied.
Via the South China Morning Post:
"British and Japanese mobile phone companies said Wednesday they are putting on hold plans to sell new devices from Huawei, in the latest fallout from US tech restrictions aimed at the Chinese company.
Britain's EE and Vodafone and Japan's KDDI and Y! Mobile said they are pausing the launch of Huawei smartphones, including some that can be used on next generation mobile networks, amid uncertainty about devices from the world's No. 2 smartphone maker."
The U.S., acting as Protector, alleges that Huawei phones are a security risk.
And as Aggressor, the U.S. has been very aggressive.
Venezuela
Venezuela is situated very close to the U.S.
And just as China and Russia don't want the U.S. near its territories (think U.S forces in Syria and U.S warships in the South China Sea), the U.S. doesn't want other countries such as Russia and China near its territories either.
So much so that as Russia and China grow their relations with Venezuela, the U.S. is attempting to put an end to that immediately.
Via AP News earlier last month:
"U.S. Vice President Mike Pence told the Security Council on Wednesday the Trump administration is determined to remove President Nicolás Maduro from power in Venezuela, preferably through diplomatic and economic pressure, but "all options are on the table" – and Russia and others need to step aside.
… Pence also said that Trump has made clear Russia needs to get out of Venezuela, stressing that Russian aircraft landing in the country and bringing in security or advisory personnel "is just unacceptable."
"This is our neighborhood," Pence told reporters afterward. "And the president has made it clear that whether it be Russia, or whether it be other nations, that they need to step aside. They need to cease efforts to stand in the way of economic and diplomatic pressure, and they need to cease supporting the Maduro regime."
What other nations could Pence be referring to?
China has invested billions into Venezuela and continues to offer humanitarian support, most recently in the form of medical equipment and supplies.
Via CNN:
"A Chinese cargo plane arrived in the Venezuelan capital of Caracas on Monday, the Venezuelan Ministry of Communication has told CNN.
The plane was carrying aid for the impoverished nation: approximately 2 million units of medical equipment, including medicine and surgical medical supplies. The supplies will be distributed by agencies designated by the government of embattled President Nicolas Maduro."
But what does China have to do with Venezuela, and why is China involved?
Recall my letter from 2017, titled "How the US Dollar Will Collapse":
"Venezuela is home to the largest oil reserves in the world, according to OPEC data.
Unfortunately, much of Venezuela's massive oil reserves are located either offshore or deep underground, and consist of heavy oil, making it very expensive to extract.
In other words, the price of oil needs to be much higher for the country to succeed – especially since oil represents 95% of Venezuela's export earnings. Venezuela President Nicolas Maduro has already suggested that $70 per barrel would be a balanced price and help the global financial situation.
As I mentioned in my Letter, oil prices have been manipulated downward (see my newsletter Why Oil Prices are So Low), and as a result, Venezuela has suffered.
Call it a conspiracy but there's a reason why Venezuelan President Maduro told the world earlier this month that it would remove its dependence on US dollars – and it's not just because of potential US sanction threats.
Via Reuters:
"Venezuelan President Nicolas Maduro said on Thursday his cash-strapped country would seek to "free" itself from the U.S. dollar next week, using the weakest of two official foreign exchange regimes and a basket of currencies."
That's why Venezuela has been working closely with China and Russia over the past years.
Via Foreign Policy:
"From 2007 to 2014, China lent Venezuela $63 billion – 53 percent of all its lending to Latin America during this time.
There was an important catch to this largesse; to guarantee repayment, Beijing insisted on being repaid in oil.
With most lending agreed to when oil hovered at more than $100 a barrel, as it did for most of 2007-2014, it seemed a good deal for both sides.
However, when oil dropped to close to $30 a barrel in January 2016, this caused Venezuela's price tag for serving its debt to explode. To repay Beijing today, Venezuela must now ship two barrels of oil for every one it originally agreed to."
And guess what?
Just last week, Venezuela launched its attack on the US dollar by using China as its anchor.
Via Reuters:
"Venezuela published the price of its oil and fuel in Chinese currency on Friday in what it called an effort to free the socialist-run country from the "tyranny of the dollar," echoing a plan recently announced by President Nicolas Maduro.
Maduro last week said his government would shun the dollar after the United States announced sanctions that blocked certain financial dealings with Venezuela on accusations that the ruling Socialist Party is undermining democracy.
The global oil industry overwhelmingly uses the dollar for pricing of products.
A weekly Oil Ministry bulletin published on Friday listed September prices in yuan while including prices from previous weeks and months in dollars."
Do you think it's a coincidence that all of a sudden, the CIA tells us that it intends to exact a change in the Venezuelan government?
Is it a coincidence that Trump just threatened Venezuela with military intervention?
It's because Venezuela is directly attacking the dollar."
And while China and Russia are going against the U.S. in Venezuela, another country – one that is very close to war with the U.S. – is too.
Iran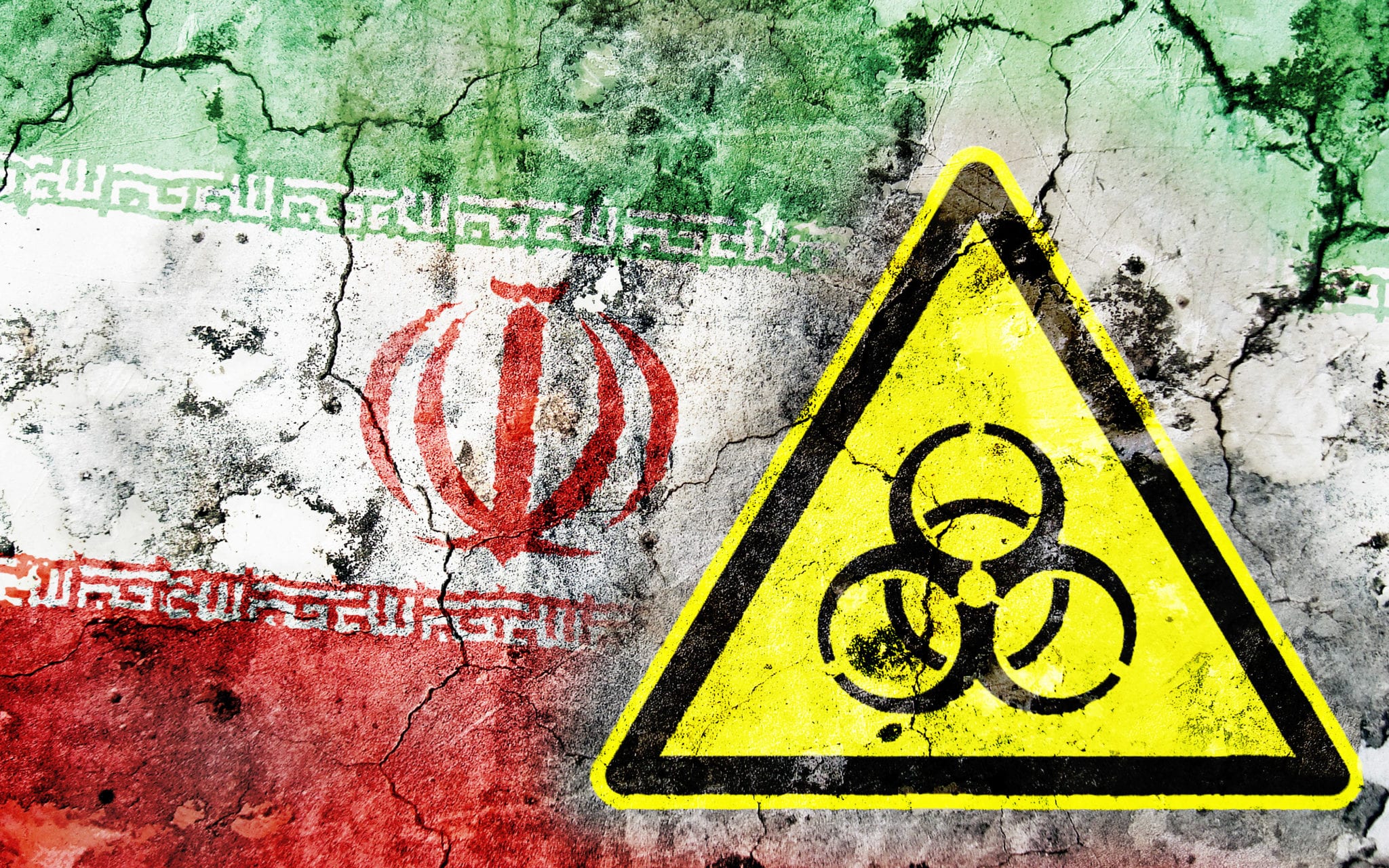 It's no secret that Iran and the U.S. are getting closer than ever to war with each other.
Earlier this year in March, Russian and Iranian foreign ministers said they were committed to helping Venezuela's government and opposition "find mutual understanding."
Via Telsur:
"Russian Foreign Minister Sergey Lavrov and his Iranian counterpart, Mohammad Yavad Zarif held a Tuesday phone conversation in which they discussed "the current situation in Venezuela," and their shared dedication to a peacefully resolution for the South American nation."
Since then, tensions between Iran and the U.S. have gotten significantly worse. So much so that the Pentagon just revealed plans to send 10,000 troops to the Middle East.
Via AP News
"The Pentagon on Thursday will present plans to the White House to send up to 10,000 more troops to the Middle East, in a move to beef up defenses against potential Iranian threats, U.S. officials said Wednesday."
It's no wonder half of all Americans believe that the United States will go to war with Iran "within the next few years."
That's a scary thought considering that Iran just told us it just quadrupled its uranium-enrichment production capacity and is on pace for weapons-grade level production.
Via AP News:
"Iran quadrupled its uranium-enrichment production capacity amid tensions with the U.S. over Tehran's atomic program, nuclear officials said Monday, just after President Donald Trump and Iran's foreign minister traded threats and taunts on Twitter.
Iranian officials made a point to stress that the uranium would be enriched only to the 3.67% limit set under the 2015 nuclear deal with world powers, making it usable for a power plant but far below what's needed for an atomic weapon.
But by increasing production, Iran soon will exceed the stockpile limitations set by the accord. Tehran has set a July 7 deadline for Europe to set new terms for the deal, or it will enrich closer to weapons-grade levels in a Middle East already on edge. The Trump administration has deployed bombers and an aircraft carrier to the region over still-unspecified threats from Iran."
In other words, yet another country at odds with the U.S. could soon have a nuclear arsenal of its own.
​Don't Miss
Our Next

Report ​!
...​get a free monthly subscription
to one of the best-performing investment letters: the Equedia Letter
*Don't worry. We will never spam you and our subscription comes only once per month. You can unsubscribe anytime with a simple click.
​

Conclusion
There are simply too many countries now aggressively pursuing and expanding their nuclear capabilities that I could sit here and go on for hours about them.
For example, Germany's armed forces are already studying the possibility of acquiring nuclear bombers capable of using the new American B61-12 atomic bombs.
Meanwhile, growing tensions between Pakistan and India are kindling further nuclear ambitions.
Just as Indian Prime Minister Narendra Modi secured a landslide general election victory, Pakistan told the world that it had conducted a training launch of a Shaheen II, surface-to-surface ballistic missile, which it said is capable of delivering conventional and nuclear weapons at a range of up to 1,500 miles.
This should come as no surprise as India has been secretly turning itself into a nuclear power.
Via India Times:
"A leading American foreign policy journal today alleged that India is building a top-secret nuclear city to produce thermos nuclear weapons which would upgrade the country as a nuclear power and unsettle its two major neighbours – Pakistan and China."
I hope you now understand the risks of rising global tensions.
Now, you may be wondering, what does this all have to do with investing?
The answer is two-fold.
One…
Tensions like this almost always occur when the global economy and stock markets are nearing a peak. As countries deploy more protectionism-style policies, such as the current trade war with China and the U.S., stocks tend to fall or flat line at best.
Furthermore, as I mentioned in a 2017 Letter, inflation could pick up under Trump's protectionism-style policies:
"As Trump's policies begin to see success, the Fed will likely raise rates and contract the money supply. They will need an excuse to do it, and what better excuse than a rise in inflation caused by Trump policies.
When this happens, another Great Depression could occur. Of course, following that, we'll need to be "saved."
Fast forward to today and the prices of consumer goods are already expected to climb as a result of the Trade War:
The list goes on. If this Trade War continues, inflation will follow.
That doesn't mean stocks have no more room for growth – especially if the Federal Reserve intervenes – but if the Trade War continues, it will eventually lead to a prolonged period of little to no global growth.
Two… 
During these times of uncertainty, companies involved in the defense sector generally do very well – we have already seen how resilient these stocks have been over the last month when compared to the rest of the market.
The world is getting smaller and ever-more crowded. New global powers are now challenging the dominance the U.S. has had for many decades.
When the throne is challenged, everyone gets hurt.
What do I mean? Just watch the second last episode of Game of Thrones…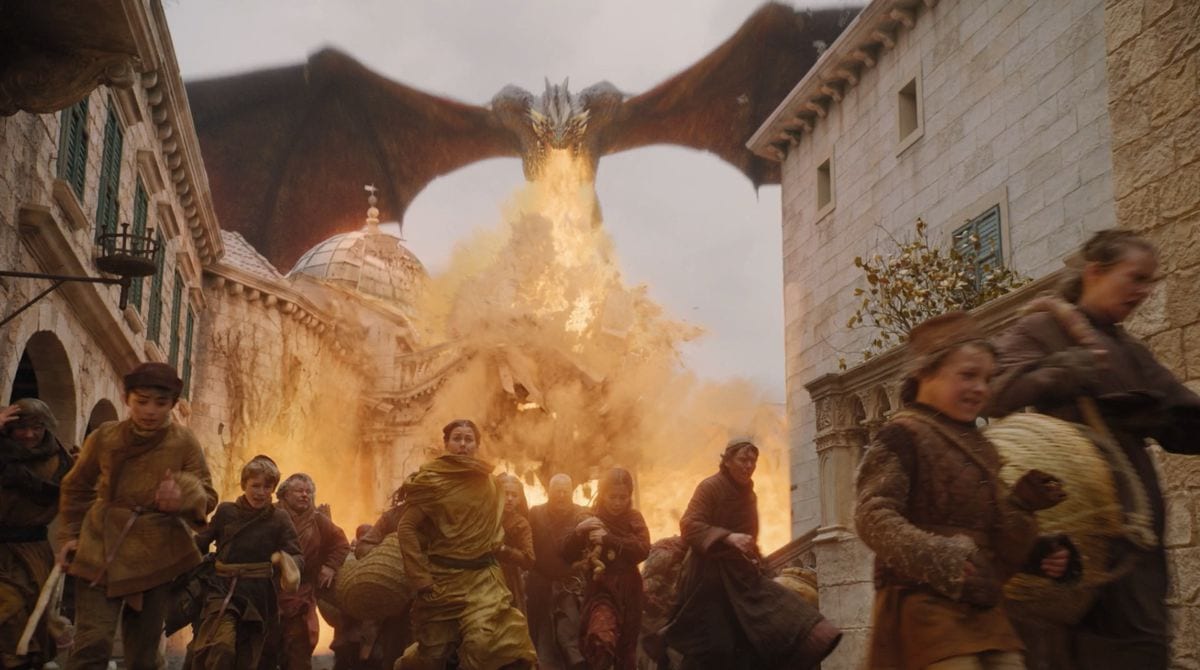 Until next time.
Seek the truth,
Ivan Lo
The Equedia Letter
Disclosure:
Equedia.com and Equedia Network Corporation are not registered as investment advisers, broker-dealers or other securities professionals with any financial or securities regulatory authority. Remember, past performance is not indicative of future performance. This article also contains forward-looking statements that are subject to risks and uncertainties that could cause actual results to differ materially from the forward-looking statements made in this article. Just because many of the companies in our previous Equedia Reports have done well, doesn't mean they all will.