Dear Reader,
Do not read this Letter if you do not have an open mind.
Because what you're about to read will change the way you see this world.
My goal here at the Equedia Letter is to educate and inform investors about the macroeconomics and politics that affect our investments.
That is why this Letter is called Equedia – half of equal, and half of media: Equ(al)-(me)edia.
Today, I am going to share some information with you regarding the latest Coronavirus pandemic that will most certainly make you wonder what's really going on.
It will give you a whole new perspective on what our future will soon become.
But more importantly, once you know, you can better protect your financial well-being before the next crisis hits – even if this one isn't over.
You see, had we known about the COVID-19 coronavirus and its economic effects sooner, we could have made much better investment decisions…
…we could have sold before the crash.
…we could have cashed up for the potential opportunity of a massive rebound.
…we could have been much more prepared.
And I am telling you, we all could have.
Take Bill Ackman, for example. He just turned $27 million into a whopping $2.6 billion payday – all in one month.
Via Barron's:
"Ackman's Pershing Square Capital Management hedge fund laid out $27 million to buy credit protection on global investment-grade and high-yield credit indexes. The purchases, which were made late last month when credit spreads were tighter, carried limited downside risk but the potential for significant upside. Ackman said Wednesday that he finished unwinding the hedges on Monday, reaping $2.6 billion in proceeds."
Of course, had I told you about the events leading up to the spread of COVID-19, I would have been called a conspiracy theorist.
Think about it…
If I told you last year that a new virus would spread that will shut down the entire world for a few months, surely you would've thought I was bonkers.
But that's where we are today.
Please read this Letter in its entirety.
In the end, I am confident it will help you in the future. And perhaps it might change everything you thought you knew about the world.
Here goes…
A Timeline of Events
The following is a timeline of events that will appear crazy at first – but maybe not so crazy now that you're quarantined at home reading this.
I won't offer any opinions – just facts.
I want you to make your own decisions.
Let's get started.
August 2019: The Shutdown
In August 2019, the U.S. military's leading biodefense center at Fort Detrick was shutdown.
"Safety concerns at a prominent military germ lab have led the government to shut down research involving dangerous microbes like the Ebola virus.
"Research is currently on hold," the United States Army Medical Research Institute of Infectious Diseases, in Fort Detrick, Md., said in a statement on Friday. The shutdown is likely to last months, Caree Vander Linden, a spokeswoman, said in an interview."
For those who don't know what Fort Detrick is…
Via NPR.org:
"Fort Detrick, Md., was created in the middle of World War II and became the center for America's biological warfare efforts. But that role shifted in 1969, the government says, to focus solely on defense against the threat of biological weapons."
It also happened to be the C.I.A.'s base for Mind Control Experiments…
Via Politico:
"Directors of the CIA mind control program MK-ULTRA, which used Detrick as a key base, destroyed most of their records in 1973. Some of its secrets have been revealed in declassified documents, through interviews and as a result of congressional investigations. Together, those sources reveal Detrick's central role in MK-ULTRA and in the manufacture of poisons intended to kill foreign leaders."

But why was the lab the shut down?
Via N.Y. Times continued:
"The statement said the Centers for Disease Control and Prevention decided to issue a "cease and desist order" last month to halt the research at Fort Detrick because the center did not have "sufficient systems in place to decontaminate wastewater" from its highest-security labs."
Ok, so just a water issue? Maybe not…
"… In the statement, the C.D.C. cited "national security reasons" as the rationale for not releasing information about its decision."
… The suspended research involves certain toxins, along with germs called select agents, which the government has determined have "the potential to pose a severe threat to public, animal or plant health or to animal or plant products." There are 67 select agents and toxins; examples include the organisms that cause Ebola, smallpox, anthrax and plague, and the poison ricin."
In short, the precise cause of the shutdown was sealed for national security reasons.
A few months later…
October 18, 2019: Event 201
On October 18, 2019, a group of 15 global business, government, and public health leaders played a simulation exercise to see what would happen to the world if a pandemic occurred.
Via the Center for Health Security:
"Event 201 was a 3.5-hour pandemic tabletop exercise that simulated a series of dramatic, scenario-based facilitated discussions, confronting difficult, true-to-life dilemmas associated with response to a hypothetical, but scientifically plausible, pandemic."
The event was supported by funding from the Open Philanthropy Project and comprised of the Johns Hopkins Center for Health Security, World Economic Forum, and the Bill & Melinda Gates Foundation.
And the players?
The players comprised of 15 very important people, including former deputy director of the C.I.A., experts, and officials from the United Nations and the C.D.C., former-Rockefeller and World Bank director, WHO and OECD officials, and John and Johnson VP, among others.
Now, to be fair, big names like the ones above have done these exercises before.
For example, there was the Dark Winter exercise in 2001 where experts portrayed a fictional scenario depicting a covert smallpox attack on U.S. citizens.
Then, in January 2005, there was the Atlantic Storm exercise where experts used a fictitious scenario designed to mimic a summit of transatlantic leaders forced to respond to a bioterrorist attack.
Then, in May 2018, there was Clade X – yet another exercise designed to "illustrate high-level strategic decisions and policies that the United States and the world will need to pursue in order to prevent a pandemic or diminish its consequences should prevention fail."
But what about Event 201?
Here is the Event 201 scenario:
"Event 201 simulates an outbreak of a novel zoonotic coronavirus transmitted from bats to pigs to people that eventually becomes efficiently transmissible from person to person, leading to a severe pandemic. The pathogen and the disease it causes are modeled largely on SARS, but it is more transmissible in the community setting by people with mild symptoms.
The disease starts in pig farms in Brazil, quietly and slowly at first, but then it starts to spread more rapidly in healthcare settings. When it starts to spread efficiently from person to person in the low-income, densely packed neighborhoods of some of the megacities in South America, the epidemic explodes. It is first exported by air travel to Portugal, the United States, and China and then to many other countries. Although at first some countries are able to control it, it continues to spread and be reintroduced, and eventually no country can maintain control.
There is no possibility of a vaccine being available in the first year. There is a fictional antiviral drug that can help the sick but not significantly limit spread of the disease."
The name of the pandemic disease was CAPS – short for:
Coronavirus Associated Pulmonary Syndrome.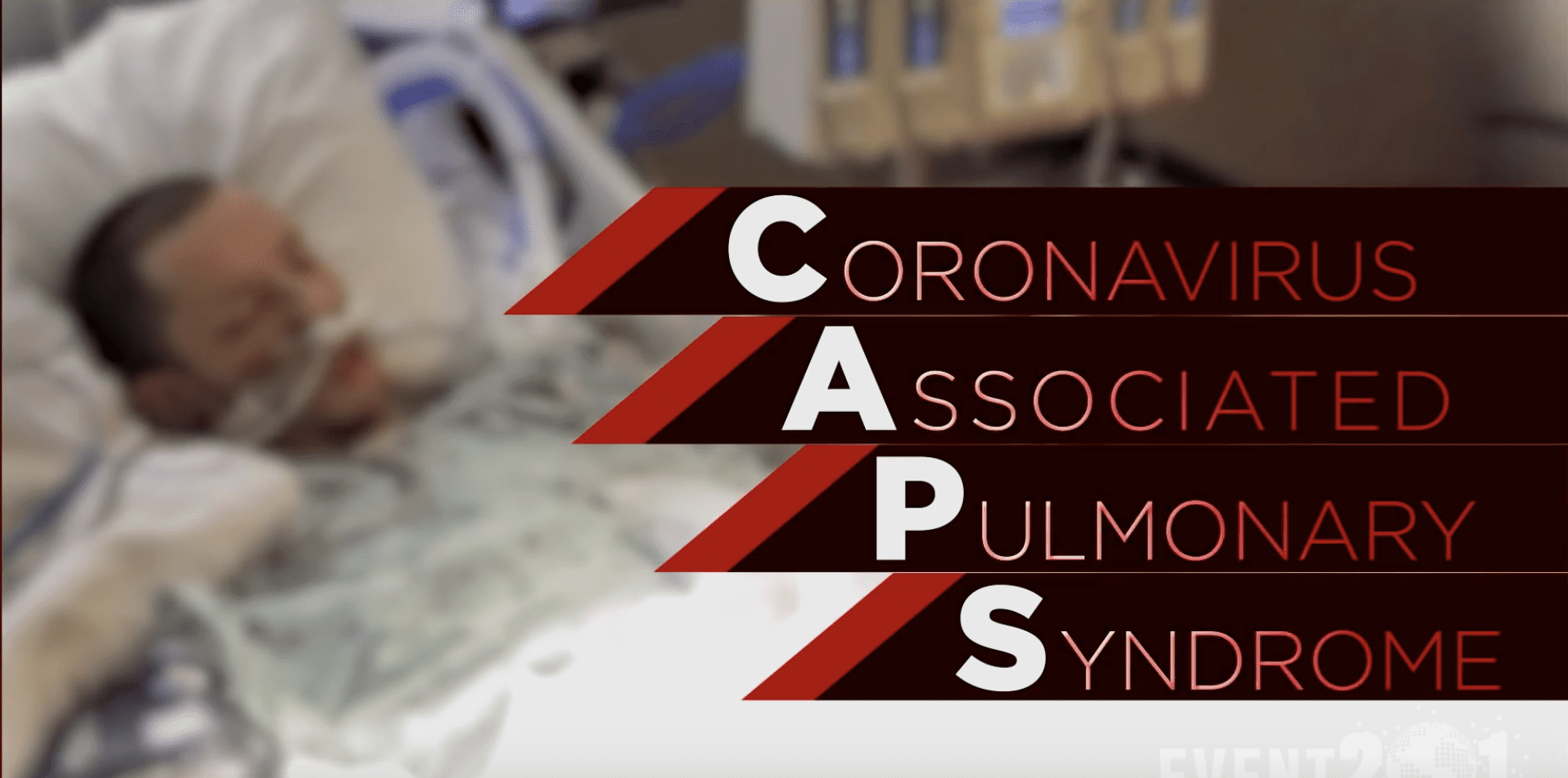 Highlights of the exercise can be found by watching this video put together by the experts:
On the same day Event 201 was held, The World Military Games opened in Wuhan.
Via Wikipedia:
"The 2019 Military World Games, officially known as the 7th CISM Military World Games and commonly known as Wuhan 2019, was held from October 18–27, 2019 in Wuhan, Hubei, China.[2][3]
The 7th Military World Games was the first international military multi-sport event to be held in China and was the largest military sports event ever to be held in China, with nearly 10,000 athletes from over 100 countries competed in 27 sports."
Precisely one month later…
November 17, 2019
COVID-19 gets its first confirmed case in China – one month after Event 201 was held.
"The first case of someone in China suffering from Covid-19, the disease caused by the novel coronavirus, can be traced back to November 17, according to government data seen by the South China Morning Post."
Could the elites at Event 201 have known about the potential outbreak of the coronavirus, or was it merely an exercise to prepare us for a pandemic?
Is it a coincidence that the Event 201 exercise, which simulated an outbreak of a coronavirus, happened right before the outbreak of COVID-19?
What do you think?
CLICK HERE to Share Your Thoughts
Now, remember back in August when the lab at Fort Detrick was shut down? It turns out there was more to the story.
November 24, 2019
Via Military.com in November:
"The C.D.C., in its inspection findings, noted six departures from the federal regulations for handling select agents and toxins. One of those departures was the two breaches.
Another departure was that the military laboratory systematically failed to implement biosafety and containment procedures. In one instance, personnel deliberately propped open the door to the autoclave room while the employee removed biohazard waste.
"This deviation increases the risk of contaminated air from room [redacted] escaping and being drawn into the autoclave room, where individuals do not wear respiratory protection," according to the report.
The report includes a large section redacted to protect against the release of a report or inspection of a specific registered person that would endanger public health or safety."
Could the breach at Fort Detrick have contained an airborne-virus, such as the coronavirus described at Event 201?
Is that why Event 201 was held?
Again, I have no idea. I am simply asking questions.
Just keep in mind that the C.D.C., who shut down the military research lab, was a player in the simulation of CAPS.
Now that you have seen the timeline of events, what do you think is going on?
CLICK HERE TO SHARE YOUR COMMENTS
Conspiracies Aplenty
There are a lot of conspiracies surrounding COVID-19. Heck, many – including President Trump and numerous doctors and scientists – think we are overreacting.
But let's dive in a bit more to find out why.
For example, could the shutdown of Fort Dietrich be the reason why Chinese officials have recently been spreading conspiracies that the U.S. army may have brought COVID-19 to Wuhan through the military games?
Via Military.com:
"…Zhao Lijian, a Ministry of Foreign Affairs spokesman, called attention to the admission Wednesday by Robert Redfield, the director of the U.S. Centers for Disease Control and Prevention, that some Americans who were said to have died from influenza may have actually died from the coronavirus (COVID-19).
"When did patient zero begin in U.S.? How many people are infected?" he asked. "What are the names of the hospitals? It might be U.S. Army who brought the epidemic to Wuhan. Be transparent! Make public your data! U.S. owe us an explanation!"
Why in the world would he make such a ridiculous accusation in front of the whole world?
Via Military.com continued…
"…One popular conspiracy theory that has emerged about the coronavirus is that American athletes participating in the Military World Games, an event held in Wuhan last year, may have brought the virus, either intentionally or accidentally, into China. There is, however, no evidence to support this accusation."
Now, before you even consider that it could have originated from the U.S., remind yourself that there were 10,000 athletes from 100 different countries in Wuhan. Any single one of those athletes could have been patient zero – and that's if the coronavirus came from the military games.
We'll never know.
But we do know one thing: it is believed that the coronavirus originated in Wuhan, where the military games were held.
But that's not where the connections end.
Wuhan is also the base of WuXi Apptec, a pharmaceutical and biotechnology research and development outsourcing company in the People's Republic of China. The company was notably funded by George Soros, as per S.E.C. documents – and anytime George Soro's name comes up, conspiracy theories almost always follow.

Now, you might do some research and then ask yourself, "George Soros doesn't own WuXi anymore – I can't find it in any of the recent filings."
Well, the answer to that is he doesn't own it – not directly, anyway.
Via Debtwire:
"… Boyu is also among a consortium that took formerly New York-listed medical devices WuXi PharmaTech private at a valuation of around USD 3.2bn.
…Boyu's first USD fund raised USD 1bn in 2011, with investors including Singapore sovereign wealth fund Temasek, an investment fund of Li Ka-shing, and funds of George Soros, as reported."
Turns out when WuXi privatized a few years ago, it was bought out by a fund funded by George Soros.
Was WuXi privatized so it didn't have to reveal information on what it was up to? Maybe…
Now, I could continue to get into other details about WuXi and George Soros.
I could also get into WuXi's partnership with Gilead Biosciences, who both endorses and is involved in a drug purchasing program called UNITAID – a program funded by both George Soros and the Bill and Melinda Gates Foundation.
Of course, let's not get too deep into conspiracy theories here as they can always be spun to make people look really good or really bad.
UNITAID, after all, was created to help developing countries afford expensive medicine.
Via the World Health Organization:
"The World Health Organization (WHO) welcomes the official launch of UNITAID, the International Drug Purchase Facility being established by Brazil, France, Chile, Norway, and the United Kingdom. UNITAID is being established as an innovative funding mechanism to accelerate access to high-quality drugs and diagnostics for HIV/AIDS, malaria, and tuberculosis in countries with a high burden of disease.
WHO shares the key public health objectives of UNITAID as it seeks to assist developing countries in purchasing the medicines needed to scale up H.I.V., T.B. and malaria control programmes."
It should, however, be noted that in 2019, China was recently included in UNITAID's drug pool for the first time.
Furthermore, Gilead is currently working with the Chinese Health Authorities on trials of Remdesivir, a treatment for coronavirus.
Now, again, these companies are aggressively working on treatments against the coronavirus that could save the world from a pandemic.
In other words, I am not suggesting there is foul play. I am merely showing you the facts.
But what do all of these facts – regardless of what conspiracies can be spun from them – mean for our future?
A Potential Scenario for the Future
Over the past decade, I have told you about the world's move toward a cashless society.
What does this have to do with the current pandemic?
Well…
Via Associated Press:
"A growing number of businesses and individuals worldwide have stopped using banknotes in fear that physical currency, handled by tens of thousands of people over their useful life, could be a vector for the spreading coronavirus."
In fact, since the spread of COVID-19, I am sure many of you have tried using cash, only to be turned down.
Of course, the move toward a cashless society is inevitable – and pandemics such as the one caused by the COVID-19 disease undoubtedly enforce that future.
But that's not all.
There is a swelling fear that in order to survive this pandemic, we must all be vaccinated – even if the numbers show that the majority of those who catch SARS-CoV-2, the coronavirus that causes COVID-19, show little-to-no symptoms at all.
"As many as six in 10 people infected with coronavirus may be unaware they have the disease, according to a number of papers studying the outbreak."
And Via Futurism:
"What we're learning from Iceland this week is as fascinating as it is crucial to fighting the coronavirus epidemic: That somewhere in the neighborhood of half of everyone testing positive for the coronavirus will show absolutely no symptoms.
… Needless to say, Iceland's efforts are revealing fascinating and potentially lifesaving details about the virus. And via BuzzFeed News, it's how they came to the striking conclusion about symptom rates, emphasis ours:
"Early results from deCode Genetics indicate that a low proportion of the general population has contracted the virus and that about half of those who tested positive are non-symptomatic," said [Iceland's chief epidemiologist Thorolfur] Guðnason. "The other half displays very moderate cold-like symptoms."
Furthermore, one could easily suggest that the case fatality rate (C.F.R.) is drastically lower than what the media is making it out to be.
Why?
Well, if most people show little-to-no symptoms, and others display very moderate cold-like symptoms, they aren't tested.
In fact, here in BC, Canada, I have friends who have been sick with many of the symptoms of COVID-19, who wanted to be tested but were turned away because they were mostly healthy individuals.
In other words, most of the COVID-19 tests are only performed on those who are very ill – which will undoubtedly cause a spike in the C.F.R. rate.
That doesn't seem very logical to me.
What do you think?
CLICK HERE to Share Your Thoughts
So where am I going with this?
A World of Information…Inside the Palm of Your Hand.
I bet that in less than ten years, the world will begin to announce a move to a digital I.D. system whereby all of an individual's information – including bank accounts and vaccination history – will be implemented into a microchip.
Of course, it's very difficult for that to happen if we all feel safe. But what if we don't?
As outbreaks continue to threaten the world, people will be begging to be vaccinated – and they may have to be part of an ID program to get it. Furthermore, nations around the world will demand a quick and easy system to know if an individual has been vaccinated in order for them to travel between countries.
If you think I am crazy, think again.
This type of system is already being tested.
Via ID2020 Alliance:
"ID2020 unveiled its latest good digital identity program in partnership with the Access to Information (a2i) Program of the Government of Bangladesh, the Directorate General of Health Services (DGHS) and Gavi. Recognizing the opportunity for immunization to serve as a platform for digital identity, this program leverages existing vaccination and birth registration operations to offer newborns a persistent and portable biometrically-linked digital identity.
"We are implementing a forward-looking approach to digital identity that gives individuals control over their own personal information, while still building off existing systems and programs," said Anir Chowdhury, policy advisor at a2i. "The Government of Bangladesh recognizes that the design of digital identity systems carries far-reaching implications for individuals' access to services and livelihoods, and we are eager to pioneer this approach."
To offer a persistent digital identity from birth, the program will explore and assess several cutting-edge infant biometric technologies, unlocking a potential global public good. "Eighty-nine percent of children and adolescents without identification live in countries supported by Gavi," said Seth Berkley, C.E.O. of Gavi. "We are enthusiastic about the potential impact of this program not just in Bangladesh, but as something we can replicate across Gavi-eligible countries, providing a viable route to closing the identity gap."
"Digital ID is being defined and implemented today, and we recognize the importance of swift action to close the identity gap," said Dakota Gruener, Executive Director of ID2020. "Now is the time for bold commitments to ensure that we respond both quickly and responsibly. We and our ID2020 Alliance partners, both present and future, are committed to rising to this challenge."
Just what is the ID2020 Alliance?
Via ID2020:
"ID2020 is building a new global model for the design, funding, and implementation of digital I.D. solutions and technologies."
And the people behind it?
Take a look: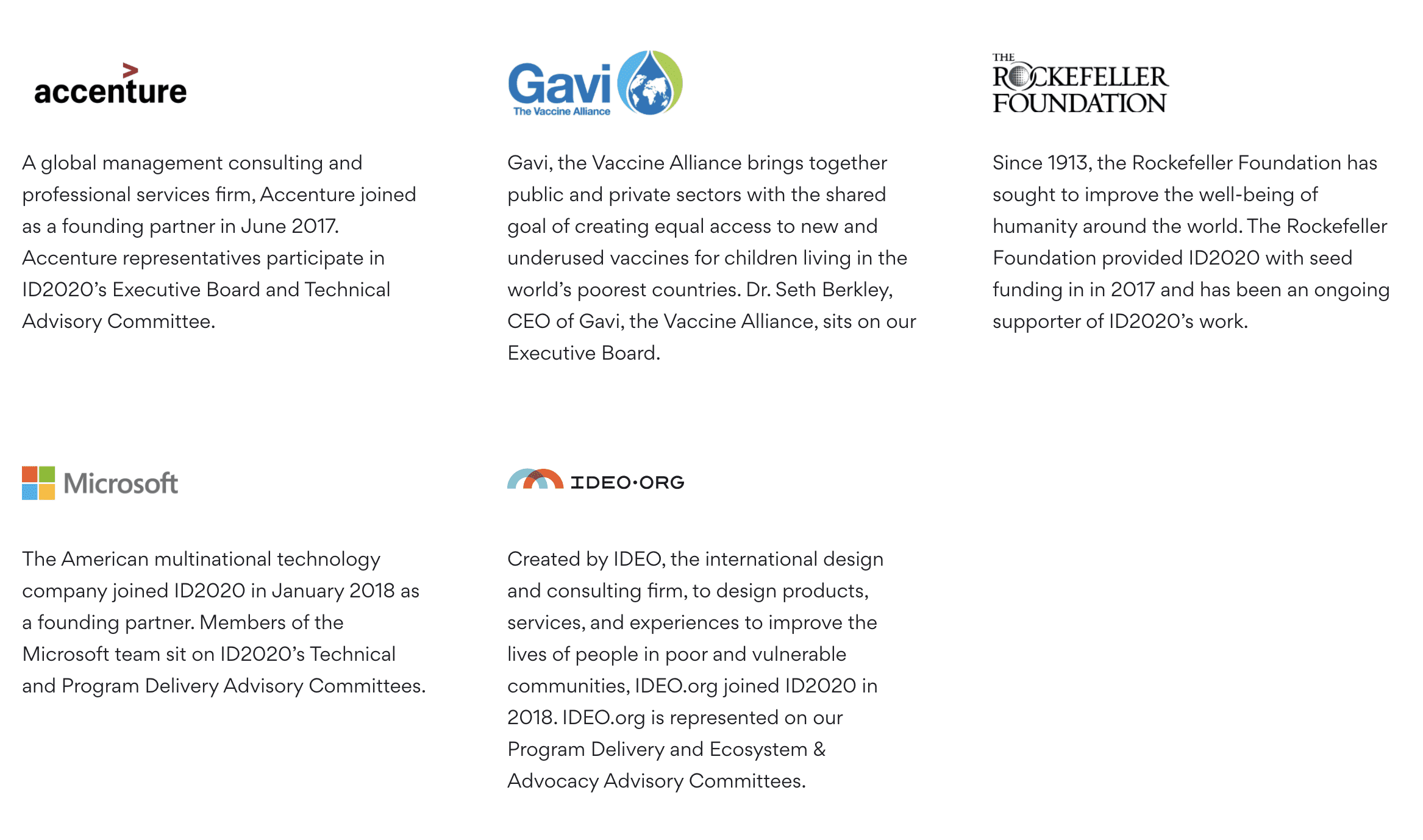 Aside from the obvious players and names that keep coming up…Bill Gates/Microsoft…Rockefellers…UN… GAVI…there's something much more interesting.
ID2020 was created in 2018 in partnership with the United Nations High Commissioner for Refugees (UNHCR).
Today, in 2020, we have the COVID-19 pandemic.
COVID-19 stands for Coronavirus Disease 2019: The "C.O." stands for corona, "VI" for virus, and "D" for disease, according to the C.D.C. And the number 19 stands for the year (2019) in which the outbreak occurred.
What does ID2020 stand for?
Does ID stand for Identification? Probably. Does 2020 stand for the year 2020? I don't know. Do you?
But I bet that in 2020, other nations will follow Bangladesh and begin rolling out test programs for digital I.D. implants.
In other words, the global COVID-19 pandemic and its upcoming vaccines could be the springboard for a global digital biometric I.D. system.
Via PYMTS:
"Gavi (the Global Vacine Alliance), for its part, said at the time of the ID2020 launch that 89 percent of children and adolescents who do not have identification live where that organization is active — indicating that public health may be the springboard to giving people, at birth, the records they need later in life to participate fully in the global economy."
More Food for Thought
Perhaps the current COVID-19 pandemic, Event 201, and ID2020 are just coincidences.
But they aren't the only ones.
You see, Chinese officials first announced the discovery of a novel coronavirus named 2019-nCoV on January 7, 2020.
Then, on January 11, China announced its first death as a result of the virus.
On January 17, a second death was reported in Wuhan.
By January 20, a third death was reported, along with 200 infected.
On January 23rd, at the Davos World Economic Forum, a coronavirus vaccine program was announced with many partners already involved. Wow, these guys act fast.
Now, I am not a pandemic expert. However, three deaths as a result of a virus generally doesn't scream pandemic – and certainly doesn't scream for an immediate global coronavirus vaccination program, with partners already in place.
In fact, if you take a look at all of the outbreaks the WHO deals with on a yearly basis, you'll actually be shocked. There were 119 alone in 2019, including Ebola. Take a look yourself:
But after only three deaths, a global vaccination program is announced to tackle the virus?
Maybe these experts work quick.
What do you think?
Conclusion: What Now?
There's no doubt that U.S. President Donald Trump was attempting to lay blame on China for spreading the coronavirus globally – he is, after all, in an economic trade war with China.
China, of course, is going to use its resources to push propaganda that it may have been the United States that caused this outbreak – it is, after all, in an economic trade war with the U.S.
No matter what your opinion is, we'll never truly know the real answer. Some even say that the virus was manmade – even though one research says it can't possibly be.
It would, however, appear that the U.S. or China is to blame.
But that's where we need to take a step back and focus on the bigger picture.
You see, neither the U.S. nor China benefit from the coronavirus. Both economies have been hit extremely hard, and both are now resorting to extreme measures to protect not just their economies, but every one of their citizens.
When looking for answers, the simplest solution is to look from the top down: who really benefits from the coronavirus?
Not the U.S. Not China. Not any country, actually.
But the players involved in a global vaccination program and a cashless society certainly do, as do the banks who lend money to the most powerful nations in times of massive stimulus.
Think of the people involved in the creation of global vaccines and ID implants. They'll have access and control over every individual's vaccination records and finances.
And then think of the Federal Reserve, who will be lending trillions of dollars to the U.S.
When you look at it that way, is China or the U.S. really in control?
Given the massive stimulus measures now underway, I have no doubt that gold and other hard assets will skyrocket in value in the coming years. Furthermore, when money goes fully digital via biometric implants, hard assets such as precious metals will become the only real form of off-the-record wealth.
There's a reason why central banks around the world have mostly been net-buyers of gold over the past decade.
In fact, 2018 marked the highest level of annual net central bank gold purchases since the suspension of dollar convertibility into gold in 1971, and the second-highest annual total on record.
This didn't stop last year.
According to the World Gold Council, central banks were net buyers for a 10th consecutive year, with global reserves growing by 650.3t – the second-highest annual total for 50 years.
And if you think gold isn't a safe investment, consider this: Gold is one of the few assets that is universally permitted by the investment guidelines of the world's central banks.
It has also provided an average annual return of nearly 10% in U.S. dollars since 1971.
Not bad given the world is at near-zero interest rates, and likely for the foreseeable future.
Gold, Big Pharma, payment processors (think ANT financial, among others), and bioimplant technologies should be on everyone's list of investment ideas moving forward.
I always end my Letter by saying, "Seek the Truth."
Today, more than ever, I want you to do just that.
Seek the truth,
Ivan Lo
The Equedia Letter
www.equedia.com
Disclosure: We own gold and shares of gold companies, including THIS ONE, as well as other mining stocks.
Equedia.com and Equedia Network Corporation are not registered as investment advisers, broker-dealers or other securities professionals with any financial or securities regulatory authority. Remember, past performance is not indicative of future performance. This article also contains forward-looking statements that are subject to risks and uncertainties that could cause actual results to differ materially from the forward-looking statements made in this article. We are biased towards gold and gold stocks because we own them. You can do the math. It's your money to invest and we don't share in your profits or your losses, so please take responsibility for doing your own due diligence and consult your own professional advisers before investing in gold or trading in gold securities.