Newcore Gold: Upgrading a Known Resource and Continuing to Explore a Target Rich Environment
Newcore Gold (TSX-V: NCAU) released more drill results from its Enchi Gold Project drilling program. The project is well located along a major gold-bearing structural setting in Ghana.
Today's results show that NCAU continues to implement a two-pronged exploration strategy designed to expand and confirm areas of known mineralization and to selectively test a host of "stand-alone" gold targets – any one of which could easily become a "company maker."
About 1/3 of the recent positive drilling results are to be incorporated into the revised resource calculation to be used to update a PEA. More results are expected in the future, including those from an expanded RC drilling program. 
The current Enchi resource consists of 1.2 million ounces grading 0.72 g/t in three deposits: Boin, Nyam, and Sewum.
Several mining analysts are closely monitoring the progress made by NCAU. Collectively, they realize that it is not uncommon for shear-hosted gold mineralization to increase with depth. Oxides become higher grade sulphides as drilling continues to expand the quality and quantity of gold mineralization deeper along the steeply dipping shear corridors.
It is particularly of interest to see that Nyam's geology and structural controls are similar to that of the multi-million-ounce Bibiani Mine. 
This mine is located along the same regional structure and in the same type of rocks. 
Summary & Outlook
Management of NCAU has positioned the company for success. 
The PEA update will help investors fix value to the three gold deposits that make up the known resource. The current drilling program will add gold ounces and improve the PEA.
In addition, NCAU continues to test over 20 additional gold targets along strike in a gold belt that has shown can deliver multi-ounce deposits.
The shares are currently trading in a narrow range between $0.58 and $0.65 as they consolidate recent gains.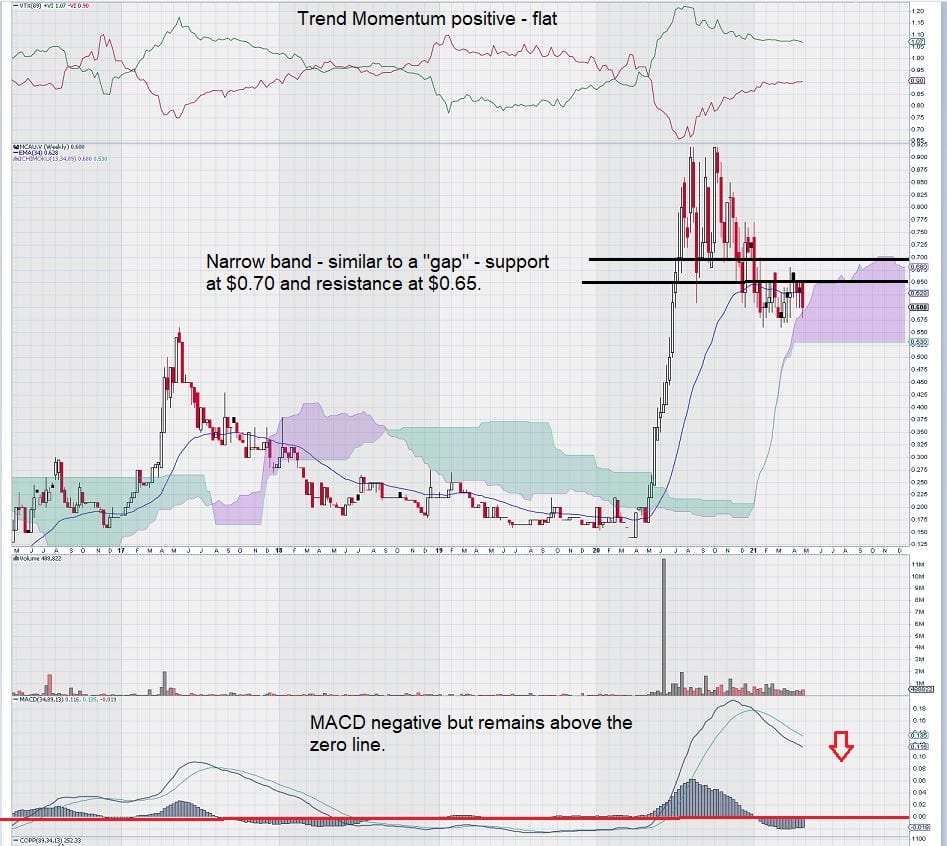 Note: we use unconventional settings for our charts that give "late signals." This is done to avoid "whip-saws" and to ensure, as much as possible, that we always remain on the "right side" of the trade.
With respect to this chart, our trade strategy is to look for either a MACD crossover above or near the zero line or a rise in price above the "gap-like trading band."
This is a weekly chart, and for more active traders, we suggest looking at a daily chart. Although our preferred chart time interval is weekly, we have shown a daily chart below: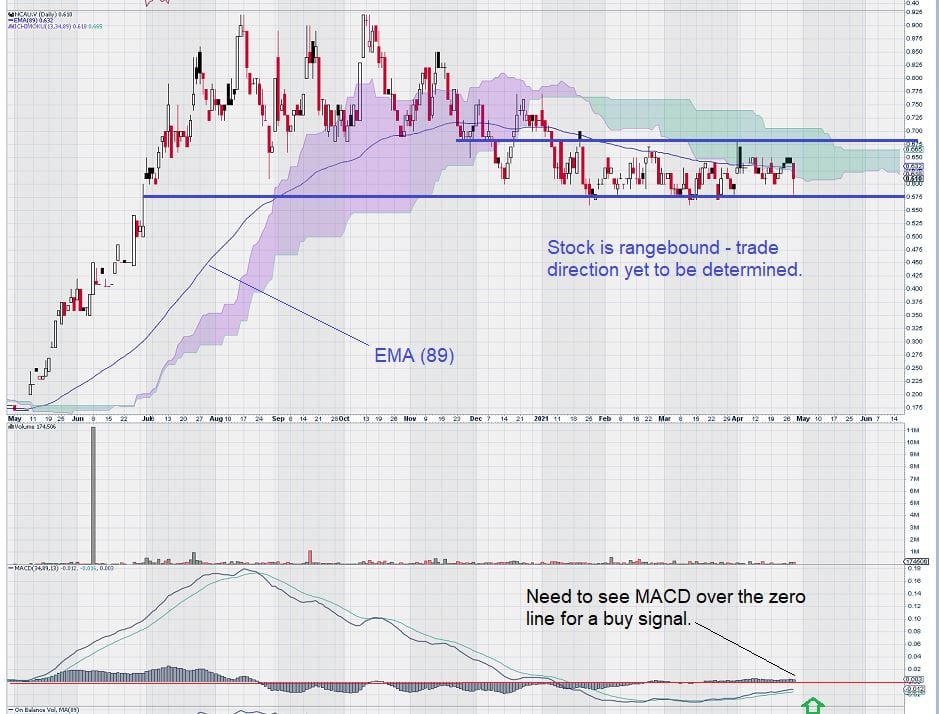 As can be seen on the daily chart, NCAU.V is nearly showing a buy signal on trend MACD. A crossover of the zero line with the signal line above the trigger line is what we are waiting for. It would be best if this occurred simultaneously with a price increase above the narrow trading range.
Analyst update reports have been prepared by:
Stifel GMP

Sprott Equity Research
Raymond James
Haywood Securities
Readers are encouraged to contact these companies to receive a copy.
-John Top, the technical trader
Disclosure: Newcore is an advertiser.