Small Abitibi Explorer Seeks Gold on Projected Extension of Structural Trend That Hosts Multi-Million Ounce Gold Deposit
iMetal Resources Inc. (TSXV: IMR)(OTCBB: ADTFF) (FRANKFURT: A7V2) is a junior company using a refined scientific approach to explore for gold in the famed "Abitibi Gold Belt."
The company recently raised over $2 million in a private placement completed in December 2020. Assay results from a 2019/2020 drill program indicate that gold mineralization is associated with an extensive near-surface hydrothermal alteration and gold mineralizing system. This geological observation is important because the gold deposits in the Abitibi are closely related to the regional structural faults that controlled their deposition.
Gold exploration in the Abitibi often consists of an exploration program that first targets where gold occurs and then where that gold is concentrated.
iMetal has successfully found the "right spot" to begin to narrow its search for a gold deposit.
The exploration plan going forward is to use a combination of geophysics, knowledge of structural geology, and knowledge of alteration patterns or "halos" that often surround mineral deposits to pinpoint where to drill next.
iMetal has established a surface gold zone (Zone 1) that extends for 500 meters and is open in both directions. Drilling is planned for Q1 on Zone 1. Further follow-up surface sampling will be undertaken on a second gold zone, Elkhorn Zone, with a view to drilling in Q2.
Here's a look at the stock chart for iMetal, (TSXV: IMR and OTCBB: ADTFF and FRANKFURT: A7V2):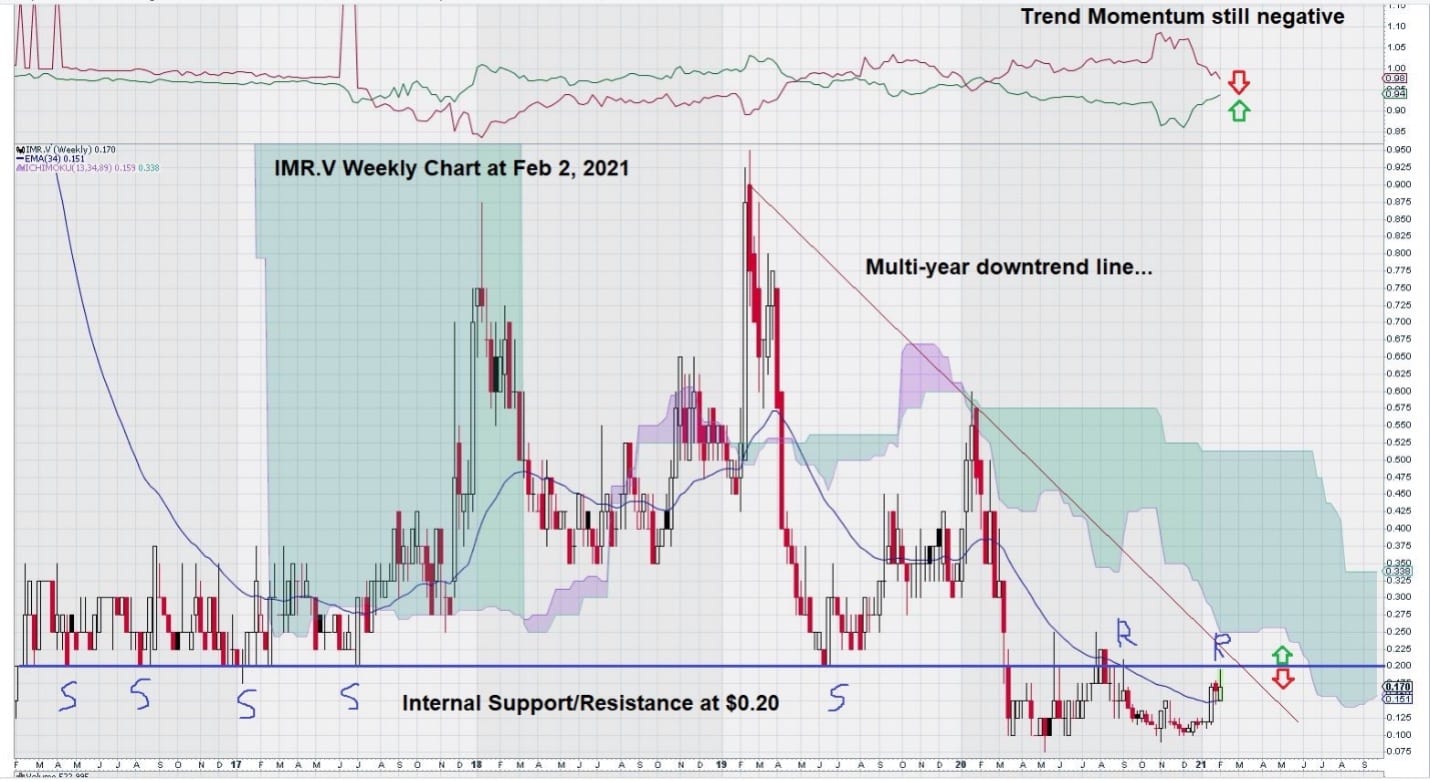 The chart is a simple read.  
There is a two-part buy signal that involves crossing over the multi-year downtrend line and having at least two or three consecutive weekly closes above the internal support/resistance line that is well established at $0.20. Of course, regular readers of EQUEDIA do not need to be reminded that we prefer to see "better" candlesticks that are supported by volume on any break-outs.
Summary & Wrap-Up
iMetal is one of those small stocks that are easy to lose track of – until you come across it later in time at a very different price. This is one to put on watch and keep track of as the company starts to release results from the next round of drilling at both Zone 1 and the Elkhorn Zone. The chart provides some excellent trade guidance as well. Furthermore, its near-proximity to other more well-known projects should not be dismissed. 
Gowganda West borders directly with Caldas Gold Corp's Juby gold deposit to the North, East, and South. And most importantly, IAM Gold's Cote Gold deposit is also just 50 km to the West of iMetals asset. For those who are unfamiliar with the Côté Gold Project.
Via IAM Gold:
"The Côté Gold Project is transformational to the future of IAMGOLD. At a gold price of $1,700, Côté's expected NPV (on a 100% basis) is over $2 billion, with a 22.4% IRR. The Project is anticipated to generate over 1,000 jobs during construction, 450 jobs during operations, C$5 billion in wages and more than C$10 billion in GDP over its lifespan."
In other words, as IAM Gold advances its project, we are confident future plans will include the exploration and acquisitions of surrounding assets to increase mine life. While this plan is likely further down the road, any significant finds based on drilling from others will surely be on IAM Gold's radar. 
We'll be keeping our eyes on iMetal's drilling progress.
-John Top
Disclosure: iMetals is an advertiser and we own shares.