Dear Readers,
So it is done. Canada has a new leader, and we will soon see what he is made of; or rather, what he will make of our great country.
As Harper graciously said in defeat, "the people are never wrong."
But do the people know what is right? Can such an inexperienced leader lead this great nation?
Regardless, the question is not whether Trudeau can lead, but how the Canadian economy will fair under his leadership?
The Short Term Outlook Under Trudeau
Canada's economy will be in a very tough position under Trudeau's watch.
Trudeau will begin his economic leadership through government infrastructure spending in attempts to boost short-term growth and pack on the numbers in the GDP department. This will bring about temporary jobs, but we're not sure how many since Trudeau has yet to reveal any specific plans on how the billions of dollars will be spent. His plan may bring a temporary boost to our economy, but there's a good chance that the effects of his spending may be offset by one of Canada's most important resources: oil.
Oil prices are likely to remain low for the following years. Trudeau is not a fan of Alberta or its oil industry, which likely means he won't be giving that sector much support; he may even hurt it through his climate change initiatives that directly affect fossil fuels. A bet in either direction on oil and gas at this point is a crapshoot. Perhaps once Trudeau opens the books and realizes just how important Alberta's oil is to Canada, he may change his mind. For now, investment funds and those in this space are waiting before they make their move – and you should too.
What do you think will happen to the oil sector under Trudeau?
The Silver Lining
After 2008, I was an all out bull toward the US market – not just because of the record sums of monetary injections, but because I knew Obama would spend his way out of a recession through unsound fiscal policy. The next President will have to deal with the ramifications of such actions, but in the short term, stocks would surge.
Spending almost always has a noticeable affect on the markets, and one historical statistic proves fascinating: stocks have generally performed better under a Democrat-led government than it does under a Republican government.
As I mentioned in my Letter, "Watch the Throne":
"Some will say Democrats are better for the stock market (as shown by historical data). Others will say Republicans are better for the economy. Historical data suggests that the stock market performs best under a divided government, when the party that controls the White House differs from the majority party in Congress. In fact, it seems best for Wall Street when we have a Democratic president with a counterbalance of a GOP-led Congress; just look at the last four years."
While I believe the US market is flirting with a top, there may be room here for Canada to play a little catch up under Trudeau.
Although the Conservatives are generally more left than Republicans, one could make the comparison that the Conservatives would be the Canadian Republican counterpart, and the Liberals the Democrats.
And under a Liberal leadership – much like the Democrats – stocks generally do well.
According to monthly data to August 2015 compiled by Bloomberg from the TMX Group Ltd., stock returns have been three times higher under Liberal prime ministers than with Conservative leaders going back to 1992.
Via Financial Post:
"Over about 63 years in power, the Liberals of Pierre Elliott Trudeau, Jean Chretien and Louis St-Laurent witnessed a weighted compound annual growth rate of 6.8 per cent for the Standard & Poor's/TSX Composite Index and its predecessor TSE Index. That compares with a 2.2 per cent annual gain for the Tories of Stephen Harper, John Diefenbaker, Brian Mulroney and others, the data show."
Now this isn't to say that Liberals are better for the economy, as the article also notes:
"…Is it timing? Have the Liberals been lucky over 100 years to do so well?" said Livio Di Matteo, an economist at Lakehead University in Thunder Bay, Ontario. "Over 100 years there does seem to be a pattern. It could be that when economic growth is poor, people want austerity and think Conservatives are better managers. Then when things improve people get tired of that and they vote the Liberals in."
And I believe Harper feels this way – he's done a great job of managing the economy through turbulent times and at the peak of the turnaround, Canadians have voted him out:
"As with other leaders, Harper's stock market record reflects events that are beyond his control. The incumbent Conservative-led the country through the worst global financial crisis since the Depression and more recently witnessed a 50 per cent drop in the price of oil, one of the nation's biggest export products."
So how will the stock market perform under Trudeau?
If history is any indication, we may see markets begin to move higher. But not just because of the historical statistic.
Trudeau will spend and put the country into deficit, but many will benefit from his spending. Whether it's smart spending or not, money from the government will flow into private sectors as contractors and others win big government contracts.
In the short-term, this could mean a decline in the value of the Canadian dollar as the government puts itself into deficit. Combine deficit spending and a muted commodities outlook, the Canadian Dollar doesn't have much hope of climbing higher.
There's also talk of rate hikes in Canada, but this is not something that will happen anytime soon. The Bank of Canada just maintained interest rates and then gave a poor economic outlook for Canada given the decline in the price of oil.
Furthermore, with Trudeau promising to spend throughout his leadership, it's in Canada's best interest to maintain low rates for some time. Don't expect a big rate hike over the next four years during his term.
Meanwhile, I am confident that a rate hike in the U.S. will happen before one in Canada, and that will certainly weaken the Canadian dollar against the Greenback when it happens.
How the U.S. manages its monetary policy will affect the value of the Canadian dollar, but all things remaining steady, the Canadian dollar should remain weak which should spur foreign investments into our market – including the capital markets.
Do you think the Canadian Dollar will weaken under Trudeau?
CLICK HERE to Share Your Thoughts
The Golden Egg
While the oil and gas sector remains a mystery under Trudeau, there is one sector that could benefit from a lower Canadian dollar.
A strong U.S. dollar and lower input costs on the back of sliding energy prices are boosting gold producers in jurisdictions where the currency is weaker. This is particularly true for gold producers in Canada and Australia, where the currencies continue to weaken against the Greenback.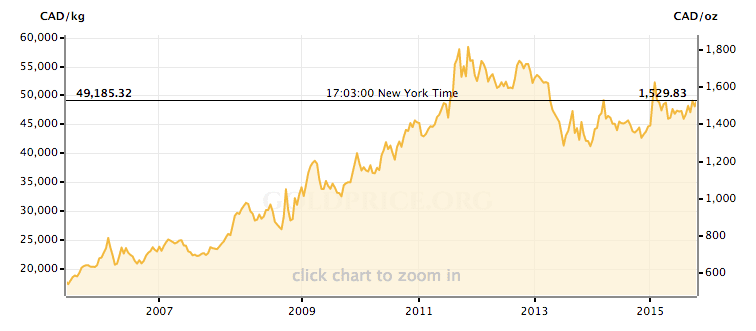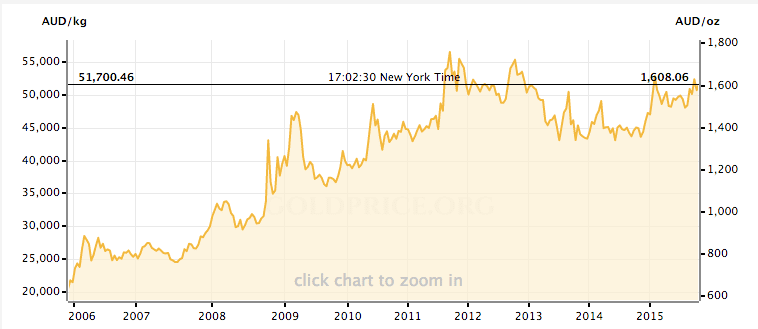 The market may already be giving us a glimpse of this event, with many Canadian-based gold stocks rising post-election.
As I mentioned earlier this year – and after many years of waiting – we may not only be near a bottom for gold stocks, but we may soon see many of them breakout.
Which is why I led this year off with my investment in Canadian-based, Australian gold miner Newmarket Gold (TSX: NMI) (OTCQX:NMKTF) – now up over 80% since my first report.
Newmarket is a perfect example of an Australian gold producer benefiting from lower input costs and a weak Aussie Dollar. Of course, management is superb, and their organic growth through exploration has been spectacular. In just a couple of weeks, the Company is set to announce its Q3, which should give us a glimpse of what's to come. And looking at some of the numbers announced in recent press releases, combined with the continued strength of the gold price in Aussie Dollar, I expect the Company to have a fantastic quarter, which should help boost their valuation.
Looking to Build
Excluding Newmarket, it's been a long time since I have added gold stocks to my portfolio. But given the action I have seen in this space, it may be time to include select late-stage exploration/development companies, in addition to a producer like Newmarket.
Regardless of the price of gold, big moves are being made in the sector.
During the last bull market, the big producers acquired a lot of mines in higher risk jurisdictions all over the world. But given the political and price risks associated with those mines, the major gold producers were forced to relinquish many assets, suffering tens of billions of dollars in write-downs over the last few years.
But things are different now.
Gold miners are now close to their cheapest valuation relative to book value in the last two decades, and the big boys have not only cleaned up their balance sheets, but are making moves to replace their lost foreign assets, with assets in safer jurisdictions such as Canada and Australia.
Via Bloomberg:
"The larger miners may be better positioned to consider acquisitions than in 2013 after cutting costs. The 10 biggest producers by sales, led by Barrick Gold Corp., may generate combined free cash flow of $4.17 billion this year, compared with a negative $1.74 billion in 2013, according to analysts' estimates compiled by Bloomberg. That would be the highest for the group in at least eight years, the data show."
Furthermore, it appears that the big boys are very actively looking at deals to buy.
Continued…
"Newmont Chief Executive Officer Gary Goldberg said on Sept. 24 the largest U.S. gold producer was searching for acquisitions to add low-cost gold or copper output after asset valuations fell. Goldcorp continues to evaluate potential deals, CEO Chuck Jeannes said the same month."
Their comments last year spurred an uproar for deals in the gold sector.
In the following months, we witnessed:
February 2015: Centerra Gold and Premier Gold Mines became 50/50 partners on Premier's Trans-Canada Property in Ontario.
March 2015: Goldcorp acquired Probe Mines for their deposit in Ontario.
April 2015: Alamos Gold acquired Aurico Gold through a merger to gain exposure to its Young-Davidson Mine in Ontario
April 2015: Yamana acquires Mega Precious Metals for their Monument Bay Gold project in Manitoba.
Notice any similarities?
That's right, all of these deals were focused on assets in Canada – a safe and stable jurisdiction.
But that's not the only reason.
As I mentioned before, the strength of the U.S. dollar relative to the Canadian dollar provides an immediate benefit to Canadian gold miners, since mining costs are paid in Canadian dollars while the gold produced is sold in U.S. dollars.
Now if these big producers believe as I do – that the Canadian dollar will remain weak – it only makes sense to make Canadian assets a primary focus. And with Trudeau in power, I believe the Canadian dollar will be even weaker given his "spend now, ask later" policy. And that bodes well for Canadian gold companies.
Start looking for late-stage Canadian gold explorers and developers that the big guys might want to buy. I am.
CLICK HERE to Share Your Thoughts
Seek the truth,
Ivan Lo
The Equedia Letter