Do you remember when inflation was deemed to be "transitory"? That term was joined at the hip with inflation when politicians, economists, and Federal Reserve officials were asked questions about rising prices brought on by unprecedented money printing.
That seems like quite a long time ago…
So here we are, a few months later, and the idea that inflation is transitory has been discarded, like yesterday's news. So much for creating a desirable economic reality by constant repetition of falsehood. It doesn't work.
We have all seen the price of raw materials skyrocket to new highs. Equedia readers know that commodities have made strong upward moves and that depleted inventories will define the future for base metals, rising prices, and strong consumer demand as the global economy re-start is underway.
Some of the largest investment groups in the world already recognize that inflation is on track to "morph" into stagflation. 
Central bankers in North America and Europe have made it clear that they intend to ebb the flow of easy credit and start a tightening cycle.
"Stagflation risk is a real concern today… We are looking at a supply shock layered on top of a supply shock. And the nature of the new supply shock—centered on energy—suggests not only that inflation will move even higher and likely prove more persistent moving forward, but also that growth will take a hit." – Philipp Hildebrand – Vice Chairman, BlackRock
A return to previous consumption levels in the economy that then become stalled due to stagflation will still result in higher price pressures. The idea that multi-layered supply shocks, coming one after another, shows how this can happen.
Recently, the US Administration authorized the release of 1 million barrels of oil per day for the next 180 days. A rather convenient timetable that expires to closely coincide with the November mid-term elections for the House of Representatives and about 1/3 of the Senate seats.
Why is this important?
It signifies that the Democrats will leave "no stone unturned" when it comes to remaining in power. The reduction of the strategic oil reserve for overtly political purposes is unprecedented. So were the executive orders by Biden – the most in recent history: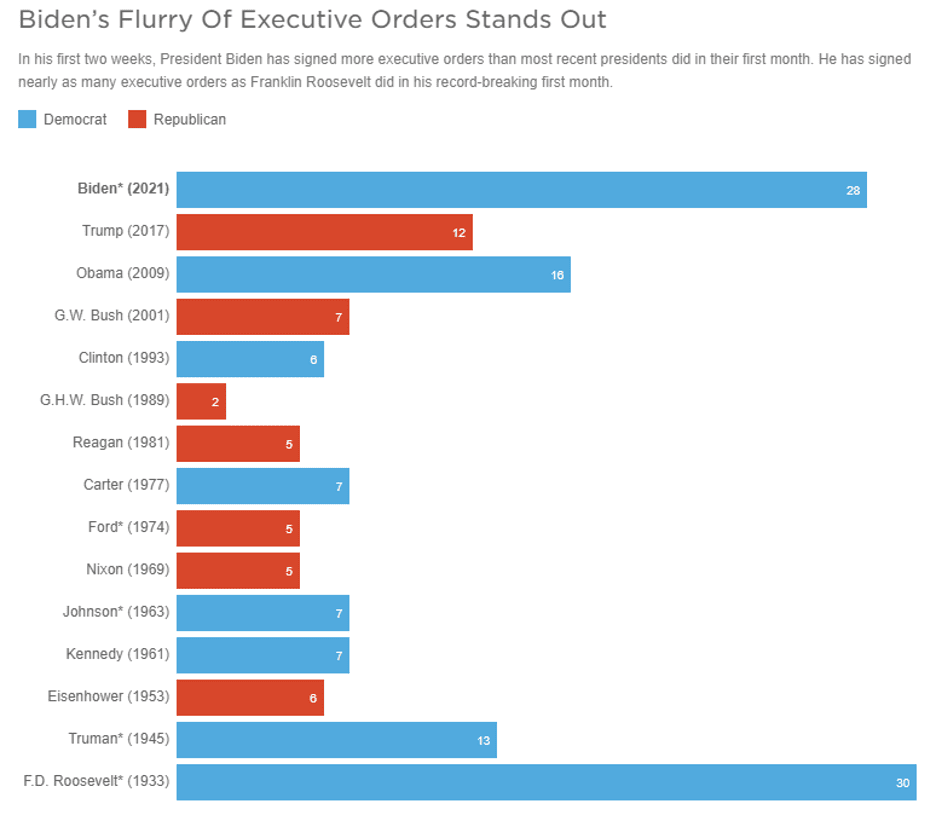 The division between the Left and the Right has resulted in governmental mandates that reflect rule by decree rather than by consensus.  
It is, therefore, entirely logical to see past excessive money printing turn to inflation, past inflation to stagflation, and finally, past stagflation to wage and price controls.
Wage and price controls will come just as salaried workers wake up to the fact that their current real wages have been slashed, even as their nominal wages stay the same or increase modestly. Real purchasing power declines rapidly when inflation starts to feed upon itself. It may well be that it took one generation to lose respect for and fear of inflation. New students will now learn old lessons. 
A combined trip to the gas station followed by food shopping at the local market takes a big bite out of many weekly paychecks. 
Inflation has risen so quickly that there still is an "echo memory" for most people who remember when the gas/grocery trip was enjoyable. But, unfortunately, it is now dreaded by many.
Summary and Wrap-Up
There should be no doubt that the current Administration will enact wage & price controls if they are seen as helpful to aid in their election. This is particularly true in the next Presidential election cycle in 2024.
The bond market is getting more and more skittish. 
Equity investors should closely watch the 2-year/10-year yield differential – the yield curve. 
Via CNBC: 
"When the yield curve inverts, "there has been a better than two-thirds chance of a recession at some point in the next year and a greater than 98% chance of a recession at some point in the next two years," according to Bespoke."
The simple message to investors: "The wind is starting to blow, and the water is about to get rough; an economic storm is on its way – are you ready?"
John Top.