Last week, we looked into Twitter's takeover. 
We dissected Musk's "official" reasons for going through with the deal and what he wants to do with Twitter in the end. In short, he thinks he can copycat China's WeChat and turn Twitter into the West's "super app."
(If you missed it, I recommend reading it first.)
But is Musk's free speech rationale a genuine cause or a clever platform to push his agenda?
More importantly, could this agenda also be heavily influenced by foreign actors?
Twitter's Foreign Financiers 
Musk couldn't pull off such a massive buyout by himself – not so quickly, anyway. 
So who helped Musk with the money? 
15% of the Twitter buyout was financed through equity from outside investors – mostly foreigners. 
Here's a cap table broken down by the fund's source of origin: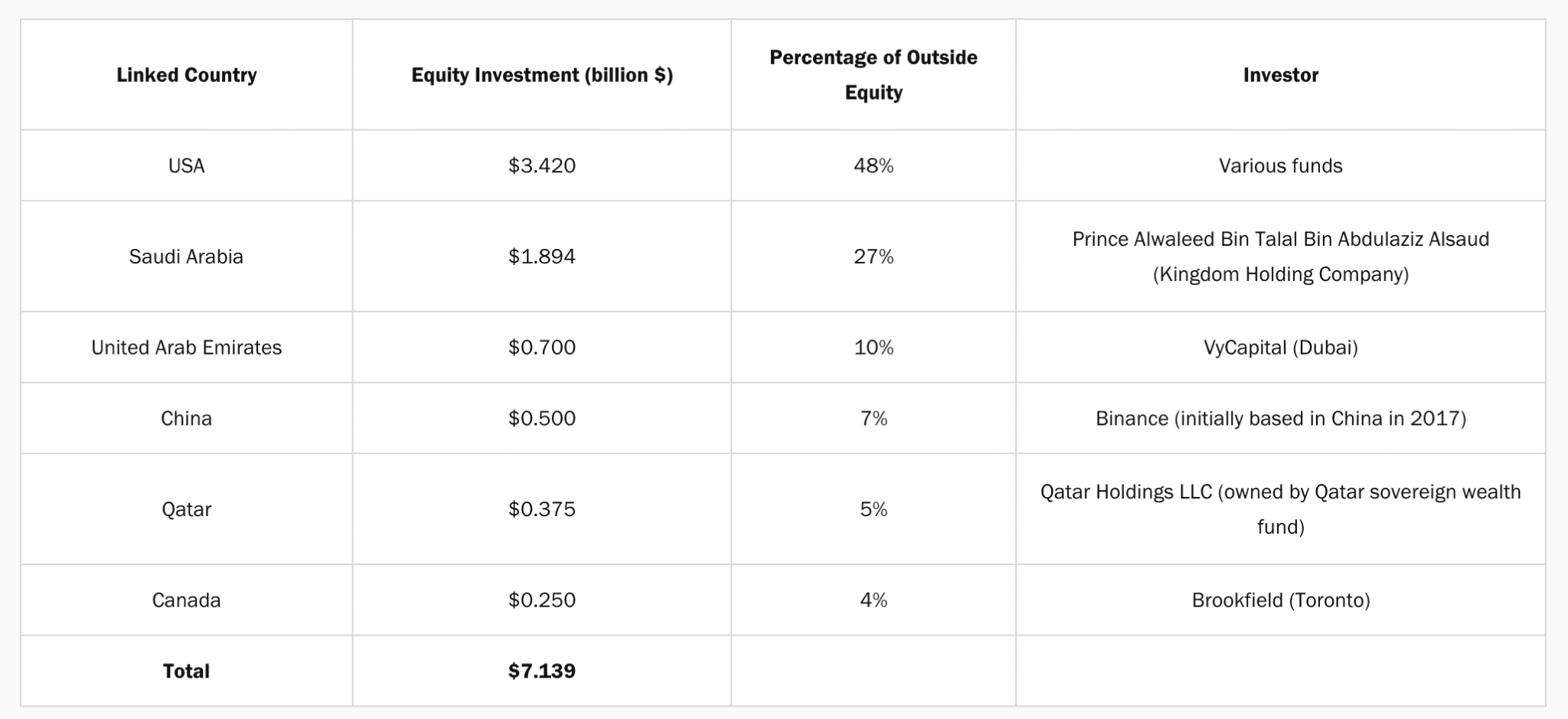 This foreign presence in one of America's most influential political platforms sent Capitol Hill into a cold sweat. The Biden administration immediately called on the Committee on Foreign Investment in the United State (CFIUS) to probe Twitter.
And even though CFIUS usually scrutinizes businesses in which foreigners hold a controlling stake, on October 31, Senator Chris Murphy (D-Conn.) demanded that CFIUS would make an exception:
"As you know, CFIUS has the responsibility to review transactions that could result in an American business being controlled by a foreign person. However, CFIUS must also review noncontrolling investments in certain sensitive US businesses, including companies that develop critical technologies and businesses that possess sensitive personal data on US citizens. The purpose of these reviews is clear: to protect the national security interests of the United States and American citizens."
Are Twitter's foreign shareholders something we should really worry about? Or is this Biden's plot to fearmonger the public into believing they should crack down on Twitter now that they don't have their puppet moderators on its board?
There's only one way to find out.
Let's look at the foreign actors behind the Twitter takeover and why they are so interested in this indebted social network.
VyCapital and Alexander Tamas
First up is VyCapital, a rather low-key venture capital fund from the United Arab Emirates. 
The mastermind behind this Dubai-based fund is Alexander Tamas. He's an ex-investment banker who earned his name as a VC by making impressive early bets in internet giants like Zynga, Airbnb, and Facebook. 
He's also known for working closely with Russian billionaire Yuri Milner. Some people call him Yuri's "human supercomputer."
Before founding VyCapital, Tamas worked with mergers and acquisitions in tech at Goldman Sachs. Later, he led major investment rounds in Airbnb, Facebook, and Twitter as a VC at DST Global.
Then VyCapital came along.
One notable thing is that Twitter isn't VyCapital's only investment in Musk.
The fund led a $675 million investment in Musk's underground-tunnel company, the Boring Co. It was also part of the $205 million investment round in Musk's Neuralink last year.
So from Tama's history of tech investments and affairs with Musk, it sounds like he is more of a Musk fanboy with a firm conviction in what Musk does than some foreign agent.
Chinese Binance
The second biggest private investor is Binance, the world's biggest crypto exchange. 
The Democrats spun it as China's interference in our national affairs because its founder Changpeng Zhao (CZ) is a Chinese native, and the company was initially incorporated in mainland China.
(And yet, ironically, Biden signed an executive order to remove Trump's TikTok ban and is now using it to sway voters.) 
It should come as no surprise that CZ denied those allegations. 
Now, even if he's lying, there's no evidence that Binance has any ties to China. In fact, China has banished the exchange from its market for good.
So what does CZ say about his $500 million bet on Twitter?
At the recent Web Summit conference in Lisbon, he described "free speech" as his biggest motive behind the investment. 
"Number one is that we want to be extremely supportive of free speech," Zhao said at the opening event of Europe's largest tech conference, the Web Summit, in Lisbon, adding that Twitter is "where people express their opinions". "It is an important free speech platform – that's the number one reason," he added."
Being of Chinese descent, censorship clearly hits home for CZ.
But Twitter's biggest appeal is likely its applications in the Binance-dominated blockchain economy.
That's something he was explicit about before the acquisition too.
He openly shared his plans to build what he calls "crypto Twitter." Considering that Musk is planning to introduce payments to Twitter, and Binance runs the world's largest crypto exchange, the synergy speaks for itself.
In fact, Binance has assembled an internal team with just one job: to find a way to realize Musk's "everything app" vision while incorporating its blockchain technology.
Does CZ sound like a foreign agent aiming to sabotage the integrity of America's political discourse? Doesn't seem so. He's just a capitalist who sees much value in piggybacking on Musk to push his own business.
But what about state-backed investors?
Saudi Arabia and Qatar 
By far the biggest foreign shareholder of Twitter after the acquisition is a Saudi prince. 
After flip-flopping for half a year, Saudi Arabian Prince Alwaleed bin Talal committed nearly $2 billion to privatize Twitter. 
A Saudi prince with a rep for cruel human rights violations doesn't sound like much of a culture fit for a tech company that aims to promote those rights. Which undoubtedly raises suspicions about what his real motives are.
Especially when Twitter is the biggest social network in Saudi Arabia. 
But before we jump to conclusions and conspiracies, there are a few important things to know.
The holding company didn't become a Twitter shareholder out of the blue. On the contrary, it has a long track record of having successfully invested in major US companies before they went public. 
That list includes American giants like Lyft and Snapchat: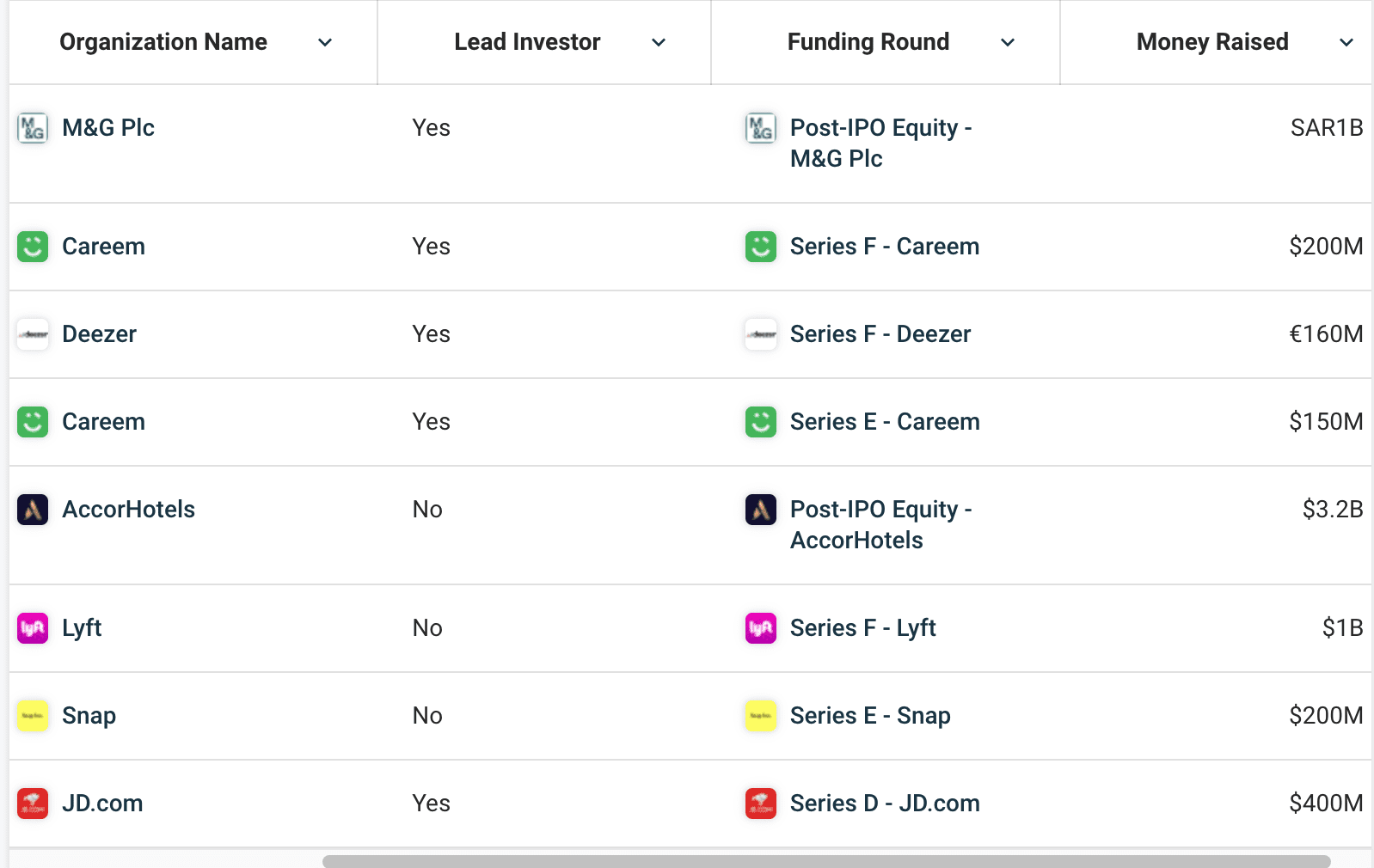 The fund also invested $300 million for a 3% stake in Twitter in 2011, two years before the blue bird IPOed. And before the takeover, it was one of the biggest shareholders in Twitter.
(The irony again is that Capitol Hill is suddenly so concerned about Saudi Arabia's investment in Twitter when the Saudis were a major shareholder in the public company for over ten years.) 
This brings us to another important aspect of the Saudis' investment.
It wasn't as if Alwaleed bin Talal put up another $2 billion to finance Twitter's privatization – he simply kept the position he already held when Twitter was public. 
And his official motivation was that Twitter was too cheap. 
Back in April, when Musk first made the offer to buy out Twitter, the Saudi royal was one of the few investors who sought to block the takeover. 
Alwaleed tweeted: "I don't believe the proposed offer by Elon Musk comes close to the intrinsic value of Twitter given its growth prospects."
Before committing to the deal, the Saudis changed their minds at least a couple of times. But during that time, coincidence or not, Musk turned political.
Out of the blue, he offered his plan to resolve geopolitical conflicts in China and Russia's favor. 
Via Washington Post:
"In the 10 days since Elon Musk agreed again to buy the social media platform, he has proposed solving the war in Ukraine by letting Russia keep territory and won praise from a top Chinese diplomat for suggesting China take control of Taiwan."
These political comments have been construed by some as a narrative to help the Saudis because of their relationship with Russia.
Could Musk have used that as a bargaining tool with the Saudis?
Here's the real answer the media hasn't told you…
It Doesn't Matter!
We hope, and believe, Musk's Twitter takeover was truly born out of ideological discontent with the establishment. 
So while the media has spun all sorts of conspiracies about Twitter's new shareholders, they failed to mention the most important thing:
IT DOESN'T MATTER!
You see, Musk not only owns the majority of Twitter, but he is also the only director of the company. 
In other words, he has total control. 
The only thing standing in his way is money. 
At Twitter's current run rate, there's no doubt it will need an injection of capital.   
Perhaps Musk will have to sell more Tesla stock, which could take a toll on the price of Tesla shares. If that were the case, we would not be surprised to see Musk make a big announcement for Tesla in 2023 to help alleviate that. 
So the real question isn't "who" owns Twitter, but "who" will finance it moving forward?
This is why politicians and Big Corp are doing everything they can to ensure Twitter and Musk bend the knee.
Via CBS:
"General Mills and Audi are the latest big advertisers to pause ads on Twitter as questions swirl about how the social media platform will operate under new owner Elon Musk."
And now the lobbyists are in full force, too.
Via the Verge:
"Omnicom, one of the world's biggest ad firms, representing brands like McDonald's, Apple, and PepsiCo, is recommending clients pause spending on Twitter, according to an internal memo obtained by The Verge.
Omnicom Media Group is recommending clients "pause activity on Twitter in the short term," according to a note titled "Twitter – Continued Brand Safety Concerns." The memo cites recent events in the last few days that have "potential serious implications" for brands running ads on the platform."
If Musk can convert Twitter into a subscription-based platform, as we mentioned last week, then Big Corp and politicians will lose their influence among the masses.
Because Twitter derives the bulk of its revenue from big advertisers, the platform belongs those advertisers.
But if Musk is successful in making Twitter a subscription-based platform, then it belongs to the people.
It's no wonder the powerful elite are doing everything they can to stop Twitter in its tracks.
Can Musk bring Twitter back to the people?
Let us know your thoughts below.
Back on Twitter
As many of you know, we stopped posting on Twitter because our content was often moderated due to the many untold truths we shared – truths that many wouldn't.
So, for the first time in many years, we'll slowly come back on Twitter! Let's see what happens.
Follow us @equedia
Stay tuned and subscribe to the Equedia letter below to seek the truth together.
Carlise Kane