This might make you feel old, but did you know that retail e-commerce has been around for over 27 years now?
It's one of the internet's oldest industries – one that minted a new generation of millionaires.
And those who saw it coming early on are probably now enjoying a margarita at a beachfront villa.
Take Amazon, the king of e-commerce.
Since 1997, it has flipped retail on its head. Its shares have soared from $1.56 to more than $3,600 per share.
…turning every $1,000 into more than $2,300,000.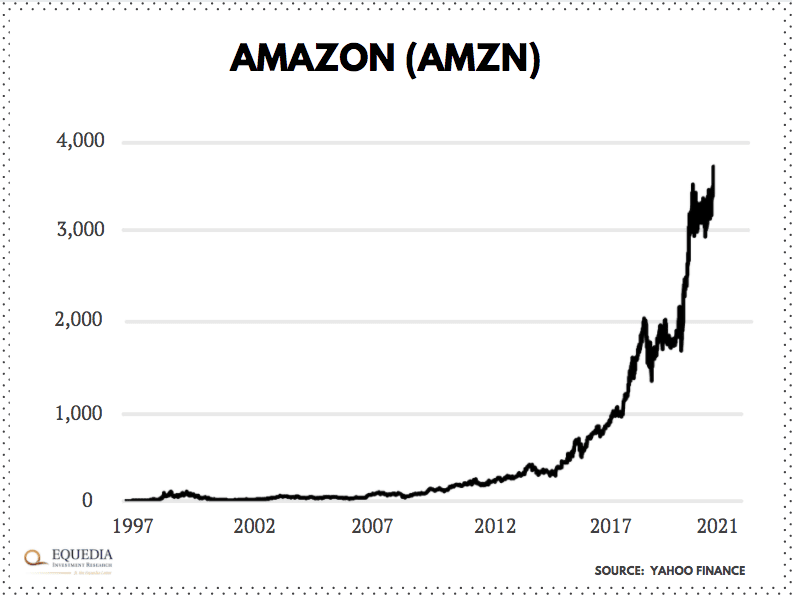 That's right – if you bought AMZN when it first went public and put in just $500, you'd be a millionaire today.
Of course, hindsight is 20/20, and that was many years ago.
But what if I told you retail is once again ripe for change?
In fact, another massive retail disruption is in the making. You don't feel it yet because it's brewing in the faraway East. But when it goes mainstream, it will change how we shop for good.
I'm talking about the "social commerce" revolution in China.
The good news is, it's still off the radar of many investors because most companies spearheading this disruption have nothing to do with retail. 
They are disguised as something else entirely.
I'll tell you all about them in a moment. 
But first, let's talk about why America is eating China's dust in e-commerce…
The Achilles' heel of America's e-commerce
Like many things, you could pin China's e-commerce prowess on its population.
For example, today, there are 500 million Chinese consumers who regularly buy online. That's more than the population of the US… The UK… and Germany—combined! 
But it's not just the market size. 
The Chinese buy online more than 3X as often as Americans, too. In fact, Chinese e-commerce is already nearly a $2 billion market – more than double the US. 
And it's growing fast.
Via Forbes:
"In 2020 over 700 million Chinese are expected to shop online vs. 600 million in 2018. According to eMarketer, China has the highest rate of e-commerce of any country as a percent of total retail sales (over 35% in 2019), the highest absolute sales level (more than 3 times the U.S. total, the second largest country), and one of the fastest growth rates of any country, off an already high base."
But why do the Chinese spend so much more online than Americans? Outside of COVID, the reason so many of them ditched brick and mortar comes down to a simple question I'm going to ask you right now. 
How much of your shopping is planned vs. spontaneous? 
In other words, how much do you spend on stuff like groceries that you scribble down on a shopping list in advance?
And how much do you shell out spontaneously when, say, you go out on the town?
You might not tally it up off the cuff, but for the average American, it's about 50/50. 
That's right. Without realizing it, most people spend half their money on impulse. And herein lies the Achilles' heel of America's e-commerce. 
In the analog world, if you will, a lot of shopping happens by chance. These spontaneous purchases are one of the most lucrative parts of retail. And yet, e-commerce as we know it is not designed to capture that retail side.
Take America's e-commerce giants: Amazon. Walmart. eBay.
In a way, they are nothing more than a digital version of a shopping mall. And unless you are in the market for something, you don't spend a minute of your "digital life" on those sites.
Meanwhile…
China integrates e-commerce into every part of modern digital life
In China, over a billion people spend the vast majority of their "digital" time chatting, watching movies, and otherwise have fun on the internet through these five most popular social networks :
– WeChat (Facebook of China)
– Sina Weibo (Twitter of China)
– Kuaishou (TikTok competitor )
– Douyin (TikTok of China)
– Youku/Tudou (Youtube of China)
And all of those sites have one thing in common: a built-in e-commerce store. 
This is called social commerce. In short, it integrates the entire shopping experience — from product discovery to checkout — into a social media platform. 
You can order a pizza while you chat with a friend on WeChat (and even send them money), or you can snap up some branded merch when you watch your favorite TV show on Youku – all without ever leaving the app/site.
In other words, there's a "digital storefront" in every corner of the Chinese internet. And these built-in stores are by far the fastest-growing e-commerce niche in China, expanding at ~40% per year.
The disruption is playing out the other way around, too. 
China's legacy e-commerce stores are quickly taking on social media features to engage more eyeballs and sell stuff more interactively.
For example, Taobao, the Amazon of China, has introduced live streaming. China's #1 online store now broadcasts live shows where influencers and brands can interact with their fans and sell stuff as if in person. 
And it turns out, live-streaming works like magic in online retail.
Take the last Singles Day, China's biggest two-day shopping event of the year.
Last October, Viya, China's #1 internet influencer, went live on TaoBao Live, attracted over 147 million fans, and get this: sold over 4.8 billion yuan ($719 million) worth of products. In a single day!
Via WeForum:
"Viewers could purchase products without leaving the TaoBao platform; her audience spent over 4.8 billion yuan ($719 million) on products she promoted. And Viya was just one of many – that day, over 66,000 livestreamers across different Chinese platforms attracted a total of 709 million viewers."
Think about it. 
One live-streamer sold nearly as much as Amazon does on an average day! And Viya was just one of tens of thousands of people across many Chinese platforms who streamed that day.
It's no wonder Amazon launched a live-stream event of its own last year.
There's no way I can overstate this, but China started a retail revolution that will change the way we shop online for good.
Unlike Amazon or Walmart, its internet giants didn't just put up a bunch of "digital malls." Instead, they seamlessly integrated online shopping into every part of modern digital life.
This is why the future of retail is not the next Amazon or Alibaba. It's the next Facebook – a new generation of social networks where people will spend most of their "digital" time in the coming decade.
Which leads us to this…
The Next Generation 
Kids and teens today don't use Facebook or Instagram. They're even ditching Snapchat. Instead, almost all of them are now on TikTok.
If you don't already know what TikTok is, it's a Chinese social network where people share short, 60-second, mobile videos in which they dance, lip-sync, sing, or otherwise act out trending jokes (aka memes).
These shorts may seem like a frivolous passing trend. But the reality is, they are quickly taking over the internet.
And in China, they are already the #1 content format people consume on the internet.
For proof, here's a breakdown of video consumption on the Chinese internet by video length: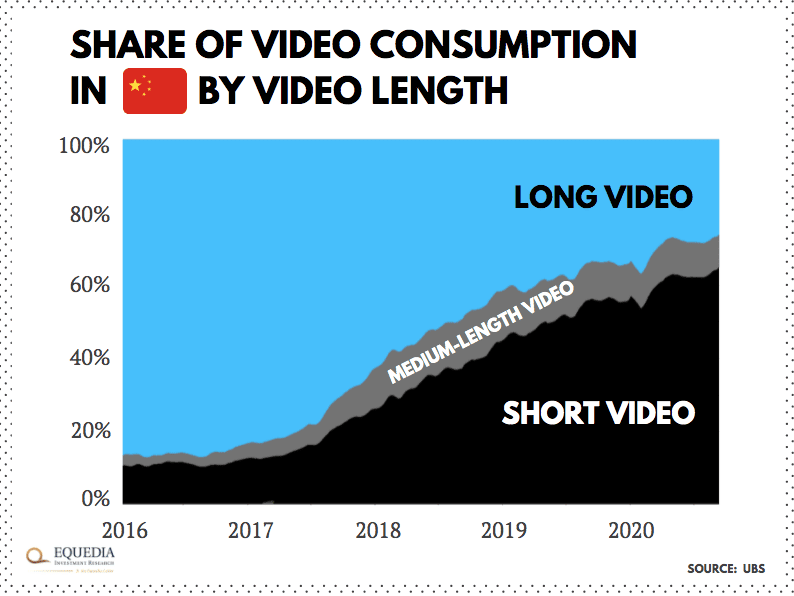 Now, social networks built on short videos not only excel at pulling in the most eyeballs, but they also do a much better job at making money off them for two reasons.
For one, their algorithms are not only better at engagement (think TikTok), but they better serve ads to their users. Take a look at the next chart that shows how Douyin (China's TikTok) makes more ad yuans per user than the other top-10 Chinese platforms: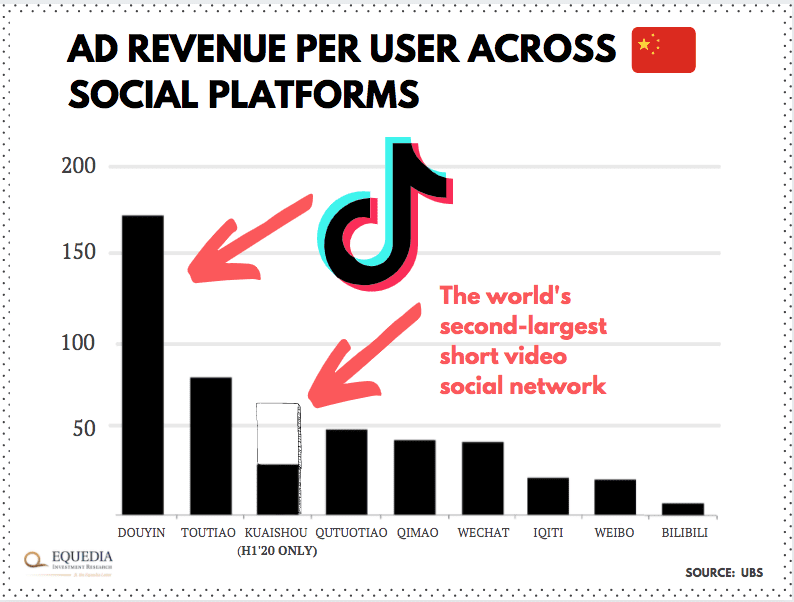 Second, these platforms are more flexible at integrating e-commerce and other alternative monetization models, such as tipping/virtual gifting during live streams. (Yes, that's a thing now.) 
And that is why short video and live-streaming are the next e-commerce tour de force.
However, the problem for investors is that most short-video or live-streaming social networks are either massive private companies like Douyin and TikTok, or the kind of overhyped IPOs like Kuaishou, which crashed more than 50% since its IPO (and isn't even traded in N. America.)
That means the best opportunities for investors within this incredibly fast-growing market are smaller and more niche companies – companies that can grow fast, adapt, and have a platform solely for the purpose of live-streaming e-commerce. 
Trust me, this new way of shopping is too big an opprtunity to miss.
Stay tuned.
If you're not already an Equedia Letter subscriber, sign up for free below now and get our upcoming reports on this massive new retail revolution.