A massive change is underway and its outcome will affect the entire world.
Russia's energy war against Europe is starting to bear fruit. 
In a snap election last week, Italy put in power a fierce anti-EU coalition led by Giorgia Meloni. She has been labeled Italy's first far-right leader since Benito Mussolini during WWII – a label the left are desperately trying to pin on her.
This marks a complete reversal of politics in the region. 
Have the people had enough?
Just a few years ago, her Brothers of Italy party had just 4% of the vote.
This year, it grew sixfold to 26%.
And with her close ultranationalist friends, she holds a majority in both houses of Italy's parliament. 
In other words, a founding member of the EU and its third-largest economy is now run by the very people who want to dismantle it. 
And while Italy is the latest, it's just one out of many block members taking a "right" turn…
Anti-EU Coalition
There's a growing faction of EU members who are increasingly condemning the Brussels rule.
For starters, you've got a long EU critic, Hungary.
For over a decade, Hungary's prime minister, Viktor Orbán, has been locking horns with the European Union over rules that limit its sovereignty.
Then there's Poland. In a forbidding address this month, its leader, Jarosław Kaczyński, slammed the EU as a "culturally alien project led by a neo-imperialist Germany." He's called up Poland to fight it as "the sacred duty."
Meanwhile, last month, the once-ultranationalist fringe party Sweden Democrats became the second-largest party in Sweden.
The rest of the Nordic countries are following suit.
And now these anti-EU factions have been joined by Italy – a very big deal.
You see, the EU passes most decisions by a unanimous vote from all member states. Poland and Hungary have already used their veto right to blackmail the EU. With Italy on its side, this coalition will have more muscle to sway EU lawmakers in its favor. 
We all remember what happened in the days following Brexit.
Imagine if the EU were to lose more members – or worse, dismantle. Stocks would crash…gold would climb…and the financial markets would be crushed.
S0, what is going on? Why are all of these states turning their backs on the EU?
Neo-Imperialistic Experiment 
The EU, as we know, is the final product of multi-decade treaties between major European economies after WWII. The aim was to create something of a "United States" in Europe to promote peace and economic growth.
It was founded by 12 nations, including the UK, Germany, France, Italy, and the Netherlands. Over time, it expanded into nearly all of Europe, covering 27 nations.
Like the United States, the EU opened its borders and put its members under common citizenship. It also introduced the equivalent of "federal laws" that override block members' national laws.
The result is that the EU has become sort of a neo-imperialist experiment that has stripped its members of most of their autonomy.
And it worked for a while. 
But eventually, the silent majority became tired of the uncompromising pro-EU policies that catered to "the common good" but didn't address their domestic issues. Instead, voters began craving direct and clear policies.
And so a political vacuum formed that's now sucking into power conservatives like Meloni.
But it's not just politics. 
Monetary Hostages
The final brushstroke in creating the EU was putting its members under a common monetary system.
And so, in 1998, Europe introduced the equivalent of the Fed, the European Central Bank (ECB). A year later, the euro was born – a common block currency that has been adopted by 19 out of 27 EU members.
In other words, the majority of European nations scrapped their currencies and surrendered their monetary sovereignty to the ECB.
Since we've previously discussed the Fed's mishaps and how it greatly messed up the American economy, you already know how hard it is to manage the monetary policy of one sovereign state. 
But how do you approach monetary policy on behalf of 19 states? How does a "central bank of a continent" make its decisions? 
This is where things get interesting. 
In theory, the ECB governance model appears to be as democratic as it probably can get because every country on the euro has a voting right. 
But as is always the case, the devil is in the details.
The catch is that half of the votes belong to the ECB's executive board (all major economies) and representatives from the four largest EU countries.
The other half of the voting rights are then split between the other 15 nations that rotate on votes.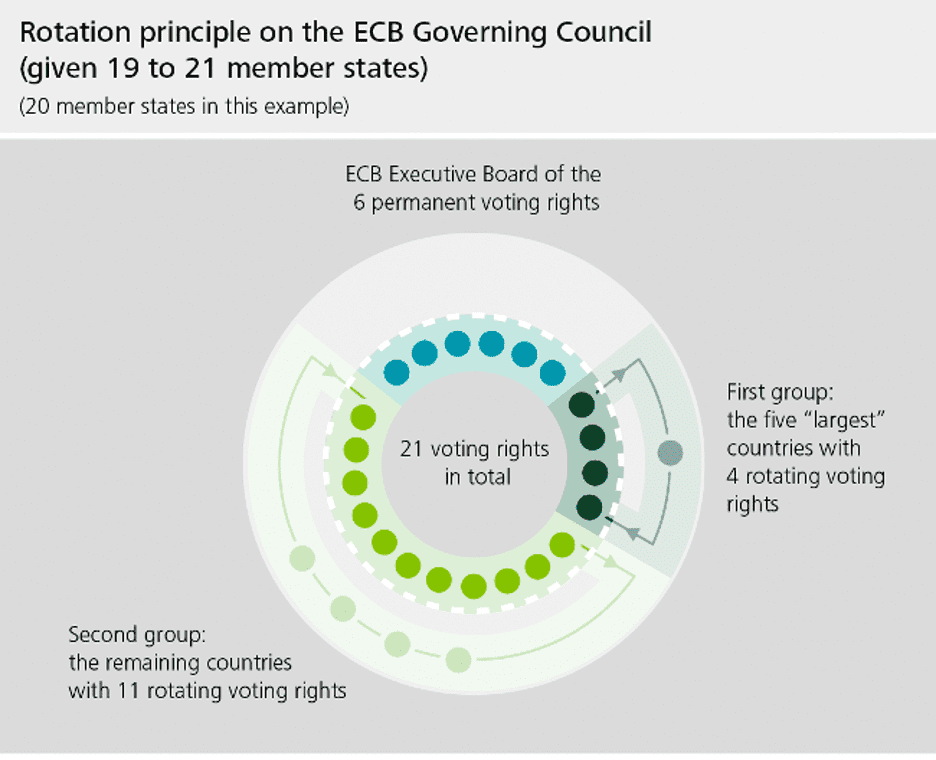 That means Europe's largest economies almost always hold a majority over ECB monetary policy. And they use this privilege to push policies that benefit them with complete disregard for the smaller nations.
A good example is the ECB's blitz rate hike in the heat of the Great Recession because France and other central European nations began to fret over growing inflation in their economies.
Yet, they didn't even consider the effect that hike would have on more-indebted nations, such as Greece, which were drowning in debt. A few basis points meant a great deal to them.
Another example is the European Debt Crisis that began after the Great Recession. 
Several Eastern block members, including Greece and Italy, ran into a balance of payments issue because they'd been running huge deficits, and the recession dried up credit in the economy.
And because EU members don't have their own central banks to borrow money from, the indebted nations ended up inches from default. 
In the end, Germany stepped in and gave money on the condition that these indebted nations would comply with its austerity plan. But the cost was that those nations surrendered their fiscal sovereignty to Brussels. 
This is how the ECB forced a one-size-fits-all monetary model on the EU that was supposed to serve all its members equally. However, doing so pushed its weaker economies into deeper financial holes…
The Failed Project
The EU is a beautiful queen – a lovely, dressed up democratic idea. But in reality, it's a ruthless King.
Not only did it rob smaller economies of their monetary and political freedoms, but it was also making the rich European nations even richer.
In fact, all data show that it is the big export-driven economies like Germany that benefit most from it.
Via Reuters:
"A report by the Bertelsmann Foundation found that Germany, Europe's largest economy, benefited most in absolute terms from the single market, earning an extra 86 billion euros ($96 billion) a year because of it."
Meanwhile, according to Statista, in 2020, Germany contributed just a little short of $30 billion to the EU budget. Any wonder why Germany is the biggest donor of this free trade zone?
And European leaders are now starting to realize that. 
Remember we discussed the new bipolar world order in which the Ukraine-Russia war is ushering? Many people think Russia will be the obvious political cut-off between the West and the East.
But with the EU falling apart before our eyes, the fault lines may go well into Europe. 
And Putin is betting on this. 
Via Remix:
"Hungary is planning to launch a national consultation over the EU's Russia sanctions, with the consultation asking citizens whether they support the sanctions or not. The Hungarian government has vocally opposed many of the sanctions imposed on Russia arguing they harm Europeans more than they hurt Russians, and Hungarian Prime Viktor Orbán just last week called for an end to Russian sanctions by the end of the year in order to halt inflation, halve food prices, and bring soaring energy costs under control."
With the euro at a 20-year low and food and energy prices soaring, it may only be a matter of time before the EU caves and removes sanctions. 
It's that or something much worse. 
If the EU continues on this path, gold bugs – regardless of inflation or rates – may finally get their next leg up.
Seek the truth and be prepared,
Carlisle Kane