Dear Readers,
*Updated December 20, 2017
The race is on.
Provinces across Canada are scrambling to prepare for one of the biggest consumer booms of our generation.
The money behind this sector is staggering and hundreds of millions are being invested.
In fact, one single entity just poured nearly C$250 million into Canada to gain an early stake.
No, I am not talking about Blockchain or Bitcoin.
I am talking about something much simpler than that.
I am talking about an industry so easy to understand that no one can question how it will make money.
It's an industry that proves money really does grow on trees.
Of course, I am talking about the legalization of recreational cannabis.
And it's about to take off…
The Wave is Just Beginning
Those who think marijuana stocks are just hype either have no idea what's going on or they simply haven't done enough research.
Sure, there are some stocks that are overvalued and some that don't even have a license to sell product.
But for the companies who are cashed up and approved by the government to both produce and sell marijuana, it's literally like being able to print money.
That is if you know how to grow it properly.
And in just a bit, I'll tell you how one Company could be at the forefront.
Right now, you need to know that when marijuana becomes legal next July, it will become such a public spectacle that I believe stocks within the industry will surge to new record highs with even loftier valuations.
Why?
Over the last few weeks, provinces across Canada have released details on how they will handle legalization next year. Their legalization framework, if you will.
These announcements have made headlines all across the country:
The list goes on.
In fact, even Statistics Canada just announced it's getting ready for the new recreational cannabis market with a new system to track the industry.
"The prospective legalization of cannabis for non-medical purposes means Statistics Canada needs to start preparing Canada's national statistical system to capture the associated economic and social implications."
In other words, legalization is now full steam ahead.
What's important is that these headlines have generated a renewed interest in a sector that was experiencing a quiet period.
With just a few words by the provinces, not only has the cannabis sector climbed in value, but the money flowing in has surged once again.
Take a look at what's happened to the marijuana space, via the Horizons Marijuana Life Sciences Index ETF over the last two months:
And despite the early surge, we haven't even come close to the media frenzy that will take place next year…
Marijuana Everywhere
As we get closer to July 2018, you're going to be seeing marijuana everywhere.
Every news channel you turn to will be talking about the industry.
There will be large crowds of people using marijuana on the front page of newspapers.
There will be thousands of people "toking" up on the streets.
Many of them will be wondering why they didn't invest in the sector.
And many will jump in.
A whole new wave and generation of investors will come to the market and drive the share prices of marijuana stocks higher.
But that's not all.
Where's My Weed?
When legalization happens, there won't be enough supply to meet product demand.
According to a report by the Parliamentary Budget Office, Canadians are expected to consume 655,000 kilograms of recreational cannabis per year.
It may be even higher according to Mackie Research Capital, who expects total demand for marijuana in 2018 to be around 795,000 kilograms.
But there's a massive problem – one that has the government scrambling to deregulate.
There's simply not enough capacity to grow that much cannabis right now.
According to Mackie, currently licensed producers are expected to end 2017 with a production capacity of just over 100,000 kilograms annually.
That means we need current production capacity to increase a whopping 7 times to meet next year's demand.
This insane shortfall doesn't even factor in the loss of crops due to pests, mold, and other anomalies common in growing marijuana at scale.
Luckily, this problem is becoming a major opportunity for investors.
To meet this shortfall, licensed producers will need millions of dollars to expand.
Most of this money is being supplied by bankers and large institutional investors who only pour money into companies that are publicly listed.
In other words, the majority of cannabis being supplied to the market will to go cannabis stocks.
And these stocks will slap their brand on every product they sell.
According to Health Canada, four to six million Canadians are expected to use cannabis recreationally next year and every one of them will get to know these stocks and their brands like they know Coors and Molson Canadian.
What happens when six million Canadians decide to invest in these companies?
It could become one of the biggest stock promotions of our time…
The Profits are Real
I believe that the closer we get to legalization, valuations for marijuana stocks will get ridiculous due to the influx of new investors.
I also believe it will take at least a few quarters of earnings announcements for the hype to settle down, which means we have plenty of opportunities to profit if I am right.
But don't think hype is the underlying valuation for marijuana stocks.
Marijuana has the potential for massive profits.
Consider the following…
Canadians are expected to consume around 655,000 kg of recreational marijuana next year.
At a retail price of $10/gram, that's a whopping sales revenue of more than $6.5 billion dollars.
And that doesn't even include medical marijuana usage or all of the other ancillary products such as oils and edibles.
The market cap of the publicly traded Licensed Producers hasn't hit near the $6.5 billion that these companies could generate next year, which means the valuations may not be as absurd as some "experts" believe.
In other words, it's the real deal.
Marijuana: A Brand New Sector
How do we truly value a brand new industry?
1x revenue…2x…3x?
Should we compare it to alcohol beverage companies, which trade at a price/sales ratio of 4.71*?
That seems reasonable.
How about tobacco companies, which trade at an even higher price/sales ratio of 5.66*?
*as of Jan. 2017 via NYU Stern School of Business.
Let's use a price/sales ratio of 5 for marijuana stocks.
If the estimated numbers prove correct and marijuana producers generate over C$6.5 billion next year, then the combined market caps of these companies should be worth more than $32.5 billion!
Of course, this is high-level thinking but it goes to show you that marijuana stocks may not be as overvalued as they appear.
In fact, they are completely undervalued when you use the above metrics.
It's no wonder why the biggest names in the world are getting in on the action.
Big Alcohol Enters Cannabis Market
In my last marijuana report, I predicted we'll soon see big money players such as Big Tobacco and Big Pharma enter the marijuana market.
So it's no surprise that just a couple of weeks ago, we witnessed the first major investment into the space by one of these big players.
Constellation Brands, a US$43 billion international producer and marketer of beer, wine, and spirits, just invested around C$245 million to acquire a minority stake in Canopy Growth Corporation, the largest marijuana player in Canada.
You may not know the name Constellation Brands, but you likely know many of the brands they distribute including the No. 1 imported beer in America, Corona Extra.
This sent Canopy's shares to new record highs, trading from the low C$7's in June to over $20 this week.
In just two months, investors doubled their money on the back of this announcement.
But why would a US$43 billion American alcohol distributor spend C$245 million to buy a minority stake in a Canadian marijuana company whose revenues were less than C$40 million in their last fiscal year? Especially considering that marijuana is still federally illegal in the U.S.?
Because the marijuana sector is becoming what the mining sector was for Canada.
Via my last marijuana report:
"Canada has been the mining capital of the world for many years.
The number of millionaires and billionaires this country has created in the mining space are second to none.
Back in 2013, I wrote:
"The Toronto Stock Exchange (TSX) and the TSX Venture Exchange are home to 58 percent of the world's public mining companies.
… In 2012, 70% of the equity capital raised globally for mining companies was raised on TSX and the TSX Venture in 2012."
Why is this significant?
Because Canada isn't even one of the top five biggest mining countries in the world.
Yet, just a few years ago, our nation hosted more than 58% of the world's public mining companies and more than 70% of the equity capital raised globally for mining companies was done right here in Canada!
That same global investment trend and capital inflow for marijuana are now being fueled directly into Canada and nearly $1 billion of capital has been raised in the last 12 months alone.
This represents the single biggest capital market for marijuana today.
That's because Canada remains one of the safest ways for global investors to invest in marijuana.
For example, in the United States, marijuana remains illegal on a federal level.
That means the big banks won't touch it. That's why in the eight U.S. states where it's legal, deals are almost done entirely in cash*.
(*It's why California just proposed to use armoured cars to handle the tax it collects from sales.)
Meanwhile, Canada is already home to several large marijuana corporations that not only trade on the Toronto Stock Exchange and the TSX Venture but are fast becoming the global marijuana experts.
…That same global investment trend we saw for mining is now coming for marijuana.
That means Companies that have a global approach and the best technology and production protocols stand the best chance to capture the international market and its investment dollars."
The investment by Constellation is an important milestone for the marijuana sector because it shows that Big Alcohol is already hedging against any future declines in its beer and spirits sales, brought on by new competition from the increased legalization of recreational marijuana in the US.
In fact, according to Cowen and Co., a New York-based investment house, the recreational cannabis market could not only hit an insane US$50 billion by 2026, but brewers and distillers will lose market share as more customers choose marijuana over alcohol.
But because of the federal rules in the US, big brands such as Constellation are hesitant to invest big dollars in American companies.
Imagine investing C$245 million in a Company just for the government to pull the plug.
Canada is one of only three countries in the world to have a government-sponsored cannabis program, and that's why the big money in the US are coming to Canada.
But the opportunity for massive investments and buyouts in the Canadian marijuana space don't just come from the US.
The marijuana sector has become a global phenomenon.
For example, earlier this month, Poland legalized the use of marijuana for medical purposes.
It's happening in Australia, too, where weed stocks there have surged over the last few months.
Most countries legalizing marijuana will almost always begin legalizing for medicinal purposes.
And that means the medical marijuana space is about to get even bigger.
We just saw Big Alcohol invest in marijuana.
I suspect we'll soon see Big Pharma do the same…
Marijuana Medicine
The demand for medical marijuana is already surging.
Via Financial Post:
"Market data published by Health Canada suggests interest in medical marijuana is exploding ahead of the recreational legalization.
As of the end of the first quarter of the 2016-17 fiscal year, there were 75,166 medical clients registered. By the end of June, that number stood at 201,398.
The amount of dried marijuana sold to clients in the first quarter of 2016-17 was 4,037 kilograms; by the fourth quarter, it was 5,836.
Several media reports have suggested there have already been issues regarding supply in the medical market, albeit with respect to specific strains or products and not overall."
As the medical space matures, it's extremely important that producers can produce a consistent strain, free of pesticides.
Not many can do it.
In fact, many licensed producers today are already struggling with producing consistent medical grade marijuana at scale, which is why there have been issues regarding supply in the medical market.
But one publicly traded company, with one of the best client retention rates and one of the best quality products on the market today, has figured it out…
ABcann Global Corp.
Stock Symbols:
United States: OTCQB: ABCCF
Canada: TSX Venture: ABCN
Germany, Frankfurt: 23Q
ABcann Global Corp (ABcann) is a publicly traded marijuana producer with both its cultivation and sales license.
Earlier this year, I explained why ABcann stood apart from other producers via my report:
Today, I want to reshare this story and also tell you about the major advancements ABcann has made that makes it even more valuable than when I first wrote about it.
So let's get started.
Putting Science First
Plants have long been used as medicine in many parts of the world and for thousands of years.
But to be taken seriously and to harness its modern medicinal benefits, consistency is vital.
That means the growth cycle of the plant must be monitored in an advanced and highly controlled fashion in order to produce a standardized product.
So, while other Licensed Producers raised money to simply grow weed in large amounts, ABcann took a different approach.
The University of Guelph
In January 2014, ABcann and the Controlled Environment Systems Research Facility (CESRF) at the University of Guelph officially entered into a research collaboration designed to address the optimum environment control "recipe" for cannabis production.
This research was led by Dr. Mike Dixon, a professor in the School of Environmental Sciences and Director of CESRF and program.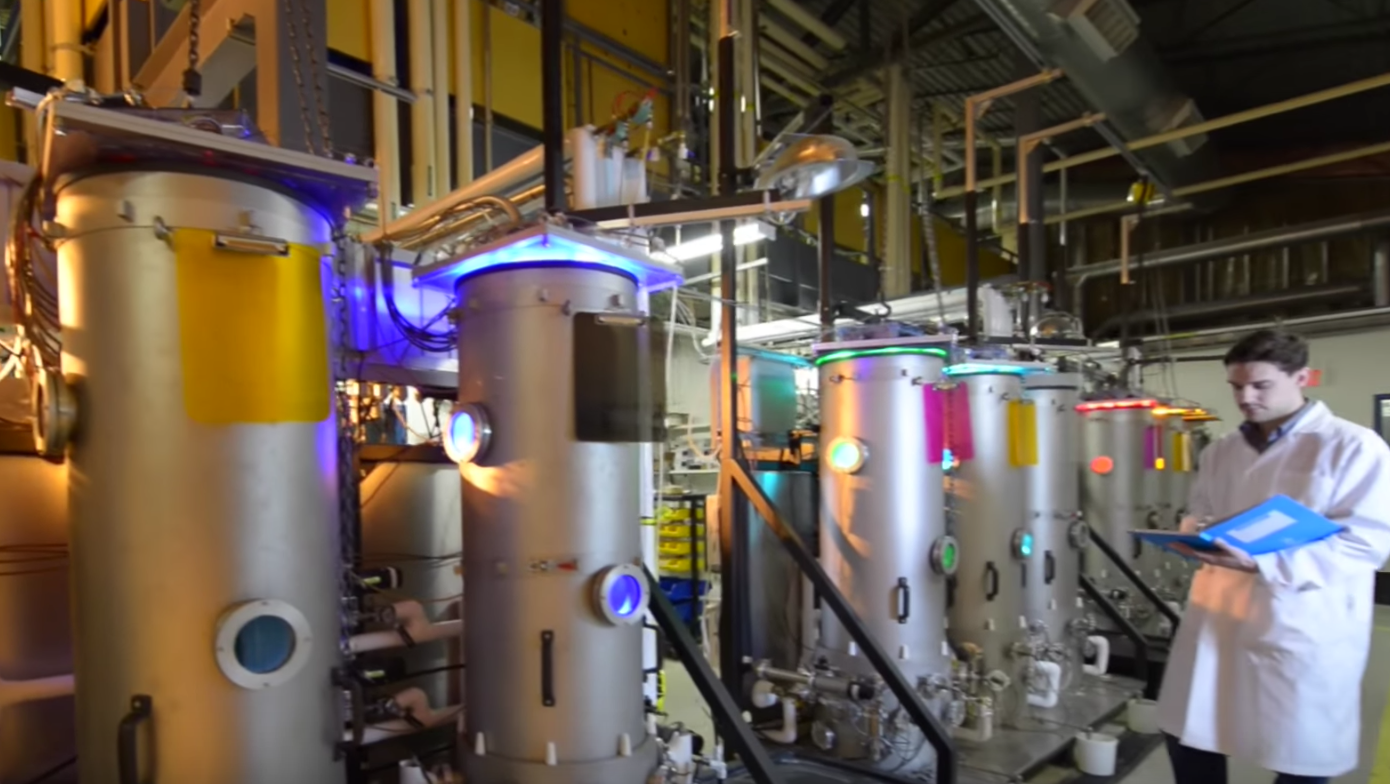 Their objective was to design and develop a standardized production practice yielding a standardized medicinal commodity worthy of pharmaceutical status.
And that's precisely what they have done.
Over the last few years, ABcann spent its resources on research and development, perfecting its growing process.
"The challenge is to reliably homogenize the environmental experience for the plants, so they all behave the same and produce the same medicinal compounds. The only way to achieve that is to grow plants in a very precisely controlled, predictable and reproducible manner." – Michael Dixon, University of Guelph
Today, every variable in ABcann's growing, curing and harvesting process is controlled and monitored by computers and feature the most advanced technologies and procedures that I have ever seen in a marijuana growing facility.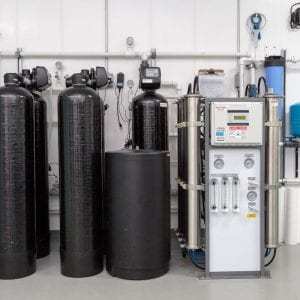 Everything from air quality, CO2 levels, oxygen levels, water quality and volume, light spectrum and cycles, temperature and humidity, plant nutrition and the curing process is monitored and adjusted by computers.
One small dip in the CO2 levels in a room and the computer automatically corrects it. One small drop in the temperature or humidity and the computers correct that, too.
This proprietary growing system results in less water and energy, no mold or bacteria, and significant fertilizer and electrical savings – all leading to lower costs of production.
But more importantly, ABcann's products are all certified organic, and grown without the use of pesticides.
The process is so intricate that the system can even replicate the natural environment of any geographic location – even during specific times of days.
Growing an Afghan Kush strain? Just tell the system to replicate the exact environment of the Hindi Kush mountain ranges in Afghanistan.
The result?
One of the highest yields per square feet –  nearly doubling the industry average.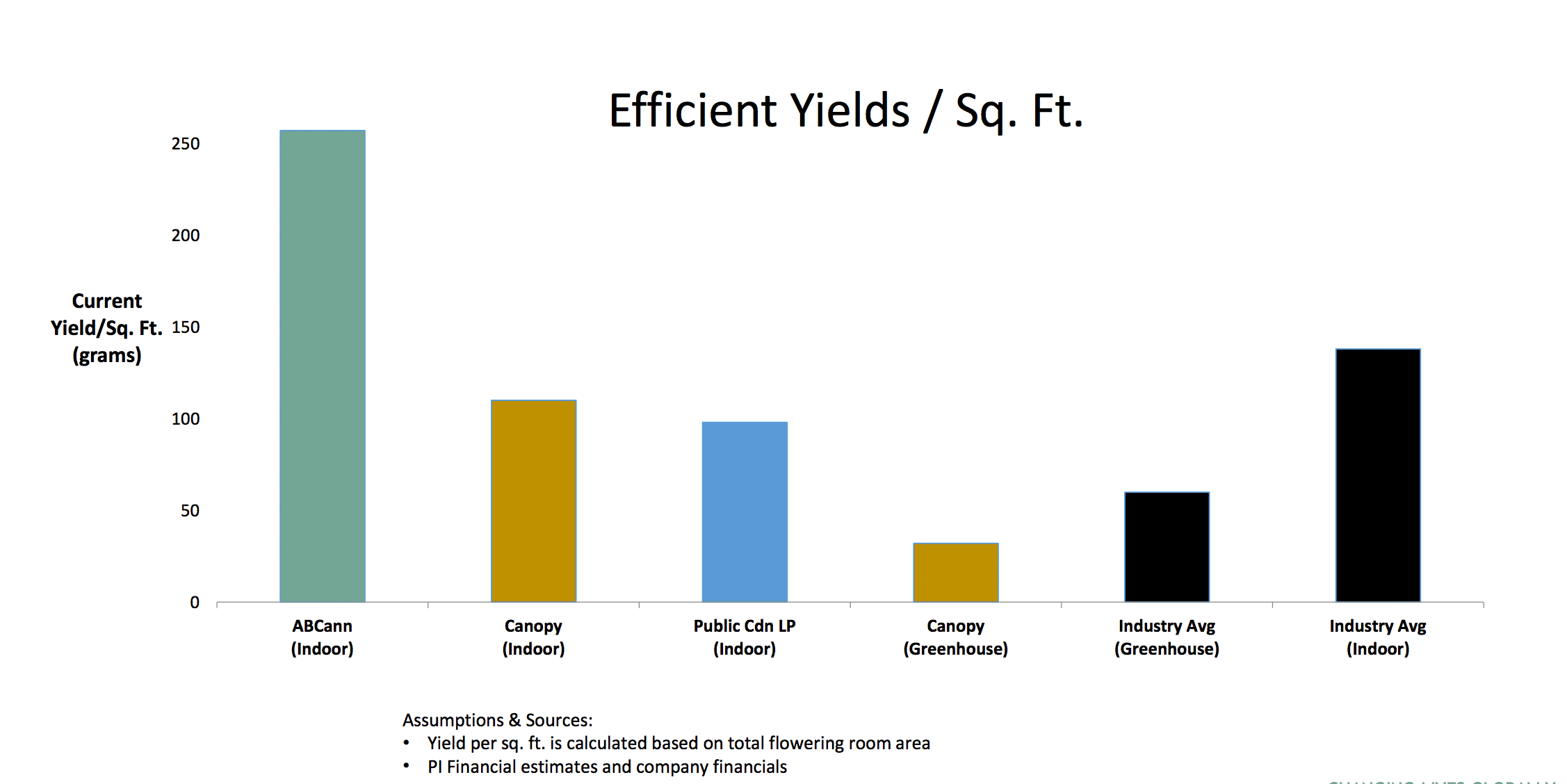 It's no wonder ABcann has grown its patient base by 30%, month over month since September 2016.
But not only are the patients growing, they're staying.
ABcann has one of the highest customer retention rates in the country, with a re-order rate of 94.7%.
Take a look at their corporate video which explains their dedication to the science behind their process:
The Vanluven Facility
ABcann's primary operation is a 14,500-sq. ft. facility in Napanee, Ontario, currently being doubled to 30,000-sq. ft.
However, it would be better to describe the facility as a research lab that monitors and maintains every variable that impacts the growth of a cannabis plant.
I am not kidding, it really is like walking into a research lab.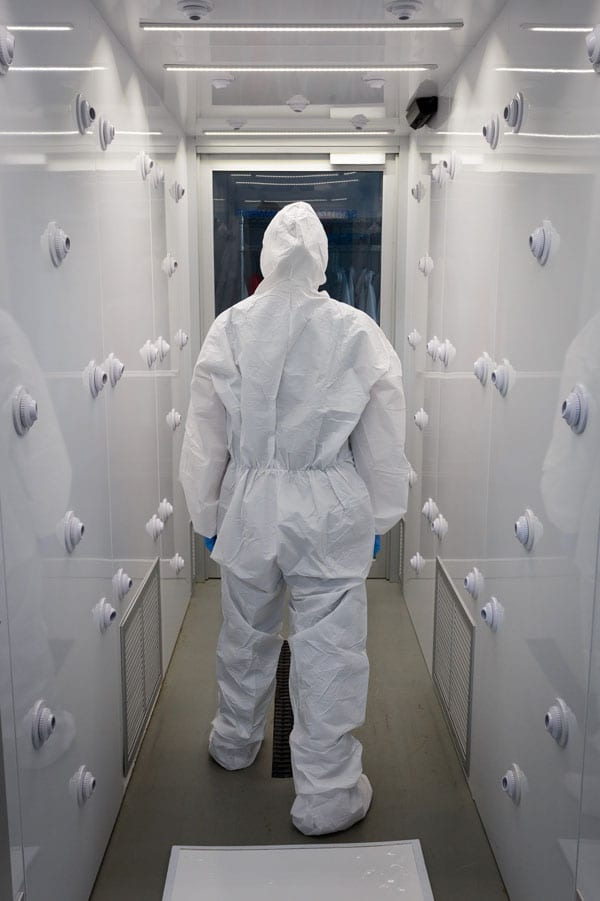 For example, an air shower is used by personnel to reduce contaminants before entering any bloom room.
Even the water is purified before it enters the growing chambers.
Current production capacity is 1,000 kg per year using two bloom rooms, but expansion is already underway to expand this to 2,000 kg per year with two more rooms.
Furthermore, a fifth room is expected to be built for further research and development, with one of the first projects being used to optimize a double layered bloom room to be used for future expansion.
More on this in a bit.
Keep in mind that while 14,500 sq. ft. and 2,000 kg of production a year may appear small when compared to the other LP's, it's just the beginning.
A very small beginning when compared to what ABcann could soon become…
The Mother Lode: The Kimmett Facility
Kimmett is situated just 600 metres from its Vanluven facility.
However, because Kimmett has a different address than the originally licensed facility, it must apply for a second license from Health Canada.
Health Canada has already granted ABcann a license to build out their facility at Kimmett and management expects a full cultivation/sales license next year.
This is standard practice as Health Canada is required to inspect the facility before handing out a license.
But when it does, Kimmett could become the mother lode.
A massive 65-acre, 100%-owned mother lode that could one day accommodate an estimated 1.2 million sq. ft. of additional buildings.
For now, the initial building at Kimmett will be a 100,000-sq. ft. facility, for which ABcann already estimates to be fully funded to completion.
That's right, ABcann now has more than CDN$70 million in the bank, which the Company believes can fully fund the completion of the 100,000-sq. ft. facility.
But imagine what the Company could become if it one day utilized its 65-acre property to build out a massive 1.2 million sq. ft. facility.
Let's do some back-of-the-napkin math.
ABcann has the potential to produce 20,000/kg for every 71,000-sq. ft.
Based on a 1.2 million-sq. ft. facility, that would imply a potential production of 338,000 kg per year.
Back-of-the-napkin math shows ABcann has the future potential of producing a whopping 338,000 k/g of cannabis per year!
Even at the low end of $5/gram*, ABcann could one day have annual revenues of $1,690,000,000!
Yes, nearly $1.7 billion!
*ABcann currently sells 13 products that consist of 7 strains, with prices ranging from $5/gram to $14/gram.
Of course, lots of work is needed to reach this lofty assumption and that type of number means it could supply half of the estimated Canadian market.
But if the Company executes on even its current expansion plans, it would not only make ABcann one of the larger players in the Canadian marijuana space, but it would have an extreme advantage with its industry-leading high-yield production methods and consistent medical grade quality.
In other words, not only has ABcann figured out how to grow marijuana properly, it has the production potential to become one of the largest Licensed Producers in Canada.
But there's one more factor that could set ABcann apart.
Remember earlier when I talked about the global market and how Canada will become the epicenter of marijuana?
The Global Opportunity
The real value of an LP is locked in the international market. In particular, the global medical marijuana space.
In order to play in that space, you have to be extremely medicinally focused with a scientific approach.
That's because the key to a global strategy isn't just about how much marijuana you can export – countries will eventually learn the skill sets to do it themselves.
The key is how consistent your product is, the types of products you develop, and the scientific research behind the operations.
Take Israel, for example.
Israel's overall marijuana market, while growing, is tiny compared to the amount of investment dollars that have gone into researching the medical marijuana market.
According to iCAN, a private cannabis research hub in Israel, the U.S., and other firms invested about $100 million in the last year alone to license Israeli medical marijuana patents, cannabis agro-tech startups and firms developing delivery devices such as inhalers.
Furthermore, iCAN expects marijuana-related investments in Israel to grow ten-fold and reach $1 billion over the next two years.
So, while everyone is focused on the recreational marijuana market in Canada, the big business is actually in the medical space.
In fact, the medical marijuana market in the U.S. alone could be worth over US$20 billion in just a few years according to the Guardian, and over $50 billion globally.
That's because medical marijuana represents a market that's slowly being recognized in the field of medicine, but lacks a universal clinical standard.
Via Reuters:
"…Medical cannabis is a relatively new field with no universal clinical standard.
Israel aims to fill the void by combining its expertise in agriculture, technology, and cannabis-based medicine, said Yuval Landschaft, head of the health ministry's medical cannabis unit (IMCA).
"In the United States, for example, they use recreational marijuana for medical use – that's like making chicken soup when you have a cold," Landschaft told Reuters. "We're the ones making the antibiotics."
Big Support from Marijuana Leaders
In order to be a leader in the medicinal marijuana space, you need a high-quality product grown in a lab with serious controls.
And ABcann is a leader when it comes to medical grade marijuana.
So much so, in fact, that it has attracted the attention of Israel-based Syqe Medical (Syqe), which has been testing ABcann's product for potential inclusion in its innovative inhaler device due to the consistency of ABcann's products.
This is important because Syqe isn't just a small start-up – it's a Company that has already partnered with not only the world's biggest maker of generic drugs but also has investment from one of the world's largest tobacco groups.
Via FT:
"…Start-up Syqe has developed a handheld inhaler, equipped with a disposable cartridge that dispenses marijuana in precise doses, down to the milligram.
Israel's Teva Pharmaceuticals, the world's biggest maker of generic drugs, recently signed an agreement with Syqe to distribute its product in Israel.
Philip Morris, the tobacco group, invested $20m in the company in early 2016 and is studying its technology as one way to reduce the danger caused by smokers of traditional tobacco products when they combust."
ABcann has not only successfully shipped product to Syqe in Israel but is involved in ongoing testing and R & D.
I am sure more information will eventually be released on this relationship, but until then, here is what Syqe Founder Perry Davidson had to say about ABcann:
"After visiting ABcann's production facility in Canada, I personally witnessed that their production technologies put them in a class with the best in the world in their ability to produce standardized pharmaceutical grade cannabis." – Perry Davidson, Syqe Medical Founder
You may be thinking: How did Israel become the leader in marijuana research?
Via FT:
"…Israel's head start in the field, like many of its other new industries, had a basis in academic research. Raphael Mechoulam, a chemist at Jerusalem's Hebrew University, was a pioneer in isolating cannabinoids, the group of active compounds present in cannabis."
A pioneer would be an understatement. Raphael was the first to isolate the THC compound and has over 25 academic awards including the Rothschild Prize in Chemical Sciences and Physical Sciences in 2012.
Why is this important for ABcann?
Because Raphael Mechoulam, known as the father of Cannabis, also sits on the medical advisory board for ABcann.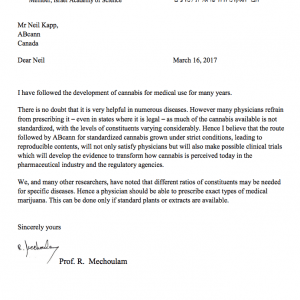 Here's what Raphael had to say about ABcann:
"I believe that the route followed by ABcann for standardized cannabis grown under strict conditions, leading to reproducible contents, will not only satisfy physicians but will also make possible clinical trials which will develop the evidence to transform how cannabis is perceived today in the pharmaceutical industry and the regulatory agencies."
ABcann's process is supported by both Syqe and the father of Cannabis, which means in a global strategy, its standards of practice are some of the best in the world.
More and more countries are pursuing research collaborations in the medical marijuana space and you are seeing many international companies looking for capital or partnerships with Canadian Licensed Producers because of the support from the Canadian government.
As other nations begin to adopt cannabis, they may be looking to ABcann for help.
And given that we are seeing a big push globally for efficacy on the medical side, ABcann's growing techniques certainly stand out.
Better than Ever
Since going public in May, ABcann has made a ton of new advancements.
The Company now has more than C$70 million in the bank and even completed a financing for $15 million at a price of C$2.25 per share – that's more than twice as high as its current share price* at the time of writing.
More importantly, the Company has gone from a research/production junior company to one that's now being led by Big Pharma execs, including its new Chairman Paul Lucas and new CEO Barry Fishman.
Paul Lucas previously served as President and CEO of GlaxoSmithKline Canada for nearly 8 years, while Barry Fishman was previously the CEO of Merus Labs, Teva Canada, and Taro Canada.
Construction and expansion are full steam ahead and I suspect we'll see new additions to the management team and board in the coming months that will truly transform ABcann into a global powerhouse led by former executives from big powerhouse companies.
M&A on the Rise
Leading up to July 2018, I suspect that we'll see a ton of M&A activity in the marijuana space.
That's because the bigger players want market share but don't currently have the production capacity to service all of Canada.
That's why we could soon see them make a move on the smaller guys.
For example, in BC, we could see action on private company Broken Coast. And in Ontario, the nation's most populated province, we could see companies like Maricann and Abcann involved in M&A before July 2018.
M&A is coming for sure and it could be the start of the next craze in retail come early 2018.
Right now, ABcann is trading at around a C$135 million market cap*, has more than C$40 million in cash**, massive expansion potential and one of the best products and growing techniques in the nation.
*Update: As of December 20, 2017, market cap has climbed to C$194mm and **cash position is now more than C$70mm
Now imagine you're one of the bigger players in the space.
If you made a move on ABcann, you would not only gain access to all of ABcann's cash and expansion potential, but you could take ABcann's research and proprietary growing methodologies to increase product yields across all of your other production facilities.
ABcann's yields are double the industry average.
If you could replicate that at your facility, you could potentially double your current production.
And that's an incredible deal.
ABcann Global Corp
Canadian Trading Symbol: TSX-V: ABCN
US Trading Symbol: OTCQB: ABCCF
Germany Trading Symbol: FSE: 23Q
Seek the truth,
Ivan Lo
The Equedia Letter
www.equedia.com
Disclosure:
We are biased towards ABcann Global Corp ("ABcann") because the Company is an advertiser on www.equedia.com. We currently own shares of ABcann. You can do the math. Our reputation is built upon the companies we feature. That is why we invest in every company we feature in our Equedia Special Report Editions. It's your money to invest and we don't share in your profits or your losses, so please take responsibility for doing your own due diligence and consult your own professional advisers before investing in ABcann or trading in ABcann securities. Equedia.com and Equedia Network Corporation are not registered as investment advisers, broker-dealers or other securities professionals with any financial or securities regulatory authority. Remember, past performance is not indicative of future performance. This article also contains forward looking statements that are subject to risks and uncertainties that could cause actual results to differ materially from the forward-looking statements made in this article. Just because many of the companies in our previous Equedia Reports have done well, doesn't mean they all will. ABcann and its management have no control over our editorial content and any opinions expressed in this article are our own. We're not obligated to write a report on any of our advertisers and we're not obligated to talk about them just because they advertise with us. For a complete disclosure of the compensation received by us from ABcann, please review our Terms of Service and full disclaimer at www.equedia.com/terms-of-use/.