Why Solar Could Be The Next Hot Thing
You've heard a lot about the blazing market for Lithium, thanks to the growth in demand for Lithium-Ion batteries created by e-car manufacturers like Tesla.
But many investors seem to have missed the second part of the equation, which is the creation of almost limitless renewable energy.
Tesla founder Elon Musk didn't.
Just last year Musk and Tesla invested heavily in solar power, buying out SolarCity for a whopping $2.6 billion.
Nevertheless, most solar company stocks are not doing that well even though demand for solar is posting exponential year-on-year gains.
Even though prices for fossil fuel dropped through the floor in 2015, renewable power quietly started taking over the market.
Solar energy capacity grew by a record 49 gigawatts in 2015, which doesn't sound like much until you realize New York City uses about five gigawatts of power.
In other words, solar energy generation increased by enough in a single year to power five cities the size of New York.

Another good comparison, just the increase in solar capacity alone in 2015 added more than twice as much power as the massive Three Gorges dam project in China.
And solar doesn't require the flooding of a valley, or the pollution of the skies due to the burning of fossil fuels.
We believe solar will be among the main sources of energy that power our future.
So we're following Musk's lead, and putting a little sunshine in our stock portfolios.
Here's one way to play and invest in the massive solar trend that no one is talking about.
ASIA AND NORTH AMERICA DRIVING DEMAND FOR SOLAR
The increasing demand for solar energy over the next five years is coming mainly from the US, Canada, China, and other neighbouring countries, according to the International Energy Agency.
In China the demand is driven by the terrible problems the country suffers from air polution, particularly in large industrial cities like Beijing.
The country already represents 40 per cent of the growth in renewable energy over the past few years, and now has put in supports for solar and wind energy in its current five-year economic plan. By 2012 more than one-third of renewable energy capacity will be located in China, says the IEA's latest market report.
The United States uses more power than any other country, and not surprisingly it is now the second largest producer of solar power in the world. Federal and state tax incentives are driving more solar adoption, even in the current climate of low gas and oil prices. Should prices rise for fossil fuels, it's expected the the demand for solar will grow even more quickly.
China's neighbour to the south, the subcontinent of India, also has big plans for solar, with a plan to increase solar energy production by 800 per cent by 2021.
And the list goes on. The IEA estimates that solar and wind energy will comprise more than 60 per cent of future increases in energy production worldwide, compared to 40 per cent from all other sources combined.
In the past, governments could generate tremendous amounts of cheap power simply by building hydroelectric dams, like the massive Site C dam now being constructed in British Columbia.
But there is a huge environmental price to pay when you flood an entire river valley … and let's face it, the world isn't making any more valleys.
Just as vast fortunes were made in coal, and then oil, and then natural gas, so too will solar have its day.
In fact, it is fair to say that solar and wind power will soon replace fossil fuels as the primary source of power for our homes, our cars, our factories and all the billions of devices we use every day.
Which is why we're about to introduce you to a leader in field of this very special situation.
And best of all, it's still very much under the radar – but might not be for long.
Introducing…
UGE International Ltd.
(TSX-V: UGE) (OTCQB: UGEIF)
UGE International Ltd. trades on the Canadian stock market under the symbol "UGE" and on the U.S. stock market under the symboll "UGEIF".
Just last week Canaccord Genuity included UGE on its Sustainability and Special Situations Watch List.
Canaccord, the largest investment house in Canada, uses that list to draw attention to companies they believe "should be on investors' radar."
All signs now point to a coming boom in solar, and smart investors will move fast to find those companies who are on the ground floor.
UGE A MARKET LEADER IN COMMERCIAL SOLAR ENERGY
UGE is a commercial solar company that is the current market leader in Ontario and the eastern seaboard in delivering commercial solar projects.
Do you happen to have a supermarket, a factory, or even a warehouse the size of a football field, and an appetite for some cheap power? If so, UGE are the guys who can build it for you.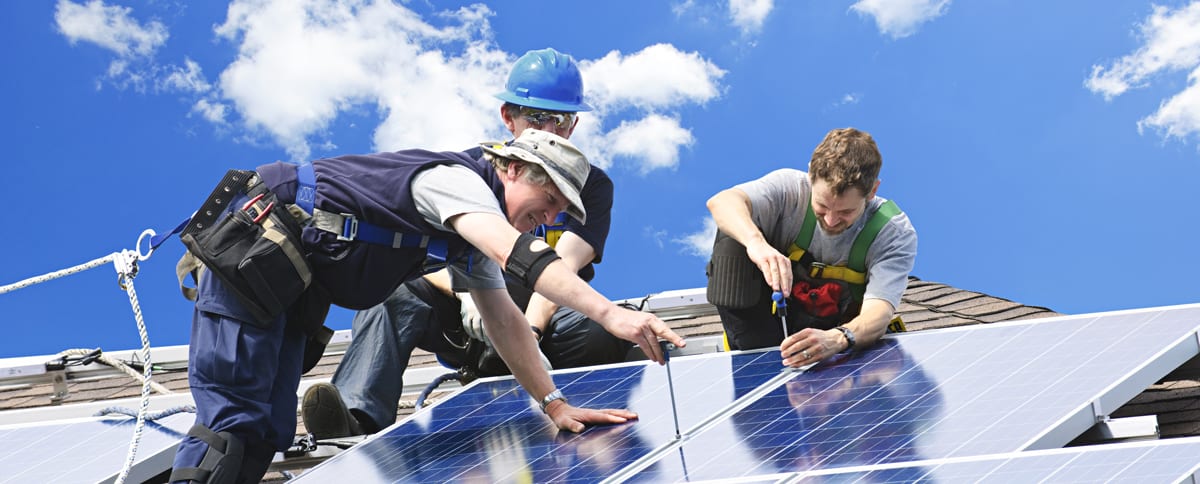 UGE provides a simple value proposition that businesses can understand. They sell you power, for less.
Back in 2008 there was a brief boom in solar stocks because it was new, it was hip, and people or companies could look eco-friendly by putting a few solar panels up on their awning or roof.
But at the time the economics weren't there.
"In 2008 solar panels were selling at $4 a watt," explains UGE's CEO Nick Blitterswyk. "That cost has come down more than 10 times to just 34 cents a watt, so now companies are making the decision to go solar based on economics, on real cost savings.
"The thing is, investors have not caught up with how far solar has come. The price for solar energy is going down, down, down, and now it really doesn't make a lot of sense to not go solar."
COMMERCIAL SOLAR NOW GROWING FASTER THAN RESIDENTIAL
Other than Solar City, most solar companies are relatively small, and can only do part of the job when it comes to very large commercial installations.
UGE's specialty is in handling the entire project. They design, build and install the solar energy network, while smaller companies would generally have to partner with engineering firms, construction companies, and so on.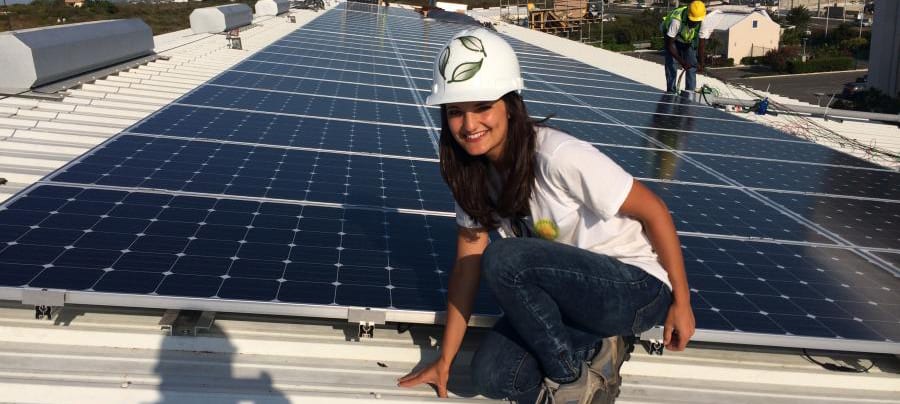 By having all the skills in house, UGE can cut costs and offer a better designed project.
Also, the project is done with no upfront price tag to the client, and therefore no capital risk.
Instead, UGE is essentially selling the power to that company at a discount of what they would pay on the grid.
"In the areas where we've traditionally operated, like the eastern US or Ontario, the average client is paying around 14 cents per kilowatt hour, but we can sell you energy for 10 cents per kilowatt hour, and that cost is continuing to drop as the technology improves," Blitterswyk says.
EXPONENTIAL GROWTH IN THREE YEARS
The promise of a disruptive new source of renewable energy has been slow in coming, and the public in general grew somewhat disillusioned with solar because early systems really weren't saving the customer any money.
In fact, the systems came at a premium, and many of UGE's early clients were installing small systems meant more as technology demonstrations than as true power generation.
That has completely changed in just the past three years.
"In 2014 the key driver was to look ecologically cool," says Blitterswyk. "We'd put some solar power up on an awning or rooftop by the front door for maybe $50,000, but most of their power was still coming from the grid.
"Now, our average installation is about $1.25 million, and it's growing very quickly."
In previous years the accent in North America was on residential solar, and this was the primary focus for companies like SolarCity.
Around 2008 and onward many governments offered significant incentives for people who added solar panels to their homes.
Combined with the fact residential electricity rates are generally about double the rates for commercial power, it just made better economic sense to focus on residential.
But that too has changed.
Most of those incentives are long gone, and commercial projects provide far more revenue per project than do residential installations.
HOW TO PICK THE RIGHT HORSE FOR A BET ON SOLAR POWER
A key to good investing is to get in early before the share prices go up too high. Early investors in Apple and Google can now afford to buy their own islands.
Likewise, we like to find early stage companies in young sectors (like medical marijuana was three years ago) and bet on the best horses in the corral.
In an ideal world, we like a 'dark horse' that appears undervalued, and that's what we see in UGE.
The company is growing very rapidly, and yet their share price of just 48 cents does not reflect their growth, and certainly not their potential.
In 2015 UGE earned $2.2 million USD, and then almost tripled that to $6 million in 2016.
Most of that occurred in Q4, but more importantly the company has a backlog of projects worth a whopping $34.8 million!
Oh, and they have a $100 million pipeline.
Not only that, UGE has been cashflow positive since September of last year.
That's all good, but what's better is the vast, untapped market for commercial solar.
The industry simply hasn't yet woken up to the potential of this power source.
Most people are thinking it's still about putting up couple of panels at the family cabin, so you can power up your iPhone.
A VAST UNTAPPED MARKET FOR SOLAR ENERGY
Market penetration for commercial solar (as opposed to residential solar) is at only about one per cent or less in the Continental US and Canada. That means there is a lot of room to grow.
Latin America has a market penetration rate of about one/tenth of one per cent, although the attitudes there are changing. On my recent trip to the desert province of San Juan in Argentina I learned the government is sponsoring several large solar generation projects both for residential and commercial power generation.
UGE is also starting to get major projects in the Philippines, a country with some of the highest energy costs in the world, but with a huge potential for solar due to the high amount of solar insolation the country enjoys.
All this makes us bullish on solar, just as we have successfully invested in lithium over the past few years.
But there are some other developments coming down the pipeline that we think are equally exciting.
The next wave of renewable power generation is the addition of high-tech energy storage banks; essentially massive renewable battery grids that can store power for long periods of time.
Facilities with stored energy management systems can store energy during the day for use at night, reducing reliance on the grid.
As well, the stored power can be very useful in the event of a major power outage, like the one that hit Lower Manhattan during Hurricane Sandy.
The Future of Solar
UGE and its current investors are feeling pretty pumped about the future of solar, which Blitterswyk feels is poised to take over from oil, coal and gas.
"Solar is changing the dynamic, literally, of who has the power," he says. "Before, the power was in the hands of the big utilities, and the utilities set the prices.
"Now, people and companies can become their own utilities and they hold the power," Blitterswyk adds. "I would not invest in big utilities now if my life depended on it, and nor would I invest in coal, or oil, or gas.
"No matter what President Trump may say about the future of coal and other fossil fuels, they are simply no longer financially viable over the long term."
And it's all happening now.
Until next time.
Disclosure: We're biased towards UGE because the Company is an advertiser. We currently own shares of UGE. As such, we are biased. You can do the math. It's your money to invest and we don't share in your profits or your losses, so please take responsibility for doing your own due diligence. Remember, past performance is not indicative of future performance. Just because many of the companies in our previous Equedia Reports have done well, doesn't mean they all will. Furthermore, the Companies mentioned and their management have no control over our editorial content and any opinions expressed are those of our own.