"Food security is national security…"
Last week, Republican Elise Stefanik introduced a bill that puts food at the forefront of America's national security. It aims to regulate and ban some foreign investments in agriculture.
"I am proud to stand up against our foreign adversaries as they attempt to exploit any potential vulnerability and assert control over our agriculture industry," she said in a press conference.
The bill is a response to rapidly escalating "food wars" happening around the world.
Last month, the Bank of England governor warned his nation of coming "apocalyptic" food prices.
Meanwhile, the UN World Food Program is predicting "hell on Earth" due to the looming food shortage.  
In this letter, I'll tell you who's pulling the strings on global food supplies, what it means for you and your wallet, and what you can do about it. 
But first, let's go back to where it all started.
The Historic Food Blockade
As I predicted back in March, when the first Russian tanks rumbled into Ukraine, the Russia-Ukraine war created a historic food blockade.
Russia's control of ports along the Black Sea halted nearly all of Ukraine's food exports, which snapped the "umbilical cord" in the global food supply.
As I wrote in "Could Russia's Invasion of Ukraine Lead to Hyperinflation?":
"By export, Ukraine ranks (source):
#1 in sunflower seed oil (14% of global exports), which is heavily consumed in most food processing

#5 in wheat (10% of global exports)
#3 in rape seeds (18% of global exports)
#4 in barley (10% of global exports)
#3 in corn (16% of global exports)
In other words, Ukraine is feeding a lot of the world.
For example, the EU sources 50% of its corn, 20% of its wheat, and 25% of its vegetable oil from Ukraine. Many nations across the Middle East, North Africa, and South Asia import most of their grains from Eastern Europe.
Meanwhile, Ukrainian farmers cover over half of China's corn imports."
The situation isn't going to be fixed anytime soon. 
The stalemate between the West and Russia has embargoed an estimated 25 million tons of grains in Ukrainian silos—the annual consumption of all the developed world.
Not only can't Ukrainian farmers export this huge crop, but they also won't have room to store their next harvest, which has already begun.
That means millions of tons of food are poised to rot in Ukraine this year.
Meanwhile, Russia, which could make up for part of this food shortfall, is mulling over further export curbs. 
In a June 6 interview with Financial Times, Russian Economy Minister Maksim Reshetnikov said they're thinking about banning food exports to fight inflation – on top of the quotas introduced earlier.
If Ukraine and Russia went offline, the world would lose 12% of its calories.
Mother nature isn't offering a helping hand either.
East Africa has been devastated by the worst drought in decades. China, the world's largest wheat producer, is bracing for its worst-ever crop due to late rains. And heatwaves are frying India's harvest—the second-largest food source.
State-Level Food Hoarding
These alarming developments in the global food matrix have urged governments to stock up and protect their people from looming worldwide famine. 
The first signs of hoarding began in March when I wrote my first letter about Ukraine's invasion:
"Not only that, major nations have begun hoarding food supplies. Even those that are well off — like China, which holds half of the world's wheat reserves — are slapping the brakes on exports in fear of running out. It's toilet paper hysteria on a state level.
Meanwhile, the Kremlin banned fertilizer exports to protect its local farmers."
What began as low-key protectionism has quickly escalated into a vicious feedback loop. As nations stockpiled food into reserves, global supply dwindled—which, in turn, led to more food shortages and the implementation of aggressive policy.
As I write this, around 30 countries have curbed their critical food exports.
The result?
According to World Bank's data, the prices of key grain and oil commodities have jumped by more than a third in the past year. Meanwhile, fertilizer prices have more than doubled since Russia's ban.
That's just raw material. Add in exploding energy prices jacking up costs across the entire supply chain, and food prices have nearly doubled in some places. 
Via Devex:
"For the moment, the world is not experiencing a food shortage but an affordability crisis. Enough food is being produced, but people cannot afford it in places such as Egypt, the world's largest wheat importer, and Lebanon, where the prices of 13 essential foods have increased by a weighted average of 81% in three months."
It's the global "Hunger Games."
We aren't seeing it first-hand, but nations in the developing world are teetering on the edge of all-out famine. 

Just ask Sri Lanka (who we just happened to talk about last month).
Via RFI:
"Thousands of people had poured into the capital Colombo for the latest demonstration, sparked by the island nation's unprecedented economic crisis.
Police had withdrawn a curfew order issued on Friday after opposition parties, rights activists and the bar association threatened to sue the police chief.
Sri Lanka has suffered through months of food and fuel shortages, lengthy blackouts and galloping inflation after running out of foreign currency to import vital goods."

Third World Destabilization
The United Nations is ringing alarm bells that this hoarding is a prelude to what they've stopped just short of calling "the world food war." 
Last month, David Beasley, director of the UN World Food Programme, gave a shivering address in Ethiopia about a humanitarian crisis of historic proportions coming our way.
Via the Guardian:
"Speaking in Ethiopia's capital, Addis Ababa, on Thursday, David Beasley, director of the UN World Food Programme (WFP), said the world faced "frightening" shortages that could destabilise countries that depend on wheat exports from Ukraine and Russia.
"Even before the Ukraine crisis, we were facing an unprecedented global food crisis because of Covid and fuel price increases," said Beasley. "Then, we thought it couldn't get any worse, but this war has been devastating."
And if this doesn't get sorted out soon, we'll see massive destabilization of the Third World:
"The economic factors we have today are much worse than those we saw 15 years ago," he said, adding that if the crisis was not addressed, it would result in "famine, destabilisation of nations and mass migration."
"We are already seeing riots in Sri Lanka and protests in Tunisia, Pakistan and Peru, and we've had destabilisation take place in places like Burkina Faso, Mali, Chad," said Beasley. "This is only a sign of things to come."
"It is a very, very frightening time," said Beasley. "We are facing hell on earth if we do not respond immediately. The best thing we can do right now is end that damn war in Russia and Ukraine and get the port open."
World's Wealthiest Are Reaping the Fruits
Who's going to gain from all this? 
Those at the top of the "food chain," of course.
You've probably heard about Bill Gates, who made headlines last year as America's largest private farmland owner. In less than a decade, he bought up 270,000 acres of farmland across more than a dozen states.
While Gates became a poster child of the rich's farmland accumulation, he's by no means the only one. 
Under the headlines, there's a massive "farmland transfer" where big asset managers are crowding ordinary people out of their farms en masse. 
Via NPR:
"Dave Muth, who helped Ray Williams sell and buy his farms. Muth is a partner with Alternative Equity Advisors, which is affiliated with Peoples Co., a Des Moines-based land broker. "Right now, over 80% of the farmland in the country is owned by somebody 55 or older, and roughly half of [them are] 75 or older," Muth says. "We're going to have an incredible shift in value over the next five to 20 years."
Farmland has become steadily more expensive, and the pool of farmers and their heirs who can afford to buy it is shrinking. Yet there's a growing appetite for it among investors, including pension funds and wealthy individuals like Williams."
One large group of pension funds says its members own almost three times more farm properties than a decade ago. The market value of those holdings has quintupled.
Is it a coincidence there's been a shocking rash of fires in food plants that have devastated American farmers this year? Georgia's Republican Marjorie Taylor Greene implicitly hinted that it's not.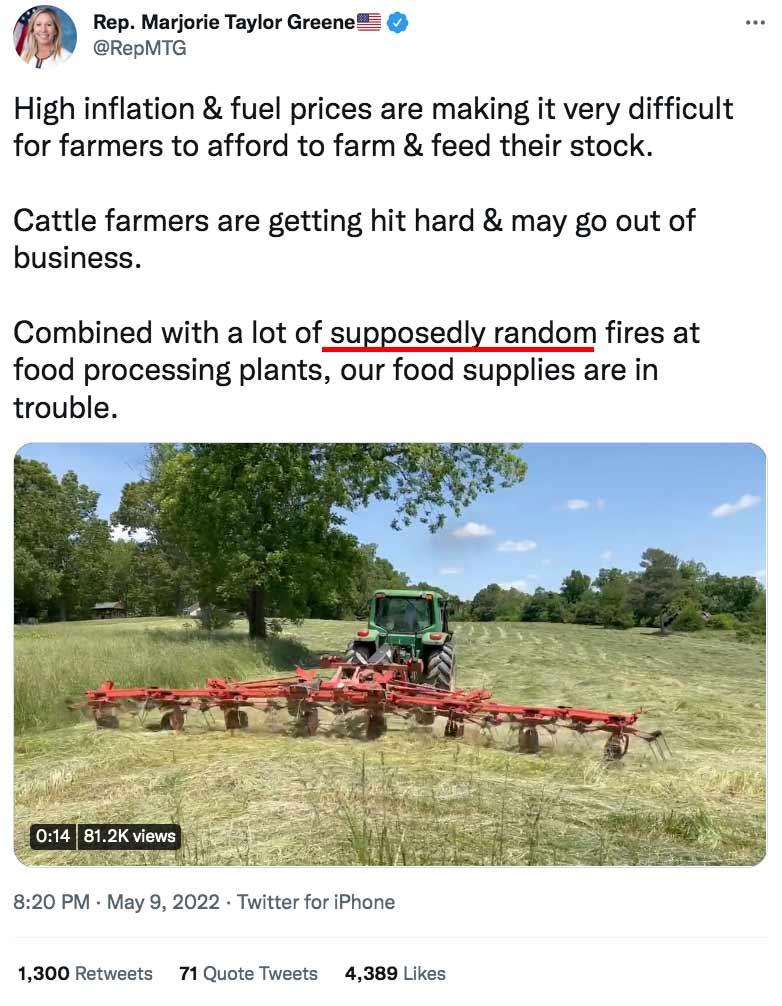 And you've probably heard about the Dutch farmer riots. That's a response to the Netherlands' reforms forcing farmers to cut down on fertilizer and livestock to emit less nitrogen oxide.
When the world is miring in one of history's biggest food crises and astronomical commodity prices are gutting farmers' margins, is it really the right time to implement such "green" policies?
Kind of like implementing climate taxes during a time where oil and gas prices have soared…
Of course, if these policies end up bankrupting small farmers, the rich could gobble up their farmlands ahead of the world food war – and then milk government subsidies for those assets after the fact.
Via NYTimes:
"Every year, the 28-country bloc pays out $65 billion in farm subsidies intended to support farmers around the Continent and keep rural communities alive. But across Hungary and much of Central and Eastern Europe, the bulk goes to a connected and powerful few. The prime minister of the Czech Republic collected tens of millions of dollars in subsidies just last year. Subsidies have underwritten Mafia-style land grabs in Slovakia and Bulgaria.
Europe's farm program, a system that was instrumental in forming the European Union, is now being exploited by the same antidemocratic forces that threaten the bloc from within. This is because governments in Central and Eastern Europe, several led by populists, have wide latitude in how the subsidies, funded by taxpayers across Europe, are distributed — even as the entire system is shrouded in secrecy."
With food prices growing fast enough to become a matter of national security, these farmlands are of immense value.
And the wealthy are doing everything in their power to take them over.
It's the latest version of an economic hit.
Conspiracies Aplenty
There are many conspiracy theories revolving around this food crisis. 
Some claim that an Illuminati-like secret society is plotting to cull the human population through orchestrated nationwide famines. 
Is it a coincidence billionaires like Bill Gates, once-known for wanting to reduce population, have been gobbling up farmland while touting vaccines and COVID policies – many which have led to food and supply chain issues?
You be the judge of that.
CLICK HERE to Share Your Thoughts 
Don't Think it Can't Happen
Luckily for most of us living in N. America, we have ample reserves and the capability to produce food. 
However, we will face further food inflation, and your wallet will feel the pinch in the coming years, with prices potentially doubling or even tripling from here.
And while gas prices have come down, it doesn't mean another energy shock can't happen.
Goldman Sach's worst-case oil scenario paints $384 oil. 
The costs of everything would rocket to the moon at that price: transportation, crop nutrients, and the end product—food. 
So what should you do?
Use this knowledge to arm yourself financially: build a cash buffer, diversify into real assets*, and patiently bide your time. Remember, unprecedented crises bring unprecedented investment opportunities. 
(*For example, my agriculture positions are up 30% this year, while stocks in almost every other sector are down.)
As Ivan recently suggested, be patient during this downturn and don't rush into investing unless there is real long-term value. There will be plenty of opportunities for massive discounts soon. 
The next wave will turn millionaires into billionaires and billionaires into trillionaires. But not before it turns the middle class into a lower class first. 
Seek the truth and be prepared,
Carlise Kane