Google just dropped a bombshell.
It announced its next big revenue stream by entering one of the fastest and biggest growing markets in the world.
In fact, its researchers have already recorded more than a million hours of data from thousands of individuals to train the algorithm for this.
It marks the Tech Giant's first foray into this space.
But it's not alone.
Earlier this year, a Business Insider report revealed rumours that Amazon has been working on a project under the code name "Brahms," which will directly challenge Google in this space.
If those rumours are true, you can bet these two tech giants will be battling aggressively for control of this sector.
Which is why investors need to take notice NOW.
The Sleeper Market
I am talking about sleep.
While the sleep-aid market alone is expected to be worth more than $100 billion per year, it's not even close to the potential of the bigger picture.
Let me tell you why we're about to witness some of the most significant disruptions in the sleep category.
And it's much bigger than you think…
Twenty-Four Seven
Think about how tied we are to the technology from Big Tech already.
Truly think about it: from watching Youtube clips, to movies on Amazon Prime; from browsing the internet on a Google phone, to answering the door with Amazon's Ring doorbell; from getting directions with Google Maps, to shopping on Amazon.
Heck, Apple is even getting into cars now.
Big Tech are ingrained in our daily lives – and we barely even notice it. They are there from the moment we wake up.
But…
They're not there when we go to bed.
Until now…
The Launch
We spend one-third of our entire lives sleeping and up to half of it in bed.
Let that sink in.
These Tech Giants already follow you everywhere when you're awake. But they want to be there when you sleep, too.
It's why Google just made a massive announcement: the launch of its 2nd-gen Nest Hub, capable of tracking your sleep.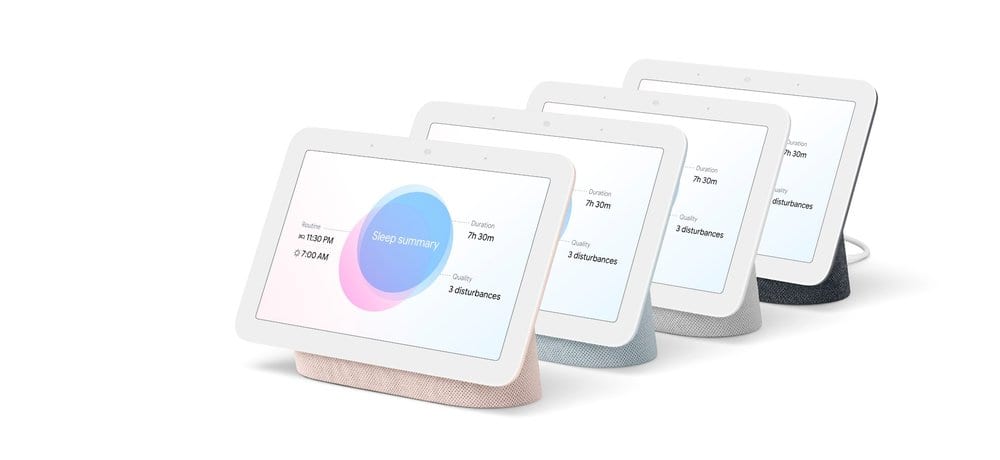 Via Fierce Healthcare:
"Smart displays are often placed on bedside tables as alarm clocks and speakers. But if Google's Nest Hub was really going to be a great bedroom device, it had to help people with the most important job in that room—sleep, Udall said.
People are seeking out solutions to get better quality sleep, as prescriptions for sleep aids have increased and the fitness tracker market has seen strong growth, Udall said.
But sleep technology hasn't caught on for a large mass audience, he said. A Google survey found that 38% of consumers don't use a sleep tracking device because they forget to use it, charge it or check it, and 19% say wearables are uncomfortable to use.
"To crack this problem, we need to make sleep tracking effortless and help users make improvements to their sleep," he said."
While Apple already has basic sleep tracking through the Apple Watch, it's clear that most people don't want wearables in bed.
That's why Google and Amazon (reportedly) are using radar sensor tech to track us without the use of cameras (for privacy concerns), and without having to wear gear.
And if there's one company in the world that understands what people want, it's Google.
Via Amerisleep:
"Across the nation, people are asking "Dr. Google" for help and information about their sleep issues.
In fact, the world's biggest search engine may actually know more about us than our own doctors do.
The more frequently a term appears in a Google search, the more important it is to a significant number of searchers.
…To understand the sleep issues Americans are wrestling within different parts of the country, we analyzed 4 years of queries for 322 sleep-related terms—a total of 237.3 million searches in all!
We found that Americans turn to Google to find answers about sleep issues almost 5 million times every month (that's 4,942,920 searches, on average)."
Google has a long history of knowing what people want because they know what people search.
Which is exactly why Google is entering the sleep space now.
Via USA Today:
"When we talked to people about what they most wanted help with, they resoundingly responded with 'Can you help me get better quality of sleep?' That's what people were really interested in," Ashton Udall, senior Nest product manager, told USA TODAY."
Based on what Google has told us, there's no doubt that sleep tracking is a priority for the tech giant.
Just take a look at their video:
With millions of Americans suffering from sleep issues, the launch of Google's sleep tracking service could not come at a better time.
Something Even Better?
While sleep tracking can help you understand why you're not sleeping well, it doesn't directly help you sleep better – you still have to make the changes, and those changes take time to understand and implement.
In other words, Google's tech can track your sleep, but it can't directly help you sleep.
But what if it could?
What if Google's technology could produce a signal to help you sleep, and then wake you up with a signal that enables you to feel alert – all programmed around your schedule?
Unfortunately, Google's latest tech can't do that.
But there is a company working on just that.
In fact, just a day after Google announced the launch of their latest sleep tracking Nest Hub, this company announced something even better…
Hapbee Technologies
(TSX-V: HAPB) (OTCQX: HAPBF)
Hapbee Technologies, Inc. (TSXV: HAPB) (OTCQB: HAPBF) (FSE: HA1) ("Hapbee"), is a wearable magnetic field technology company that aims to help people choose how they feel.
Its stock symbol is HAPB in Canada; HAPBF in the US.
Powered by patented ultra-low radio frequency energy (ulRFE®) technology invented and licensed by EMulate Therapeutics, Inc., Hapbee delivers low-power electromagnetic signals designed to produce sensations such as Happy, Alert, Focus, Relax, Calm and Sleepy.
Over the last 15 years, EMulate has invested over $70M in this technology and has given Hapbee exclusive global licenses for the non-medical use of this revolutionary technology platform.
EMulate's science and technology are based on magnetically-induced changes to cellular function. Artificial magnetic fields are thought to be capable of triggering a receptor response and conformational change in the absence of a physical compound.
In layman's terms, it means that specific magnetic fields can trigger a response from our brain without ingesting a substance.
But how?
Our brain works through electric pulses and the firing of neurons.
When a neuron wants to communicate, it uses a neurotransmitter. This communication is an electric signal.
What Hapbee does is create a signal that the brain recognizes – for example, how the brain works when we take a certain substance – and emulates it.
We know that both our brain and bodies react to these magnetic signals, but the key is knowing what signal to produce.
Enter EMulate
First, it's important to know who EMulate is.
EMulate Therapeutics is a privately-owned technology and therapeutic device company. It has invented and patented a ground-breaking technology that uses ultra-low radio frequency energy (ulRFE®) to interrupt disease mechanisms on the molecular and genetic levels – without chemicals or radiation – delivered via a simple-to-use non-invasive device.
The first stage of this technology is how it acquires and develops these "signals."
EMulate uses a specialized liquid helium-cooled, Superconducting Quantum Interference Unit (SQUID) magnetometer, originally developed by the military, to detect "real-time" changes in the magnetic environment (10-15 Tesla) of solvated molecules of interest.
Via EMulate:
"EMulate's proprietary ultra-low radio frequency energy (ulRFE) technology produces a cognate of solvated molecules by measuring and recording their electrostatic surface potential as an oscillating magnetic field."
The signal acquisition process of this technology is backed by 32 related patents owned by EMulate.
In short, its technology is able to capture the "essence" of certain bioactive substances and then emulate them by playing it back through a sequence of signals with precision.
While this sounds like something from a sci-fi movie, recent advances in material sciences and developments in the field of superconductive quantum devices are making this tech possible.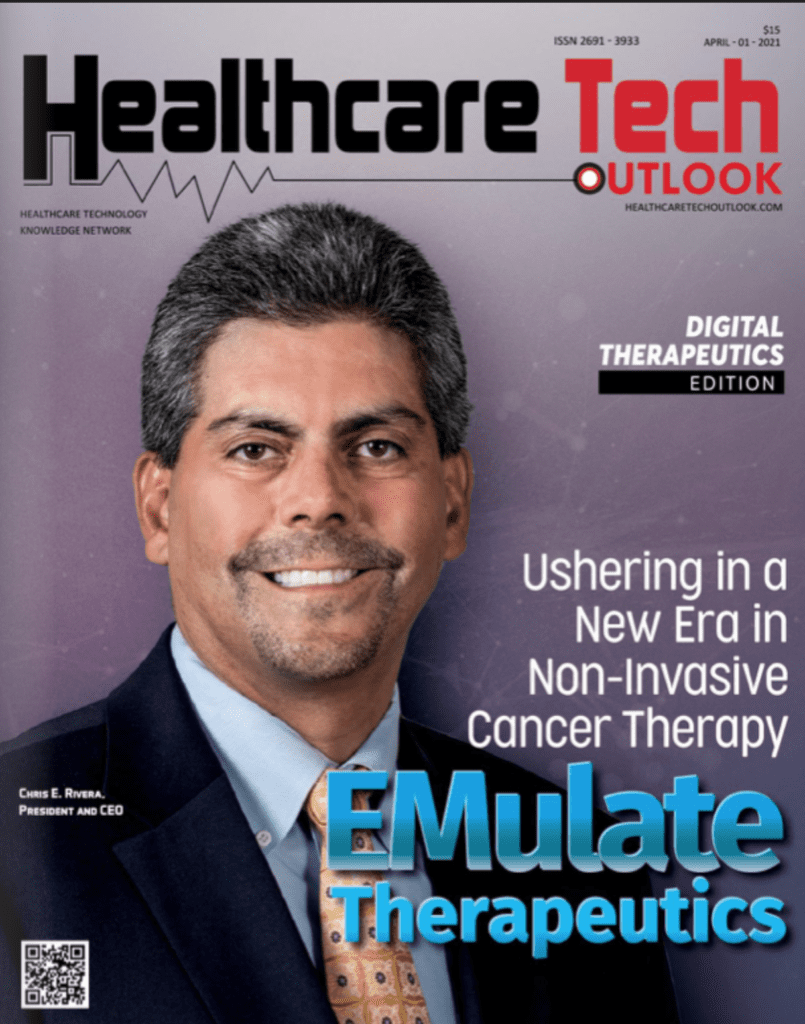 If you're skeptical of what this technology can do – and you should be – I suggest reading the latest issue from the Healthcare Tech Outlook, which features EMulate as the cover story, shown on the right.
You can also read my initial report on Hapbee.
CLICK HERE for the Original Report
Now that you understand the technology, it's time to understand just how big the opportunity for Hapbee's tech is – especially given Google's foray into the sleep space.
Better than the "Rest"
The ulRFE® technology that Hapbee utilizes can create signals that emulate all kinds of substances.
Last year, the Company launched with six signals: Happy, Alert, Focus, Relax, Calm and Sleepy.
After thousands of hours of use from early adopters, guess which signal has been the most popular?
You guessed it: Sleep.
It's my favourite signal, too.
The problem, however, is that I always forget to wear the Hapbee device to bed, or it gets in the way of how I sleep.
As I noted earlier, "A Google survey found that 38% of consumers don't use a sleep tracking device because they forget to use it, charge it or check it, and 19% say wearables are uncomfortable to use."
And that's precisely what the Hapbee team learned very quickly.
Which is why, on March 17, the day after Google launched its sleep tracker, Hapbee provided us a glimpse into their patent-pending bed-related magnetic signal prototype.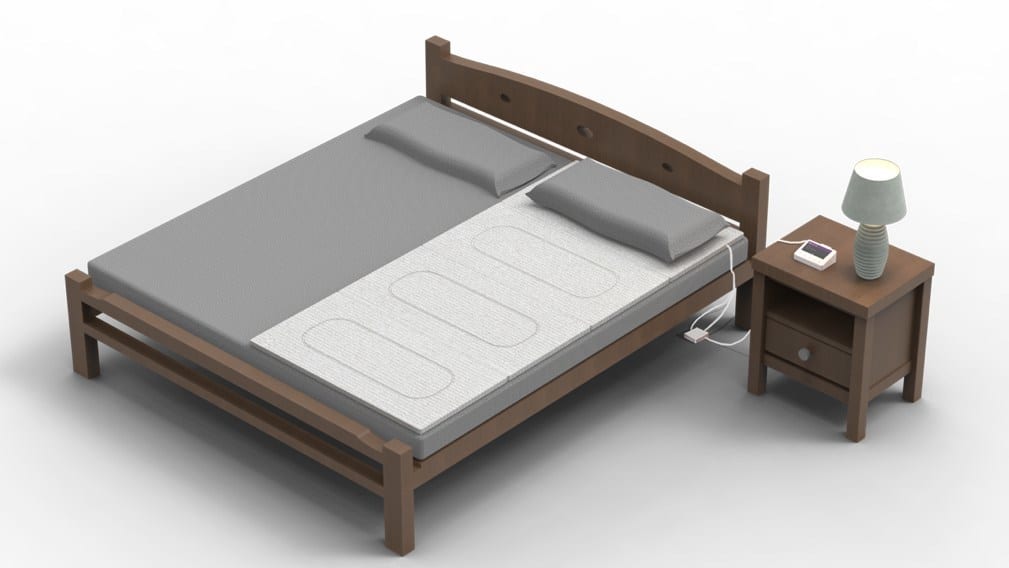 Initial Product rendering is not final, not entirely to scale, and is subject to change as the prototype development program advances. More rendering images will be available on Hapbee.com. (Hapbee Technologies Inc.)
Via Hapbee:
"With four coils in its industrial design, the Product is intended to be capable of delivering multiple magnetic fields across different parts of the body.
…The prototype development program for the Product is scheduled to be completed in Q3 of this year.
Pending successful prototype development completion, the Product will transmit Hapbee signals such as Sleepy and Relax and offer scheduled signal playback functionality enabled via the Hapbee Companion App or a dedicated control panel."
This is much bigger news than the market understands.
Imagine programming this product to turn on the Sleep signal when you lie down at night, and then 20 mins before you wake up, the Alert signal comes on – which, coincidently, Alert/Focus are the next most popular signals.
But that's not all: remember that this technology can emulate all kinds of substances.
Imagine programming this to give you a Relax signal to help sore muscles while you sleep, or using it as a yoga mat with the Relax signal while you stretch.
The possibilities are endless. Take that, Google.
If you're still skeptical, you can try one of the wearables for yourself with a money-back guarantee.
Note: I don't receive a commission, and I am not here to sell their product.
Conclusion
There's no doubt that sleep is a massive market.
Apple knows it. Google knows it. Amazon knows it. And I bet other tech giants do too.
Unfortunately for investors, there are very few publicly-traded companies in this space – especially ones tackling sleep without drugs.
But that means it's ripe for profits and opportunity for the few who are – like Hapbee, for example.
And while Google's sleep tracking technology is cool, all it really does is track your sleep, and then offer suggestions on how to make it better.
As an investor who wants to get in front of the sleep opportunity, would you rather invest in:
tech that tracks your sleep and indirectly helps you sleep better, or
tech that directly enables you to sleep better and has the potential to make you feel energized when you wake up
Remember, the goal of the Tech Giants is to be everywhere we are; to integrate their technologies into every aspect of our lives.
They already dominate our lives when we're awake, but mark my words: these tech giants will be there when we sleep, too.
Not only will billions be poured into disrupting the sleep market, but you can bet the Tech Giants will be fighting for control over non-invasive sleep technologies.
And that is great news for Hapbee and its investors.
Hapbee Technologies
Canadian Trading Symbol: HAPB
US Trading Symbol: HAPBF
German Trading Symbols, FRA or DEU: HA1
Seek the truth,
Ivan Lo
The Equedia Letter
www.equedia.com
Equedia.com and Equedia Network Corporation are not registered as investment advisers, broker-dealers or other securities professionals with any financial or securities regulatory authority. Remember, past performance is not indicative of future performance. This article also contains forward-looking statements that are subject to risks and uncertainties that could cause actual results to differ materially from the forward-looking statements made in this article. Just because many of the companies in our previous Equedia Reports have done well, doesn't mean they all will. We are biased towards Hapbee Technologies (HAPB) because the Company is an advertiser on www.equedia.com. We currently own shares of HAPB and have purchased many devices. You can do the math. Our reputation is built upon the companies we feature. That is why we invest in every company we feature in our Equedia Special Report Editions. It's your money to invest and we don't share in your profits or your losses, so please take responsibility for doing your own due diligence and consult your own professional advisers before investing in HAPB or trading in HAPB securities. HAPB and its management have no control over our editorial content and any opinions expressed in this article are our own. We're not obligated to write a report on any of our advertisers and we're not obligated to talk about them just because they advertise with us. For a complete disclosure of the compensation received by us from HAPB, please review our Terms of Service and full disclaimer at www.equedia.com/terms-of-use/.