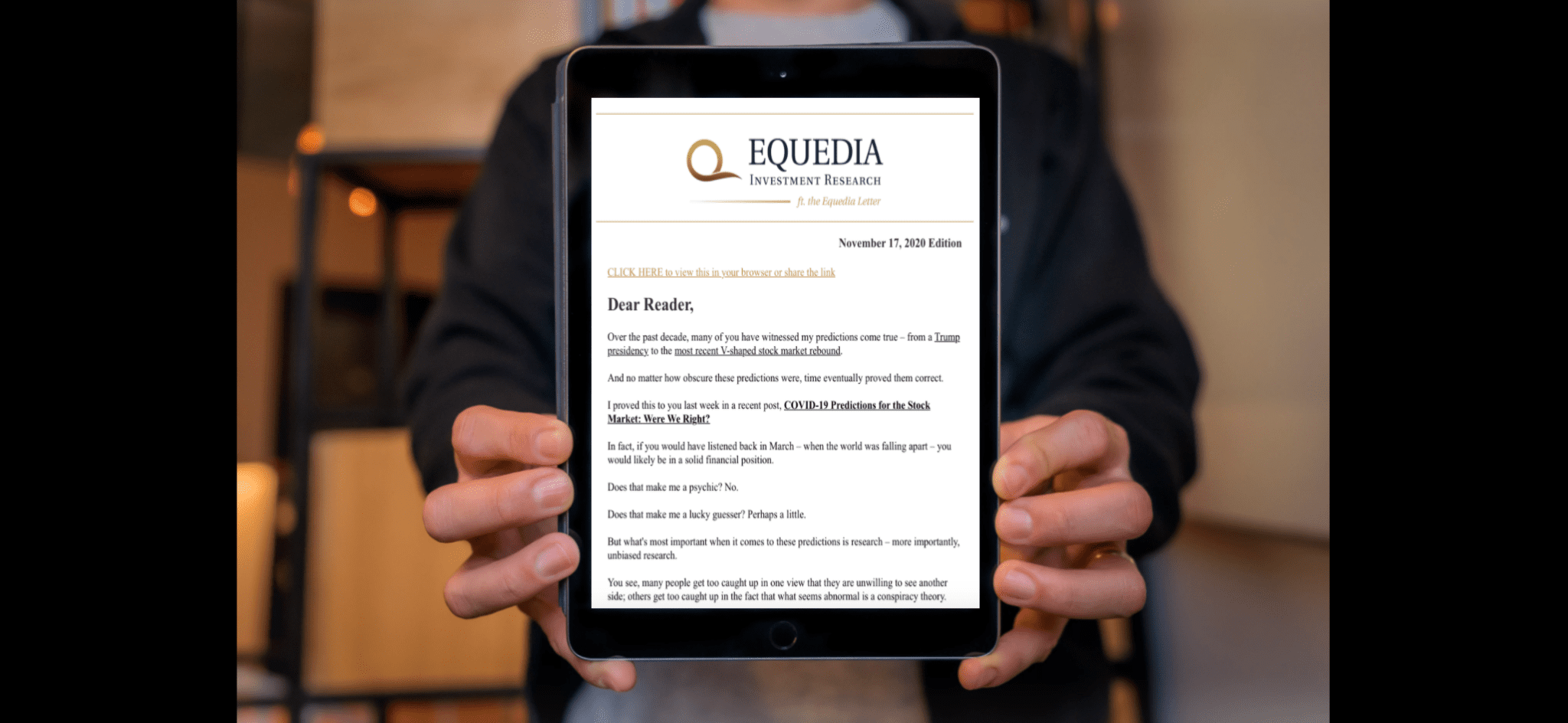 Who We Are and What We Do
The Equedia Letter is an investment publication that was primarily offered only to high net worth individuals.
But due to the success and demand of our research, the Equedia Letter was opened to the general public and is now read by thousands of bankers, brokers, analysts, fund managers, and high net worth retail investors.
Our goal now is to become the largest free investment newsletters in North America. Today, we have over 650,000 subscribers and we are adding thousands of sophisticated readers every month.
But how did we become one of the largest and most-trusted investment newsletters in North America?
Because we perform.
You see, many of the stocks we presented have earned significant returns for our subscribers – our success rate is better than almost every newsletter out there.
As a result of our performance, we now work closely with brokers, money managers and industry reporters to bring them new ideas and insights on the market – many of which have led to successful exits through buyouts and capital market appreciation.
For example, in 2015, when gold stocks were getting pummeled, I introduced our readers to not one – but two – gold stocks.
These TWO gold companies not only gained in share price, but were bought out for C$590 million and $1 billion – in less than 18 months time!
To give you an idea, one of those stocks were introduced to our readers at C$0.82. It was bought out just over a year later for C$5.28 per share – a return of over 540%.
But get this: At the time of the buyout, shares of the acquiring Company were worth about C$7.
Today, they are worth over $50*.
*and as high as $74, just last year.
In other words, if you held onto those shares after the buyout, you could have more than gained another 900% – potentially netting you profits of over 6750%, based on last year's high!
A $10,000 investment could have potentially turned into more than $675,000!
Not long ago, I introduced readers to an incredible new tech stock at a price of C$0.34. In just a little over a year's time, the stock climbed to a high of $3.59 – netting investors an incredible 10-bagger.
But stocks aren't the only thing we've been successful with.
We have been predicting market events long before they happen with great success; in stocks, politics, and the economy.
When the financial crisis hit in 2008, we told readers to load up on stocks; a difficult call as many had predicted that the financial system and the stock market was over.
Early in 2012, we called for the S&P to rise passed 1500 and the Dow to surpass 14000; this was during a time when every other analyst called for Doom and Gloom. Look where the market is today…
We also called for gold prices to top out at $1900, but this was also a time when gold was trading at below $1000.
In recent years, we have been extremely accurate with timing on Fed policies, Canadian politics, and even precise timing on the rebound in gold stocks.
We even made startling predictions including the Basic Income tests for Canada and Japan just weeks before they happened.
We even predicted that Trump would become President of the United Statesin the beginning of 2016, when no one could imagine that was even possible.
We could go on about all of our past successes, but that would mean little-to-nothing to you as a new reader.
Which is why today, we're offering you this report in hopes you will help us become the largest investment newsletter in all of North America.
Our Letter may sometimes be controversial, but they are always backed by facts, research, and an unbiased and often contrarian opinion – that has, of course, proven to be correct many times.
So don't wait and join the hundreds of thousands of investors who have seen success with our Letter!