Selling More than Ever
Most investors believe they always have to buy at the bottom and sell at the top.
Yet, to do this over and over again is near impossible.
Even for the world's best and richest investors.
Just ask Baron Rothschild, who said to Jesse Livermore: "I never buy at the bottom, and I always sell too soon."
Or JP Morgan, who said: "I made my money by selling too soon and never buying at the bottom."
With the recent COVID-19 downturn, I have been asked by many if it's the bottom.
Back in early April, I thought it was; judging by the market's recent performance, I was right.
But now the question is, "has the market topped once again?"
I don't think so, but we'll see where the media takes us.
I say that because two major forces control the market: the Fed and market sentiment.
Since the Fed has been there at every turn in the last decade to save the market, I'd say the market will continue to climb.
But market sentiment is controlled by what the media wants to serve. And with every media outlet clamoring for the next big headline, we are often led to believe that it is the end of the world.
The key now is to look for companies that have strong fundamentals, are growing, and are not only unaffected by COVID-19, but actually prospering from it.
Today, I want to share with you a sector that has thrived through this pandemic, and give you an update on a company that fits this bill.
Here goes.
The Alkaline Water Company Inc.
(NASDAQ: WTER) (TSX-V: WTER)

*all numbers in USD, unless otherwise noted.
For some of you, what you're about to read may sound familiar. That's because we originally introduced this Company back in 2018 when it was trading at around US$1.80 per share.
A few months later, after our initial report, shares of this Company climbed as high as $5.56 on speculation that the passing of the U.S. Farm Bill and the news of the Company's CBD drinks launch, could send the Company to new heights.
This was during a time when CBD drinks were being eyed by Big Beverage.
"Coca-Cola, one of the most iconic brands in the world, publicly announced its interest in CBD.
They weren't the only ones.
As soon as news of Coca-Cola's interest in CBD, Pepsi's CFO Hugh Johnston immediately responded by saying:
"…I think we'll look at it critically (CBD), but I'm not prepared to share any plans that we may have in the space right now."
Their words immediately sent shares of almost all cannabis stocks that hinted of infusing CBD into beverages soaring."
Unfortunately, the FDA (for the time being) got in the way of what could have been a massive market for those with a first-mover advantage within the CBD drink space.
As a result, shares of many cannabis companies fell, and the Alkaline Water Company (WTER) was no exception.
Yet, despite the share price hiccup, WTER continued to make strides with its core brand.
It expanded into the east with distribution through Publix Super Markets Inc., the 10th-largest-volume supermarket chain in the country, and then immediately added Shoprite.
It added new distribution through Whole Foods Markets, the leading natural and organic foods supermarket, and increased its retail distribution by 10X from the beginning of 2019 to over 5000 convenience stores.
And most importantly, it continued to hit new record sales numbers.
Then, with its sales momentum, the Company entered into an agreement to acquire AQUAhydrate Inc. – the high-PH water brand created by none other than Mark Wahlberg – 2017's highest-paid actor, according to Forbes.
Over the next few months, the share price of WTER fell on that news, as investors couldn't quite digest the benefits of the acquisition.
Eventually, WTER's management decided to walk away from the deal.
And with good reasons.
Through a lengthy due diligence process, WTER realized that it didn't make sense to try and take on another brand – especially when its core brand, Alkaline88, was being so well received.
What do I mean?
The bottled water space is dominated by some of the biggest beverage names in the world.
According to ArchPoint research, the top vendors for the Value Add Water category over the last year ending on April 18, 2020, belong to:
COCA-COLA COMPANY
PEPSICO INC
ESSENTIA WATER INC
KEURIG DR PEPPER
NESTLE HOLDINGS INC
HINT INC
THE KRAFT HEINZ COMPANY
And in 8th place, amongst the biggest heavyweights in the beverage space…
The Alkaline Water Company
Just last month, WTER announced that in March 2020, it sold a record $6.2 million worth of goods – exceeding its previous monthly record by a whopping 63%.
And, on a year-over-year basis, sales tracked well ahead of expectations and exceeded prior year March by approximately 114%.
According to the Company's CEO, Richard Wright, the backlog for April is also strong, and specifically, demand for their single-serve and aluminum bottles has been robust.
In other words, there is potential that WTER could hit yet another new monthly record – once again showing the world, and Big Beverage, that the brand continues to grow at a very fast pace.
It's no wonder analysts at Canaccord Genuity believes that WTER could be a takeout candidate:
"…We believe March 2020 sales data further confirm its strong market position. We believe traction in the single-serve market opens up a market opportunity potentially nine times as large, and if successful, could position WTER as an attractive takeout candidate."
– Raveel Afzaal, CFA, Canaccord Genuity Corp. (Canada), April 23, 2020
We already know that WTER's Alkaline88 drinks are flying off the shelves, as evidenced by its continued growth through record monthly and yearly numbers.
In fact, the Company never had a down year of sales.
But there's something else that can truly drive WTER's sales numbers – and it has nothing to do with water itself.
However, before I get into that, let's once again go over the story of WTER because its important you know about the platform the Company has built.
The Story of the Alkaline Water Company
The Alkaline Water Company Inc. is a leading producer of premium bottled alkaline drinking water sold under the brand name Alkaline88.
The Company's proprietary electrolysis process enhances its product with trace minerals and electrolytes to produce a water high in alkalinity with an 8.8-pH balance.
This not only provides an exceptionally smooth drink, like that of a Fiji water (without the silica), but it also offers many potential health benefits via the trace minerals, electrolytes, and high alkalinity.
I am not here to argue the potential health benefits, but there are numerous studies now on the benefits of alkaline water. The following are just some of the potential health benefits:
anti-aging properties
improving sleep and gastrointestinal health
therapeutic benefits for patients with reflux disease
decreases blood pressure, blood sugar and blood lipids, and reduces systolic blood viscosity significantly.
See below for some of the scientific studies:
Alkaline Water and Longevity: A Murine Study (May, 2016)
Daily ingestion of alkaline electrolyzed water containing hydrogen influences human health, including gastrointestinal symptoms (Jan 2019)
Potential benefits of pH 8.8 alkaline drinking water as an adjunct in the treatment of reflux disease (July 2012)
Preliminary observation on changes of blood pressure, blood sugar and blood lipids after using alkaline ionized drinking water (Dec 2001)
Effect of electrolyzed high-pH alkaline water on blood viscosity in healthy adults (Nov 2016)
You may have seen the tremendous growth of bottled water in your neighborhoods, with all kinds of new water brands popping up in your local market.
You may recognize them as Essentia, Fiji Water, Happy Water, and even Hawaiian Volcanic water.
But what separates them from regular bottled water, and why are they considered premium waters?
They all have a higher than neutral pH content, with alkaline minerals.
In short, this means that they are all alkaline waters – a premium style water that is one of the fastest-growing segments of water in the world.
In fact, just a couple of years ago, premium water sales growth outpaced regular water by a factor of 3-to-1, while the growth of alkaline water dominated the premium water market.
And, according to data from market research group SPINS in 2019, enhanced waters – which include nutrient, electrolyte, alkaline, and oxygenated waters – grew 12.9 percent over the past year in the U.S. Of those, alkaline water posted the second-largest increase in sales, rising 37.5 percent to approximately $252.6 million.
But if you break it down even further, alkaline waters are enjoying the fastest growth in the conventional multi-outlet channel.
Now, if you were shopping for alkaline water, you likely wouldn't know that any of the above brands were alkaline waters unless you looked closely at the bottle and did a little research.
But that's precisely what sets the Alkaline Water Company apart from its competition.
And it's also why the Company could be a prime takeover target.
The Only Alkaline Water
When Coca-Cola bought Glaceau for $4.1 billion in cash, they paid a massive premium of nearly ten times the Company's trailing 12-month revenue.
The biggest part of that transaction was the acquisition of the brand Vitaminwater.
Today, the Vitaminwater brand is one of Coke's most prized assets.
More importantly, the Vitaminwater acquisition gave Coke trademark possession of the word "vitamin" to maximize the positioning of the brand within the vitamin water sector – an enhanced water segment that was showing rapid growth.
Trademark possession of a name means no competitor can use it to brand its products. In other words, no one can use the word "vitamin" in their beverage brands.
And that's what the Alkaline Water Company has.
The Alkaline Water Company has incorporated the word "alkaline" in the Company's Alkaline88 and A88 trademarks.
That means it is the only U.S. company legally allowed to use the word "alkaline" in its brand name – a critical competitive advantage within the category.
And that also means the Alkaline Water Company has the most upfront branding of the most dominant water segment in the premium water category: alkaline water.
One look at their bottles and you know right away what it is and what makes it premium.
The Growth of Alkaline Waters
Back in 2018, the alkaline water market was expected to reach more than $200 million in sales.
But according to data company SPINS, the market for Alkaline Water in the U.S. hit nearly $270 million for the year ended in April 2019.
According to one of the foremost experts in the beverage space – one who advises some of the world's biggest names – alkaline water could become a billion-dollar category in the next few years.
I believe the alkaline water category could be much bigger when considering all the health trends associated with beverages coming to market.
You see, many of the health-infused drinks – such as chlorophyll water – require alkaline water to maintain shelf-life.
In fact, many types of functional beverages – such as those infused with CBD, Hemp, and soon THC – will likely require alkaline water to maintain their efficacy and stability.
And I suspect that the cannabis-infused beverage space will become massive – not only because it will be an alternative to alcohol, but it will also become a functional health trend.
So it's no surprise that you may have already seen a few CBD and cannabis beverage companies come to market.
Most of them have little experience – and practically no footprint – when it comes to beverage distribution.
But the Alkaline Water Company has both – which means if they enter the functional beverage market, they not only have a proven distribution platform, but a national brand.
Imagine the power of branding associated with the name "alkaline," as the functional health drink space – and marijuana beverages – explodes.
Alkaline CBD…Alkaline Chlorophyll…Alkaline Hemp…Alkaline THC…Alkaline Calcium…Alkaline…you name it!
In fact, WTER is already positioned to take advantage of the hemp-infused CBD market, with full-spectrum hemp-derived CBD products ready for launch – as soon as the FDA allows it.
Take a look:


The Two Biggest Alkaline Waters that Matter
There are only two pure alkaline water companies that matter if you want to play in the alkaline water space.
According to the foremost expert I spoke with, they are the two biggest, and the two that are at the top of the list for a potential buyout.
The first one is Essentia Water – a private Company that put itself up for sale a couple of years ago.
Via CNBC:
"Premium water company Essentia has hired an investment bank to run an auction for the Company, sources familiar with the matter told CNBC, and it could fetch $500 million or more in a sale.
The water brand, which has a proprietary ionization process it claims provides better hydration, has roughly $100 million in revenue, the people said. It is likely to catch the eye of the country's biggest beverage brands…Among the companies likely to consider a bid would be Nestle, Danone, PepsiCo, and A.B. InBev, though it is early in the process."
Word on the street was that Essentia was seeking nearly a billion dollars in the sale – even though it only did $100 million in revenue in its most recent statement in 2018.
That's a 10X multiple if they succeed!
The second pure alkaline water play is the Alkaline Water Company – the fastest-growing alkaline water company and the fastest growing premium water brand in the U.S.
According to Nielson data, the Company has continued to dominate the bulk water niche in the value-added water category in the U.S.; it had 33% dollar volume growth, versus 9% for the value-added water category, in 2019.
It was also the fifth-fastest growing brand in the U.S. in the top 20 functional water brands last year.
That's saying a lot when you consider that the global functional water market is now expected to be worth a whopping $18.24 billion in the next five years, according to Fortune Business Insights – all of which is dominated by the U.S. market.
That means the only way for retail investors to truly hop on the alkaline and functional water train is through owning shares of The Alkaline Water Company.
But just how does the Alkaline Water Company stack up in terms of numbers?
One of the Fastest Growing Stories
Alkaline88® is now sold in over 60,000 retail locations nationwide in all 50 states.
These include 9 of the top 10 largest retailers in the entire U.S. and two of the largest retailers in the entire world: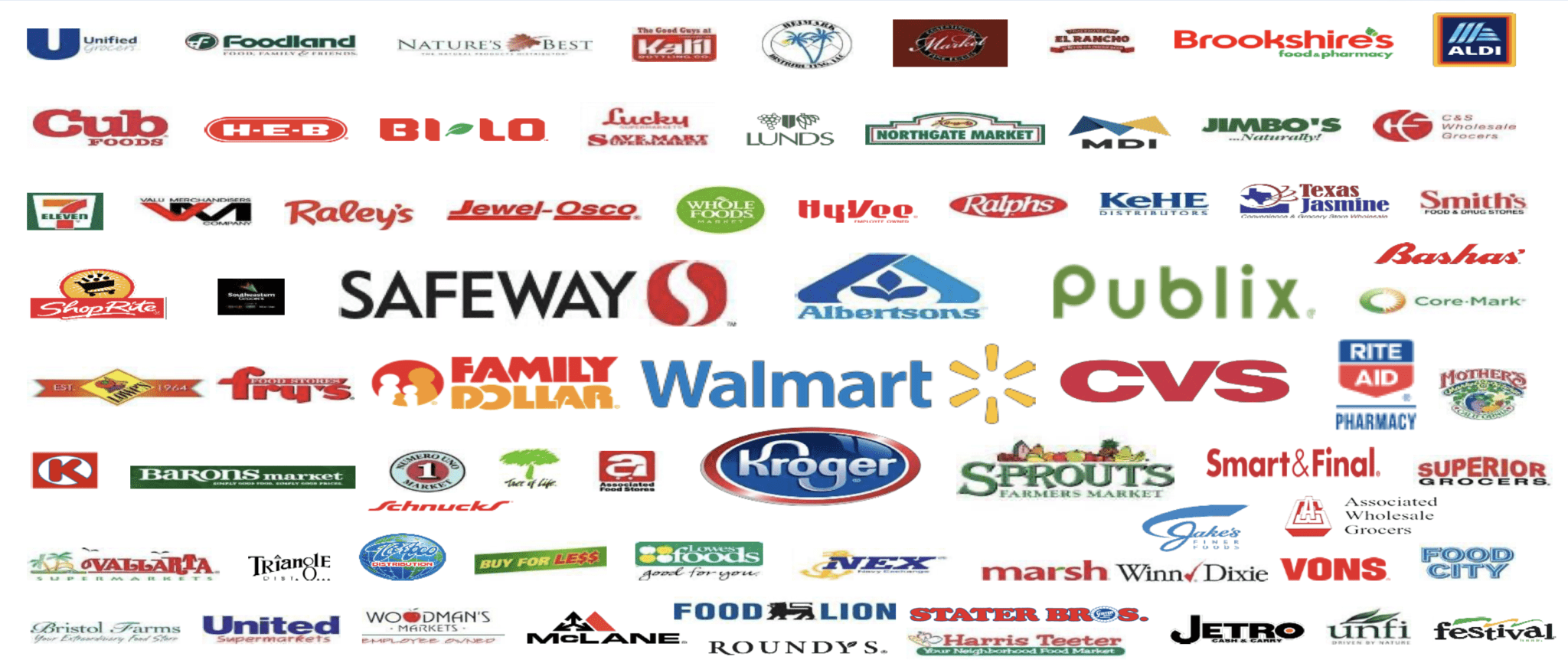 In its 2018 fiscal year, the Company generated over $19.8 million in sales.
In its 2019 fiscal year, the Company hit $32.2 million in sales.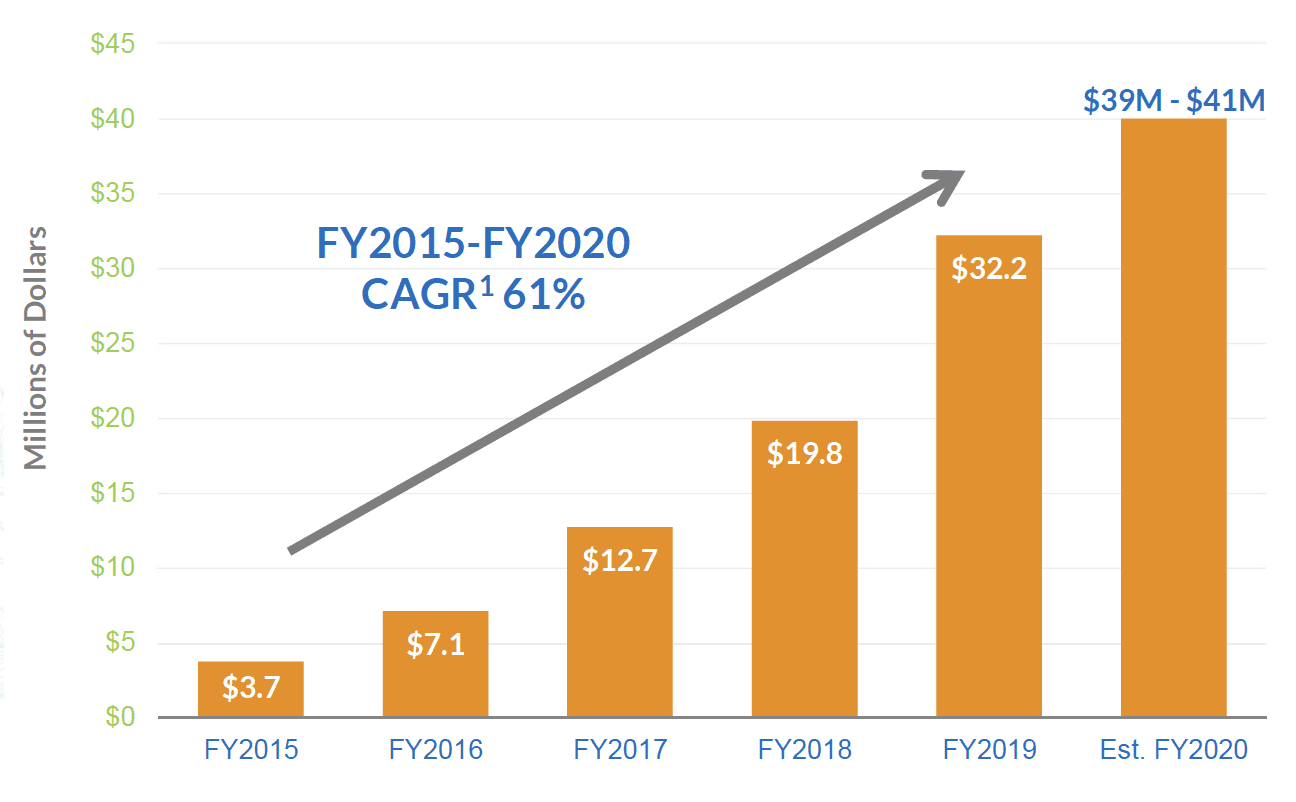 Given that the Company continues to add new retailers, and are successfully selling new single-serve products (flavor-infused and aluminum bottles), I wouldn't be surprised to see them surpass $40-50 million this year – especially if they hit another new monthly sales record.
Keep in mind that WTER's 2020 fiscal year-end is this April – which means that we should soon see if they hit that $40 million mark.
These milestone numbers are extremely important.
Because when you start to hit $50 million per year in sales in a beverage category, Big Beverage really takes notice. I'd be shocked if Big Beverage wasn't already looking at WTER as a potential target for acquisition.
An Expert's Take
I am not a beverage expert, so I sought the opinion of someone who is – someone who lives and breathes the beverage space and who advises some of the world's largest beverage companies.
Since he advises many of the big players, I have to respect his anonymity.
He's told me that the sweet spot for acquisitions had been around $100 million in revenue, with triple-digit – or close to triple-digit – growth.
But this number ranges from company to company.
For example, one particular Company – one of the biggest in the bottled water space – is looking to acquire companies that hit the $60 million revenue mark, while showing continued growth.
But what about the alkaline water space?
He's told me that they would be interested in doing something with a company in the alkaline water space if one could hit around $40 million in sales.
At WTER's current pace, the Company has strong potential to hit $40 million in sales – maybe even more.
WTER already announced in Q3 a record nine-month fiscal 2020 revenue of $29.1 million.
Add in the $6.2 million in March, and it's already at $35.3 million. Given the backlog for April, I bet it easily surpasses the $40 million milestone.
Canaccord estimates that F2021, which has already started, will be $55M.
In other words, the Alkaline Water Company would be a prime takeover if it can hit the numbers it is expected to hit.
Furthermore, he said that while the growth of alkaline water is strong, it is still a space represented by very few players. In fact, only two are really in contention – as I already explained – with the Alkaline Water Company being one of them.
And the Company is in a space where there are perceived health benefits – very similar to how Vitaminwater went to market.
However, the difference is that Vitaminwater couldn't really promise a functional benefit because vitamins lose their efficacy when exposed to moisture or sit in water.
Meanwhile, minerals – such as those in Alkaline88 – do not.
The exciting part for Alkaline Water shareholders is that the Company's growth can compound in ways it hasn't done before – even though the Company has shown immense and steady growth over the past three years.
Let me explain.
Just the Beginning
There are a few ways beverages come to market.
Direct to Warehouse – selling directly to the retailer.
Third-Party Logistics Providers – who essentially act as middlemen leveraging their distribution platform.
Direct to Store Distribution (DSD) – where middlemen distribute the products for you directly to the retailers' shelves.
The majority of the Alkaline Water Company's growth has been its ability to sell the large bottle format directly to the warehouses of retailers – a segment of the market that no one even comes close to touching.
Judging by Alkaline88's sales performance, and the fact that Walmart has already rolled out Alkaline88 nationwide, the Company's products are clearly flying off the shelves.
That means Walmart, and other big-name retailers could easily add different SKUs – such as 1 or 1.5 liters, 750 ml, six-pack formats, flavored water – without having to bring on new brands into their system – a very time-consuming and risky process.
In other words, Alkaline88 sales could continue its growth organically with the retailers they already.
But they have barely scratched the surface of the gas stations, convenience stores, and pharmacies, which primarily belong to the DSD and third-party logistics buyers.
They have barely scratched the surface of the single-serve market.
And the Alkaline Water Company is hitting those markets now…and fast.
The Company has already launched its flavors and aluminum bottles.
If these products continue to fly off the shelves, as management has stated is already happening, it would be a breakthrough for Alkaline Water.
But that's not all.
De-risking the Brand
According to my source, the single-serve market is initially a more accessible market, but it costs a lot of money and requires a lot of upfront capital – capital primarily reserved for the bigger players.
It's challenging to enter the market by selling in the large format as the Alkaline Water Company has done.
But if you can do it, it can prove very rewarding.
For example, Sparkling Ice started in the large format before moving into the single-serve. In other words, it built a brand selling bigger, and then attacked the single-serve market – much like the Alkaline Water Company is doing now.
In 2010, Sparkling Ice did $10 million in sales.
In 2016, Sparkling Ice did $667 million in sales.
If Alkaline Water can match that success, it could be extremely rewarding for shareholders who participate today. Extremely…
It's no wonder the Alkaline Water Company is already on the radars of the top beverage companies globally – companies who have been busy scooping up every major growth story.
Big Beverage Buyouts
The water space continues to heat up in a big way.
Ten years ago, Coca-Cola (NYSE: K.O.) bought Glaceau, the maker of Vitaminwater, for $4.1 billion in cash. Today, Vitaminwater generates nearly $1 billion in annual revenues for the Company.
Then there's Coke's spin-off water brand, Smartwater, which generated $860 million in sales during the twelve months ended in May 2017, and then launched a high P.H. product of its own.
Despite all of the water brands Coca-Cola already owns, it continues to buy premium water brands.
In 2017, it bought Topo Chicos, a sparkling mineral water brand, for $220 million.
Not to be out-done with the popularity of so-called premium water brands, PepsiCo's (NYSE: PEP) launched Lifewatr, a pH-balanced (alkaline) water beverage.
It did $148 million in sales in its first year of launch.
But Coca-Cola and Pepsi aren't the only ones buying up water brands.
In 2016, China's Reignwood Group agreed to pay around $105 million to buy slightly more than 50% of Voss of Norway ASA, a premium bottled water maker.
In 2017, Dr. Pepper Snapple Group (NYSE: DPS) bought Bai Brands, which makes the Antiwater alkaline water brand, for US$1.7 billion.
In 2018, Primo Water Corporation (Nasdaq: PRMW) bought Glacier Water Services, Inc. for approximately $273 million, while Keurig Dr. Pepper (KDP) acquired bottled water maker Core Nutrition for $525 million.
In short, acquisitions in the water space are heating up as water continues to be the top beverage category in the world.
But how are these companies being valued?
The Bottled Water Multiples
The consensus is that bottled water companies are being valued at around 4-6 times top-line revenue, but can reach almost as high as 12 (as was the case with Vitaminwater).
Via CNBC:
"…Companies similar to Essentia are often valued at four to six times revenue…"
In most cases, the big beverage companies focus on top-line revenue because they know they can trim the fat with their distribution platforms.
For example, when Keurig Dr. Pepper acquired CORE for $525 million, or $435 million net of tax benefits, CORE products generated an estimated $200 million through retail sales across both measured and unmeasured channels. I estimate that meant roughly $80-90 million of wholesale revenue for CORE at the time.
In other words, CORE was likely acquired for more than five times top-line revenue!
To put that into perspective, according to ArchPoint, WTER products, over the last 52-weeks through April 18, 2020, generated estimated sales of $94.3 million.
That means Alkaline88 is nearly a $100-million-dollar brand.
So what does that mean for shareholders if the Alkaline Water Company were to be acquired based on their expected $40 million in revenue for this fiscal year, and $55 million for F2021, as per Canaccord estimates?
Assuming a low-end multiple of 4x revenue, The Alkaline Water Company would be valued at $160 million based on their expected fiscal year 2020, and $220 million based on Canaccord's estimate of $55 million for fiscal 2021.
The Company is worth $53.95 million today, based on its current share structure.
With Alkaline Water's current share price, that would mean $2.71 per share and $3.73 per share, respectively.
At a 5x multiple, that's nearly $3.39 per share and $4.66 per share, respectively.
And at 6x, it's $4.07 and $5.39 per share, respectively.
WTER currently trades on NASDAQ for $0.91 per share.
And that's all before we factor in the other potential growth that the Alkaline Water Company has in store, including entering the single-serve market with flavors and aluminum bottles.
But, what if we begin to add WTER's latest products to the mix – products that aren't even in their sales numbers yet? And products that have everything to do with their distribution platform and brand, but nothing to do with water?
CBD Topicals
Despite the recent decline in cannabis stocks, CBD continues to be a significant new health trend for consumers – reaching over $20 billion in the U.S. by 2024, according to BDS Analytics estimates.
But FDA regulations have thus far put CBD-infused ingestibles on the back burner for major retail outlets.
However, CBD topicals are a different ball game.
And WTER just launched a bevy of new, full-spectrum, hemp-derived, CBD topical products.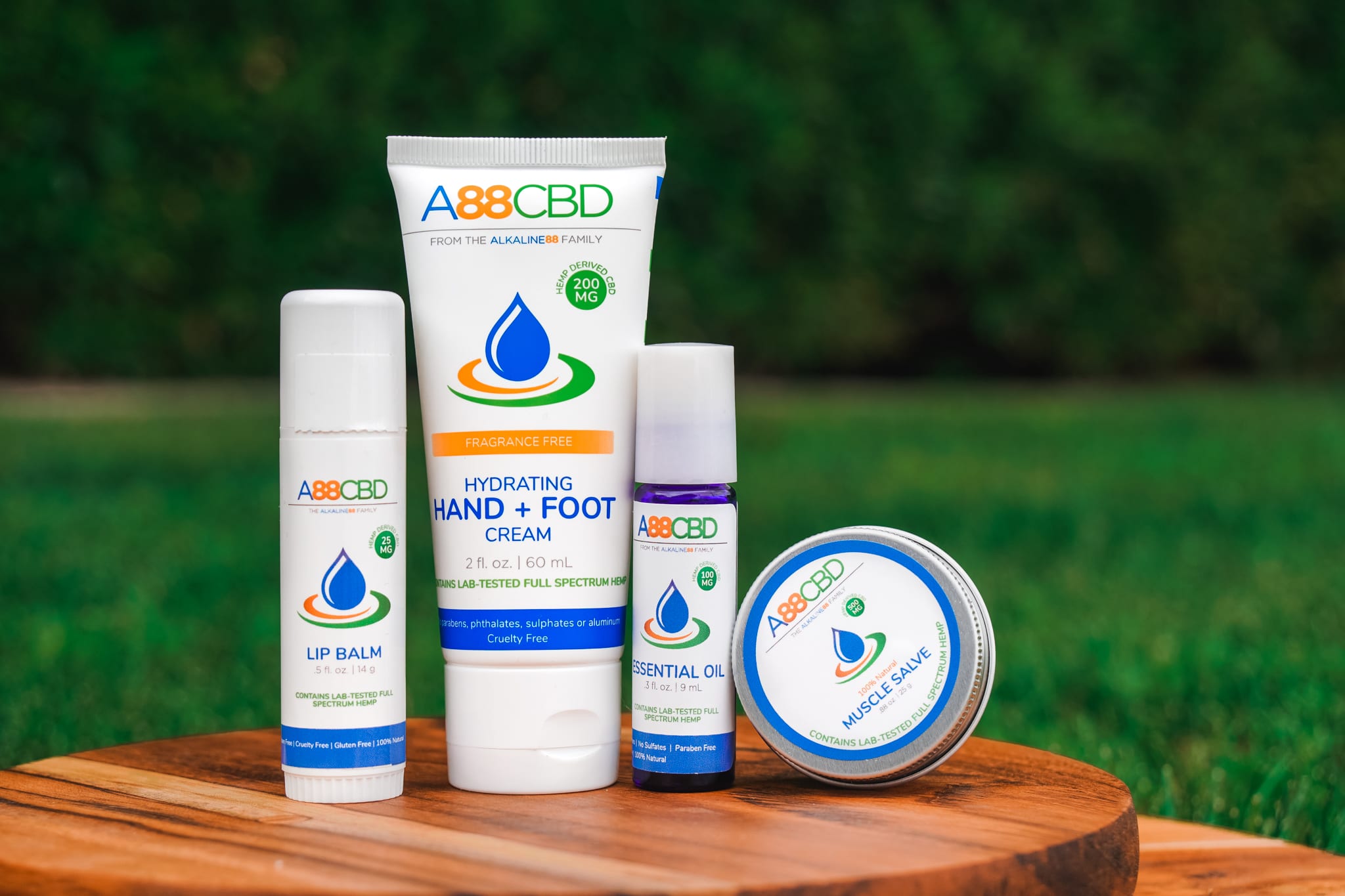 While it remains to be seen just how successful WTER's CBD topicals products will be, it marks yet another entry into an extremely fast-growing space.
Remember, when WTER first entered the alkaline water space, alkaline water was barely a thing.
Fast forward a few years later, and alkaline water has become one of the fastest-growing bottled water categories.
With built-in relationships with the biggest retailers and supermarkets on the planet, WTER could soon be at the forefront of the CBD craze.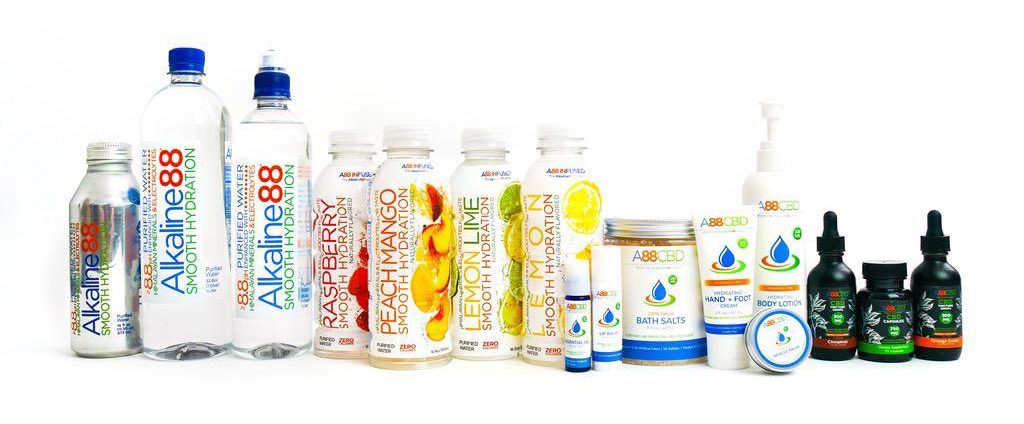 Conclusion
Seven years ago, the Alkaline Water Company entered into one of the hottest beverage markets.
Today, the Company has transformed into one of the fastest growing alkaline water brands.
This is precisely why I believe the timing for shareholders couldn't be better.
The world's biggest beverage companies – companies who made their fortunes on selling soft drinks – have noticed the massive decline of their sugary products.
In turn, they have been pushing other flavored drinks onto consumers to keep their profits alive.
And they have been on a buying spree over the past few years – buying several soft drink alternatives with growing sales and adding those products into their massive global distribution pipeline.
It's why I believe the premium water space will continue to heat up.
And the only way for retail investors to access a pure play alkaline water investment is through the Alkaline Water Company.
The big players, such as Coke and Pepsi, believe alkaline water is here to stay.
And the Alkaline Water Company is one of the fastest-growing alkaline water companies and one of the fastest-growing premium water brands in the U.S.
Combine the launch of flavored waters, aluminum cans, and CBD products, and the Company could be on pace to smash previous revenue records.
With the recent decline in stocks resulting from COVID-19, shares of WTER haven't been this cheap in a very long time. Furthermore, if COVID-19 returns for another run at society, people will likely run to their grocers and stock up on bulk water.
You can never have enough water in times of crisis. That's why I bought more shares.
The Alkaline Water Company Inc.
NASDAQ (US) Trading Symbol: WTER
TSX-V (CDN) Trading Symbol: WTER
We are biased towards the Alkaline Water Company (WTER) because the Company is an advertiser on www.equedia.com. We currently own shares of WTER. You can do the math. Our reputation is built upon the companies we feature. That is why we invest in every company we feature in our Equedia Special Report Editions. It's your money to invest and we don't share in your profits or your losses, so please take responsibility for doing your own due diligence and consult your own professional advisers before investing in WTER or trading in WTER securities. Equedia.com and Equedia Network Corporation are not registered as investment advisers, broker-dealers or other securities professionals with any financial or securities regulatory authority. Remember, past performance is not indicative of future performance. This article also contains forward looking statements that are subject to risks and uncertainties that could cause actual results to differ materially from the forward-looking statements made in this article. Just because many of the companies in our previous Equedia Reports have done well, doesn't mean they all will. WTER and its management have no control over our editorial content and any opinions expressed in this article are our own. We're not obligated to write a report on any of our advertisers and we're not obligated to talk about them just because they advertise with us. For a complete disclosure of the compensation received by us from WTER, please review our Terms of Service and full disclaimer at www.equedia.com/terms-of-use/.
Cautionary Note Regarding Forward-Looking Statement and Health Claims from The Alkaline Water Company Materials
This letter contains forward-looking statements relating The Alkaline Water Company Inc. (the "Company"). Statements in this presentation that are not purely historical are forward-looking statements and include any statements regarding beliefs, plans, expectations or intentions regarding the future. Such forward-looking statements include, among other things, the following: the Company being expected to achieve 61% CAGR over the 5 years ending at the completion of fiscal 2020 which is based on the Company's guidance of estimated revenue $39 million to $41 million in fiscal 2020; low familiarity of alkaline water providing an opportunity for continued growth; the Company's plans for brick and mortar expansion; the statements regarding continued geographical expansion; the statements regarding the value of the Alkaline water category; the statements relating to the Company's growth potential and growing national footprint; the statements regarding the Company's plan to enter new category of product, the statements regarding the large opportunity to penetrate new channels; the Company's plans for product and category expansion, including the expansion into CBD product lines such as CBD extract-infused water, ingestible CBD products and topical CBD products; the Greenfield market opportunities for ingestible CBD products in wellness retailers such as GNC and Vitamin Shoppe; the Greenfield market opportunities for topical CBD products in beauty retailers such as Ultra, Sephora and Neiman Marcus and apparel retailers such as Designer Brands, Urban Outfitters and Hot Topic; the direct to consumer and E-Commerce opportunities with Amazon and Peapod; full spectrum hemp extract-infused water; and the statements regarding the growth potential of US CBD drinks market. The material assumptions supporting these forward-looking statements include, among others, that the demand for the Company's products will continue to significantly grow; that the past production capacity of the Company's copacking facilities can be maintained or increased; that there will be increased production capacity through implementation of new production facilities, new co-packers and new technology; that there will be an increase in number of products available for sale to retailers and consumers; that there will be an expansion in geographical areas by national retailers carrying the Company's products; that there will be an expansion into new national and regional grocery retailers; that there will be an expansion into new E-Commerce, home delivery, convenience, and healthy food channels; that there will not be interruptions on production of the Company's products; that there will not be a recall of products due to unintended contamination or other adverse events relating to the Company's products; and that the Company will be able to obtain additional capital to meet the Company's growing demand and satisfy the capital expenditure requirements needed to increase production and support sales activity. In addition, the Company's forecasted revenue is based on the Company's expectation that revenue growth will remain consistent for fiscal year 2020, significant sales growth will continue in Southern California, and significant orders will be received from the national-retailers and east coast grocery chains, which have only recently started selling the Company's products. In addition, the Company assumes that it will continue to be able to add co-packing plants and production capacity to satisfy customer demand. As the Company's sale cycle is an average of 14 days, a slowdown of the
growth in any of the areas set forth above during fiscal 2020 or other events could cause actual results to vary materially from this forecast. In addition, sales growth, which may have a significant impact on quarterly and annual revenue, is difficult to predict. Actual results could differ from those projected in any forward-looking statements due to numerous factors. Such factors include, among others, governmental regulations being implemented regarding the production and sale of alkaline water or any other products, including products containing hemp; the fact that consumers may not embrace and purchase any of the Company's infused water products; additional competitors selling alkaline water and enhanced water products in bulk containers reducing the Company's sales; the fact that the Company does not own or operate any of its production facilities and that co-packers may not renew current agreements and/or not satisfy increased production quotas; the fact that the Company has a limited number of suppliers of its unique bulk bottles; the potential for supply chain interruption due to factors beyond the Company's control; the fact that there may be a recall of products due to unintended contamination; the inherent uncertainties associated with operating as an early stage company; changes in customer demand and the fact that consumers may not embrace enhanced water products as expected or at all; the extent to which the Company is successful in gaining new long-term relationships with new retailers and retaining existing relationships with retailers; the Company's ability to raise the additional funding that it will need to continue to pursue its business, planned capital expansion and sales activity; and competition in the industry in which the Company operates and market conditions. These forward-looking statements are made as of the date of this letter, and the Company assumes no obligation to update the forward-looking statements, or to update the reasons why actual results could differ from those projected in the forward-looking statements, except as required by applicable law, including the securities laws of the United States and Canada. Although the Company believes that any beliefs, plans, expectations and intentions contained in this presentation are reasonable, there can be no assurance that any such beliefs, plans, expectations or intentions will prove to be accurate. Readers should consult all of the information set forth herein and should also refer to the risk factors disclosure outlined in the reports and other documents the Company files with the SEC,, available at www.sec.gov, and on the SEDAR, available at www.sedar.com. The Company has not conducted any clinical studies regarding the health benefits of alkaline water and accordingly makes no claims as to the benefits of alkaline water.