Dear Readers,
Last year, more than US$13.8 billion went into this industry.
The Canadian Press voted it the biggest single news story of 2018 – by a landslide.
In fact, the most traded stock in Canada last year belonged to this group – beating out the biggest banks and companies in the country.
Yes, I am talking about Cannabis stocks.
And they are on fire…again.
But while retail investors have been pouring money into growers, they have forgotten the one true gatekeeper in this industry…
A gatekeeper that will become the next big focus for the sector.
In just a bit, I am going to tell you who the next big winners in the cannabis space will be and why they will soon be the talk of every media outlet.
And I'll introduce you to one company set to participate in a major way.
It may be the coolest cannabis company I have ever seen.
But first…
It's All Gone!
Just last month, many felt that the sun on marijuana stocks had set.
And with good reason.
Marijuana stocks have been on fire, reaching all-time high valuations last year with sky-high revenue multiples.
But when things move too fast, they often come crashing back down even faster.
Just like they did in the dotcom days.
But many years later, those who survived have become some of the biggest companies in the world.
And I believe we're back to the point where the cannabis industry is about to turn.
In fact, technical stock patterns for marijuana stocks are now flashing buy signals across the board.
Let's also not forget that in the first two weeks of legalization, sales of marijuana in Canada hit a whopping $43 million*.
*All amounts in Canadian dollars, unless otherwise indicated
And it could have been much higher had supplies not been an issue.
Only, it was.
To this day, there's nowhere near enough recreational pot supply to feed demand.
Via Financial Post:
"Canada's cannabis shortage is so severe retailers watch 24/7 for chance to scoop up fresh supply
…Desperate times call for desperate measures in Canada's supply-constrained pot industry."
It's why Quebec's Cannabis Corp – the province's own stores – continue to be closed from Monday to Wednesday.
It's why Ontario is limiting the number of retail licenses to just 25 cannabis stores, and won't let them open until April 1, 2019.
There just isn't enough cannabis to go around.
But that doesn't mean every pot producer will do well…especially not in the long term.
The Cold Hard Truth
Give it time and growers will produce enough supply to feed demand.
And as they do, they will make a ton of money along the way.
But eventually, the sector will mature – and with that comes one of the most critical aspects of any retail industry: sales.
Right now, the leading publicly traded companies are the big licensed plant growers. We call them Licensed Producers, or LP's for short.
These LP's are eagerly trying to capture the biggest share of the market.
But the problem is that when the sector matures, growing marijuana won't be any different than producing any other commodity – the commoditization effect.
In Layman, unless the marijuana sold is unique or branded, it will end up a basic commodity in the eyes of the market.
And herein lies a massive problem for the big publicly-traded LP's…
Branding is Everything…and Nothing
Cannabis branding in Canada, like tobacco, is extremely regulated.
More importantly, it's extremely restrictive.
One look at the headlines and you'll see what I mean.
And unlike that of its US counterpart, the retail experience in Canada can be labelled as downright boring.
Just ask the guys at Mugglehead, an online portal dedicated to everything Cannabis, who travelled to experience the opening of BC's first retail cannabis store.
Here's how that turned out.
Via Mugglehead:
"While the layout may have been spacious, the experience in the store left a lot to be desired.
The whole shopping experience felt like a very controlled and supervised process that's very carefully been designed to leave nothing to chance.
…about as quiet as a church inside…
…it felt like you may as well have been shopping inside a police station.
…My experience was limited to just one store, but if this is what the government has planned for cannabis, treating it like some sort of explosive that needs to be handled with extreme care, then it's going to fail miserably until and unless we see private retailers take over.
From start to finish, there was nothing easy about the process.
From waiting in a long line to picking out a product with next to no information and logo on it to help find what you want, to a checkout process where consumers looked to avoid credit, there was clearly more apprehension inside the store than there was fanfare outside of it."
In short, the current marijuana retail experience sucks.
Instead of colourful displays and walls of marijuana, Canadian customers are greeted with menus – that's it.
And when consumers received their products, they were packaged in generic containers – all with a big red stop sign and a huge yellow warning label.
Take a look: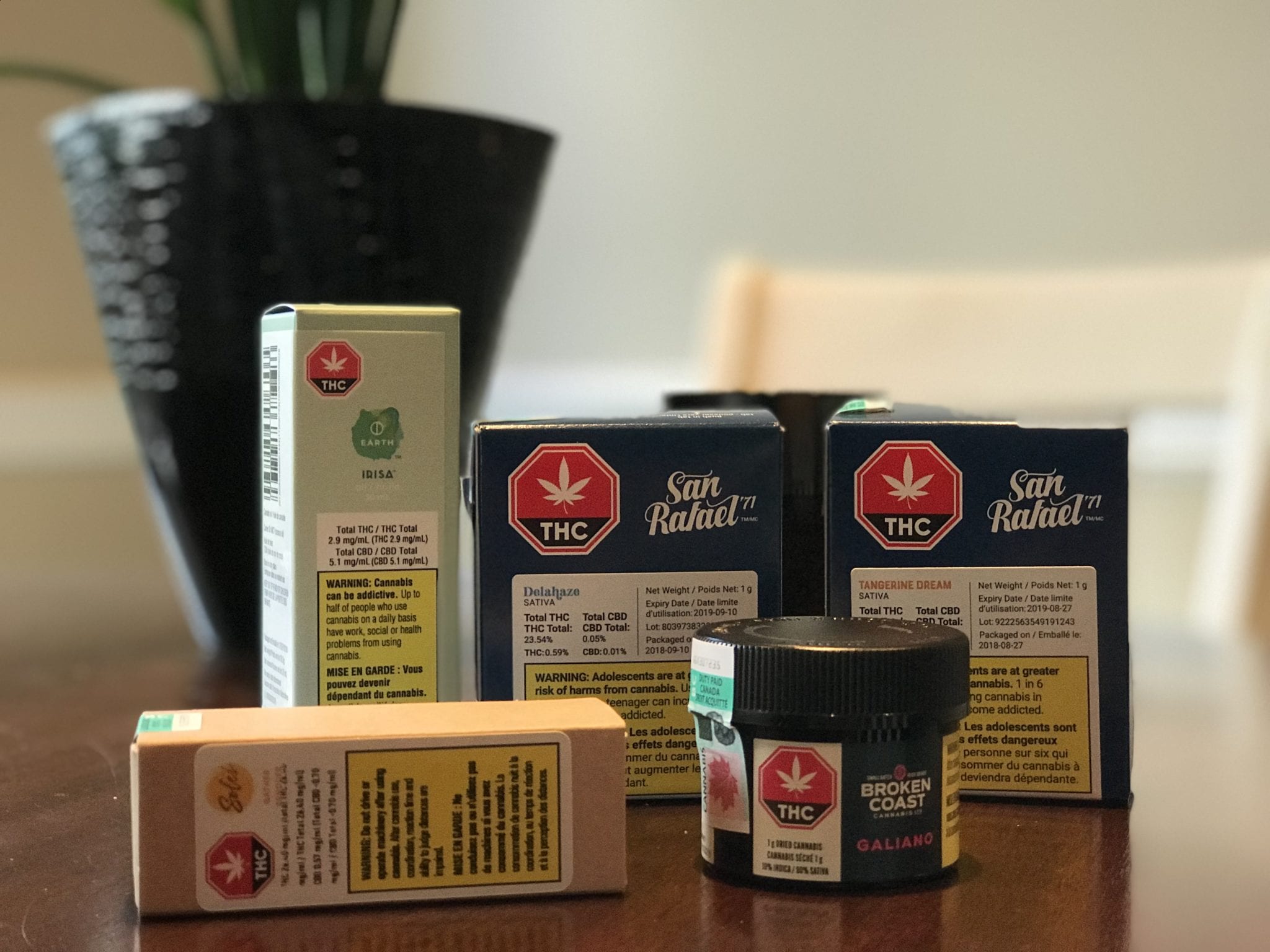 How are the big LP's going to win market share if they can't brand their products?
How are cannabis consumers going to get excited when all they see are the covered-up boxes above?
How are retail stores going to be successful if no one wants to visit them?
I am about to introduce you to a Company that may have not only figured it out but could soon be the envy of every major pot producer.
But before I do that, I want to explain why the retail model will eventually become the king of marijuana.
How to Sell Commodities
One needs to look no further than Starbucks to see why retail is the single most important aspect of sales for a commodity.
Coffee beans are a commodity. Plain and simple.
Sure, there are different grades of coffee, from mass-produced to premium – just like marijuana. But that doesn't stop coffee from being treated as a commodity – there's a reason it trades on a futures market.
So how did a small coffee shop that sells mass-produced coffee become one of the biggest companies and brands in the world?
Via Martin Roll's Secret to Starbuck's Brand Success:
"…Since its founding days in the early 1990s, Starbucks has strived to build its brand identity by offering customers a relaxing and enjoyable experience.
… By offering a pleasurable and relaxed customer experience, Starbucks has been successful in focusing the customers' attention on the quality of the experience, the enjoyable memories that can be woven together in its stores and not on the pricing of its products.
…Branding has been one of the pivotal elements of Starbucks strategy over many years. The company has invested significantly in creating a standardised look and feel of its stores, merchandise and food and drinks.
The Starbucks Siren logo is one of the most recognisable logos in the world. The global expansion strategy has a key objective of recreating the Starbucks experience in every new country the company enters.
…The brand strategy…focuses in detail on the experience the store creates. This has always been the cornerstone of the company's philosophy and values."
One look at that excerpt and you can see a common theme: experience.
In short, Starbucks turned selling a commodity into a buying experience that is both recognizable and consistent.
And it all started with premium locations.
So what does this have to do with marijuana?
Retail to Take Over
The only way an LP can sell directly to a consumer is through the medical channel.
If these producers want to sell to a recreational consumer, they mostly have to sell through a third party; either online – mostly through government-run websites – or a retail store.
And since government-run websites aren't exactly LP-friendly, it means they need retail to not only take their product, but they will have to fight for shelf space – just like the big drink makers do.
Right now, LP's have no problem selling their product to retail stores – it's easy because of the current supply issues.
But what happens when the LP's grow enough cannabis to meet consumer demand after a few years?
Answer: the retail outlets will be in control of sales.
And they will decide what they sell and which LP they buy it from.
It will be the retail distributors who command better pricing as competition for the commodity picks up.
It's no wonder almost all of the big LP's have invested money into retail-focused companies – they need them to channel sales of their products.
It's why Aurora Cannabis Inc. paid a whopping $103 million for a 19.9% stake in Liquor Stores N.A. Ltd. to expand their retail footprint.
Now let me ask you this…
"Would you have rather invested in the coffee bean growers that supplies Starbucks, or Starbucks itself?"
That's a no-brainer – but might not have been back when Starbucks first started.
Imagine having the same opportunity in cannabis today…
There's only one problem…
The Dawn of a New Channel
The current marijuana retail industry is practically non-existent today.
Not only that, the shopping experience from retailer to retailer, even amongst the same company brands, are incredibly inconsistent.
How can any marijuana retailer leverage brand and shopping experience – the way Starbucks has with coffee – when there are so many restrictions on branding and packaging?
That's precisely why I am about to introduce you to a Company that I believe has not only solved the restrictions of marketing to consumers but has secured some of the best locations across the nation.
It's a Company with an incredible store concept that will truly create an atmosphere that marijuana consumers want.
A Starbucks-type experience, if you will.
It's no wonder this Company has already received investment from one of the biggest LP's in the world – alongside other notable LP's.
And it just announced something massive – something that could make it one of the biggest retail plays in Canada.
Introducing…
Westleaf Inc.
Canadian Trading Symbol:
TSX-V: WL
*Please note that Westleaf Inc. currently trades only in Canada under the symbol WL on the TSX Venture. We suspect a US-listing is imminent, but we have no evidence to suggest it will receive one.  
Westleaf Inc. (TSX Venture: WL) is a vertically integrated cannabis company that allows investors ownership across the entire cannabis value chain.
From producing premium cannabis products to creating innovative brands and a state-of-the-art retail offering across Canada, their goal is to have an unprecedented consumer purchasing experience.
But most importantly, they are set on becoming the biggest marijuana retailer in Canada.
And that's a really big deal.
Why?
Outside of the simple fact that marijuana will eventually become a commodity – like coffee beans – there are two critical factors why retail is key to the marijuana sales cycle – especially in Canada.
Why Retail is Key
1. Packaging and Branding Restrictions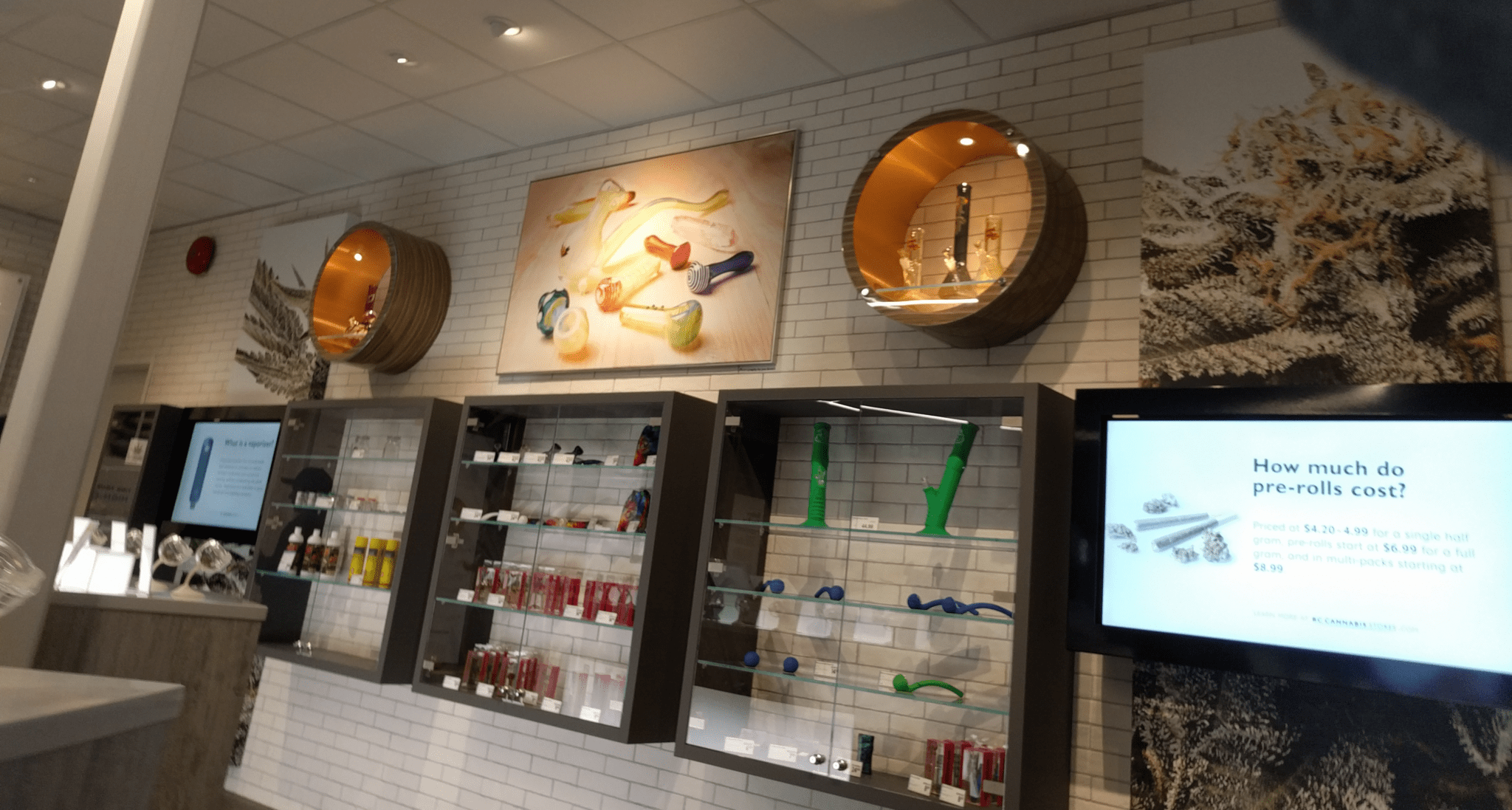 Walk into any legal retail marijuana store in Canada and you'll see just how restrictive branding for marijuana products truly is.
In other words, while LP's can sell you different strains, without a strong brand, they are essentially selling undifferentiated products.
That's because 70% of the entire packaging consists of health warnings, leaving a tiny and benign brand element – it's like buying premium coffee beans without smelling, seeing, or tasting it.
You buy an iPhone because the Apple logo is synonymous with premium quality.
But when you buy marijuana and there is no brand association, how do you direct cannabis consumers to your product?
Just ask Big Tobacco how their sales have been since the packaging restrictions were placed on them.
In fact, the advertising restrictions by the government is why Tilray, one of the largest LP's in the world, just paid a whopping US$100 million (and up to $250 million) to Authentic Brands Group, just to co-brand its products!
While you may be unfamiliar with Authentic Brands Group, you're probably familiar with some of their brands, including Aeropostale, Juicy Couture, Nautica, Nine West, and Tapout – to name a few.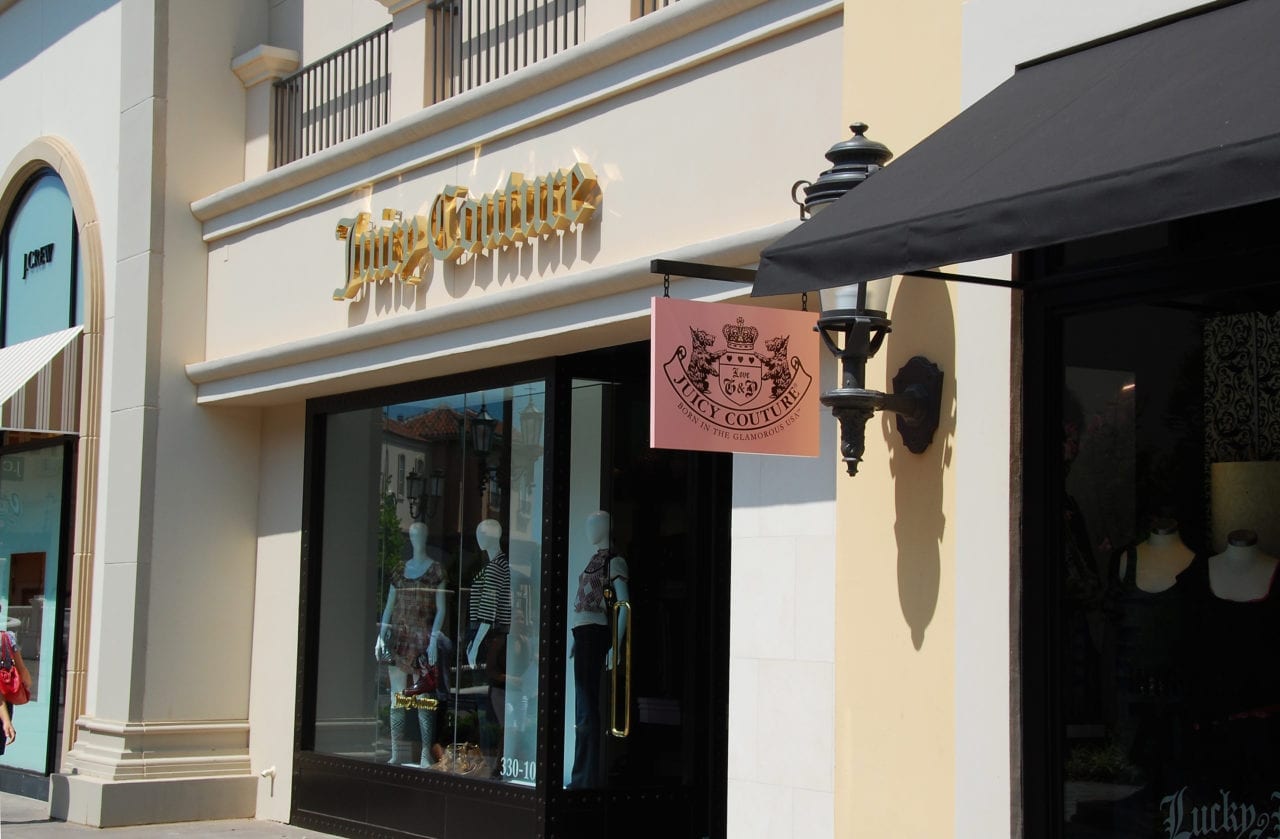 Think about it…up to US$250 million just for branding!
And get this…
Tilray has quietly put up a few million dollars into Westleaf…
And they're not the only LP's who have.
More on this in just a bit.
2. Advertising Restrictions
With good reasons, LP's can't use traditional mediums to reach the consumer.
They can't do paid advertising nor can they mass market.
They can't advertise on Facebook, and they can't advertise on TV.
They pretty much can't advertise anywhere.
Imagine never seeing an Apple commercial. Would Apple still be as big as they are today?
Because of the advertising restrictions for cannabis, the retail distribution chain becomes the single most important aspect of the sales cycle.
And that gives Westleaf the opportunity to own the consumer experience, and the opportunity to influence their purchasing habits by ultimately directing them to buy their products and their brands.
So what makes Westleaf different from the other retail plays?
Why the Westleaf Retail Model is Different
1. Premium Tier One Real Estate
When was the last time you saw a Starbucks commercial?
My guess is you haven't.
Yet, Starbucks became one of the biggest brands in the world.
And it all started with location, location, location.
Westleaf has a similar approach.
Westleaf has a pipeline of more than 30 prospective premium retail locations across Canada that includes some of the best real estate assets.
It's also one of the few retailers that has multi-provincial exposure.
For example, they've secured real estate in high traffic areas such as Banff Casino, the Palace Theatre in Calgary, and they're even working on deals in Whistler, BC.
They are also one of the few that have secured a permit in the Saskatchewan lottery that allows them to sell online and deliver direct to consumers.
It also means they can sell branded apparel and other items across the country through their website.
And while their competitors are busy spending money securing real estate through bid wars – with some bidding up retail leases at 3x market rates – Westleaf has been successful in not overpaying for their assets.
In fact, they haven't paid more than market rates on any deal they have done and have even turned down more real estate opportunities than they've accepted.
But how? How were they able to secure such strong assets without overpaying like their competition?
Instead of bidding up real estate and diluting shareholders with potentially false hopes, Westleaf has incentivized all of their landlords – and now partners – through equity incentives in the business to make sure they get the right cost structure at a market rate going forward.
Brilliant.
2. The Experience
The entire landscape of cannabis retailers right now can be put into two distinct groups.
On one end of the spectrum, you have what everyone is trying to be: the Apple Store of cannabis.
For example, retailers like Medmen and Fire and Flower have built retail locations that represent premium quality – and they've done a good job making things look pretty.
On their floors, you'll find digital assets and sales associates with iPads – overall, a very clean look. But take away their logo, and their colour palettes and the in-store experience is relatively the same.
On the other end of the spectrum – the more concerning end of the spectrum – you have retailers that are reinforcing the stigma that the industry is trying to get away from: the 420 clinics of potheads.
But Westleaf is different.
To separate themselves from the pack, Westleaf worked with one of the most powerful branding experts in the world to create an experience completely different from every other cannabis retailer in the world.
They worked with the same creative design firm that helped Benson and Hedges, Perrier, Grey Goose, and Bacardi become such powerful brands.
Together, they came up with a highly-differentiated cannabis retail experience – one that potentially solves the issues associated with advertising and branding restrictions.
They call it Prairie Records. And it's genius.
Prairie Records: The Record Store Concept
Picture yourself walking into a modern and premium record store, with beautiful records lined up for your perusal.
But instead of albums with songs, each record in the store represents a strain of cannabis that describes precisely the brand and cannabis you're buying: the strength of the product, the experience, the flavours – even a curated playlist to enhance your experience.
In other words, the record becomes an educational tool and a merchandising opportunity to engage the consumer.
When you look at what you can and can't do in a cannabis retail store in terms of branding and product packaging, it's very limited.
For example, in Alberta – and most provinces – there's no product allowed on the floor. That means you can't see, taste, or smell what you are buying. In other words, there's no merchandising or product placement available at all.
By using records, Westleaf is able to create an opportunity to engage and educate the consumer. It leverages an instinctual tie of recreational cannabis and music – a reinvention of the cannabis purchasing experience to make you feel like you're shopping and browsing at a modernized record shop.
But here's the best part…
The Target of Big LP's?
Every major LP wants to differentiate.
They will produce copious amounts of cannabis, and they will want to steer consumers toward their products.
But with restrictions imposed by the government, branding will be extremely difficult.
And that's why Westleaf could be an excellent target for mergers and acquisitions (M&A).
Outside of selling its own cannabis, Westleaf can take it one step further: it can have the brand elements of other LP's on the record.
Think of the branding elements an LP wants to put on its packaging but couldn't because of the packaging restrictions.
Now imagine having a record with all of the LP's branding elements on it – just as musicians brand themselves through their album covers.
With this concept, Westleaf could provide LP's with a completely innovative way of showing off their products and – more importantly – their brands.
Just take a look:
But Westleaf takes it one step further.
After you choose your record, Westleaf provides a smaller version of the record – an insert complete with all of the information associated with the products you're buying – just like you see on the wall.
They're essentially branding an unbrandable product – and all within the federal and provincial advertising restrictions.
That's really powerful.
I suspect a lot of LP's will want access to this sort of branding.
Especially when Westleaf could soon become one of the biggest premium cannabis retailers in Canada…
One of Canada's Largest Premium Cannabis Retailers
Earlier, I said Westleaf has secured more than 30 premium and prospective retail locations.
But they just made a massive announcement.
One that immediately transforms them into what could become one of the biggest retail players in Canada.
Westleaf just announced the acquisition of Canndara Canada Inc., a cannabis retail company with over 50 prospective premium retail locations across Canada.
Canndara's locations are at varying stages of development with 17 development permits already awarded in Western Canada.
As a result of the transaction, Westleaf has increased its guidance from 20 to 30 cannabis retail locations to approximately 50 locations, that are expected to be operating by the end of 2020, subject to provincial and municipal licensing and regulations.
That means Westleaf now has more than 80 prospective premium retail locations across the country.
And that means it could become one of the biggest cannabis retailers in Canada…
Westleaf Competitors
The landscape for cannabis retailers certainly isn't without competition.
Over the past year, we have seen a lot of companies tout hundreds of locations – which isn't very likely because of restrictions from the provincial governments.
And when it comes to permitting, most of them have between a 9-12 month duration whereby if you're not operational in that period, they go away.
Knowing that, the biggest competitors right now are Solo Growth with 60 prospective locations*; Choom with 52; Fire and Flower with 90; High Tide with 29; National Access Cannabis with 60; and Delta 9 with 18.
Westleaf now has more than 80 prospective premium locations – potentially making them one of the biggest in Canada.
*Prospective locations can be at various stages of development: some with development permits awarded, while others could be at an offer to lease or full lease subject to finalizing real estate agreements, municipal development permits and provincial licensing.   
With the current supply issues, each province has restricted the number of stores that can be opened and will be granting licenses only as more supply hits the market.
In other words, it's hard to gauge just how many stores each of these competitors – including Westleaf – will open this year.
That means it's also hard to value what each prospective location is worth.
So how do we value these companies?
Our only logical option right now is to compare based on what we know.
We know Canopy bought Hiku last year for over $270 million – actually, by the time the deal closed, each Hiku share was worth approximately $3.15, making the final purchase price nearly $500 million.
At the time of acquisition, Hiku had secured 50 locations and a funded annual production capacity of just over 5000 kg/yr.
We also know that U.S.-based Medmen, at the time of this writing, has 15 stores opened, 66 licensed locations, and a total existing production and cultivation capacity of 110,800 square feet*.
*according to Medmen's Jan 2019 Preliminary Short Form Prospectus.
Medmen is worth nearly $2 billion today.
So how does Westleaf stack up to both Hiku and Medmen?
Westleaf has over 80 prospective premium locations, potentially giving Westleaf more locations then both Hiku and Medmen.
But what about the rest?
Vertically Integrated
It's important to note that Westleaf isn't just a retailer.
While the focus of Westleaf is retail, it truly is aiming to be a vertically integrated cannabis company.
And you can't be vertically integrated without production capacity to grow your own supply.
Westleaf is currently building a large scale 133,400 sq. ft. state-of-the-art indoor operation at Thunderchild in Saskatchewan.
This facility is fully-funded to a capacity of 14,000 kg of annual production per year, with an option to expand to 29,200 kg – all designed by Westleaf's operation team who have designed, constructed and operated dozens of facilities in North America.
That's nearly three times the funded capacity of Hiku when it was acquired by Canopy.
In addition, Westleaf is developing a large-scale world class 60,650 sq. ft. cannabis laboratory to develop and manufacture a diversified offering of cannabis derivative products.
Combined, that gives Westleaf access to nearly 200,000 sq. ft. of cultivation, production, and processing of cannabis products – with significant room to grow with its current footprint.
Compare that to Medmen's 110,800 sq ft.
In other words, Westleaf has nearly three times the funded cultivation capacity and far more prospective locations than Hiku, and far more square footage of cultivation and procession than Medmen.
Yet, it's worth significantly less than both.
Of course, it's hard to make direct comparisons.
Sure, Hiku may be slightly more advanced than Westleaf both in terms of brand recognition and licenses granted. And sure, Medmen is U.S.-based and already has both operating and licensed locations – so you can certainly argue why it's valued at nearly $2 billion.
But if Westleaf is successful in bringing many of their stores online this year, what could they be worth then?
Surely more than its current valuation based on the metrics we just discussed?
Furthermore, let's assume that each premium location can do $3 million of sales annually – and I suspect that may be on the low end.
If Westleaf is successful in opening their expected 50 stores by 2020, that means they could do over $150 million in annual sales – not including their cultivation numbers. Again, back-of-the-napkin math…
And with LP's trading at a mean level of over 100 times revenue as of last June, where does that leave Westleaf when it begins to open its stores? The numbers become dizzying when you think about it that way.
Yet, none of this would matter if the Westleaf team doesn't execute.
So is the Westleaf team capable of executing?
Let's look at that.
The Westleaf Team
From VP of Sales and Marketing Adam Coates, a once VP of Labatt Breweries of Canada, and Director of Retail Development Kris Newell, who oversaw operations for Canada's largest sports nutrition retailer, to CEO Scott Hurd who helped in raising, investing, and managing over $1 billion in real estate assets across North America, the Westleaf team is comprised of decades of years of experience in real estate, controlled substance, retail, hospitality, and medical and pharmacy.
They are truly some of the most experienced people in not only building and operating vertically integrated cannabis businesses in the world but have a depth of M&A experience that would rival any of the incumbent banks in the cannabis sector.
In fact, Westleaf may have one of the most experienced operations and execution teams in the entire cannabis sector.
For example, it has four of the former executives of MJardin – one of the largest operators of cannabis, cultivation, processing, manufacturing, and retail businesses in North America, who have likely cultivated more legal cannabis than anyone.
One of those executives is Shon Williams – a man who has done it all. He's a mechanical engineer with a Masters in aeronautical engineering; a twenty-four-year retired Lieutenant Colonel in the U.S. Air Force; and he led the largest ever international disposition in U.S. history – a transaction worth thirty billion dollars.
Another is Ben Kaanta, Westleaf's chief operating officer. At Mjardin, he was responsible for the day-to-day operations of a whopping thirty commercial cannabis cultivation facilities. Oh, and he used to work for NASA and holds two patents.
The list goes on…
(More information on the Westleaf team can be found at the end of this report.)
The Westleaf team has demonstrated a track record of operating and scaling multiple vertically integrated cannabis businesses, married with M&A and educational pedigree that's very hard to find in this sector.
But that's not all…they also have great investment partners.
Westleaf Investment Partners
Westleaf has secured funding from some of the biggest LP's, including Tilray, Vivo Cannabis, and Delta 9.
More importantly, they have secured up to $30 million in non-dilutive capital to fund their cultivation, manufacturing and processing assets through ATB Financial – a Crown corporation owned by the Province of Alberta.
In fact, the only pre-license cannabis deal backed by ATB Financial is Westleaf – once again solidifying management's ability to execute.
We can thank CFO Taylor Ethans for that.
Westleaf also has a strong strategic investor in Saskatchewan's Thunderchild First Nation, who invested $8 million into the Company.
You don't secure funding from a Crown Corp., the biggest LP's, and First Nations if they don't believe you have something special.
In total, Westleaf has access of up to $57 million – $27 million in cash, and $30 million in low-cost, non-dilutive capital via the ATB.
But that's not all.
There's an incredible opportunity with Westleaf that I haven't mentioned.
It's a unique situation that helped our readers last year potentially make gains of over 150% in just a few short months.
And it could happen again…
Tight Share Structure
Last year, I introduced our readers to a company that IPO'd with less than 15% of its shares tradeable for the first few months.
As a result, shares of this company skyrocketed from its IPO price of $3.65 to a high of $10.24 just months later – netting our readers a quick double in a very short period of time.
Right now, Westleaf has just over 113 million shares outstanding – many of them owned by Tilray, Vivo Cannabis, Delta 9, Thunderchild First Nations, and insiders.
But the only tradeable stock right now is less than 7 million shares.
That means for the first few months, less than 6% of the entire Company will be trading!
And when Westleaf closes their acquisition of Canndara later this month, less than 5% of the entire Company will be available for trade for the first few months, since shareholders of Canndara will also be locked up.
In other words, outside of being one of the biggest prospective retail plays in all of Canada with arguably the best consumer experience, Westleaf also represents an incredible trading opportunity.
Conclusion
With the marijuana sector once again heating up, being early is critical.
And with the Canadian retail landscape still in its infancy, investments in the retail category represent a new opportunity in the cannabis race.
One look at Ontario's retail pot lottery and you'll see what I mean.
Via BNN Bloomberg:
"'We're in panic mode': Ontario pot lottery winners scramble to strike deals.
…Lottery winners, several of which were unable to be reached by BNN Bloomberg, demanded as much as $7 million to partner with a retailer or pot producer under a franchise arrangement, according to lawyers familiar with the bidding process."
Meanwhile, shares of the biggest players in the industry – such as Canopy – continue to hit new highs. With such high share prices, you can bet M&A is on their mind.
We've already seen big buyouts and massive investments into the retail and branding category, and this buyout sentiment will only get stronger as the market matures.
With such a powerful branding alternative and the coolest consumer experience I have seen, combined with cultivation and processing capabilities, surely Westleaf is on the radars of every major pot producer – even more so now that it is to become one of the largest premium cannabis retailers in the country.
And thus far, while there have been many attempts to create the "Apple Store" of cannabis retail experiences, no one has yet been able to offer the "Starbucks" of cannabis experience.
Westleaf could do just that.
Shares of Westleaf trade in Canada on the TSX Venture under the symbol: WL
*This article was updated on January 28, 2019 to reflect the full interest of Westleaf's extraction facility.
Westleaf Inc.
Canadian Stock Symbol: TSX-V: WL
US Stock Symbol: Coming soon?
Seek the truth,
Ivan Lo
The Equedia Letter
www.equedia.com
Disclosure:
We are biased towards Westleaf Inc. (WL) because the Company is an advertiser on www.equedia.com. We currently own shares of WL. You can do the math. Our reputation is built upon the companies we feature. That is why we invest in every company we feature in our Equedia Special Report Editions. It's your money to invest and we don't share in your profits or your losses, so please take responsibility for doing your own due diligence and consult your own professional advisers before investing in WL or trading in WL securities. Equedia.com and Equedia Network Corporation are not registered as investment advisers, broker-dealers or other securities professionals with any financial or securities regulatory authority.  Remember, past performance is not indicative of future performance. This article also contains forward-looking statements that are subject to risks and uncertainties that could cause actual results to differ materially from the forward-looking statements made in this article.  Just because many of the companies in our previous Equedia Reports have done well, doesn't mean they all will. WL and its management have no control over our editorial content and any opinions expressed in this article are our own. We're not obligated to write a report on any of our advertisers and we're not obligated to talk about them just because they advertise with us.  More information on our disclaimer and disclosure can be found at the bottom of this report, and also in our Terms of Service at www.equedia.com/terms-of-use/.