Dear Readers,
A record-breaking event that's going to take an entire sector by storm happens tomorrow first thing in the morning.
In this Letter, I am going to tell you how to take advantage of it.
But first, a precursor…
We're about to head into one of the biggest event in the history of marijuana.
In just a few short months, one of the largest economies in the world, and a proud member of the G8, is expected to fully legalize the once-banned substance.
It's no wonder analysts and industry experts are calling it one of the biggest wealth-creating events of this generation.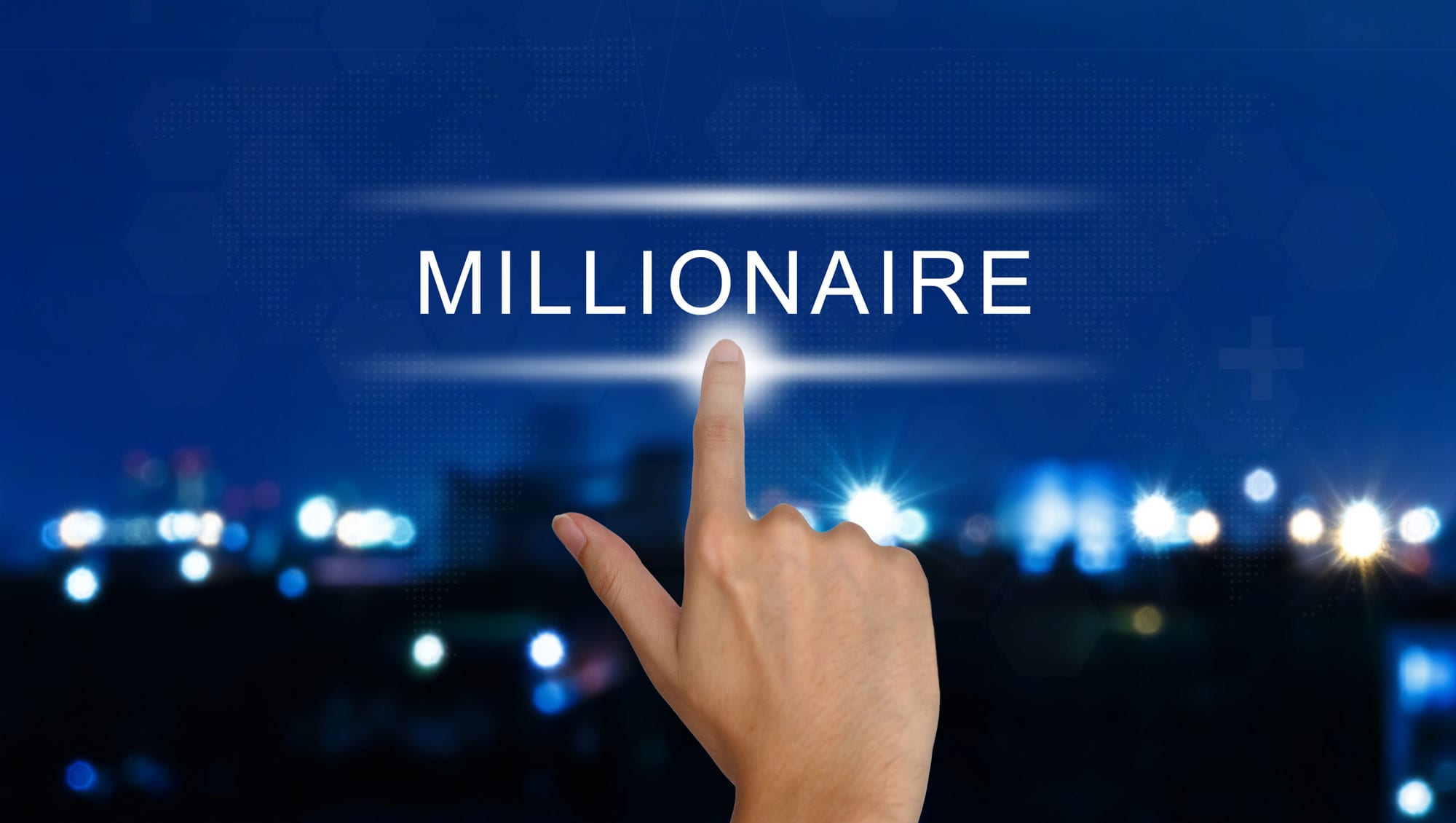 It's no wonder marijuana stocks have outperformed every single sector – even tech.
Last year, the S&P 500 was up 19%; the NASDAQ up 28%.
The world's largest marijuana ETF?
Up a whopping 104%.
But if you think the gains are over, think again.
Over the past couple of years, I told you how big the marijuana boom will be and how it will create thousands of new millionaires as a result.
I've told you how Silicon Valley gurus and even politicians are participating in the marijuana gold rush.
I've even told you how you could participate in this massive wealth generating sector – and judging by your responses, many of you have already made lots of money doing so.
But today, I am going to tell you about a company that's set to "shatter" a massive marijuana record.
It's why I am betting more than $2 million on this Company.
But first…
Bigger than Ever
Just a few weeks ago, the FDA panel recommended a new marijuana product to treat epilepsy.
On that same day, Zimbabwe legalized marijuana for medical and scientific use – joining a number of nations who already approve marijuana for medicinal purposes.
From a medical perspective alone, the sector is about to blast off.
But even that's nothing compared to what we're witnessing from the recreational side.
Recently, financial services firm Cowen & Co. said that marijuana sales in the US alone are expected to reach US$75 billion by 2030.
That's almost as big as the whole North American carbonated soft drink market last year – and bigger than the US market for wine!
But that's not all.
Marijuana is already sucking the life out of alcohol.
Via Financial Post:
"…While soda may be eclipsed, the industry that's hearing alarm bells is alcohol. Binge drinking rates declined in states with legal weed compared with states that allow only medical marijuana and those prohibiting any kind of pot."
It's no wonder Constellation Brands Inc., one of the largest beer distributors in the world, put up C$245 million into the Canadian marijuana sector last year.
And if you think it's just Big Alcohol jumping for a piece of the marijuana pie, think again.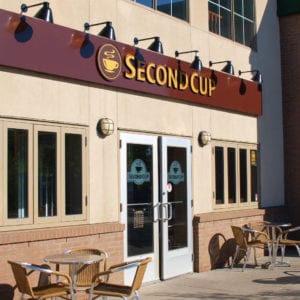 Big Coffee wants in too.
Just the other week, Second Cup, the second-largest specialty coffee chain in Canada, announced plans to turn some of its coffee shops into recreational marijuana dispensaries.
I suspect in the very near future, we'll see more Big Alcohol companies, Big Pharma, Big Coffee, and even Big Cola racing to get a piece of the action.
And they'll need to do it soon while valuations remain at these levels because…
The Spread of Legalization
29 US states have already legalized medical marijuana, and eight states, plus Washington D.C., have made recreational use completely legal.
And one of them, California, has an economy that's bigger than all but five nations in the world!
It's no wonder California is already concerned they will run out of marijuana supply.
As well they should be.
Last year, when Nevada legalized marijuana, state officials – over the fear of lost tax revenue – declared a marijuana state of emergency.
In other words, marijuana sales are climbing through the roof.
In the first eight months of 2017, marijuana sales in Colorado hit a staggering US$1 billion. It ended up doing US$1.5 billion in sales for the year.
Clearly, the growth of marijuana sales is forcing every big industry to pay attention.
With such tremendous growth, you may be thinking:
"Why haven't big institutions participated in the boom?"
"Why is Canada's largest stock exchange, the TSX, worried about US marijuana operations?"
That's because earlier this year, Jeff Sessions, the US attorney general, told the world that marijuana sales activities could still be treated as a crime at the federal level.
So it's not surprising we haven't seen other big players participate.
But that may be about to change.
The Power of Donald Trump
Just the other week, President Trump promised Cory Gardner, a top Senate Republican, that he will support congressional efforts to protect states that have legalized marijuana.
Via Financial Post:
"…President Trump has assured me (Cory Gardner) that he will support a federalism-based legislative solution to fix this states' rights issue once and for all."
And while a bill has not been finalized, Garnder, "has been talking quietly with other senators about a legislative fix that would, in effect, make clear that the federal government cannot interfere with states that have voted to legalize marijuana."
Turns out that bill may appear this week.
Via CNBC:
"In an interview with Yahoo News, Gardner said he met with Warren and "a number of senators on both sides of the aisle" on Wednesday to discuss a bill that will prevent the federal government from meddling in state-controlled marijuana industries. He said a draft of the bill could appear as early as later this week."
But that's not all.
Former U.S. House Speaker John Boehner just announced he is joining the marijuana race by not only advocating legalization but by joining the board of a marijuana company!
That's pretty big news considering the former congressional leader has long been against the legalization of marijuana.
I suspect more will join his cause and profit from the marijuana boom…
The Beach Head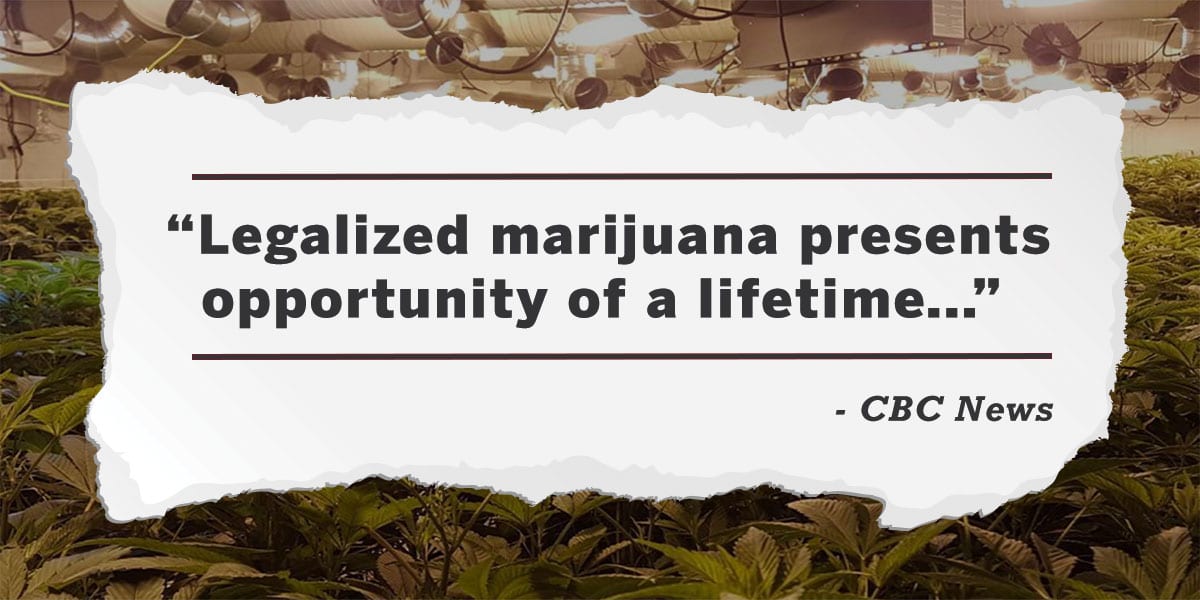 We're at a beginning of the biggest new sector boom of our generation.
The biggest reason why anyone interested in the sector should invest now – if they haven't already – is because of what is expected to happen in just a few short months.
On June 7, Canada is expected to get the final approval for complete legalization.
If all goes as planned, then Canadian marijuana producers will be in an all-out race to supply the hungry customers.
We've already witnessed the massive profits in Colorado and Nevada when they first legalized marijuana.
Now it's an entire country.
But it's not just Canada's demand for legalized production that will allow investors to profit.
It's the fact that there will be an all-out race to finance marijuana companies through Canada's financial system.
And that's a big deal.
You see, investors all around the world know that the gateway to marijuana will be Canada – just as mining used to be – because it is the biggest country, and the first of the G8, to fully legalize the use of marijuana.
When that happens, institutional investors, banks, pension funds, family offices, and even states and legislators will take notice.
And that's when even more money will pour into Canadian marijuana stocks.
A Clear Pattern
If you've been following the sector, you'll notice a very clear pattern: Every time legislation passes, we witness a massive influx of capital into marijuana stocks, sending them higher overnight.
Sure, valuations against current revenues are high. But that's not what's fueling these stocks.
What is fueling them is the potential for capital to be put to work.
That means the companies with the biggest cash piles and no debt will be the ones the institutions back when they start deploying capital, because they are the ones with money to "grow".
Which is why I am excited to introduce you to a Company that's about to shatter records.
It has one of the largest land packages at 175 acres.
It has raised $275 million dollars and has one of the largest cash positions in the space.
It has partnered with the biggest names in construction and power, and even the government.
And it will be the world's largest marijuana IPO…ever.
It's no wonder people are jumping all over this Company.
In fact, due to the way the company was structured, investors today have a significant edge over many of the other marijuana deals (I'll explain more later in this report).
More importantly, when this Company goes public tomorrow*, it will immediately become one of the top five biggest publicly-listed marijuana companies based on funded capacity – right up there with companies worth billions.
*Update: The Company is now public, and shares are already climbing higher. But in just weeks, a massive event could take place that could propel this Company to new highs. Read on to find out!
Let me explain why I don't expect shares of this Company to stay at the IPO price for long…
Enter your email to get instant access (it's free!)
to this special content post:
*By entering your email, you are agreeing to our privacy policy and terms of use. You will also receive a free weekly subscription to the Equedia Letter, one of Canada's largest private investment newsletters. Don't worry, it's free and you can cancel at anytime.

Introducing…
The Green Organic Dutchman
(TSX: TGOD)  (OTC: TGODF)

The Green Organic Dutchman Holdings Ltd. begins trading tomorrow on the TSX with an IPO price of C$3.65, under the symbol TGOD.
That gives the Company a market cap of about C$700 million – a long way from the multi-billion dollar companies that exist.
In other words, there's still lots of room for the Company to play catch up in terms of market cap.
In this report, I'll show you why.
The Green Organic Dutchman (TGOD) is set to become one of the largest organic marijuana producers in the world – emphasis on "organic."
You see, not only do organic products command a premium over non-organic products (around 47% in the food market), but I believe almost everyone will eventually look for organic-branded marijuana offerings.
Just ask Amazon who bought Whole Foods last year for $13.4 billion.
But why organic?
We have already witnessed numerous recalls due to pesticides from some of the biggest marijuana companies in Canada today.
So it's no secret that pesticides are one of the biggest issues when it comes to growing marijuana.
Via Steep Hill:
"Steep Hill, the global leader in cannabis testing and analytics, published an early report on the prevalence of pesticide contamination in the medical cannabis supply chain in California.
According to the lab's new technology and recently launched "quantified pesticide analysis," 84.3% of cannabis samples submitted in Steep Hill's Berkeley lab tested positive for pesticide residues."
Just how dangerous is this?
"…Myclobutanil, typically sprayed on California grapes, almonds and strawberries, is legally listed as a "general use pesticide," but heating up the chemical, as is the case when smoking cannabis, converts Myclobutanil into Hydrogen Cyanide.
Hydrogen Cyanide is a Schedule 3 substance under the Chemical Weapons Convention.
Of paramount concern is the extremely high level of Myclobutanil detected in cannabis samples tested by Steep Hill, which is in excess of 65% of all samples."
Hydrogen cyanide is poisonous and can be lethal in large doses.
That's why it's even used in chemical weapons.
Via Cyanide Code:
"A hydrogen cyanide concentration in the range of 100-200 ppm in air will kill a human within 10 to 60 minutes. A hydrogen cyanide concentration of 2000 ppm (about 2380 mg/m3) will kill a human in about 1 minute."
In other words, what marijuana users believe may be curing their ailments, may actually be killing them.
And the pesticide problem doesn't just exist in California, but Canada too.
Via Globe and Mail:
"Documents obtained by The Globe and Mail through the Access to Information Act show test results from a Health Canada-accredited lab were sent to the government last fall, and to Dr. Philpott's office a few months later, revealed cannabis from several Vancouver dispensaries contained pesticides and fungicides "not approved for any human use."
The names of the dispensaries are redacted from the documents, but the results say high levels of banned chemicals – such as the pesticide carbamate, which is not permitted for use on cannabis, and dodemorph, a fungicide used on roses that is not approved for human consumption – were in 13 of the 22 the samples tested."
Just as organic food has been proven to have more of the antioxidant compounds linked to better health than regular food, and lower levels of toxic metals and pesticides, marijuana users will eventually fall into the same mentality – especially as new research shows the dangers of certain pesticides and fertilizers.
When TGOD's products hit the market, it will be 100% non-irradiated high-quality organic marijuana that is free from synthetic pesticides, herbicides and synthetic nutrients.
Which is why TGOD's organic products may not only command a premium, but it could become the go-to brand for those seeking a potentially healthier alternative.
So just how much organic product can TGOD produce?
The TGOD Facilities
TGOD owns a federally licensed facility on 100 acres in Hamilton, Ontario and a second 75-acre fully-serviced site in Quebec near Montreal – making TGOD one of the largest landholders in Canada.
Both of these locations will house state-of-the-art advanced automated and LEED certified hybrid facilities, operating with close to a zero-carbon footprint with some of the lowest-cost power rates in the country.
In other words, TGOD's hybrid facilities will get the benefits of cost-reduction by using the power of the sun, just as a greenhouse does, but also the benefit of heat and humidity controls of an indoor-grow.

The Hamilton
TGOD's first hybrid facility in Hamilton is 150,000 sq. ft and is expected to produce 14,000kg per year of high-quality organic cannabis once Phase 1 is completed later this year.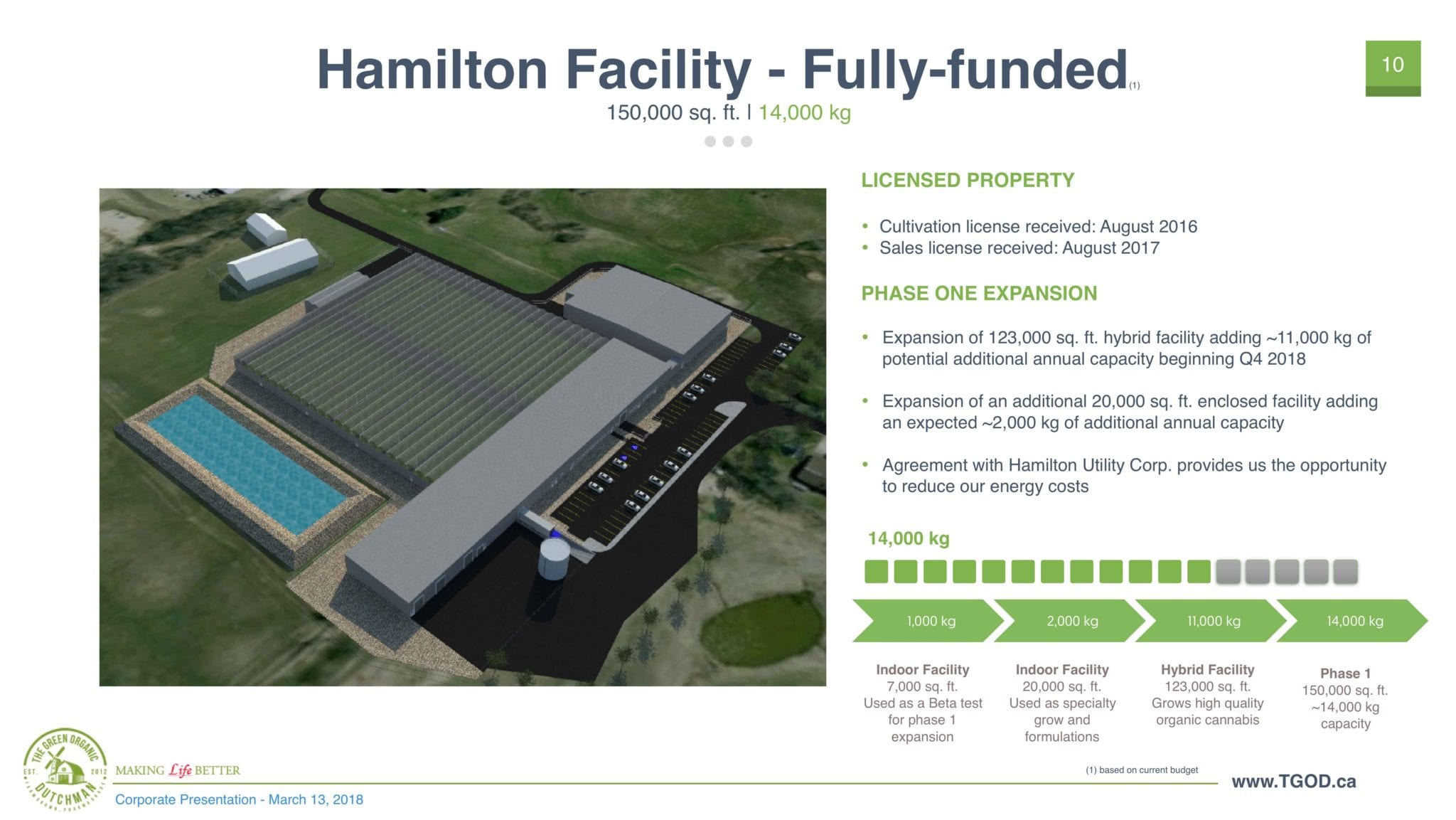 With 100 acres of land, there's certainly room for further growth.
But the real show is at their Valleyfield location in Quebec.
The Valleyfield
At Valleyfield, Quebec, TGOD is building a massive 820,000 sq. ft hybrid facility, a combination of indoor and greenhouse, with an estimated completion date of Q2 2019.
Take a look: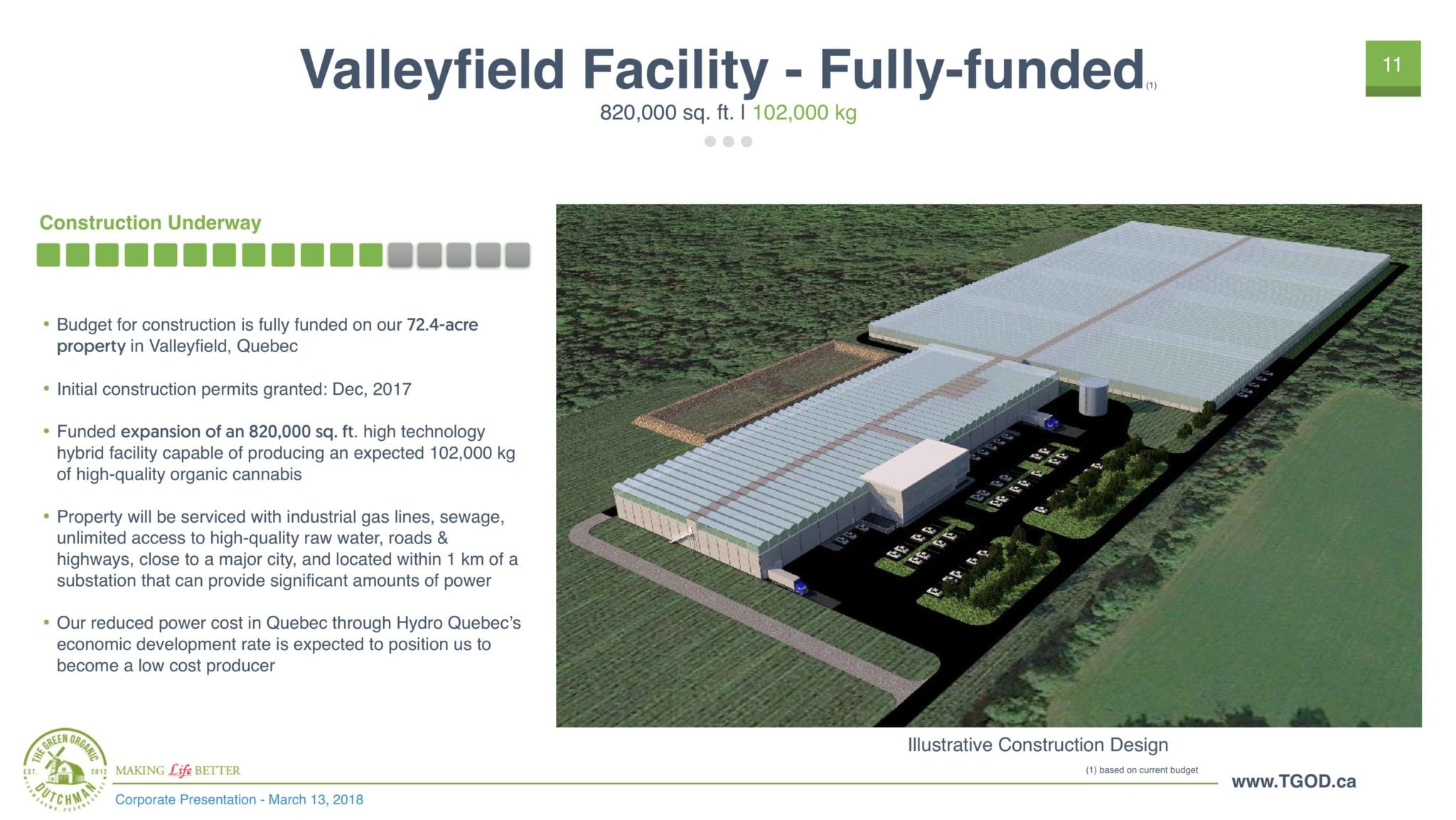 For those that have been following the marijuana space, the above may look very similar, both in terms of size and scope, to something you have seen before.
I'll get back to this in a just a bit because it plays a big part on how we can value TGOD.
This state-of-the-art facility in Quebec is expected to produce a whopping 102,000 kg of high-quality organic cannabis per year.
When you combine both the Hamilton and Valleyfield facilities, you an anticipated production of 116,000kg of high-quality cannabis every year, on 970,000 sq. ft!
At an average price of $8-10/gram, TGOD could potentially produce more than $1 billion in annual revenue – may be more considering that organic products are likely to command a premium over non-organic products.
But here's the best part.
While many marijuana entrants today claim to have large land positions with the ability to produce tons of marijuana, TGOD is FULLY FUNDED* for both of their facilities.
*based on current budget.
That's right.
Based on expected budgets, TGOD has more than enough money to build out both facilities – which means they don't have to dilute any further to reach those expected production levels.
From funded capacity standpoint – a term used by analysts in the marijuana space to define how much a Licensed Producer (LP) can produce with the money they have – TGOD immediately shoots to the number four spot of marijuana producers*.
Currently, the top three spots belong to the biggest marijuana companies in the world: Canopy Growth, Aurora, and Aphria – all of which have market caps in access of a billion dollars; $5.4 billion, $4.5 billion, and $2 billion, respectively.
And when you talk about valuations based on funded capacity using Enterprise Value/Funded Capacity*, the top 20 marijuana companies average around (est.) $14,168/kg of Capacity, with MedReleaf at the top end at $53,195/kg.
Based on its IPO price, TGOD would sit around $7,112/kg – making it extremely undervalued based on the above metric.
*based on available data obtained in Feb 2018, and assuming only funded capacity estimates.
But not only is TGOD fully-funded for an estimated 116,000 kg/yr of production, it would still have over C$100 million left to pursue other marijuana opportunities once the two facilities are built – opportunities that could make TGOD one of the biggest vertically integrated marijuana companies in the world.
I'll get to these opportunities in just a bit.
But first, I want to address something really important…something that makes TGOD stand out.
The Power of Partners
In the early days of the marijuana race, many companies raised and burned a lot of money doing the wrong things.
It's why, if you dig into the financials of many of the currently publicly-traded marijuana deals, you'll see that many of them had to burn crops worth millions of dollars.
And as much as so-called experts, experts who have never grown marijuana, tell you that it's easy growing weed, it's not that simple – especially when growing marijuana at such large scales.
In fact, growing marijuana at the scale required for legalization has never been done before, especially organically and without the use of synthetic pesticides.
This is where TGOD shines.
You see, instead of trial and error, TGOD's management went a different approach.
They de-risked by partnering with the best.
The Partnerships
It wouldn't make sense to talk about de-risking operations without talking about the two biggest expenses in the marijuana business: energy and labor cost.
To control these things, TGOD did something really unique: it partnered with multi-billion dollar companies who are experts at their respective fields to bring down both energy and labor costs.
The Eaton Partnership
First, TGOD made a deal with Eaton Corporation, a global power management powerhouse serving 175 countries, with annual revenues of over $20 billion and 96,000 employees, to develop and design its power management systems.
The partnership is simple: Eaton would gain deep insight into the cannabis infrastructure market and use TGOD's facilities as a flagship product to show around the world.
In return, TGOD gets cheaper power management manufacturing and development costs to optimize power usage, and industry-leading expertise in engineering and design from one of the best in the business.
But when you're building facilities at such grand scale, one of the biggest risk is the execution of building the product on-time and on-schedule.
That's where Ledcor comes in.
Ledcor Partnership
Ledcor is one of the most recognized construction companies. With them on board, the construction risks are significantly reduced.
You may be thinking: What does Ledcor know about building large-scale marijuana facilities?
That's where the following comes into play. And it's a big deal.
Aurora Larssen Projects
Larssen was a Canadian company that set the industry standard in high-tech, automated, environmentally controlled greenhouses for over 30 years and has been involved with over 1,000 projects around the globe where they have consulted on the design, engineering, and construction oversight of many of the world's most advanced greenhouse cultivation facilities.
As a result of their successful implementation of cutting-edge automation features, proprietary design characteristics that generate exceptional yields, and the use of advanced energy-efficient materials and technologies, Larssen was selected by Aurora Cannabis to design, engineer, and oversee construction of its Aurora Sky facility – one of the biggest and most advanced marijuana facilities in the world.
Remember earlier when I showed you the picture of TGOD's 820,000 sq. ft facility in Quebec, and asked you where you may remember it from?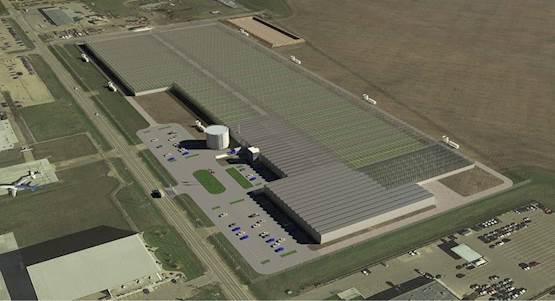 The above is a rendering of Aurora's Sky project – an 800,000 sq. ft. high-tech, hybrid marijuana facility on 30 acres of land.
Here is a rendering TGOD's proposed Quebec facility, as a reminder: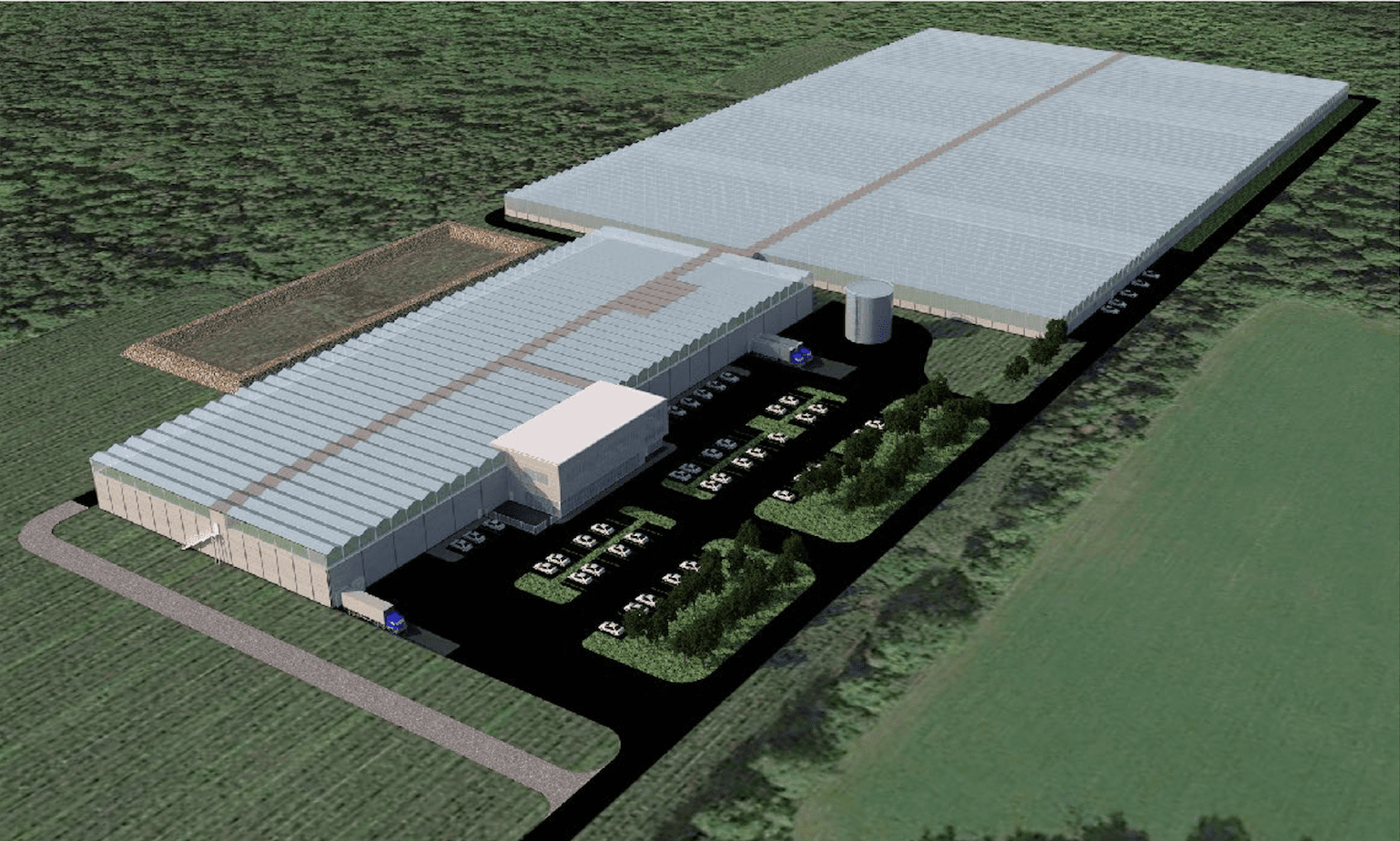 Looks a lot like the Auroroa Sky facility, doesn't it?
As you may already know, the Aurora Sky facility from Aurora Cannabis is expected to be the largest capacity and most technologically advanced cannabis facility in the world, producing ultra-low cost, premium-quality cannabis upon completion.
That's why TGOD partnered with Larssen Projects to build out their massive hybrid facility in Quebec – an almost replica of the Aurora Sky facility.
When you consider that analysts have pegged a significant portion of Aurora's $4.5 billion value to Aurora Sky, and TGOD has a near replica of the same project, you start to see just how big TGOD really is and can be become.
When completed, the facility at Valleyfield will be something to behold; from running conveyor belts to robotic arms, all designed to cut labor and energy costs through efficient automation.
But that's not the only thing that will help cut costs.
Low-Cost Producer Through Low Energy
When it comes to low energy costs, Quebec has some of the lowest power rates in Canada at ≈ $0.05/kWh.
In addition, TGOD was granted the economic development rate by Hydro Quebec, which provides for an initial reduction of energy use for the first three years – bring energy costs under $0.05/kWh.
This bodes well for TGOD's massive 820,000 sq. ft. facility.
But in Ontario, energy costs are significantly higher at an average of ≈$0.13/kWh.
So how did TGOD solve that issue for their Ontario facility?
Once again, management thought that through.
TGOD partnered with HCE Energy, an energy company owned by the city of Hamilton, to build out a microgrid infrastructure granting access to power costing less than ≈ $0.05/kWh power.
That's less than half of the average power rates in Ontario!
This should set the stage for TGOD to become one of the lowest cost producers in Canada – and all funded by the city of Hamilton through HCE Energy.
In other words, TGOD has struck a deal with the city of Hamilton to build out their power infrastructure. The result: TGOD gets one of the cheapest energy costs in Canada, while the city of Hamilton gets new infrastructure.
With these partnerships, TGOD is building the most advanced hybrid facilities in Canada, capable of producing marijuana at some of the lowest costs today – facilities that couldn't exist without these partnerships.
Now you may be thinking:
"Ok, so TGOD is building some of the most advanced marijuana facilities in the world with some of the best engineering and power management firms.
But that doesn't mean they know how to grow…"
That's why TGOD has also partnered with one of the best when it comes to growing high-quality organic cannabis.
Leading the charge for TGOD's organic approach is head grower David Perron, one of the top organic cannabis growers in the industry.
In fact, David Perron was the lead agronomist at the Whistler Medical Marijuana Corporation, where he led the Company through organic certification – becoming the first and only fully certified organic licensed producer.
In other words, TGOD will not only have two state-of-the-art facilities but also the "know-how" of growing truly organic high-quality cannabis.
Which is precisely why it has caught the attention of one of the biggest marijuana companies today.
Aurora Cannabis: The Strategic Investor

When Aurora, the second-largest marijuana company in the world, committed to spending $110 million to build their flagship marijuana headquarters, the Aurora Sky facility, you can bet they wanted to protect all of the intellectual property that went along with it.
And that's precisely what they did.
Last year, Aurora acquired Larssen Projects and immediately announced that any Canadian project "deemed not to be in the best interest of Aurora shareholders will be notified that Aurora Larssen Projects will no longer participate in such project."
When that happened, TGOD's facility in Quebec could have experienced a major setback through delays and cost overruns because Larssen was designing it.
And because Larssen was potentially helping TGOD build a direct competitor to the Aurora Sky facility, there was a good chance Aurora could have told TGOD to go away.
But instead of scrapping the project, Aurora not only allowed Larssen to continue working with TGOD, but it even spent $55 million to buy 17% of TGOD, while procuring the right to purchase up to 20% of TGOD's annual production of organic cannabis.
Not only that, Aurora and Aurora Larssen Projects committed to providing additional services to TGOD on the completion and commissioning of its facility in Hamilton.
Now you might be thinking: Why would Aurora do such a thing? Aurora could have easily put TGOD in a bind by removing Larssen from the picture.
I haven't spoken to Aurora, but I suspect that having access to TGOD's organic product at scale is extremely valuable and shows just how powerful the organic brand is.
A Great Deal for TGOD
The Aurora-TGOD partnership goes a long way for TGOD shareholders, not only in terms of financial capacity but for know-how as well.
You see, the Aurora Sky Project is around 6 months ahead of TGOD's facility in Quebec.
And as Aurora builds out their massive 800,00 sq. ft. facility, there is a good chance they will encounter some unknown issues. As Aurora goes through those issues, TGOD can immediately adjust as they build out their facility by learning from the trials and errors of the Aurora Sky build.
But know-how isn't the only thing the Aurora-TGOD partnership brings.
The investment by Aurora also potentially provides a lead order for future financings for TGOD.
That's because through the initial investment, Aurora secured the rights to both maintain and increase their ownership in future financings, and – given certain milestones – acquire up to 51% of TGOD.
It's no wonder analysts at PI Financial thinks TGOD is already a suitable acquisition for Aurora.
In the most recent IPO financing, Aurora elected to maintain their ownership on a pro-rata basis.
Given that the maximum size of the IPO raise is just over $115 million, Aurora may have just invested another $19.5 million, potentially bringing their total investment in TGOD to nearly $75 million.
This not only validates TGOD's market value, but it potentially makes TGOD an immediate acquisition target for Aurora.
In fact, while there is a standstill in place to prevent Aurora from going hostile on TGOD, the terms of the Aurora-TGOD agreement work out extremely well for TGOD shareholders.
Simply put, Aurora can buy:
8% of TGOD, 90 days after IPO
8% once Valleyfield is granted a cultivation license
8% upon Valleyfield reaching 50% completion
12% once TGOD reaches $100,000,000 in sales.
All the potential purchases by Aurora of TGOD stock must be at market rates minus 10%.
If Aurora increases its ownership in TGOD through these milestones, it would make TGOD one of the most well-funded companies in the entire space.
However, here is the kicker.
If TGOD shares climb as these milestones are achieved, Aurora will have to put up a lot of money buying up TGOD – especially if they go for the full agreement and increase ownership up to over 50%.
If it was Aurora's goal to buy TGOD completely, it would make much more sense to come in with a friendly offer before these milestones are achieved.
Now you may be thinking: What if Aurora decides to sell their position instead?
First off, Aurora's shares are locked up for six months after the IPO date – so they couldn't put pressure on TGOD's share price by selling for the first six months.
Second, under the Aurora-TGOD agreement, TGOD has a right of first refusal for any shares sold by Aurora for three years – meaning TGOD has the right to find a buyer first to take the selling pressure off the market.
In other words, the deal was structured in such a way that TGOD shareholders see the most benefit.
In fact, the whole structure of this IPO was created in such a way to benefit new shareholders that didn't get a chance to participate in previous rounds of financing.
This is the unique opportunity I was talking about earlier.
A One-of-Kind Opportunity
When most companies IPO, some of the shares held privately are released for trading.
This is in addition to the shares offered in the IPO.
These private shares are often priced lower than the IPO and can sometimes include a friends and family round that takes place just before the listing.
But in TGOD's case, the company was structured brilliantly different.
A total of 99.98% of the common shares issued prior to the IPO are under resale restrictions, with the first release being six months after the IPO.
In other words, the only stock that will be trading will be the IPO shares priced at $3.65.
If we assume a maximum IPO offering of $115,011,500, only 31.5 million shares will be available to trade!
Factor in basic dilution and it means only 15% of the entire company, and less than 13% of the company fully diluted post IPO, will be available to trade.
That's right, less than 15% of the Company will be trading for the first 6 months!
In all my years of investing, I have never seen this before.
The only exception to this is that if the half warrants from the IPO are forced to convert. This may happen at the discretion of the Company, if, at any time, the volume-weighted average trading price of the common shares of the Company is equal to or greater than $9.00 for any 10 consecutive trading day period.
If these warrants are forced to convert, it would add just under 16 million shares available to be traded, bringing the total to roughly 47.5 million shares – still peanuts compared to the overall size of the Company and a great situation for any investor who participates early.
So unless there are investors in the IPO who want to lose money, it's hard to imagine shares falling below $3.65 – at least for the first 5-6 months.
Furthermore, given TGOD's size, many of the ETF's, funds, and other institutions may be forced to add shares of TGOD in their holdings to comply with their fund bylaws; thus, creating massive amounts of demand with very little supply.
Take the Horizons Marijuana Life Sciences ETF (HMMJ), the world's largest marijuana ETF, for example.
To be included in the HMMJ, the Company has to meet certain criteria.
Here are some:
The issuer will generally have a market capitalization of greater than $75 million CAD
The average monthly daily trading volume will generally be greater than 75,000 shares a day, with a trading value generally greater than $250,000
No issuer will represent more than 10% of the Index on each rebalance date
TGOD certainly meets the first criteria and will likely meet the second shortly after it begins to trade.
At the end of every quarter, the HMMJ rebalances it's holdings.
Via Horizons ETF:
"Horizons HMMJ's Underlying Index is ordinarily rebalanced on a quarterly basis at the close of trading on each Rebalancing Date.
The Constituent Issuers of its Underlying Index will be market capitalization-weighted on each Rebalancing Date, subject to a cap for each Constituent Issuer of a maximum of 10% of the net asset value of Horizons HMMJ on each Rebalancing Date, with the remainder of the Constituent Issuers' weights to be increased proportionately."
In other words, the HMMJ ETF is based on the size of the Company – meaning the bigger you are, the bigger your allocation to the fund.
TGOD is launching with an IPO price of $3.65 and will have roughly 190 million shares out, making it roughly a $700 million dollar company at launch.
That makes TGOD one of the biggest marijuana companies and that means when the HHMJ rebalances at the end of June, it will likely have to include TGOD.
Here are the current top holdings for the HMMJ: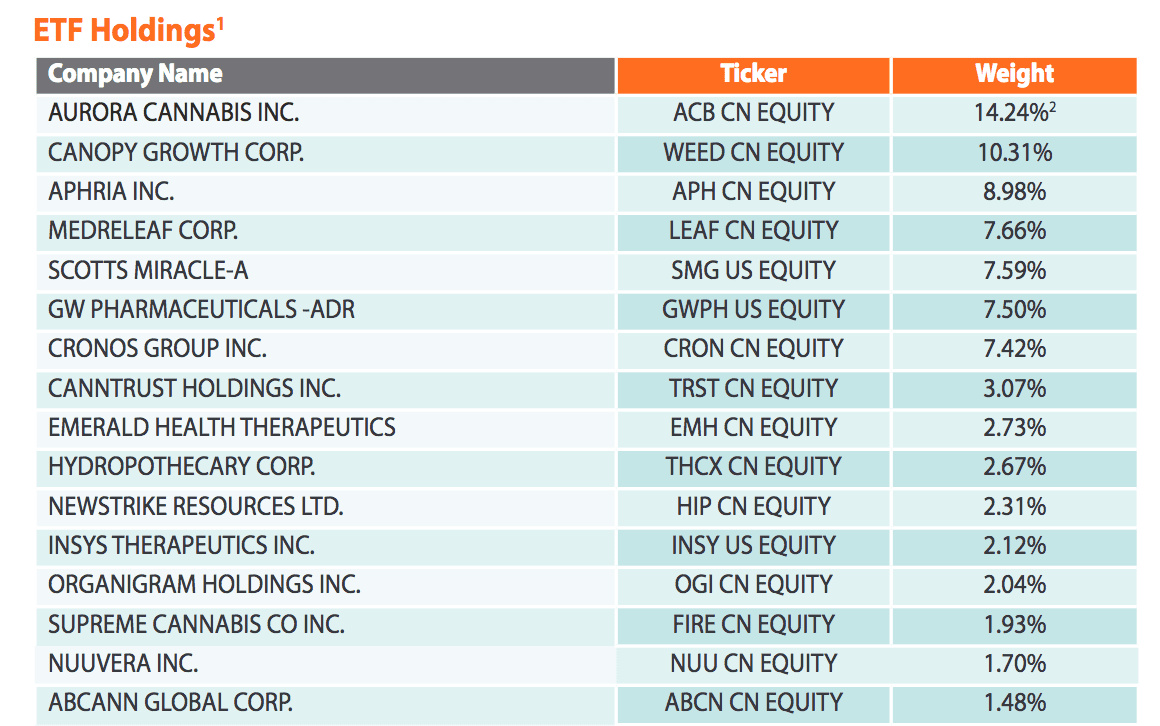 Earlier, we talked about funded capacity. And if we simply talked about funded capacity in relation to market cap, TGOD would be right below Aphria Inc. in the picture above, placing TGOD amongst the top four biggest marijuana companies.
Now let's assume TGOD's share price catches up with its peers from a funded capacity-only valuation standpoint.
If that happens, it could mean TGOD would represent around 8% of the HMMJ – which, as of April 27, 2018, was worth $666,739,624. If that was the case, the HMMJ might have to buy over $53 million worth of TGOD stock – that's nearly half of the entire TGOD IPO!
Now I am only assuming here using very rough calculations and anything can happen. But this should give you an idea of what it could mean for TGOD when the marijuana ETF's rebalance their portfolios.
And I've only pointed out one of the many marijuana ETF's available today – meaning there could be a lot of demand for TGOD shares and very little supply.
We all know what happens when demand exceeds supply…
A Biopharmaceutical Cannabis R&D Company
While legalization alone is creating new multi-billion dollar companies, let's not forget about another multi-billion dollar market: Big Pharma.
Earlier this month, we witnessed the FDA support a new cannabis drug which sent the shares of that drug developer soaring.
Which is why TGOD isn't only focusing on growing organic marijuana for the recreational market.
With its large cash pile in excess of $100 million, even after constructing its two facilities, TGOD is also focused on building out research facilities in order to take advantage of the medicinal market.
With four proposed research and development facilities located in Ontario and Québec, each facility is being designed for a specific purpose ranging from the production of clean organic cannabis oils to genetics and breeding research and development, to identifying novel traits that can lead to clinical trials.
With a focus on research and development, the Company plans to generate a diverse product offering and advanced biopharmaceutical intellectual property.
In fact, one of their genetics and breeding facilities in Quebec is already completed, while the research and development facility is being finalized.
Of course, these facilities wouldn't mean much if they didn't have people with the right expertise running them.
So it's no surprise that TGOD has a long list of experts on board.
Full Vertical Integration
We have talked about production and pharma, but there is one last key: Retail.
You can't be a fully integrated company without retail brands and distribution.
And TGOD is committed to bringing this online.
While little has been said about this part of the market, management has told me that they are working on a number of deals to bring this to fruition.
And judging by the following slide in their deck, I can only assume that TGOD's management will be soon announcing branding deals aimed at the consumer.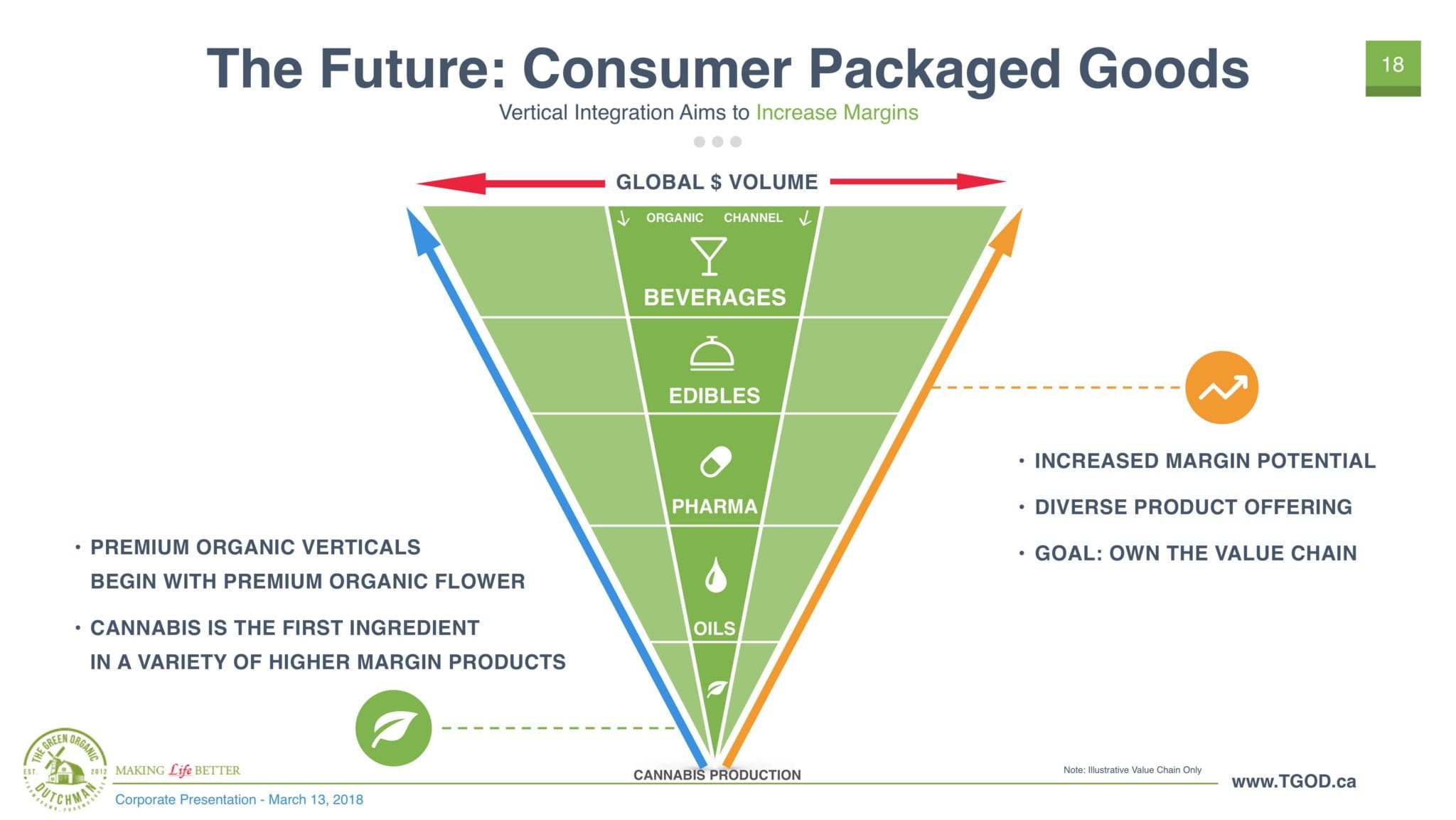 Conclusion
The legalization of marijuana in Canada, and around the world, is one of the biggest money-making opportunities we'll ever see in our lifetime.
Whether you support legalization or not, I am a strong believer that those who don't invest in the space now will regret it for the rest of their lives.
This is truly the beginning of one of the biggest market events in history.
While the sector will have its fair share of ups-and-downs while going through price discovery, it doesn't take much to propel shares of companies involved much higher – especially in the coming months when marijuana may be fully legalized in Canada.
We're talking about an entirely new sector that's expected to be worth billions upon billions of dollars.
Just as tiny companies like Coors transformed into industry giants after Prohibition ended…
…or tiny companies like Microsoft before operating systems were a thing…
Today's Big Marijuana could soon become household names.
And there really is little standing in the way of the marijuana rush on a global scale.
Zimbabwe just legalized marijuana for medicinal purposes.
The City of Seattle just filed a motion in municipal court to wipe out 2 decades of marijuana possession convictions.
And the Michigan Board just agreed to put marijuana legalization on the ballot.
The list goes on.
For the companies that are cashed up with no debt, this couldn't be a more opportune moment.
That's why I have placed one of the biggest bets in my life on TGOD, The Green Organic Dutchman.
The Green Organic Dutchman
Canadian Trading Symbol: TSX: TGOD
Seek the truth,
Ivan Lo
The Equedia Letter
www.equedia.com
Disclosure:
We're biased towards The Green Organic Dutchman Holdings Ltd. (TGOD) because the Company is an advertiser. We currently own shares of TGOD purchased prior to the public transaction, and have participated in the IPO. You can do the math. Our reputation is built upon the companies we feature. That is why we invest in every company we feature in our Equedia Special Report Editions. It's your money to invest and we don't share in your profits or your losses, so please take responsibility for doing your own due diligence and consult your own professional advisers before investing in TGOD or trading in TGOD securities. Equedia.com and Equedia Network Corporation are not registered as investment advisers, broker-dealers or other securities professionals with any financial or securities regulatory authority.  Remember, past performance is not indicative of future performance. This article also contains forward looking statements that are subject to risks and uncertainties that could cause actual results to differ materially from the forward-looking statements made in this article.  Just because many of the companies in our previous Equedia Reports have done well, doesn't mean they all will. TGOD and its management have no control over our editorial content and any opinions expressed in this article are our own. We're not obligated to write a report on any of our advertisers and we're not obligated to talk about them just because they advertise with us.  For a complete disclosure of the compensation received by us from TGOD, please review our Terms of Service and full disclaimer at www.equedia.com/terms-of-use/.