*If you have not already subscribed to our weekly interactive newsletter, please visit: http://equedia.com/newsletter/
For the full interactive edition, please CLICK HERE
Usage: Feel free to post this article anywhere you'd like. Just be sure to follow the rules set forth in our usage agreement by CLICKING HERE
For the last few months, I have been waiting for the initial drill results from Abzu Gold's (TSX Venture: ABS) Nangodi project. On Thursday, they finally came – unearthing a new Ghanaian gold discovery. And the initial results are BIG…
Before I go over the results, let's play some catch up.
Abzu Gold (TSX-V: ABS) is a West African junior in Ghana that was featured in the Equedia Letter back in July (click for report).
Just last month, they teased us with 4.72 g/t gold over 20 metres at their Asafo location, near PMI Gold's Obatan gold project (see update here). While those numbers were good, the real kicker for Abzu was their recent option on their Nangodi project – one of ten concessions currently under option agreement with Red Back Mining Ghana, a wholly owned subsidiary of Kinross Gold, with no current drill results…until now.
The Nangodi Discovery
The Nangodi is the site of a 1930′s vintage underground mine that produced gold at an average grade of ~26 g/t gold. Back in those days, gold was nowhere near current price levels (between $20-$35/oz) which meant that only extremely high grade gold deposits with visible gold showings were ever mined. Obviously, the mine eventually shut down as the cost to pull the gold out far exceeded gold prices.
Historical drill intercepts have intersected gold mineralization along a strike distance of 1.2 kilometres with true widths up to 60m with mineralization open in all directions and at depth.
But that was then and this is now.
Gold prices are now heading toward $2000/oz with extreme violence and the Nangodi project remains mostly untouched.
On Thursday, Abzu announced the first holes from the project…and the numbers are big.
Abzu Gold Announces New Ghanaian Gold Discovery at Nangodi Property
The Nangodi Project centers on a historic gold mine and the results released Thursday are from just one of several targets on the large, 142 km2, Nangodi concession.
Thursday's drill results clearly confirm the presence of a broad gold mineralized system, with multiple higher-grade gold intercepts. Mineralization remains open in all directions including depth – which means a lot of room for expansion.
Take a look at the highlights:
73 metres @ 1.15 g/t gold
66 metres @ 1.53 g/t gold
44 m @ 1.91 g/t Gold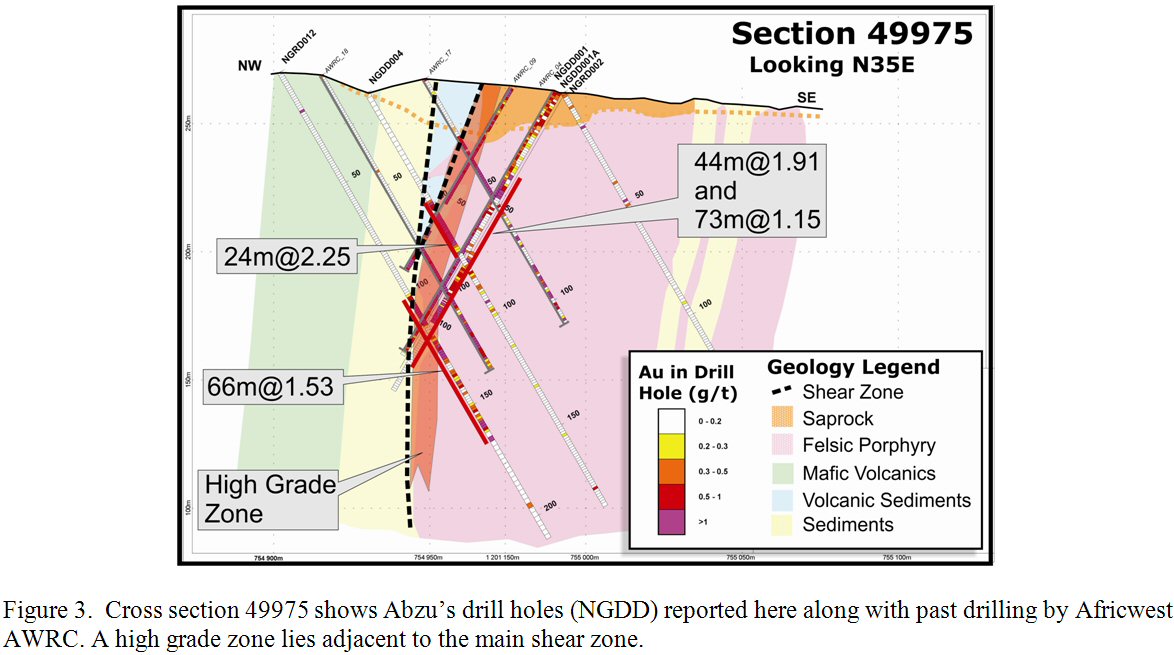 click to enlarge
In addition, this drilling demonstrates the presence of a high-grade zone 1 to 15 m wide with values up to 41.6 g/t gold over 1 metre and 4.65 g/t gold over 15 metres.
So far, Abzu has completed 27 Reverse Circulation (RC) and diamond core drill holes totalling 4,039 metres in its phase 1 drill program. So far, 4 out of the 5 holes have returned significant results (as shown in above figure) and as shown here.
That means there are still 22 holes that have yet to be released. If they come back as strong as their first holes, we're looking at a serious game changer for Abzu – especially considering their geophysical location and proximity to nearby deposits and mines. In a bull market, these results would send any junior skyrocketing in share price.
Abzu is in a great position to fully exploit not only high gold prices, but an extremely promising prospect at Nangodi.
Even today, artisanal miners are recovering gold from the Nangodi zone due to the richness of gold in the area. The grades are high and mineralization is open in all directions and at depth. That means there is significant room for expansion and I bet that Abzu's management will be aggressive in moving this project forward.
Gold tail in artisanal miner's gold pan washed from artisanal bedrock diggings at Nangodi.
Last week, I went over some basics on mining evaluation in the letter, "It's Not That Simple: Mining 101." In it, I stressed that proximity to producers and other deposits create great synergies in economies of scale which make juniors much more attractive.
If you're looking for those traits, Abzu easily fits the bill with its projects directly near or adjacent to major deposits and producers in Ghana.
West African gold companies continue to draw serious attention due to the simplicity of its geology which allows companies in the area to move projects forward at record pace.
Just take a look at a few of the companies advancing projects in the area:
Combined, these projects include a total of more than 70 million ounces of gold!
Abzu's Nangodi Main and other targets also align along a regional shear zone that continues to the northeast across the border into Burkina Faso where it hosts the Youga Mine of Endeavor Mining Corp.
The Nangodi and Yameriga concessions are located in northern Ghana in the Bole-Nangodi Gold Belt. Targets in these concessions are aligned along a regional shear zone that extends northeast into Burkina Faso and hosts the Youga Mine.
I am extremely encouraged by the most recent results from Nangodi. Not only have the first few holes shown us incredible numbers, mineralization is open in all directions and at depth. The remaining results should come out soon and if they are anything like the ones just announced, we're looking at a potential game-changer for Abzu.
Given what I have seen, I fully expect the remaining upcoming results from Abzu to be positive. Abzu has properties and the potential to find the next big deposit in Ghana – let's see what management can do.
Next week, I'll continue with more in-depth discussions on mining valuations as promised last week.
Until next week,
Ivan Lo
Equedia Weekly
Questions?
Call Us Toll Free: 1-888-EQUEDIA (378-3342)
We're biased towards Abzu Gold because we own shares, they are an advertiser, and we own options in the Company. You can do the math. Our reputation is built upon the companies we feature. That is why we invest in every company we feature in our Equedia Reports, including Abzu Gold for which we have not sold any shares. It's your money to invest and we don't share in your profits or your losses, so please take responsibility for doing your own due diligence. Remember, past performance is not indicative of future performance. Just because many of the companies in our previous Equedia Reports have done well, doesn't mean they all will.
For the full interactive newsletter and report, please follow this link: http://archive.constantcontact.com/fs005/1102243211822/archive/1108582456653.html
If you have not already subscribed to Equedia Weekly, you may sign up here:http://equedia.com/newsletter/
Forward-Looking Statements
This Newsletter and report contains certain forward-looking statements that may involve a number of risks and uncertainties. Actual events or results could differ materially from current expectations and projections. Except for statements of historical fact relating to the project, certain information contained herein constitutes "forward-looking statements". Forward-looking statements are frequently characterized by words such as "plan", "expect", "project", "intend", "believe", "anticipate" and other similar words, or statements that certain events or conditions "may" or "will" occur.
Except for the statements of historical fact, the information contained herein is of a forward-looking nature. Such forward-looking information involves known and unknown risks, uncertainties and other factors which may cause the actual results, performance or achievement of the Company to be materially different from any future results, performance or achievements expressed or implied by statements containing forward-looking information.
Although the Company has attempted to identify important factors that could cause actual results to differ materially, there may be other factors that cause results not to be as anticipated, estimated or intended. There can be no assurance that statements containing forward looking information will prove to be accurate as actual results and future events could differ materially from those anticipated in such statements. Accordingly, readers should not place undue reliance on statements containing forward looking information. Readers should review the risk factors set out in the Company's prospectus and the documents incorporated by reference.
Cautionary Note to U.S. Investors Concerning Estimates of Inferred Resources
This presentation uses the term "Inferred Resources". U.S. investors are advised that while this term is recognized and required by Canadian regulations, the Securities and Exchange Commission does not recognize it. "Inferred Resources" have a great amount of uncertainty as to their existence, and great uncertainty as to their economic and legal feasibility. It cannot be assumed that all or any part of an Inferred Resource will ever be upgraded to a higher category. Under Canadian rules, estimates of "Inferred Resources" may not form the basis of feasibility or other economic studies. U.S. investors are also cautioned not to assume that all or any part of an "Inferred Mineral Resource" exists, or is economically or legally mineable.
Disclaimer and Disclosure
Disclaimer and Disclosure Equedia.com & Equedia Network Corporation bears no liability for losses and/or damages arising from the use of this newsletter or any third party content provided herein. Equedia.com is an online financial newsletter owned by Equedia Network Corporation. We are focused on researching small-cap and large-cap public companies. Our past performance does not guarantee future results. Information in this report has been obtained from sources considered to be reliable, but we do not guarantee that it is accurate or complete. This material is not an offer to sell or a solicitation of an offer to buy any securities or commodities.
Furthermore, to keep our reports and newsletters FREE, from time to time we may publish paid advertisements from third parties and sponsored companies. We are also compensated to perform research on specific companies and often act as consultants to many of the companies mentioned in this letter and on our website at equedia.com. We also make direct investments into many of these companies and own shares and/or options in them. Therefore, information should not be construed as unbiased. Each contract varies in duration, services performed and compensation received.
Equedia.com is not responsible for any claims made by any of the mentioned companies or third party content providers. You should independently investigate and fully understand all risks before investing. We are not a registered broker-dealer or financial advisor. Before investing in any securities, you should consult with your financial advisor and a registered broker-dealer. The information and data in this report were obtained from sources considered reliable. Their accuracy or completeness is not guaranteed and the giving of the same is not to be deemed as an offer or solicitation on our part with respect to the sale or purchase of any securities or commodities. Any decision to purchase or sell as a result of the opinions expressed in this report OR ON Equedia.com will be the full responsibility of the person authorizing such transaction.
Again, this process allows us to continue publishing high-quality investment ideas at no cost to you whatsoever. If you ever have any questions or concerns about our business or publications, we encourage you to contact us at the email or phone number below.
Please view our privacy policy and disclaimer to view our full disclosure at http://equedia.com/cms.php/terms. Our views and opinions regarding the companies within Equedia.com are our own views and are based on information that we have received, which we assumed to be reliable. We do not guarantee that any of the companies will perform as we expect, and any comparisons we have made to other companies may not be valid or come into effect. Equedia.com is paid editorial fees for its writing and the dissemination of material and the companies featured do not have to meet any specific financial criteria. The companies represented by Equedia.com are typically development-stage companies that pose a much higher risk to investors. When investing in speculative stocks of this nature, it is possible to lose your entire investment over time. Statements included in this newsletter may contain forward looking statements, including the Company's intentions, forecasts, plans or other matters that haven't yet occurred. Such statements involve a number of risks and uncertainties. Further information on potential factors that may affect, delay or prevent such forward looking statements from coming to fruition can be found in their specific Financial reports.
Equedia Network Corporation is also a distributor (and not a publisher) of content supplied by third parties and Subscribers. Accordingly, Equedia Network Corporation has no more editorial control over such content than does a public library, bookstore, or newsstand. Any opinions, advice, statements, services, offers, or other information or content expressed or made available by third parties, including information providers, Subscribers or any other user of the Equedia Network Corporation Network of Sites, are those of the respective author(s) or distributor(s) and not of Equedia Network Corporation. Neither Equedia Network Corporation nor any third-party provider of information guarantees the accuracy, completeness, or usefulness of any content, nor its merchantability or fitness for any particular purpose.